Discover the inspiring legacy of Harriet Tubman, Frederick Douglass and others who endured slavery or fought for freedom and equality.
This is a story of resilient people and their choices to flee oppression and seek freedom. Their sorrow, joy and hardship inspired action that continues to impact so many lives today.  To view the detailed itinerary for each day, click the links below.
Day 1:
Begin in Washington, D.C.
Smithsonian National Museum of African-American History and Culture
Travel to Annapolis, MD
Historic Annapolis Foundation Walking Tour of Colonial and African-American History
City Dock – Alex Haley Memorial/Kunta Kinte Plaque
Thurgood Marshall Memorial and Matthew Henson Memorial
Dinner and Overnight in Annapolis
Day 2:
Begin in Annapolis, MD
Banneker-Douglass Museum
Travel to Cambridge, MD
Dorchester County Visitor Center
Harriet Tubman Museum
Long Wharf/Skipjack Nathan of Dorchester
Dinner and Overnight in Cambridge
Day 3:
Begin in Cambridge, MD
Travel the Harriet Tubman Underground Railroad Byway with Audio Tour
Stanley Institute
Harriet Tubman Underground Railroad Visitor Center
Blackwater National Wildlife Refuge
Brodess Farm and Bucktown Store
Kayak or Bike Tour OR Tour and Winetasting at Layton's Chance Winery
Dinner and Overnight in Cambridge
Day 4:
Begin in Cambridge, MD
Continue Harriet Tubman Underground Railroad Byway with Audio Tour
Linchester Mill
Choptank Landing
Webb Cabin
Outstanding Dreams Alpaca Farm
Tuckahoe Neck Meeting House
Museum of Rural Life
Fiber Arts Center
Dinner and Overnight in Denton
Day 5:
Begin in Denton, MD
Adkins Arboretum
Travel to Easton, MD
Frederick Douglass Marker
Frederick Douglass Walking Tour of St. Michaels
Frederick Douglass Statue
Frederick Douglass Driving Tour of Talbot County
Begin your journey at the Smithsonian's National Museum of African American History and Culture at their Slavery and Freedom Exhibition. This exhibition explores the complex story of slavery and freedom, which rests at the core of our nation's shared history. Visitors encounter both free and enslaved African Americans' contributions to the making of America and learn that American slavery and American freedom is a shared history. The actions of ordinary men and women who demanded freedom, transformed our nation. 
Travel to Annapolis and pick up an Acoustiguide audio self-guided walking tour at the Historic Annapolis Foundation. This tour visits prominent landmarks from Annapolis' Colonial history and highlights the roles of African Americans in shaping the city. Walk around the Annapolis Harbor and see City Dock, the former Colonial port - where it is believed that Kunta Kinte, made famous by Alex Haley's book, Roots - entered the country on the slave ship Lord Ligonier. A life-size bronze statue of Alex Haley is situated next to a plaque honoring his ancestor, Kunta Kinte.
Outside the Maryland State House, the Thurgood Marshall Memorial honors this Marylander who was the first African-American Supreme Court Justice. Marshall served as Justice for 24 years, and his most famous case, Brown v. Board of Education of Topeka, ended racial segregation in American public schools.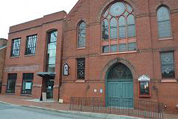 Begin your day in Annapolis and tour the Banneker-Douglass Museum. Located inside the historic Mt. Moriah A.M.E. Church, the exhibit "Deep Roots, Rising Waters" celebrates African-American life in Maryland. Other exhibits highlight the contributions of key Underground Railroad figures such as Marylanders Harriet Tubman and Frederick Douglass.
Travel to Cambridge and stop at the Dorchester County Visitor Center at Sailwinds Park to pick up a Harriet Tubman Underground Railroad Byway map and guide and download the byway audio tour. While at the center, explore exhibits about the Underground Railroad and Dorchester history. Friendly travel counselors can answer your questions and help you plan your byway adventure. The byway is a driving tour that visits significant Harriet Tubman sites and interprets stories of slavery and freedom via the Underground Railroad.
Follow the byway audio tour and visit sites in downtown Cambridge's Arts and Entertainment District, where the Harriet Tubman Museum provides insights into Tubman's legacy through a mural, literature and displays. Travel to Long Wharf where enslaved Africans were first brought to Cambridge for sale at slave auctions; yet others attempted escape here via the Underground Railroad. Call ahead to schedule a sailing tour on the Choptank River aboard the Skipjack Nathan of Dorchester.
Continue your tour of the Harriet Tubman Underground Railroad Byway. Pack a lunch to bring with you and head south out of Cambridge to arrive at the Stanley Institute. Open by appointment, this restored 19th-century, one-room schoolhouse was organized by the local community of African Americans following the Civil War. The byway route will then take you through Madison, where Tubman worked on the wharves as a young adult, and over Stewart's Canal, hand-dug by enslaved African-American men.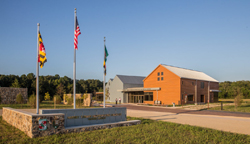 The highlight of this journey is a visit to the Harriet Tubman Underground Railroad Visitor Center, where immersive displays demonstrate how this region's landscape and history shaped Tubman's life, forging her determination to fight for freedom as a conductor on the Underground Railroad. Next, visit Blackwater National Wildlife Refuge, where the Wildlife Drive provides an up-close look at waterfowl and birds of prey who use these marshes as a sanctuary and stopover point on their migrations. The refuge visitor center is a place to learn about the diversity of wildlife you'll see on the trails and at overlooks. A great way to explore the refuge is by kayaking the Little Blackwater and Blackwater rivers. A local outfitter also provides guided tours.
Continue your byway tour to the Brodess Farm, where Tubman spent her early childhood enslaved by Edward Brodess. Then stop at the Bucktown Village Store where a fateful head injury nearly killed Tubman, but solidified her faith and determination to liberate herself and her loved ones.
End your day with a side trip to Layton's Chance Winery in Vienna or RAR Brewery in Cambridge to relax and unwind.
The Harriet Tubman Underground Railroad Byway will lead you northward into Caroline County and through Preston and Denton, where Harriet Tubman made her most daring rescues. Here Quakers and other abolitionists held a network of safe houses and provided support for freedom seekers.
OTD

Explore the historic Linchester Mill where free and enslaved blacks, working alongside Quakers, likely helped freedom seekers cross Hunting Creek on the milldam at this location. Tubman's parents, Ben and Rit Ross, lived at Poplar Neck on the Choptank River on Dr. Anthony Thompson's farm and assisted Tubman and others in escaping slavery. You can get close to this location at Choptank Landing.

Next, stop at the Webb Cabin to see a rare surviving one-room cabin built by free black James Webb around 1852. James and five family members lived in this cabin, which illustrates the 19th-century living conditions of poor, free blacks and poor whites in the area.   

Take a break from history by touring Outstanding Dreams Alpaca Farm, where beautiful Huacaya alpacas are bred. Their Farm Store carries a variety of products crafted from luxurious alpaca fiber.  Continue to Denton for lunch and stop at the Fiber Arts Center to see works by quilters and fiber artists and shop for gifts and fiber craft supplies. 

While in Denton, explore the Museum of Rural Life to compare and contrast lifestyles of local residents by viewing portions of historic homes, including a log cabin of a subsistence farmer, circa 1824. The museum also has exhibits about the Underground Railroad.

Continue onto the Tuckahoe Neck Meeting House to see the simple architecture of this historic house of worship, where Quakers, such as Underground Railroad operatives Hannah and Jacob Leverton, spoke about the ethical issues facing them. 

From Denton, the byway continues north to sites in Greensboro and crosses into Delaware, near Sandtown, roughly following one of Tubman's escape routes north.

To discover Frederick Douglass' story, another travel option is to drive west from Denton to Easton for a Frederick Douglass Driving Tour of Talbot County.

Along the way, stop at Adkins Arboretum in Ridgely to walk the trails. A self-guided audio tour through woodlands, stream bottoms, fields and wetlands provides insights into the survival challenges and opportunities that freedom seekers faced while navigating through this terrain.

Frederick was born into slavery in 1818 on a farm that is now Trappers Corner. The Frederick Douglass Park on the Tuckahoe is adjacent to Douglass's birthplace. Here you can experience the landscape of Douglass's birth with a serene view of the Tuckahoe Creek. Douglass later escaped from slavery in Baltimore and became a leading abolitionist. His eloquent words inspired many whites to work on the Underground Railroad.

Outside the Talbot County Courthouse, you will find the Frederick Douglass Statue. The Frederick Douglass Honor Society commissioned sculptor Jay Hall Carpenter to create this artwork. Head to the Talbot County Visitor Center to pick up information about the self-guided driving tour and go to St. Michaels for a walking tour of Douglass sites that begins at the St. Michaels Museum.