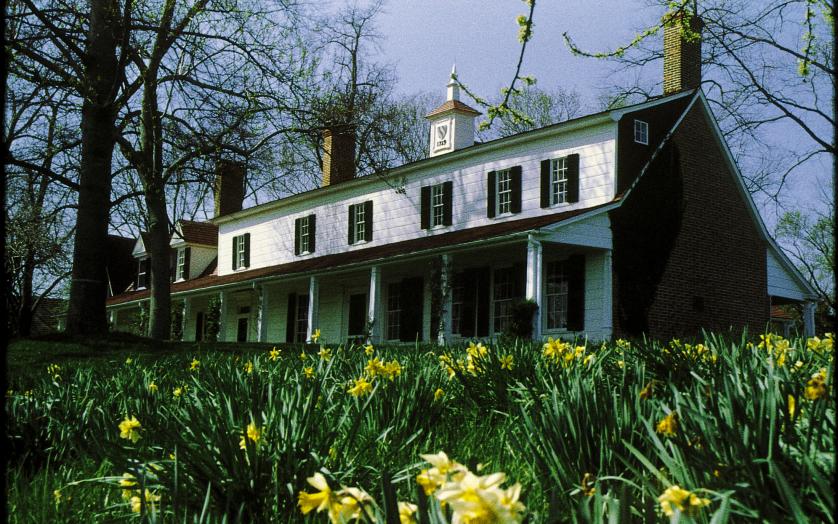 Explore Maryland's Underground Railroad
Explore important places on Maryland's Underground Railroad and experience exhibits and tours that celebrate the contributions of African-Americans who sought freedom for all.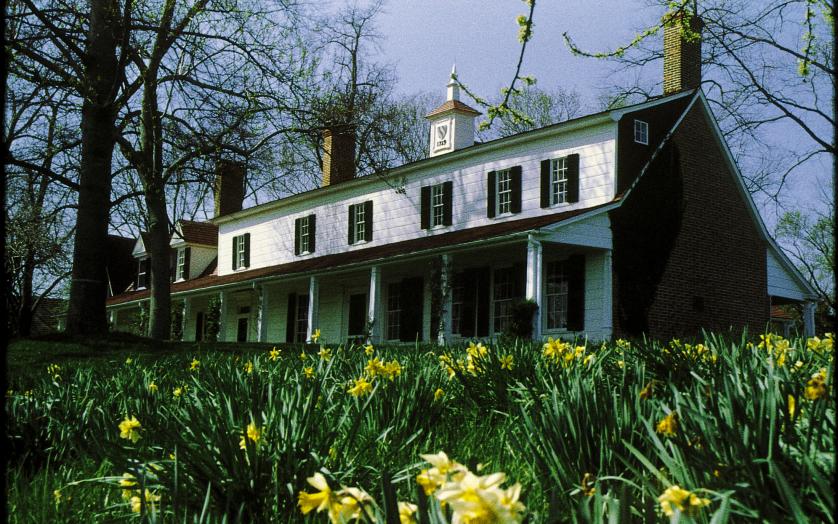 Discover the inspiring legacy of Harriet Tubman, Frederick Douglass and others who endured slavery, fled oppression or fought for freedom and equality. Learn the stories of resilient people —their sorrows, joys and hardships—who inspired action that continues to impact people today.
Exploring Two Capital Cities
At the Smithsonian's National Museum of African-American History and Culture in Washington, D.C., you'll find exhibitions that explore the complex story of slavery and freedom. Visitors see how the actions of ordinary men and women demanded freedom and transformed the country. Elsewhere in Washington, D.C. you'll find one end of the nearly 200-mile long C&O canal towpath. The path—which runs all the way to Cumberland, Maryland—was used by freedom seekers like James Curry. Today visitors can hike and bike along the path.
Nearby in Maryland's capital, Annapolis, visitors can take a walking tour to see prominent landmarks from Annapolis' Colonial history. Walk around the Annapolis Harbor and see City Dock, where a bronze statue of Alex Haley stands next to a inspirational Story Wall—a series of ten markers topped with bronze plaques lining the retaining sea wall on Compromise Street. On each plaque is a quote from Alex Haley's story of his family's journey as told in "Roots."
In the Maryland State House you'll find statues of Frederick Douglass and Harriet Tubman—both sit inside the historic House of Delegates chamber.
North of D.C. and west from Annapolis, visit Josiah Henson Park to see a museum and visitor center at the site where the man whose memoir inspired Harriet Beecher Stowe's novel "Uncle Tom's Cabin" was once enslaved. Nearby Woodlawn Manor Cultural Park in Sandy Spring offers a self-guided trail commemorating local residents involved in the Underground Railroad, and celebrating the Quaker heritage and traditions of Sandy Spring. A three-story barn on the grounds has been converted into a museum with exhibits about Underground Railroad Activity in the area.
Baltimore and Surrounding Cities
In Baltimore, visit the President Street Station / Baltimore Civil War Museum. The museum tells the story of the station's role in the Underground Railroad (Frederick Douglass once escaped from this station disguised as a sailor), the Civil War, and Maryland's railroad history.
Head north to Towson to see the Hampton National Historic Site. This Georgian mansion was once home to more than 340 slaves. Today, restored slave quarters include exhibits about their lives and escapes.
From the Baltimore area, you can head northwest to the Catoctin Iron Furnace and Manor House Ruins or further to Hagerstown, which is home to its own group of Underground Railroad historic sites.
Another option is to head northeast to the charming town of Havre de Grace where the Havre de Grace Maritime Museum's exhibit "The Underground Railroad: Other Voices of Freedom" displays captivating stories of freedom seekers and the opportunities and challenges they experienced crossing the Susquehanna River and Upper Chesapeake Bay.
Harriet Tubman's Maryland
Or, head to the Eastern shore to discover Harriet Tubman's Maryland. In Cambridge, stop at the Dorchester County Visitor Center at Sailwinds Park to pick up a Harriet Tubman Underground Railroad Byway map and guide and download the byway audio tour. At the center, explore exhibits about the Underground Railroad and Dorchester's history.
The byway driving tour visits significant Tubman sites and interprets Underground Railroad stories of slavery and freedom. Start at the Harriet Tubman Museum in downtown Cambridge's Arts and Entertainment District to see a mural and displays about her legacy. Travel to Long Wharf, where enslaved Africans were first brought to Cambridge to be sold at auctions, and others attempted escape via the Underground Railroad.
South of Cambridge, the Stanley Institute is open by appointment. The restored one-room schoolhouse was organized by local African Americans after the Civil War. Next, go to Madison, where Tubman was a wharf worker as a young adult, and over Stewart's Canal, dug by enslaved African-American men.
A byway highlight in Church Creek is the Harriet Tubman Underground Railroad Visitor Center, where displays show how the region's landscape and history shaped Tubman's life, forging her determination to fight for freedom as a conductor on the Underground Railroad. At the Blackwater National Wildlife Refuge, explore via kayak on the Little Blackwater and Blackwater rivers where young Tubman tended muskrat traps while enslaved.
At the Bucktown Village Store, a head injury nearly killed Tubman, but solidified her faith and determination to liberate herself and her loved ones. The byway heads north into Caroline County through Preston and Denton, where Tubman made daring rescues.
Off the byway and across the Chesapeake Bay, you can visit the Sotterley Plantation in the town of Hollywood. Here, you'll find an 1830s slave cabin that exemplifies typical slave housing in the Tidewater region, along with exhibits and artifacts that tell the story of Sotterley—a site from which 49 enslaved people fled during the War of 1812.
Stop by the historic Linchester Mill, where free and enslaved Blacks worked alongside Quakers who likely helped freedom-seekers cross Hunting Creek. Tubman's parents, Ben and Rit Ross, lived at Poplar Neck on the Choptank River on Dr. Anthony Thompson's farm. They helped their daughter and others escape slavery. Get close to this site at Choptank Landing.
Webb Cabin is a one-room cabin built by free Black James Webb around 1852. James and five family members lived in the cabin, which illustrates the 19th-century living conditions of poor free Blacks and poor whites in the area. Continue to Denton to the Museum of Rural Life  to see more historic homes, including a subsistence farmer's 1824 log cabin. The museum also has exhibits about the Underground Railroad.
Discover the Life and Legacy of Frederick Douglass
Celebrate another hero of the Underground Railroad—Frederick Douglass. Douglass was born into slavery in 1818 on a farm that is now called Tappers Corner. Visit Frederick Douglass Park along the serene Tuckahoe Creek, adjacent to his birthplace. Also in the area is the Tuckahoe Neck Meeting House—a historic house of worship, where Quakers, such as Underground Railroad operatives Hannah and Jacob Leverton, spoke about ethical issues facing them.
Look for the Frederick Douglass Statue outside the Talbot County Courthouse. At the Talbot County Visitor Center you can pick up information about the self-guided Frederick Douglass Driving Tour, or you can head to St. Michaels for a walking tour of Douglass sites, beginning with the St. Michaels Museum.
For more Underground Railroad history and attractions, see our list of more Network to Freedom sites.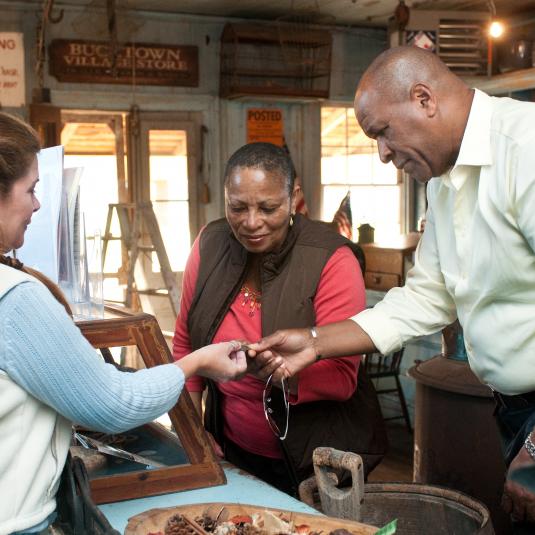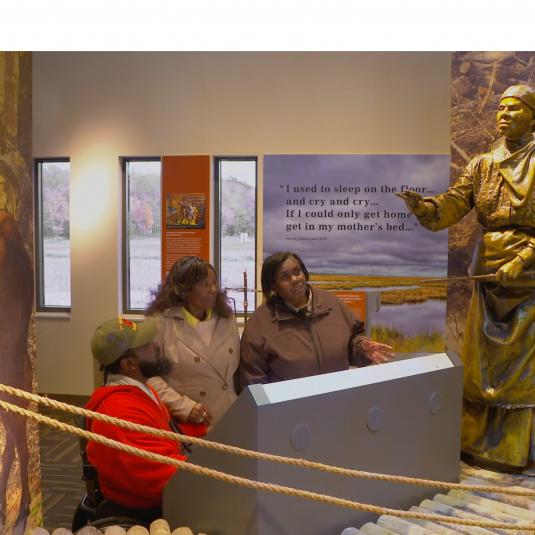 Visitors enjoy interactive and immersive exhibits at the Harriet Tubman Underground Railroad Visitor Center.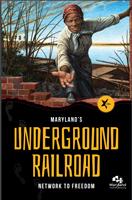 Maryland's Underground Railroad Guide
African-American Heritage Guide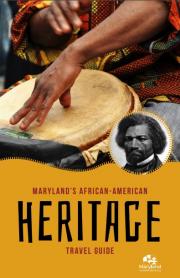 Maryland's African-American Heritage Guide