Jill Jasuta
Open for Heroes
Come and see why Maryland is The Most Powerful Underground Railroad Storytelling Destination in the World.
Jill Jasuta
September is International Underground Railroad Month, but Maryland is always open for heroes. Home to legendary leaders like Harriet Tubman and Frederick Douglass, and many other incredibly brave individuals, Maryland has a rich mosaic of Underground Railroad sites and unsung heroes throughout the state ready for you to explore.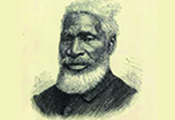 To keep Maryland's Freedom Fighters top-of-mind,
check out the "Match the Hero with Their Legacy"
educational activity.
Maryland's Underground Railroad Guide
African-American Heritage Guide
Maryland's African-American Heritage Guide