Open up to a different way of traveling by escaping the highway and enjoying a byway. Forget the "fastest time to destination" and opt for a relaxing road trip to explore charming towns, the splendor of nature and hidden gems. Along the way, you'll find stunning, photo-worthy landscapes, educational opportunities that are informative—but not in your face—and plenty of pit stops serving up local Maryland delights.
Maryland Scenic Byways Guide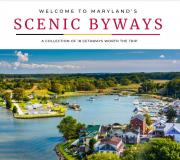 Discover Maryland's Scenic and Historic Byways
Maryland Scenic Byways Map
Follow carefully mapped driving routes for all 18 scenic byways.