Baltimore's Historic Charles Street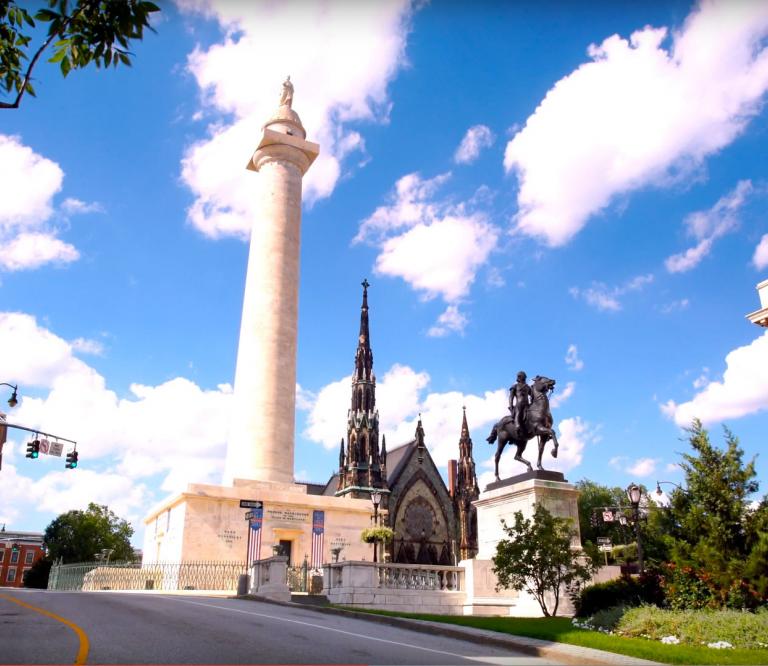 Surrounded by rolling green countryside, this byway features historical, cultural and recreational attractions-- from rural landscapes to the glittering Baltimore cityscape.
Baltimore's grandest and best-known artery, Charles Street takes you on a journey through some of the city's most fashionable cultural, residential and commercial areas. Stop to shop, dine, and seek out world-class entertainment. At the same time, take note of several institutions whose influence extends beyond Baltimore's borders to the nation and the world.
The Washington Monument at Mt. Vernon Place was the first major monument to honor George Washington. Explore exhibits in the base of the monument and climb the stairway to the top.
12 Miles
Big city driving through Baltimore, with public transport available
Amenities
Gas Stations
Food & Drinks
Accommodations
Hospitals
ATM
Lutherville to Roland Park
Begin your trip in the tree-lined community of Lutherville, and then head south into Towson. Briefly leaving Charles Street, Towson Town Center has a myriad of upscale stores sure to satisfy any shopper's needs. Or sidetrack to the Hampton National Historic Site, featuring an 18th-century Georgian mansion, slave quarters and gardens.
Back on Charles Street, where pubs, restaurants and art museums offer many pleasant diversions, you enter an area famous for its educational institutions. First, there's Friends School, which was founded in 1784, making it Baltimore's oldest school. Immediately after, you drive past the nation's first Catholic women's college, Notre Dame of Maryland University, founded in 1895. In the same area is Loyola University Maryland, a Jesuit institution established in 1852.
Head east and you will discover Sherwood Gardens, a six-acre garden where thousands of tulips bloom every spring. And then comes Roland Park, a residential community with narrow, winding streets lined with elegant villas and mansions.
From here, you approach Johns Hopkins University, a 100-acre campus featuring more than 20 Georgian-style buildings and the Federal-style Homewood House Museum, which was built in 1801 and offers a look into the life of 18th- and 19th-century Baltimoreans. Residents and students alike appreciate the variety of nearby dining, shopping and entertainment.
Visit the admission-free Baltimore Museum of Art, which includes the world's largest collection of works by Henri Matisse among its 90,000 pieces of art.
(continued below)
The Baltimore Museum of Art is home to an internationally-recognized collection of 19th century, modern and contemporary art, including the largest collection of works by Henri Matisse in the world. Admission is free.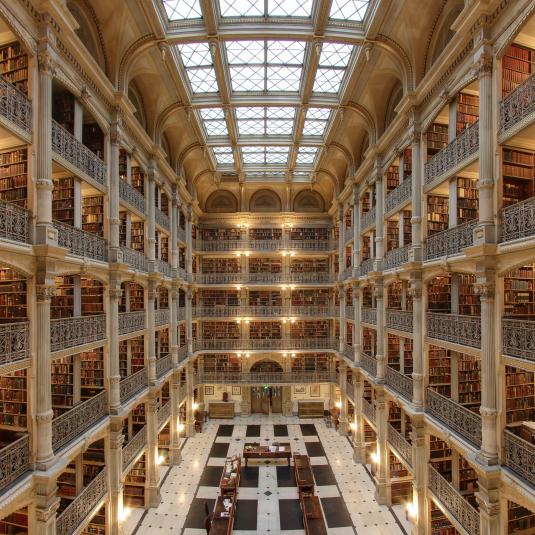 Adjacent to Mount Vernon Place is the George Peabody Library. It is open for use by the general public, and is widely considered one of the most beautiful libraries in the world.
Charles Village to Mount Vernon Place
Charles Village was developed in the late 19th century as one of Baltimore's first suburban neighborhoods. Stop by Lovely Lane United Methodist Church, a Stanford White-designed building established in 1884 as a centennial monument to the founding of the Methodist Episcopal Church. 
Music and art enthusiasts will enjoy a stop at the Eubie Blake National Jazz Institute and Cultural Center. A gallery, musical theater and other features help to tell the story of Baltimore's creative community, with special emphasis on jazz great Eubie Blake and other artists such as Billie Holiday.
While traveling through the Mount Vernon Place National Historic Landmark District, you can't miss the 208-foot-tall monument topped by a 16-foot statue of George Washington. Nearby is the Maryland Center for History and Culture, which contains treasures such as an original manuscript of Francis Scott Key's "Star-Spangled Banner."
The admission-free Walters Art Museum delivers art and artifacts spanning more than 5,000 years, while across from the Walters, the Johns Hopkins-affiliated Peabody Institute contains an art gallery, public library and music academy, and hosts music and dance performances.
From here, visit the Basilica of the National Shrine of the Assumption of the Blessed Virgin Mary. Completed in 1821, it is known as "America's First Cathedral" and is considered one of the finest examples of neo-classical architecture in the world.
As you approach Baltimore's famous waterfront area, other cultural attractions take center stage. These range from the CFG Bank Arena specializing in concerts and professional sporting events, to the Hippodrome Theatre at the France-Merrick Performing Arts Center. Cornerstone of the city's recent westside renaissance, the Hippodrome presents rich and diverse entertainment amid early 20th-century grandeur.
(continued below)
Trip Tips
Watch for summertime festivals offering food, art and entertainment taking place on Charles Street.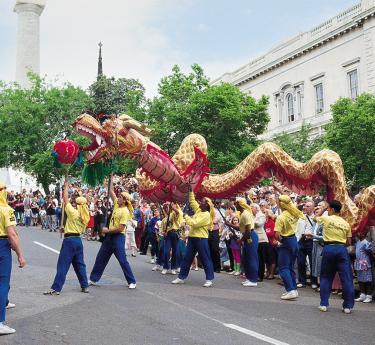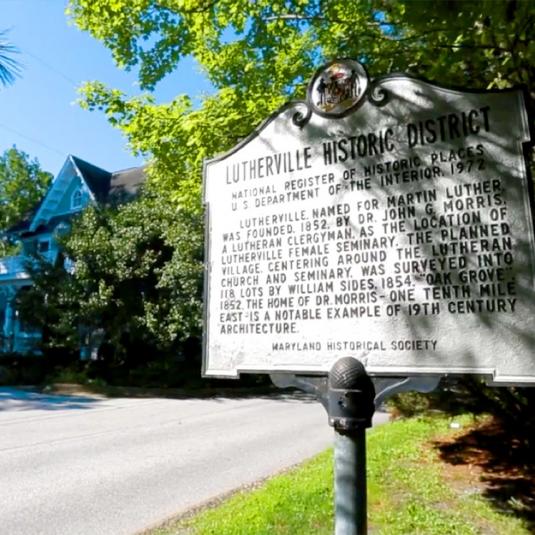 The Charles Street Byway starts in historic Lutherville and winds through residential streets before it reaches central Baltimore.
Inner Harbor Area
The Inner Harbor area, Baltimore's main commercial center, is a hub for restaurants, shopping and waterfront attractions. The National Aquarium, Maryland Science Center, Port Discovery Children's Museum, and the American Visionary Art Museum offer fun for all ages. Guided heritage walking tours are also offered, connecting 20 historic sites and museums. Stop by the Baltimore Visitor Center for information and tickets.
Just south of the main harbor area is Federal Hill, where Cross Street Market sells the usual fresh seafood and locally grown produce along with a variety of unusual products like pigs' ears, pickled eggs and ox tails. If you are looking for more conventional dining options, enjoy a nice meal at one of the many taverns, restaurants and pubs that line the streets. After dark, explore the energetic nightlife.
Fans of professional sports will want to visit Camden Yards, home to the Baltimore Orioles baseball team, and M&T Bank Stadium, the roost of football's Baltimore Ravens. Learn about Maryland's proud athletic heritage at the Babe Ruth Birthplace & Museum.
Stop by the Baltimore Visitor Center to pick up a Harbor Pass for discounted entry to several of these attractions, as well as the Top of the World Observation Level, located atop the world's tallest pentagonal building, the World Trade Center in Baltimore.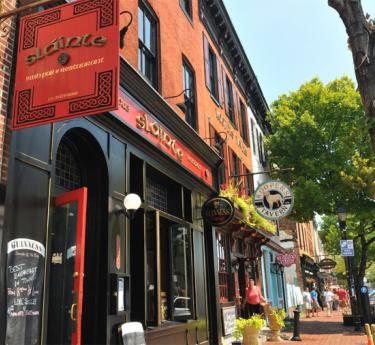 Take a Side Trip
Follow the Belgian Block streets of Fells Point to pubs, eateries and eclectic specialty shops. This waterfront National Historic District is also a gathering place for artists such as Robert McClintock, whose studio is located on Thames Street.
Maryland Lore
Baltimore's financial district is a mix of old and modern architecture, with the highlight being Charles Center, a striking metal and glass building designed by modern architectural pioneer Ludwig Mies van der Rohe.