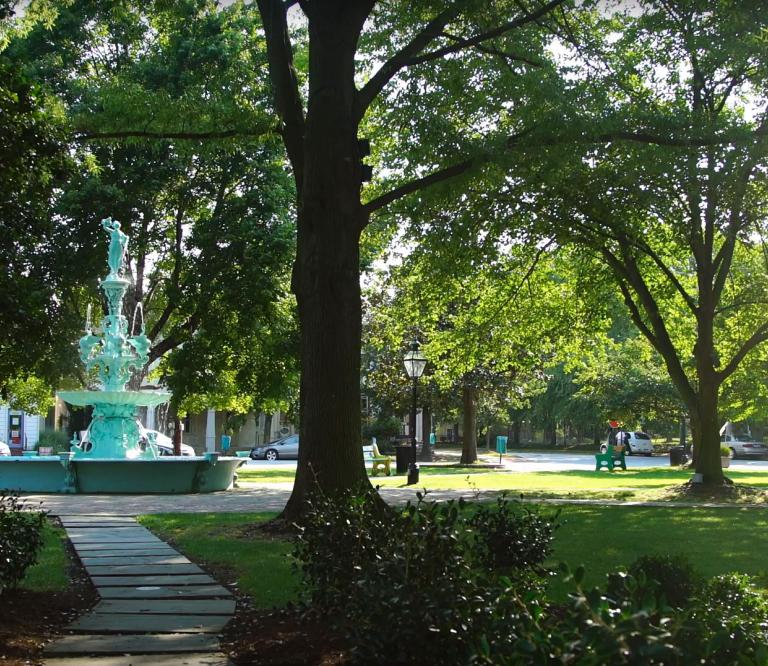 Take your time experiencing the special beauty of this tidewater region with its pristine waterways and vibrant historic waterfront villages.
419 MILES
from Chesapeake City to Crisfield on country roads along the bay's edge and part of the Great Chesapeake Bay Loop.
Amenities
Gas Stations
Food & Drinks
Camping
Accommodations
Hospitals
ATM
Restrooms
Chesapeake Country
Take your time experiencing the special beauty of this tidewater region with its pristine waterways and vibrant historic waterfront villages.
The lifestyles and livelihoods of generations of watermen, shipbuilders and farmers have been shaped by an unspoiled landscape that, even to this day, makes it easy for visitors to imagine earlier times when goods were shipped to "faraway Baltimore" in wooden barrels lashed aboard schooners. The pace of life is slower here. Charming small towns are often accessed by boat as well as car. Popular pursuits include biking, kayaking, enjoying the cultural scene in arts communities and dining on some of the nation's best seafood.  Travel this byway to explore the Great Chesapeake Bay Loop, your key to Chesapeake adventures.
Upper Eastern Shore section from Chesapeake City to Kent Island
Including MD 213 & MD 18
From Chesapeake City, you can look out over the 14-mile-long Chesapeake and Delaware Canal to see modern-day ships dwarfing Victorian homes and shops along the banks. The C&D Canal Museum captures the history of the 165-year-old waterway. Walk or bike along the Ben Cardin C&D Canal Trail, to experience scenic views and the natural history of the area.
Head south along winding roads that lead past spectacular scenery. Then, as you enter Cecilton, plan a stop at Crystal Beach, a summer town on the Elk River that is popular with swimmers and anglers. Nearby is the Stemmers Run Managed Hunting Area, which, outside of hunting season, is known for its hiking and fishing.
A side trip reveals the graceful beauty of Mount Harmon Plantation in Earleville. This 200-acre Colonial plantation, featuring an antiques-filled manor house museum and walking trails, is on a peninsula surrounded by the Sassafras River.
Across the river is Georgetown, which the British burned during the War of 1812 but has been rebuilt and is a popular place for dining and entertainment. Continue toward Galena and on to Kennedyville, where you will find Crow Farm Vineyard and Winery. Stop at the Kent Museum to see displays of antique tractors, horse-drawn sleds and household equipment.
Sidetrack to the town of Betterton, a beach resort that still boasts fine examples of Victorian-era architecture. Back on the byway, farms glide by as you head to Chestertown, a Colonial port and National Historic Landmark, which is home to Washington College, founded in 1782 and named for its patron, George Washington. Among the elegant brick town homes in the city's historic district you can enjoy concerts in the square. Get out on the water on the Captain John Smith National Historic Trail with a paddling or sailing tour led by the Sultana Education Foundation.
Veer southwest to Rock Hall, which has more than a dozen marinas offering mooring and charter services. The town also prides itself on excellent seafood dining, a homemade ice cream shop and a small, maritime-oriented museum. The Eastern Neck National Wildlife Refuge, an isolated ecosystem with nesting bald eagles and extensive hiking trails, is just to the south.
The area that extends from Chestertown through Centreville and into Queenstown is famous for its large number of fine antiques shops. But you can also find bargains on name-brand items at Premium Outlets. Along the way, make a stop at the Museum of Eastern Shore Life to admire an eclectic collection of artifacts ranging from a log canoe to early hand tools.
Grasonville invites you to get back to nature at the Chesapeake Bay Environmental Center surrounded by prime hiking, canoeing and birdwatching trails. Then stretch your legs some more after crossing over to Kent Island, where the Cross Island Trail extends for six miles from Terrapin Nature Park to the Kent Narrows.
(continued below)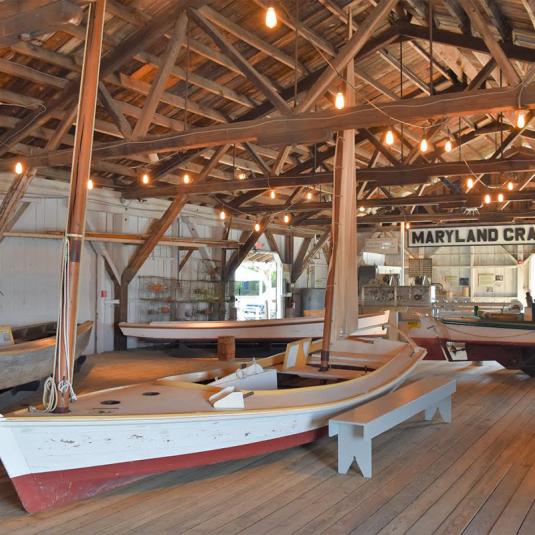 The Chesapeake Bay Maritime Museum in St. Michaels includes interactive exhibits and a working boatyard that aims to pass fading maritime skills on to a new generation of shipwrights.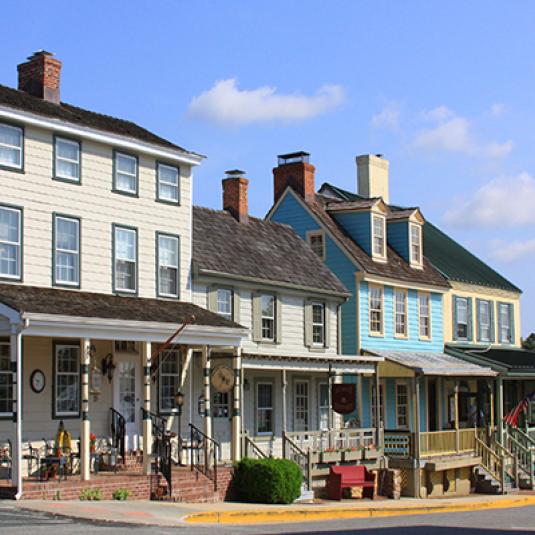 Chesapeake City, a quaint colonial-era waterfront town, is a thriving stop for sailors and boaters on the Chesapeake and Delaware Canal.
Equal parts celebration and foodie feast, there's nothing quite so quintessentially Chesapeake as good, old-fashioned Maryland steamed crabs.
Mid-Shore section from Wye Mills to Vienna
Including US 50, MD 322, MD 33, MD 333, MD 341 & MD 192
Head East on US 50 to Wye Mills and tour the Old Wye Grist Mill, to witness the oldest continuously working water-powered grist mill in the country. During the American Revolution, the Wye Grist Mill shipped barrels of flour via the Chesapeake Bay to the Continental Army, commanded by General George Washington. Historians dubbed the Eastern Shore the "Breadbasket of the Revolution."
A sidetrack to the charming town of Denton leads to the Choptank River waterfront and the Museum of Rural Life. Exhibits of four historic dwellings inside the museum provide a rare glimpse into the lifestyles of residents who, for 300 years, solely depended upon agriculture to earn a living.
Back on the main route, travel to Easton and beyond to the Tilghman Island peninsula. This area, with its bayside beauty and more than 350 years of history, inspired James Michener to write the epic novel Chesapeake. In Easton, the restored, art deco Avalon Theatre hosts nationally known performing artists, while crafters display their wares at nearby specialty shops. You can also tour a winery, get a taste of the dining scene or enjoy outdoor activities ranging from hiking and canoeing to championship golf.
St. Michaels, a former shipbuilding center now popular among pleasure boaters, features the Chesapeake Bay Maritime Museum with its working boatyard and restored 1879 lighthouse. Just down the road is Tilghman Island, which offers skipjack cruises and fine local cuisine. Head to Bellevue, where a historic ferry crosses the Tred Avon River to reach Oxford, another boating town with its own museum. Bike routes throughout the flat land, such as the Oxford - St Michaels Bike Trail, have wide-open country views. Also in the area are the captivating colonial town of East New Market and the tiny fishing village of Secretary.
Cross the wide Choptank River and enter the city of Cambridge. On the waterfront at Long Wharf, the Choptank River Lighthouse creates an idyllic scene that belies the busy port that once existed here. Experience the scenic view aboard the Skipjack Nathan.  In its historic downtown, Cambridge's active arts scene and a large maritime museum add to the cultural fabric of the city. Learn about Harriet Tubman's daring rescue missions at the Harriet Tubman Underground Railroad Scenic Byway. Natural splendor is found at sites such as the Blackwater National Wildlife Refuge, which hosts the East Coast's largest nesting population of bald eagles.
(continued below)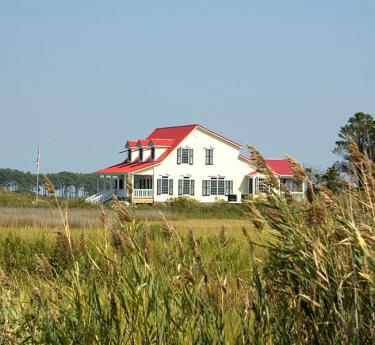 Take a Side Trip
Explore wild, scenic areas along the byway, including the Blackwater National Wildlife Refuge, Hooper Island and Elliott Island, after a stop within the Fishing Bay Wildlife Management Area, nicknamed "Maryland's Everglades."
LOWER EASTERN SHORE SECTION FROM VIENNA TO CRISFIELD
Including MD 50, MD 54, MD 349, MD 352, US 13, & MD 413.
From Vienna, known for its rich Nanticoke River and Chesapeake Bay legacy, this section of the byway has two travel options. One travels north to Federalsburg, where a scenic creek flows from the Idylwild Wildlife Management Area and winds through town. The other heads east toward the urban center of the region, Salisbury.
History and culture mingle here with a pedestrian-friendly shopping plaza, a zoo, minor-league baseball, and the Ward Museum of Wildfowl Art, featuring the world's largest and finest collection of decorative and antique decoys. Nearby is the Pemberton Historical Park, which was once home to a thriving 18th-century plantation along the Wicomico River. Tour Pemberton Hall, furnished to reflect the pre-Revolutionary period, and explore trails to view marshlands, waterfowl, cypress trees and historic sites.
In Whitehaven, a rural village below Salisbury, the historic Whitehaven Ferry runs on the Wicomico River. Then, in Princess Anne, the 200-year-old, neoclassical Teackle Mansion rests among 300 Federal-style and Victorian structures. West of town, the Deal Island Wildlife Management Area is one of the state's finest places to view ducks and geese, as well as skipjacks, an historic sailing vessel used for dredging oysters.
Continue to Pocomoke City and the Delmarva Discovery Museum to explore how people's lives have been shaped by the water and land. Get up-close with Diamondback Terrapins, Horseshoe Crabs, North American River Otters and more through hands-on exhibits about the Chesapeake's habitats.
Follow the byway to one of the southernmost spots in Maryland - Crisfield - famous for its local seafood, peaceful water trails and annual Hard Crab Derby. Kayak or canoe among towering loblolly pine forests and tidal marshes with sandy beaches at Janes Island State Park - a nature lover's paradise.
Cruises and ferries run from Crisfield to nearby Smith Island, Maryland's only inhabited island accessible only by boat. Here visitors can see the Chesapeake watermen's life in action at its docks, villages and at the Smith Island Crabmeat Coop. Don't miss having a piece of Smith Island Cake, Maryland's official state dessert.
Trip Tips
Bike the 6 miles across Kent Island on the Cross Island Trail and take in sweeping views of the Bay.
Maryland Lore
Celebrated author James Michener wrote an outline for his novel Chesapeake in an Oxford tavern that won his heart with its succulent crab cakes.