Frank Walker - Teresa Duggan
Surrounded by rolling green countryside, this byway provides easy access to historical, cultural and recreational attractions as rural landscapes give way to the glittering Baltimore cityscape.
Saunter along a nature trail amid beautiful traditional and themed gardens that ornament the grounds at Cylburn Arboretum in Baltimore.
39 Miles
From Prettyboy Reservoir to Baltimore, where rural landscapes give way to city driving
Amenities
Gas Stations
Food & Drinks
Accommodations
Hospitals
ATM
The Jones Falls was once an important source of power for grist and cotton mills that popped up in the Jones Falls Valley and produced goods that were taken into town via the Falls Road Turnpike. Many of those mills still remain as shops, galleries and homes amid elegant neighborhoods.
Alesia to Worthington
Including MD 25
The Falls Road tour begins near Prettyboy Reservoir near the tiny community of Alesia. Hiking, off-road biking, fishing and paddle sports are a few of the popular pursuits at Prettyboy, as well as down the road at Gunpowder Falls State Park.
Enter the town of Butler to browse among the various antiques stores and specialty shops before moving on to the Oregon Ridge Nature Center. Marble quarries, iron ore pits and an archaeology site are some of the interesting features of this 1,000-acre park, which also hosts outdoor events ranging from orchestral concerts to hot-air balloon ascensions and offers swimming and hiking.
Heading south past the idyllic campuses of Maryvale Preparatory School and St. Paul's School, you find yourself amid historic country estates in the Green Spring Valley. Get a closer look with a quick sidetrack down MD 130 (Green Spring Valley Road).
(continued below)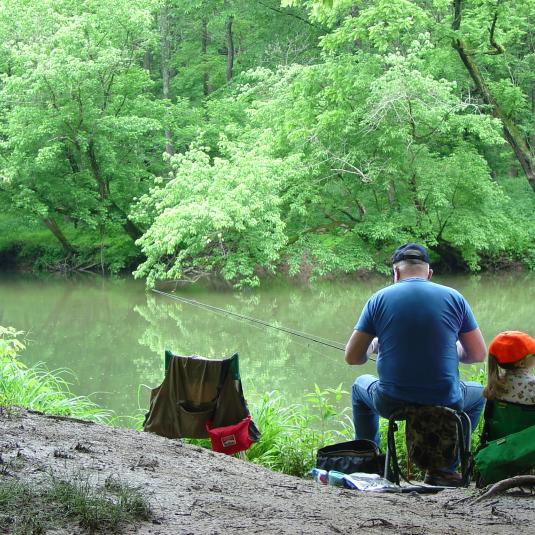 Visit Gunpowder Falls State Park, where a trout stream, surrounding greenway and trail network provide a natural place to escape and unwind.
The re-developed 19th-century Meadow Mill in Baltimore has an artful ambiance and creative energy within its shops, residences, and offices, including an upscale restaurant and glassblowing studio.
The ravine below the Prettyboy Reservoir Dam in Alesia offers rugged, secluded trails and a trout fly-fishing paradise.
Ruxton to Baltimore
Including MD 25 & Maryland Ave
Passing through an intersection with Joppa Road and the Jones Falls Expressway (I-83), you approach what looks like a European castle. The Cloisters, a mansion built in 1932 based on late medieval French and English architecture, has been used for numerous special events, including celebrity weddings.
Grand homes and well-manicured properties characterize residential areas found just inside the Baltimore Beltway (I-695). Rockland is a National Register Historic District that grew up around the milling industry and has become a quiet community of impressive stone buildings. The neighborhood of Bare Hills, with its Gothic revival homes, took its name from mining operations that were active during the 1800s. Bare Hills' quarries supplied the stone used to build a mansion that is the centerpiece of the Cylburn Arboretum, a beautiful complex of trails, gardens and outdoor sculptures. On the northwest outskirts of Baltimore City, Mount Washington is an eclectic village with tree-lined streets leading to boutiques, galleries, taverns and outdoor cafés. Upscale shopping and outdoor dining are also in vogue at the Village of Cross Keys.
Walk for a few blocks along 36th Street, known as "The Avenue" in Hampden. Enjoy shopping and dining in a true "Baltimore hon" atmosphere that served as inspiration for Hairspray and other works by John Waters. You're also near Charm City Cakes, formerly featured on the "Ace of Cakes" TV program. Desserts from Charm City Cakes are in hot demand at many local restaurants.
Nearing the end of your journey, explore the Baltimore Streetcar Museum, which displays 100 years of Baltimore street railway history and is minutes from the downtown area.
Trip Tips
In Downtown Baltimore, parking is limited to paid lots, garages and street parking with payment kiosks. Plan around rush hour when visiting on weekdays.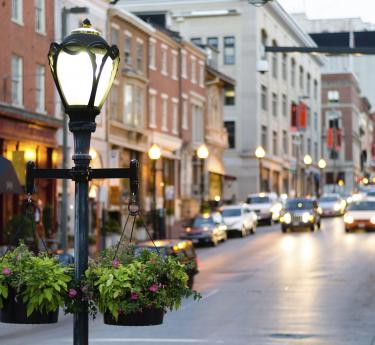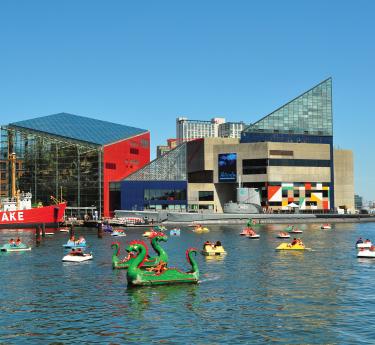 Maryland Lore
The neighborhoods of Woodberry and Brick Hill originally provided housing for Meadow Mill textile workers. Today, the mill itself houses craft galleries, restaurants and a small theater.