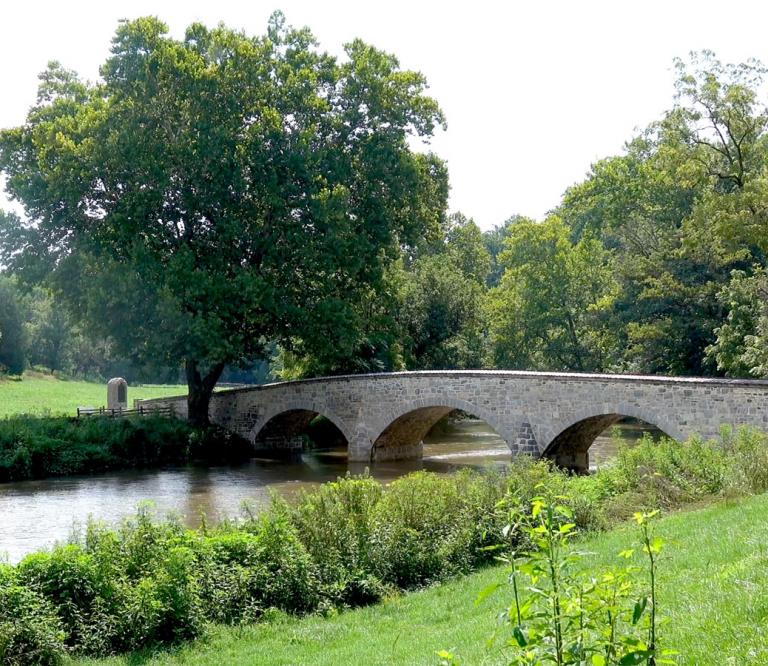 A key turning point in the Civil War, The Battle of Antietam took place on Maryland soil, as Confederate soldiers crossed the Potomac River and clashed with Union forces in the sleepy town of Sharpsburg.
Download The FREE Maryland Civil War Trails app*:
The picturesque Burnside Bridge at Antietam National Battlefield, the scene of intense fighting on September 17, 1862, holds the namesake of Federal Gen. Ambrose Burnside.
126 Miles
On rural roads connecting several small towns from White's Ferry to Sharpsburg
Amenities
Gas Stations
Food & Drinks
Camping
Accommodations
Hospitals
ATM
Restrooms
In September 1862, General Robert E. Lee moved his Confederate army into Maryland, hoping that a military victory on Union soil would gain foreign support for the Southern cause. Lee's ensuing campaign came to a head with the Battle of Antietam.
White's Ferry to Frederick
Including MD 107, MD 109, MD 28, MD 355, MD 85, MD 80 & I-70
Confederate soldiers forded the Potomac River and entered Maryland near White's Ferry. Cavalries then clashed in Poolesville, which was no stranger to Civil War action: In 1861, Union troops assembled here before being ferried into Virginia for the Battle of Ball's Bluff, and in 1863, Confederate horsemen stormed through on their way to Gettysburg, Pa. Civil War exhibits are found inside the circa-1793 John Poole House.
Several miles due north, you'll find the Monocacy National Battlefield. Well-known as the site of the July 1864 conflict dubbed "The Battle that Saved Washington," Monocacy also played a key role during the Campaign of 1862. Ask at the battlefield visitor center for details about Lee's "Lost Orders," which were found in this area by a Federal private and given to Union Gen. George McClellan prior to the battle at Antietam.
Frederick — the site of a 50-block historic, cultural and commercial district — has both the National Museum of Civil War Medicine and the Barbara Fritchie House. Fritchie was a 95-year-old widow who, as poet John Greenleaf Whittier proclaimed, defiantly waved an American flag from her window as Confederate troops moved through town.
(continued below)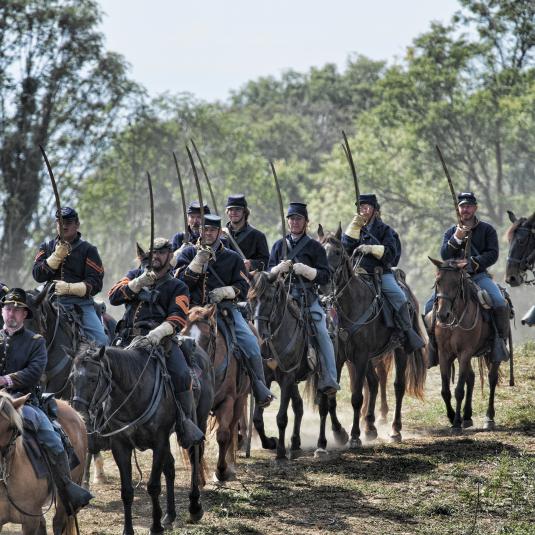 The stone Monocacy Aqueduct carried the C & O Canal over the Monocacy River, allowing canal boats to transport goods to market. Confederate troops tried and failed to destroy the aqueduct on September 4 & 9, 1862.
South Mountain to Sharpsburg
Including US 40 Alt, US 40, MD 17, MD 67 & MD 34
From Frederick, follow the Historic National Road Byway beyond Braddock Heights before branching off toward  South Mountain Battlefield State Park. Intense fighting occurred here three days prior to Antietam, with some of the wounded, including future President Rutherford B. Hayes, removed to homes and churches in Burkittsville and Middletown. Local Civil War relics are displayed at a museum in Boonsboro.
As dawn broke on Sept. 17, battle lines were drawn near Antietam Creek — Lee's 41,000 soldiers faced a Federal army twice that size. By dusk, Union forces held the field, but more than half of the 23,000 casualties wore blue, not gray. Union dead were buried at the Antietam National Cemetery, with many Confederate soldiers laid to rest in nearby  Hagerstown.
A thorough tour of the beautifully preserved Antietam National Battlefield — from Burnside Bridge to the "Bloody Lane" — can take several hours when a must-see visit to the Pry House Field Hospital Museum  is included. Also plan to stop at the farmhouse where abolitionist John Brown planned a pre-Civil War raid of an arsenal in Harpers Ferry, W. Va. The raid, though unsuccessful, inspired many anti-slavery groups.
A few days after the cannons fell silent at Antietam, President Abraham Lincoln visited the battlefield. Then on September 22, Lincoln issued his preliminary Emancipation Proclamation, a major step toward the prohibition of slavery.
* Apple logo is a trademark of Apple Inc., registered in the U.S. and other countries and regions. App Store is a service mark of Apple Inc. Google Play and the Google Play logo are trademarks of Google LLC.
Trip Tips
Annual events include an Independence Day concert and December's Antietam Memorial Illumination,
with 23,000 lights placed along a five-mile driving route.
Maryland Lore
The Monocacy Aqueduct was twice a target of Confederate demolition crews during the Antietam Campaign, but both attempts to destroy it failed.