Barbara Cook
Maryland, so famous for its seashore and smooth sailing, also has a wild side characterized by rugged mountain trails and rushing river waters.
193 Miles
From Keysers Ridge to Cumberland on state routes and country roads in forest areas
Amenities
Gas Stations
Food & Drinks
Camping
Accommodations
Hospitals
ATM
Restrooms
Mountain Maryland
Maryland, so famous for its seashore and smooth sailing, also has a wild side characterized by rugged mountain trails and rushing river waters.
Four seasons of outdoor pursuits — including hiking, skiing, fishing and boating — are available for anyone wishing to explore the Western Maryland countryside, from its thick forests and rambling rivers to the state's largest freshwater lake. Pockets of history also emerge amid small towns tucked into the mountains.
(continued below)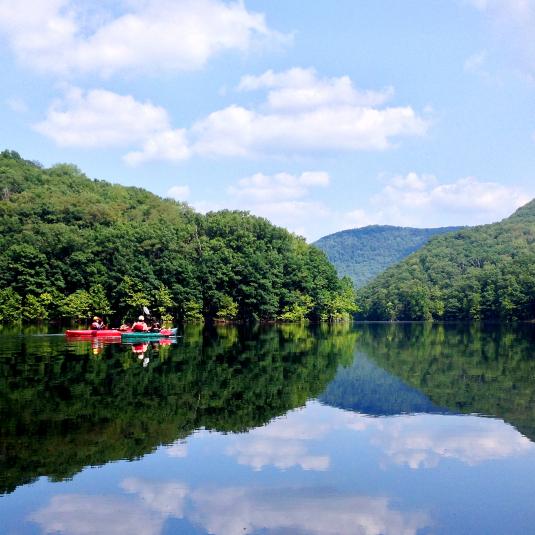 Deep Creek Lake is a favorite destination for watersports in mountain Maryland. Rentals of paddle and motorcraft are available in the towns of McHenry and Deep Creek.
The 1 1/4-mile trail through Swallow Falls State Park guides hikers through shaded rocky gorges with some of the most breath-taking scenery in Western Maryland.
This scenic landform on Will's Mountain seen while traveling on Rt. 40 between Cumberland and Lavale is named Lover's Leap.
Keysers Ridge to Oakland
Including I-68, MD 42 & US 219
Start at an elevation of 2,894 feet on Keysers Ridge, considered one of the most scenic peaks in Maryland, and choose between an easterly course into Grantsville—home of thousands of acres of state park and state forest land for your recreational pleasure—or head west toward Friendsville, where you can enjoy a winery tour and also get access to the scenic and wild Youghiogheny River. White-water rafting guides are based in the area.
Slipping south into McHenry, Wisp Resort offers winter activities like skiing, snowboarding and tubing, while warmer weather brings golfing and tree-top zipline tours. Four-season fun is provided by mountain coaster rides. Further down the road, Deep Creek Lake State Park hugs a spring-fed lake with 65 miles of shoreline and offers activities for all seasons, ranging from water skiing and boating to ice fishing and six miles of winter sports trails. The Deep Creek Discovery Center has hands-on activities and naturalist-led programs.
Visit Swallow Falls State Park to witness river waters rushing over the 53-foot Muddy Creek Falls, Maryland's tallest free-falling waterfall. Down the road, Herrington Manor State Park offers a serene lake environment. Log cabins within the park are available year-round, or you can make your way to quaint accommodations in the nationally recognized Main Street community of Oakland.
Enjoy the antiques and boutique shopping, stop for a friendly lunch-counter meal and old-fashioned milkshake, and admire the Victorian architecture of one of the most distinguished historic train depots in the country. An annual Autumn Glory Festival, complete with a small-town parade, calls attention to the colorful fall foliage, and Oakland Winterfest celebrates the best of the snowy season.
(continued below)
Trip Tips
In autumn, the leaves are changing color and the weather is cooler for comfortable hiking. However, summer provides extra daylight and warmer waters for wading, rafting, and more.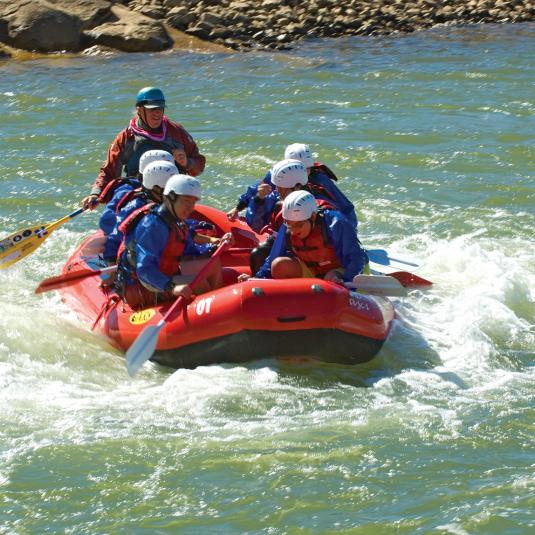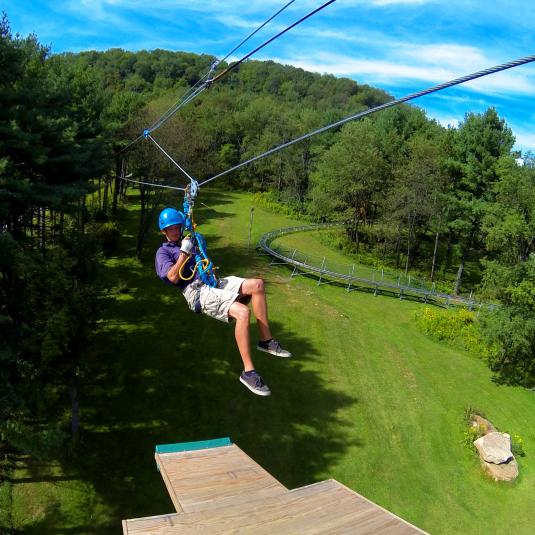 The Wisp Resort Mountain Park at Deep Creek Lake offers 3 canopy tour challenge adventures, the mountain coaster, geocaching, disc golf and more.
Stay amid the mountains with a lakefront view at Rocky Gap Casino Resort near Cumberland and play at the casino and Jack Nicklaus Signature Golf Course. Relax in the spa after a day on the state park trails.
Oakland to Cumberland
Including MD 135 & MD 36
At this point, the byway branches in three directions: one route enters the Allegheny Highlands, not only connecting to the C&O Canal Towpath and other trails, but also revealing natural environments commonly found in subarctic Canada; another path heads toward Kitzmiller and the Jennings Randolph Lake mountain recreation area; a third branch provides access to fishing and hunting at the 54,000-acre Savage River State Forest.
To the north, Lonaconing has an early-19th-century iron furnace and a 2,895-foot-high scenic overlook in Dans Mountain State Park. Next, pass through Frostburg, a mountainside college town and home to a picturesque Maryland Main Street.
Entertainment opportunities within town range from museums and galleries to performing arts centers. Transportation heritage sites have links to the birth of railroading, the C&O Canal and Historic National Road. A breathtaking mountain view is found along Cumberland Narrows, a 1,000-foot gorge just west of Cumberland.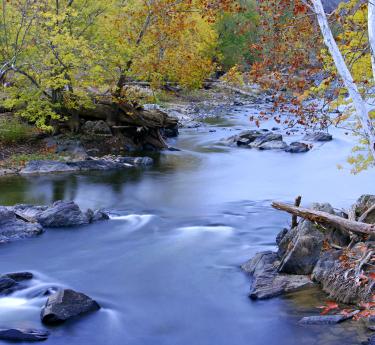 Take a Side Trip
Potomac-Garrett State Forest below Oakland is home to abundant wildlife, world-class trout fishing and a hike to the highest point in Maryland ­­— the 3,360-foot-tall Backbone Mountain.
Maryland Lore
Lover's Leap, a feature of Cumberland Narrows that offers views of the Allegheny Mountains, was named for a Native American legend about a jilted lover who jumped from this rocky outcropping.