The 19th-century engineering feat nicknamed "The Grand Old Ditch" has become a hub of outdoor recreational activity, with biking, bird watching and mule-drawn barge rides.
Built between 1828 and 1850, the Chesapeake & Ohio Canal worked with 74 lock lifts that, for nearly a century, allowed the passage of boats carrying coal, lumber and other products. Today, the 184.5-mile C&O Canal Towpath Trail has become an outdoor recreation mecca. The national park site has a network of visitor centers, campsites, recreational activities and nationally significant historic landmarks for you to enjoy.
The Chesapeake & Ohio Canal parallels the wide and scenic Potomac River, connecting Cumberland to Washington, D.C. Explore the waterway in a canoe, kayak or powerboat.
236 Miles
On a mix of country roads and state highways from Cumberland to Washington, D.C.
Amenities
Gas Stations
Food & Drinks
Camping
Accommodations
Hospitals
ATM
Restrooms
Cumberland to Hancock
Including MD 51, MD 144, I-70, US 40, MD 56, MD 68, MD 63 & MD 65
Original plans had called for the canal to extend into the Ohio Valley, but when railroading won the race to the west, work stalled in Cumberland, a transportation crossroads in the coal-rich Allegheny Mountains.
This scenic mountain town is now home to the Cumberland C&O Canal National Historical Park Visitor Center and the Canal Place Heritage Area, offering boat tours, scenic railroad rides, dining and shopping.
At the Spring Gap Recreation Area in Oldtown, a one-mile hike takes you to Lock 72 and a restored, two-story lock tender's house. Back on the road below Flintstone, you skirt Green Ridge State Forest, famous for its wildlife watching and off-road biking. Adjacent to the state forest is the Paw Paw Tunnel, which workers spent 14 years cutting through more than 3,000 feet of rock to bypass 6 miles of twists and turns in the river. Hikers and bikers anticipate the unique experience of traveling through the dark tunnel that carries the canal and towpath.
The byway dips into West Virginia, following WV 9 and US 522 for about an hour before re-emerging in Maryland near the C&O Canal's Hancock Visitors Center and the Western Maryland Rail Trail.
For several miles from Hancock to Big Pool, the canal runs parallel with the Historic National Road another scenic byway route worth exploring. Outside of Williamsport, Lockhouse 49 is the first of seven authentic lockhouses you will find on the byway where lock tenders once lived. They now provide overnight quarters for up to eight people. Nearby is another canal visitor center.
(continued below)
Great Falls Tavern is home to a visitor center, replica canal boat rides, an overlook of the Great Falls of the Potomac and the Billy Goat trail.
The C&O Canal Towpath follows the route of the canal from Cumberland to Washington D.C. providing recreational opportunities like hiking, biking and horseback riding.
Trip Tips
Bring a bike along, or make a plan to walk all or part of the C&O Canal Towpath Trail, which offers primitive campsites and accommodations in historic lockhouses along its 184.5-mile length.
Sharpsburg to Washington, D.C.
Including MD 34, MD 478, MD 464, US 15, MD 28, MD 109, MD 117, MD 190 & MD 189
The canal byway links into a Civil War trail around Sharpsburg, site of Antietam National Battlefield. Canal-related exhibits are displayed at the Barron's C&O Canal Museum.
In Brunswick, the heritage museum displays artifacts and exhibits on railroad history. The museum shares space with the  C&O Canal's Visitor Center, featuring exhibits that showcase the town's lively transportation past. Meanwhile, single-night tent camping is available at more than 30 hiker-biker campsites located every few miles along most of the towpath.
Beyond Poolesville and Seneca, you come to the Carderock Recreation Area, a haven for rock climbers. Three miles to the west is Great Falls, a spectacular series of waterfalls and rapids that made the Potomac River unnavigable by ships, prompting the need for a canal. At the Potomac-based C&O Canal Great Falls Tavern visitor center, arrange for an hour-long mule-drawn barge ride through one of the lift locks.
Before entering Washington D.C., veer slightly off the canal route into the Downtown Bethesda Arts & Entertainment District, where you can enjoy museums, gardens, galleries, performing arts and upscale shopping. Another canal visitor center is based in Georgetown, not far from the canal's first lock at the mouth of Rock Creek.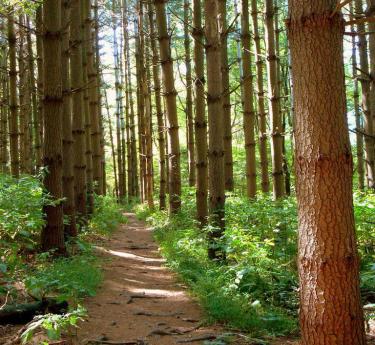 Take a Side Trip
Seneca Creek State Park in Gaithersburg has a restored 19th-century one-room schoolhouse and a partially restored mill that visitors are welcome to explore.
Maryland Lore
The name Paw Paw, shared by a canal tunnel and a West Virginia town at the Maryland border, refers to small, fruit-bearing trees found nearby.