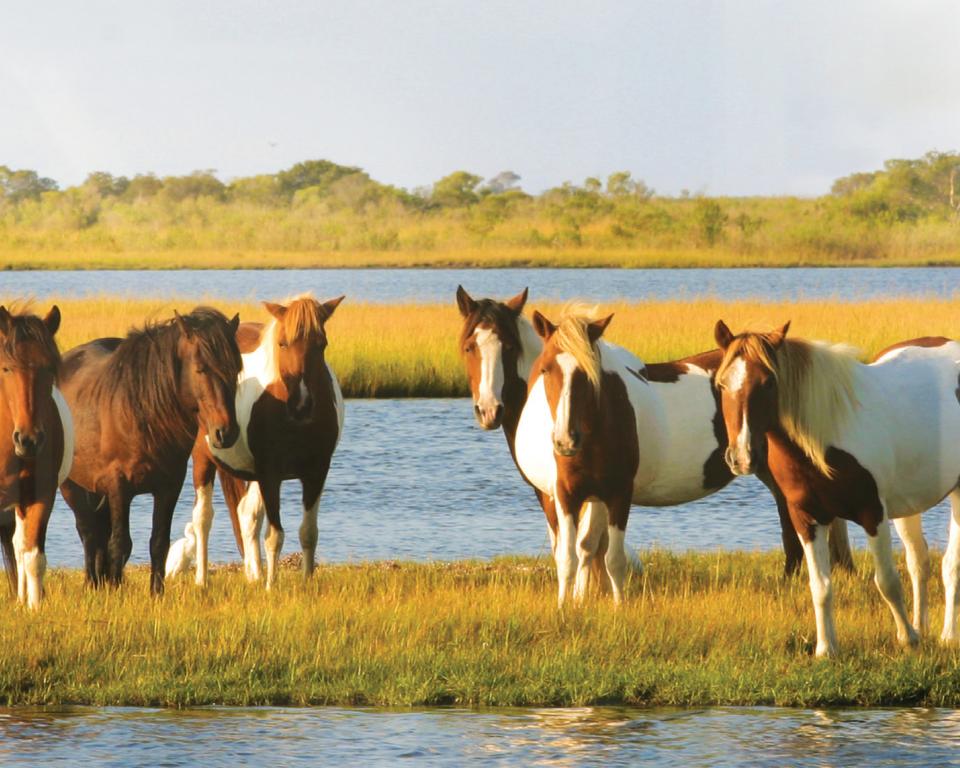 Maryland Horse Collection
Eastern Shore
Eastern Shore
Of course, the Shore is also home to one of Maryland's major tourist attractions—the Assateague Wild Horses at the Assateague Island National Seashore Park.
There are also numerous trail riding stables where you can rent a horse and see nature up close and personal.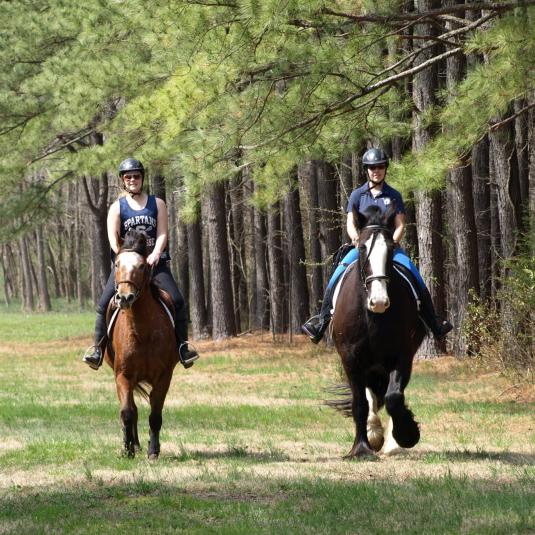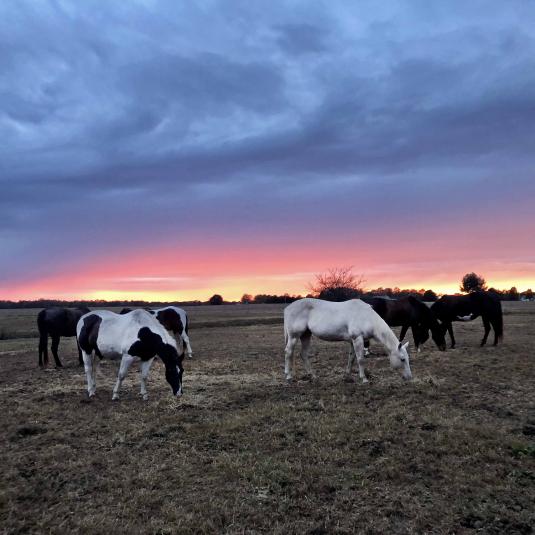 Worthmore Enrichment Center
Full service equestrian center offering lessons, boarding, summer camps, two therapeutic riding programs and various Horse Discovery Center activities. The farm is located about five miles north of Chestertown, the county seat of Kent County.
More info...
Talisman  Therapeutic Riding Center
TTR is the first therapeutic center on Delmarva to be open year-round, the first professionally-operated therapeutic riding center in Queen Anne's County and the county's only Horse Discovery Center. Situated on 30 acres of pasture, waterfront, tidal wetlands and woods, TRR offers several breeds of horses, a visitor's center, indoor arena and staff willing to give tours and offer their horse knowledge.
More info...
Tuckahoe Equestrian Center
A not-for-profit, multi-discipline, family and youth-oriented equine organization located in Tuckahoe State Park, near the town of Ridgely. There are 20-plus miles of woodland and field riding trails, a show arena, lighted jousting path, barn with stalls and a picnic area and clubhouse. The riding club (TEC) is one of the largest in the state with nearly 300 members. Annual events include Celebration of the Horse and Cindy Berkey Harvest Auction weekend in the Fall, Spring Fling and numerous trail riding events. Camping privileges with your horse are available for TEC members. The facilities can also be rented by other equine related groups for their events.
More info...
Country Comfort Farm
The farm is located on 70 acres in Talbot County near the famed Inn at Perry Cabin in a scenic waterfront town. This is a full service equestrian center offering boarding, lessons, an indoor ring, shows and guided trail rides through the countryside.
More info...
Windy Way Horses
Dorchester's Horse Discovery Center offers trail rides and trail ride lessons, Western and English riding lessons, birthday parties, camps, therapeutic riding, horsemanship clinics and equine massage therapy.
More info...
Hoof Prints Trail Riding Center
Horseback trail riding in the quiet wilderness of the Wicomico Forest with access to over 6,000 acres of state parkland. Lessons and trail riding instruction available. There is also a therapeutic and equine assisted learning program available for individuals with special needs.
More info...
Holly Ridge Farm Equestrian Center
Year-round trail riding on a scenic farm near Ocean City. Lessons are taught by certified instructors on experienced and reliable horses. Holly Ridge also offers many Horse Discovery Center activities and has a gift shop and other amenities such as indoor arena on site.
More info...
Calvin B. Taylor House Museum
Built in 1832, the restored home depicts life in and around the Berlin community. One room is totally dedicated to the history of the nearby Glen Riddle Farm, which once totaled 10,000 acres and was the home of Man o' War and his son War Admiral. There are also stories of the contributions to society and the economy made by horses throughout the developing years of this coastal community.
More info...
Glen Riddle Farm
The community of Glen Riddle was once the most important horse training center in the nation. Called hallowed ground by some, two of the greatest horses of the 20th century, Man O' War and War Admiral, once galloped on the golf course where golfers now play. The Training Barn, built to house 60 horses, is now a Ruth's Chris restaurant. But there is a Hall of Fame room commemorating the farm's history and there are paintings of famous Glen Riddle horses throughout the restaurant.
More info...
Ocean Downs Live Harness Racing & Off Track Betting by the Sea
Originally opened in 1949, Ocean Downs expanded in 2011 with its adjoining casino. While there are no horses permanently stabled on the site, they are shipped in to compete each day that races are scheduled. Ocean Downs usually cards live harness races in the evening during the June-September timeframe and there is betting on simulcast races from tracks across the country year round.
More info...
Assateague Island National Seashore
Spend a day observing the wild horses of Assateague. This barrier island national seashore covers over 28,000 acres in Maryland, and offers a rare experience as one of the few places in the United States where wild horses can be viewed. Their history at Assateague dates back to the 1600s, and the horses within the seashore boundary have been managed as wildlife since the park was formed in 1965. The management goal is to maintain a population size in the range of 80 to 100. The wild horses are neither tame nor pets, and they will bite and kick. Visitors must remain at least 40' from any horses they may see, and may not attempt to approach, touch or feed the horses or any other wildlife in the park. Take time to discover the Assateague island Visitor Center before you begin your day at the park. Visitors may also enjoy portions of the beach on horseback by bringing their own domestic riding horses during the fall, winter, and spring months.
More info...
Local Landmarks
As you drive up and down the Eastern Shore, you will see picturesque horse farms along major highways but also tucked away down obscure country lanes. The Shore has been known for its fine horses since the 1700s. It's been recorded that George Washington scouted the farms of Eastern Shore breeders for some of the Continental Army's finest mounts for the Revolutionary War.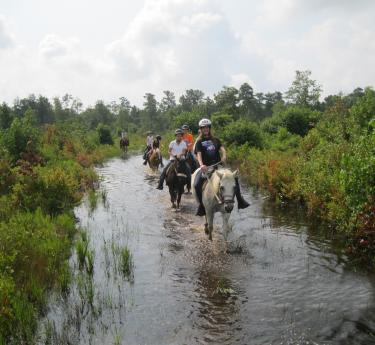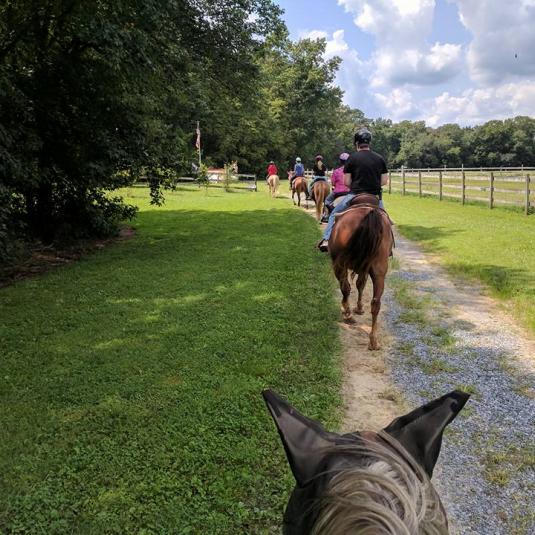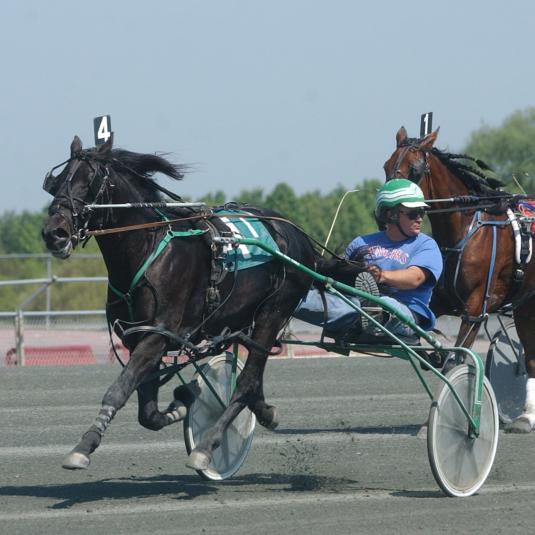 Major Breeding Farms
Major sport horse breeders include High Point Hanoverians, Harris Paints, which also stands several Standardbred stallions; Crosiadore Oldenburgs and Cool Na Grena Sport Horses. Land's End Farm, one of Maryland's leading pony breeders, is located in Queen Anne's County. The Chincoteague Pony Rescue is in Ridgely, Caroline County.
Jousting, rodeo and Western riding take place at the Queen's Anne County Fairgrounds and the Denton 4-H Park.
There are many licensed riding stables that hold shows such as Breezy Run and Autumn Grove. Other major stables are Fox Hill Eventing, Timber Grove, Bay Point Equestrian Center, Campbell's Lane, Kent Equestrian Center, and Glendale Riding School. Rusted Star Ranch is home to champions in the sport of cowboy mounted shooting. The Wicomico Equestrian Center near Salisbury hosts many horse shows and sits on 18 acres with 4 large rings. It is the former site of the legendary Winter Place Show Stable, which in the early 1970s was one of America's premier hunter/jumper operations.
The Layfield Farm event complex in Princess Anne offers a 3-Day event venue for Delmarva riders.
Foxchasing is conducted by the Wicomico Hunt at various fixtures throughout the Shore including the former territory of the iconic Wilbur Ross Hubbard of Mr. Hubbard's Kent County Hounds in Chestertown. Mr. Hubbard rode until age 97 and was proclaimed the world's oldest Master of Foxhounds up to his death.
There are also a number of 4-H and Pony Clubs on the Shore and both Washington College and Salisbury University have intercollegiate riding teams.
Take A Side Trip
Today major Thoroughbred breeding farms include Thornmar, Dance Forth and Goose Hill near Chestertown. The Standardbred breeding and training farms of Ken Wood, the Callahan and Milby families and leading driver Ken Schlotzhauer dot the landscape as well as Myer Farm, Jeff Clark Stables and Wynnfield Farm.