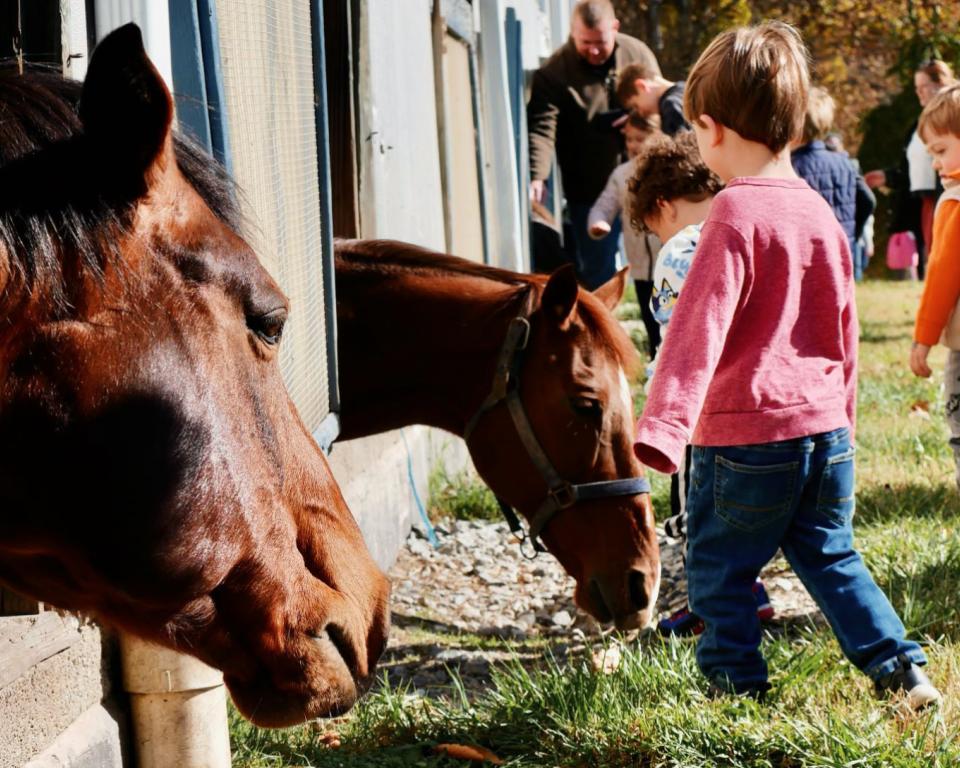 Maryland Horse Collection
Montgomery County
Montgomery County
Concern for protecting rural landscape in the county resulted in the establishment of the Agricultural Reserve. This unique area of contiguous farmland ensures that 70,000 acres within the Ag Reserve is protected through permanent easements that restrict residential, industrial and commercial development; 558 farms remain viable in a county with great development pressure.
The presence of two fox hunts in Montgomery County, The Potomac Hunt and Goshen Hounds, are active from  August to March.. Potomac Hunt hosts their very popular Potomac Hunt Races, which  take place in mid-May and draw a large crowd of steeplechase fans.
There are more than 100 licensed lesson and boarding barns teaching English and Western riding; several clusters of horse farms with direct access to public horseback riding trails termed "equine districts;" horse trails at Bittersweet Field; and horse shows at the Montgomery County fairgrounds.  There are numerous trail riding opportunities at facilities like the nearly 1,000 acre Woodstock Equestrian Special Park and the county is home to organizations like the Equestrian Partners in Conservation (EPIC) and the Potomac Bridle and Hiking Trails Association (PBHTA).
There are major waterways in the county including the Potomac, Patuxent and Paint Branch Rivers.
The scenic C&O Canal runs parallel to  the Potomac River in Montgomery County and is a favorite with horseback riders, hikers, and cyclists. If you work up a thirst or crave a bite to eat when you're touring the county, there are numerous vineyards, breweries and restaurants from which to choose!  
To get a feel for all the equine and related options in Montgomery County read on!
WANT TO LEARN TO RIDE A HORSE?
Potomac Horse Center
The Potomac Horse Center is an iconic facility in the Maryland equine community.
Frederick "Stretch" Harting, Jr. founded it on 200+ acres of the beautiful, rolling countryside of
Montgomery County in the early 1960s.  Mr. Harting built the Horse Center to "Foster the Olympic Spirit" in his son, Frederick G. "Trip" Harting III, who had Olympic potential as a jumper and dressage rider. Though the spacious facility was originally intended for the Harting family, there were so many requests for use by members of the local equine community that it was opened to the public.
The Potomac Horse Center continues to be a public riding academy, offering instructions to riders of all ages and experience levels. Its current 41 acres is home to 45 school horses and 15 boarders. The facility has a year-round riding lesson program, a popular summer camp, therapeutic riding, and a party room open to the public for birthdays and other festivities. The Potomac Horse Center hosts "Community Days" in May and October, which brings many neighbors out  to enjoy the festivities. There are horse shows and dressage clinics offered throughout the year.  Visitors are welcome to the Potomac Horse Center. Please check the website for information.
More info...
Waredaca
Laytonsville is the home of one of Montgomery County's premier equine facilities: Waredaca. It is a 200-acre educational and horseback riding facility located in the bucolic rural area of Upper Montgomery County, Maryland.
Waredaca attracts riders from kids to adults who participate in a variety of riding disciplines, though the barn is primarily known for its three-day event training and competitions. There are various levels of competition that attract different levels of riders, from "starter" competition to higher level "recognized" events bringing competitors from New England to the Carolinas. Riders looking to increase their skills can be trained at Waredaca to achieve their riding goals. Check out Waredaca's robust calendar of events which lists events that take place from May to November,
Younger riders have plenty of options at Waredaca, with the farm's Pony Kids Program, which introduces kids ages five to seven to ponies, horsemanship, and riding in a safe and fun environment. Additionally, the Waredaca Pony Club was founded in 2007 as part of a nationwide U.S. Pony Club (USPC) that brings the USCP program to children who  do not have access to their own horses or ponies.
More info...
Waredaca Brewing Company
Can it possibly get better than this? The nation's first farm brewery is in the State of Maryland and the Waredaca farm is home base! The brewery serves 15 beers on tap and bottled beer for sale for on-site consumption. Check out their informative website for more details on beer and food options. There's a robust calendar of events, which includes a chance to participate in Pet-a- Pony, a draw for kids of all ages. There is both indoor seating (in what  was the old dining room from the summer camp days) and outdoors on the patio and in the orchard. Check out their website for hours of operation.
More info...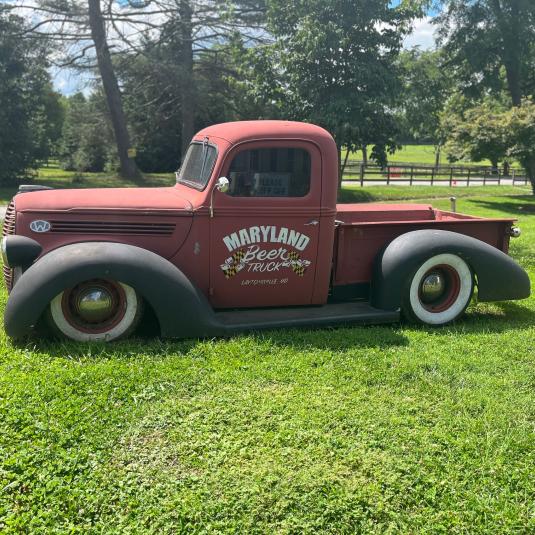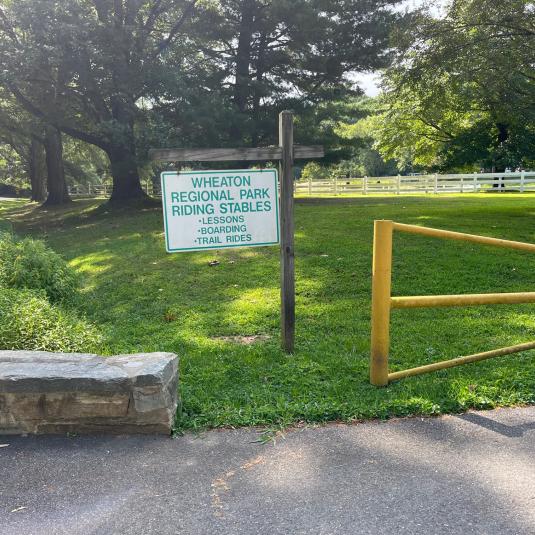 Wheaton Park Stables
Silver Spring, Maryland, home of Wheaton Park Stables, is located in the southern part of Montgomery County. It is a busy, populous area with large streets handling high volumes of traffic seven days a week.  One of these major thoroughfares is Randolph Road. Once you turn off Randolph Road onto Glenallen Avenue, the traffic noise seems to disappear. The road is residential, tree lined and has a country feel. Before long you see a beautifully maintained large riding ring and pastures. In the middle is a large indoor riding arena. You have arrived at Wheaton Park Stables.
As the website states, generations have been coming to Wheaton Park Stables to ride. The main focus of Wheaton Park Stables is an organized series of lessons for ages eight and up.  All levels of riding, from beginners to more advanced, are accommodated.  The lesson series usually start at the beginning of the months of March, June, September and November. Lessons are one hour, once a week, and the series last for 12 weeks.
Wheaton Park Stables offers other activities such as pony rides for kids three to seven years old; summer camp for kids eight years and older; trail rides (no experience needed, but reservations are required); Scout activities and photo shoots. Check out the Stables' website for details.
Though Wheaton Park Stables is not far from a heavily populated area, its location on a leafy, quiet street provides an oasis of calm and tranquility for horses, riders and visitors. It is no wonder that it has attracted riders for generations.
More info...
Meadowbrook Stables
If you live in the section of Chevy Chase off East-West Highway on Meadowbrook Lane,
and happen to be a horse lover, you have hit the residential real estate jackpot! In the middle of a lovely neighborhood on Meadowbrook Lane, at the edge of Rock Creek Park, is one of the most revered riding facilities in the country: Meadowbrook Stables.   Founded in 1934, Meadowbrook is one of the country's oldest and last remaining urban equestrian facilities.  The stable began offering riding lessons to the public in 1946. It would be hard to estimate how many people   have ridden at this iconic facility.
The barn structure is noted for its clubroom modeled after a tavern in Charlottesville, VA. Its second floor has a ballroom.  The facility has gone through a recent renovation to its barns, rings, and paddocks. Improvements include the construction of a covered riding ring that makes winter and summer riding lessons even more enjoyable.
Meadowbrook offers a year-round structured riding program for students aged six to adults. The program  focuses on riding horsemanship with lessons in hunters, hunt seat equitation, and jumpers.  There is also a popular summer camp for kids. The barn has a mission statement which focuses on commitment to community, stewardship, education and character development.
More info...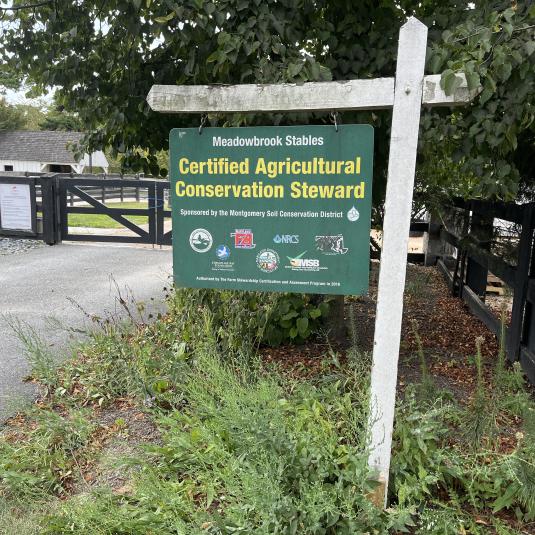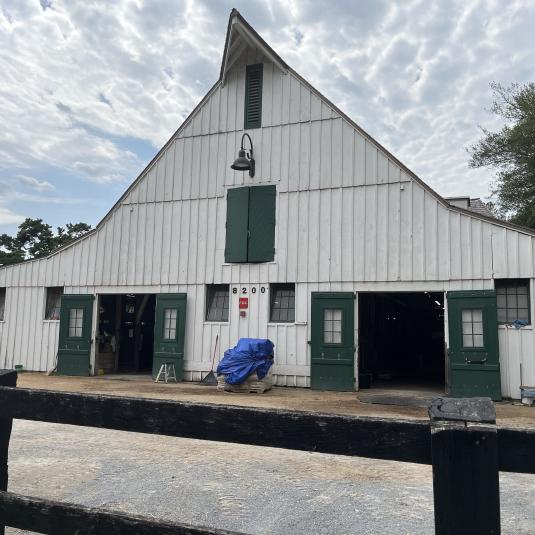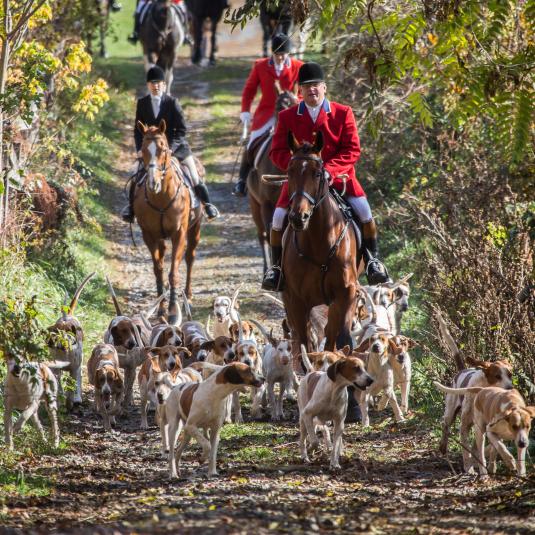 NEED RIDING ATTIRE OR A GIFT FOR A HORSE LOVING FRIEND?
All About Equestrian
All About Equestrian's website banner says it all: "For the Rider, For the Horse, For the Barn".
This picture-perfect shop, just west of the main Poolesville intersection, is a source of all needed and coveted items required for a well turned-out rider and horse. Focusing on the English riding style, All About Equestrian has an extensive inventory of all the brand names of apparel and supplies that horse people know and love. The in-store personnel can answer questions and make recommendations. The store also offers gifts and home goods when you are looking for that "perfect something" for a horse friend or yourself! This store is another example of how fun it is to visit and shop in Poolesville!
For convenience the store offers curbside pickup and delivery, but there is nothing like walking in  and experiencing it in person!
More info...
WATCH POLO! STOMP A DIVET! THERE'S NON-STOP POLO ACTION IN POOLESVILLE, MARYLAND!
There's so much great polo activity in Poolesville, the village has been referred to as "Polosville"! If you have not seen a polo match or you're a long-time fan, there is great polo to watch in Poolesville.
There are two local clubs with scheduled matches that are currently open to the public: Congressional Polo Club and Seneca Polo Club.  Read on for more information.
Congressional Polo Club
Congressional Polo Club is located in rural Poolesville in a truly bucolic setting. You will leave the pressures of the big city behind when you enter the club grounds and settle in to watch fast-paced polo played on a pristine field.
Congressional offers many options for watching or playing polo if you've ever had the desire. Regularly scheduled matches are held at 3 pm on Sundays, May 1 – October 31. Park your car, pull out your folding chairs, get the tailgate set up and you have the makings of a perfect afternoon. Periodically throughout the year there are high goal matches organized to benefit  selected charities. Be it  Sunday afternoon matches or charity tournaments, spectators can be part of the time-honored tradition of stomping of the divots (kids love this!) or participate in activities such as Best Hat, Best Dressed and Best Tailgate competitions! Check Congressional's website for updates to scheduled  events.
If you've ever had the urge to learn to play polo or improve your existing skills, check out Congressional's Polo Academy.  Highly skilled pros teach beginners to advanced on weekends. Young players are wholeheartedly welcome! Bring your boots and Congressional will supply the ponies! Email or call the club for more details.
More info...
Seneca Polo Club
Interested in watching fast-paced polo? Think you might want to learn how to play? Both "goals"  can be achieved at Seneca Polo. The clubhouse and arena are located behind Bascule Equestrian Center, close to the heart of Poolesvile, Maryland. The husband and wife team of Wayne and Kate Briere run Seneca Polo Club now in its 11th year of operation. Wayne credits the club's horses (also called "ponies") and the superb footing in the arena (where the match is played) for making the club great.
Seneca has a robust calendar of polo matches and tournaments that will appeal to spectators of all ages.
The club hosts three official USPA polo tournaments every year and has two nights of play a week from July through October. This includes the ever popular "Friday Night Lights" series held Friday nights under festive white lights. Wayne and Kate focus on making the club environment spectator friendly and collegial.
Gates open at 6 pm and the polo begins at 7 pm.  Spectators set up their picnics at the arena or opt to tailgate on the hill. Both provide great viewing of the match. Check out the club's Facebook page or website for weather updates and additional information
If you have ever had an inkling to swing a mallet, check out Seneca Polo School. Group and private lessons, polo clinics and club matches are available for riders of all ages. Introduction to polo is offered once a month. Prefer to spectate? Just sit back with beverage in hand and marvel at the ponies, the riders, the country setting ( with iconic Sugarloaf Mountain in the distance).  Winston Churchill hit it spot on when he said: "Polo is a passport to the world." Combine this with Wayne and Kate's sentiment that "polo is a family" and you understand the appeal of this sport.
More info...
All About Equestrian's website banner says it all: "For the Rider, For the Horse, For the Barn". This picture-perfect shop, just west of the main Poolesville intersection, is a source of all needed and coveted items required for a well turned-out rider and horse.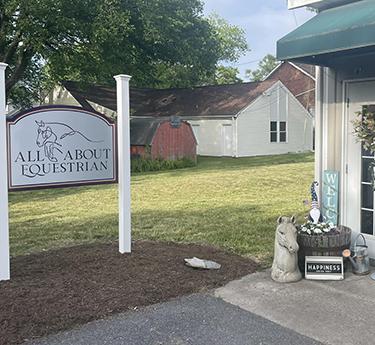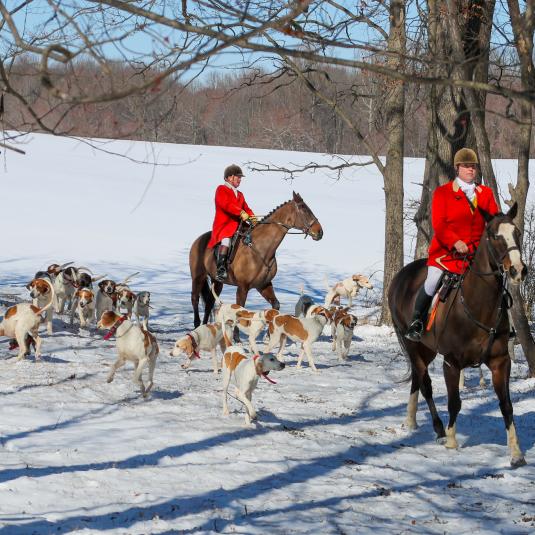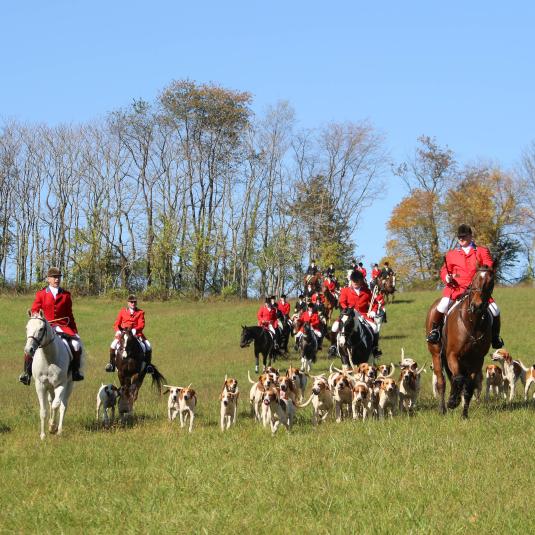 HORSES AND HOUNDS THRIVE IN UPPER MONTGOMERY COUNTY
The Potomac Hunt
The Potomac Hunt has been in operation since 1931 and is one of Maryland's most recognized fox hunts. Hunts are held at various locations, known as "fixtures" throughout Upper Montgomery County.
The Hunt is very active throughout the year with parties, fox hunting clinics, hunter paces, hound walks and the spectator favorite, The Potomac Hunt Races.  Check out the website for more details! If you like an afternoon in the countryside, gathered around a tailgate and cheering horses and jockeys as they race over fences or on the flat, this family-friendly event is for you!
The Potomac Hunt is very active in land conservation efforts to help ensure the future of the sport for generations to come. Every year a festive party is hosted for the landowners who graciously provide access to their land.
More info...
Goshen Hounds
The presence of Goshen Hounds, like the Potomac Hunt, is a testament to the fact that horse sports are alive and well in upper Montgomery County. Established in 1957 and located in a bucolic setting in the Gaithersburg area, the Goshen Hounds prides itself on being a friendly and welcoming organization. If you love horses, hounds, and the country, you're a friend! Goshen Hounds makes wonderful use of their hunting territory  while remaining dedicated to preserving the land for future generations to enjoy the sport of fox chasing. The members of the Hunt follow American and Crossbred hounds who chase wily red and gray fox. Goshen Hounds traverses verdant farmland and woods with jumping and non-jumping fields.
More info...
YOU'VE TOURED THE COUNTY, SIGNED  UP FOR RIDING LESSONS, WATCHED A POLO MATCH,
NOW IT'S TIME FOR A BEVERAGE!
The Crossvines
The quaint village of Poolesville keeps getting better and better. Although its rural scenery and horse scene have been strong for decades,  the addition of many new vineyards, breweries and restaurants has only increased  Poolesville's appeal.
A terrific addition to the area is The Crossvines, a beautiful new addition to Poolesville's wining and dining offerings. There are a number of components that make The Crossvines what it is:  a restaurant called the Farmhouse Bistro, which offers seasonal, locally sourced cuisine, coupled with a rotating selection of wine produced in their winery just a few steps away.  The Crossvines also offers beautiful event spaces with an in-house team to help you plan your special event. The Crossvines takes it to a whole new level as a destination for wine lovers and those who want to immerse themselves in the world of winemaking with a Wine-Crush facility and viticulture education space on the property. Lastly, a popular 18-hole golf course that has been a favorite of area golfers for years is another part of The Crossvines' experience.
The Crossvines' stated mission makes it all the more unique: To create economic opportunities and investment in the agricultural tourism, events and wine-making industry sectors of Montgomery County and the Montgomery County Agricultural Reserve with educational programming, research facilities and acres of demonstration vineyards.
Sipping a Crossvines' wine flight, enjoying a delicious charcuterie board while supporting the Agricultural Reserve – it all makes for a perfect experience at The Crossvines.
More info...