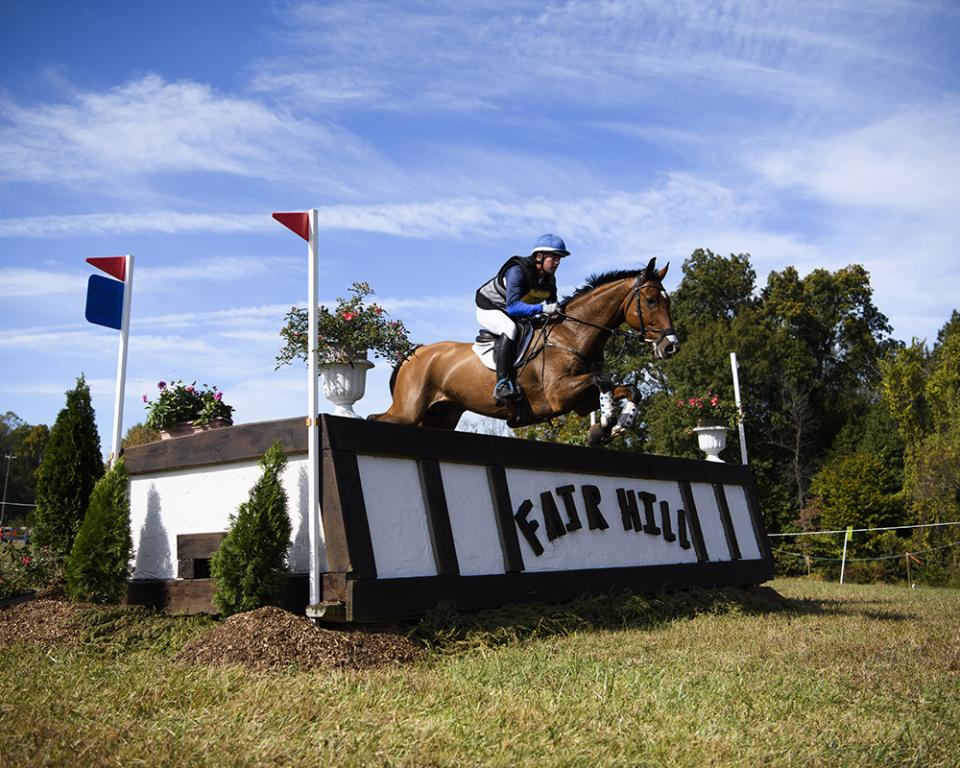 Maryland Office of Tourism
Maryland Horse Collection
Cecil County
Cecil County
In 1924, William duPont founded Fair Hill, a tract of nearly 6,000 acres near Elkton, which is now a state-owned natural resources management area and equestrian competition venue.
About 20 miles further south, in the 1960s, Allaire duPont banded together with well-heeled friends and established a 10,000-acre enclave of individual horse breeding farms in Chesapeake City. It is the largest contiguous area of preserved farmland in Maryland. The county is comprised of gently rolling farmland interspersed with five rivers—the Bohemia, Sassafras, Northeast, Elk and Susquehanna—and other major waterways such as the Chesapeake Bay and the C & D Canal, one of the busiest in the world.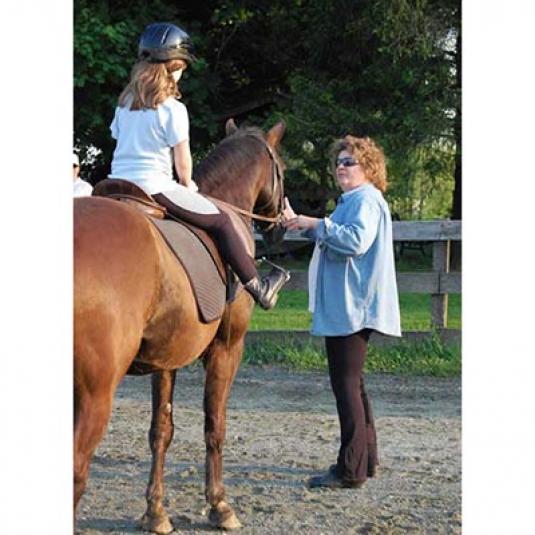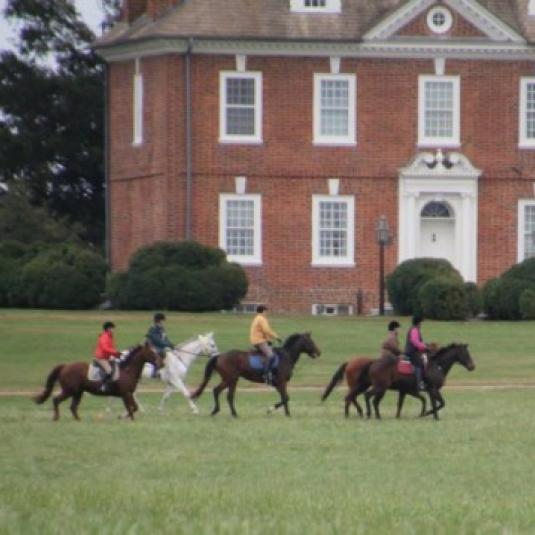 Fair Hill Natural Resources Management Area
Hundreds of horse activities take place each year. Fair Hill is the site of the new international Maryland 5 Star three-day event, a new one-mile turf course being unveiled in 2021 for the Fair Hill Races, home of the National Steeplechase Association and the Cecil County Fairgrounds, numerous horse shows and other three-day events, over 70 miles of horseback riding trails, overnight camping and stabling for horseback riders, trails for carriage driving and home of the Fair Hill Hounds for fox chasing.
More info...
Fair hill Training Center
Major Thoroughbred training center with 18 barns stabling over 700 horses; one dirt and one synthetic racetrack; Kentucky Derby winning trainers Michael Matz, Graham Motion and Shug McGaughey have horses stabled here. Tours are currently cancelled due to the pandemic, but the public can keep up with all happenings by following many of the trainers on Facebook and/or by accessing the FHTC Weekly Update. There is also a major equine therapy center located on the grounds and a vet clinic.
More info...
Fair Hill Saddlery
Brand new building with 8,500 sq ft. of retail space. Full service equestrian store featuring both English and Western tack, horse supplies and horsey gifts. Hub for local horse activity. Located just 2 miles east of the Fair Hill NRMA complex.
More info... 
Fairwinds Farm & Stable
Fairwinds is a certified MD Horse Discovery Center offering trail rides, lessons, outdoor and indoor arenas and overnight stabling for horses in transport.  The owners, JoAnn and Ted Dawson, also operate a bed & breakfast and the farm is a popular wedding venue. JoAnn was horse wrangler for House of Cards and is a cast member of the new movie Hope's Legacy, which was also partially filmed at the farm.
More info...
Mount Harmon 
Historic 18th century manor house and grounds offer guided tours, special events, school field trips, 200-acre nature preserve with nature trails and the Carriage House education center. Equestrian members pay an annual membership fee and receive a Year Round Access Pass for riding on miles of trails. There is an annual paper chase event on Mount Harmon's scenic and historic waterfront trails.
More info....
Grove Point Stables
A unique 175-acre waterfront equestrian center offering trail rides, equestrian camping, lessons, summer camps, riding the beach and a full cross country course. Located 3 miles from Mount Harmon Plantation. Home of the rare breed of Gypsy Vanner horses.
More info....
Hollywood Casino
A corner of Maryland's first operating casino is dedicated to an Off-Track Betting site for wagering on horse races. This is where you can stop in, place a bet on the Preakness or Maryland Million or your favorite Maryland-bred as well as on races at various tracks across the U.S. Hollywood Casino is celebrating its 10th anniversary.
More info...
The Carriage House
Restored by horse owner Martha Barchowsky, the structure once housed the horses and carriages for Cecil County's first millionaire, Jacob Tome. The Carriage House no longer has horse stalls, but the stable courtyard is still in existence. The Carriage House is used to hold events, both in the Victorian-decorated interior and outdoors. There is also an Airbnb rental.
More info...
Rolling Hills Ranch
One of two Horse Discovery Centers in Cecil County, Rolling Hills offers riding
lessons, natural horsemanship, boarding, camps, parties, jumper shows, combined
tests, dressage shows, trail rides and more.  RHR offers a large outdoor riding, indoor
and large dressage arenas, cross country course, and more. The English Manor home is
also a B & B. The farm is home to the Freedom Hills therapeutic riding program, a
Premier Center for the Professional Association for Therapeutic Horsemanship.  RHR sits on the hills above Port Deposit and the Susquehanna.
More info...
Local Landmarks
There are many large, working horse breeding and training farms in Cecil County. Many are not open to the public. Cayot's Corner Road in Chesapeake City is a horse farm mecca. Driving along the road you can see the 3,000-acre Standardbred breeding facility Winbak Farm; the entrance to the old Woodstock Farm of Allaire duPont; Yellow Wood Dressage at Riversedge; and Northview Stallion Station, home to a half dozen or more leading Thoroughbred stallions. Occasionally appointments can be made to visit these farms by visiting their websites.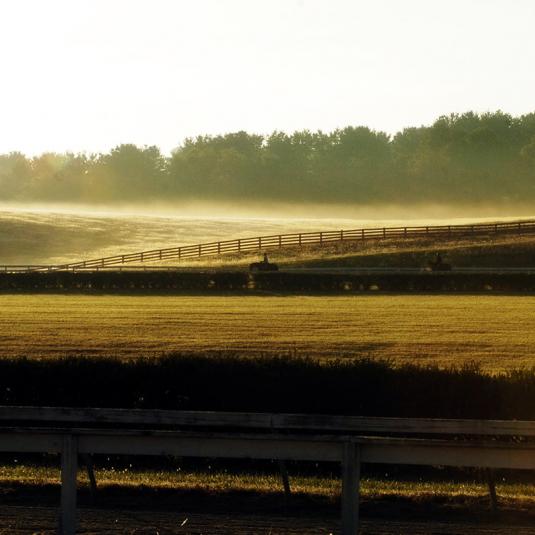 Horse farm at golden hour in Maryland.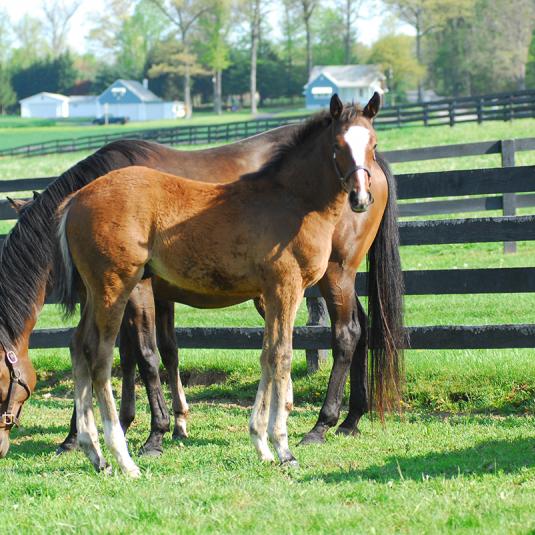 Maryland Horse Country
About 10 miles south of Chesapeake City is the Warwick, MD horse country. Prominent farms include Country Roads, where renowned California singer-songwriter Burt Bachrach keeps his Thoroughbred  breeding stock; and Mid-Atlantic Horse Rescue, the well-respected Thoroughbred training and adoption center for retired racehorses.
Across the county at Port Deposit is Anchor and Hope Farm, home to the top Thoroughbred stallion Bourbon Courage. Hilltop Farm, one the country's major sport horse stallion stations and breeding centers, is about 10 miles from Anchor and Hope in Colora. Sitting at the end of Elk Neck near North East is the expansive training establishment of Eclipse Award-winning trainer Michael Dickinson.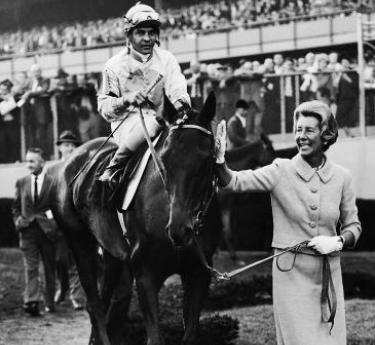 Take a Side Trip
Winbak is the former Windfields Farm, once home of the great Thoroughbred stallion Northern Dancer. Woodstock Farm is the burial site of 5-time horse of the year Kelso as well as many other champion horses owned by Mrs. duPont.