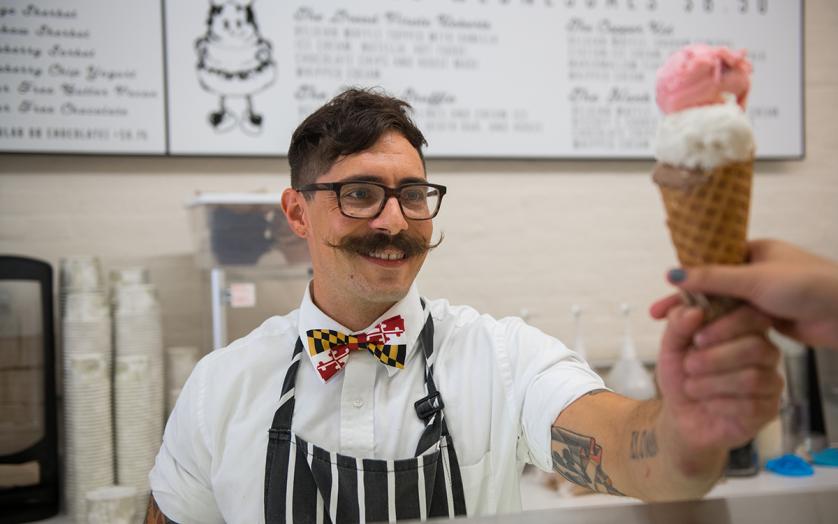 Ice Cream Lovers' Guide to Maryland
Funky flavors, cow-to-cone-creameries, and a 250-year tradition make Maryland a sweet (or even savory!) summer paradise for ice-cream lovers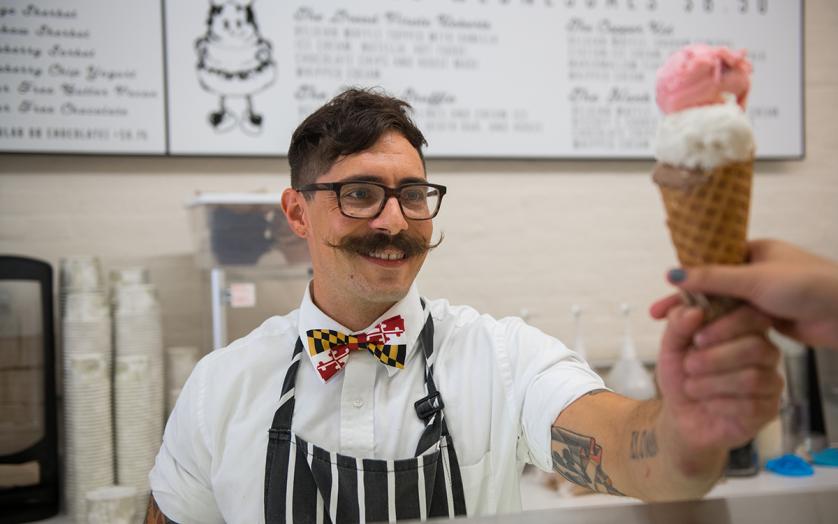 When it comes to ice cream, Maryland is full of firsts. First ice cream on the continent? Check. Governor Thomas Bladen served up the sweet, creamy treat way back in 1744 (it was strawberry, if you're wondering). First commercial sales of ice cream? Check again. A Baltimore milkman by the name of Jacob Fussell began the commercial selling of ice cream in Baltimore in 1851, and we're still leading the way with the Maryland's Best Ice Cream Trail featuring cow-to-cone creameries with their own dairies.
We may call our trail the "Maryland's Best," but it's the best darned ice cream on Earth. Don't believe us, download your Maryland's Best Ice Cream Trail Passport and hit the (rocky?) road and taste them all. 
Check out these fantastic creameries across the Old Line State:
Western Maryland
Deliteful Dairy, Williamsport (Washington County) – All of our goods are made from the animals that graze the 160 acres of family history. When you visit the farm, you'll see rolling green landscapes, 60 happy cows, fresh products and the best tasting milk you've ever had.
Lakeside Creamery, Oakland (Garrett County) – With two locations in the Deep Creek Lake area, Lakeside features more than 90 flavors of ice cream and sherbet made on the premises. Seasonal fruit flavors use local fruit. Lakeside Creamery Café offers an array of coffee and specialty drinks.
Mountain City Coffeehouse and Creamery also serves Lakeside ice cream in Frostburg.
Misty Meadows Farm Creamery, Smithsburg (Washington County) – Family-owned business with a creamery on the farm featuring weekly activities. Stop in for an ice cream cone, or to see to the cows! 
Nutter's Ice Cream Shop, Sharpsburg (Washington County) – Nutter's is an old-fashioned ice cream shop, family-owned and operated since 1996. Nutter's serves 32 flavors of ice cream, along with other items such as a peach pound-cake sundae. The shop is located off the Sharpsburg town square and is near both Antietam National Battlefield and the C&O Canal Towpath.
Queen City Creamery and Deli, Cumberland (Allegany County) – Located in a renovated building that features a re-created 1940's soda fountain, Queen City offers frozen custard – also known as New York-style ice cream. The frozen custard is made daily and comes in three flavors each day.
Central Maryland
Annapolis Ice Cream Company, Annapolis (Anne Arundel County) – Located on Main Street downtown, the shop offers ice cream that's made on the premises with natural and organic ingredients. Flavors range from the standards to Raspberry Chocolate Chip, Coffee Oreo (made with real coffee) and Key Lime.
Bomboy's Home Made Ice Cream, Havre de Grace (Harford County) – Across the street from Bomboy's Home Made Candy, the ice cream shop scoops out Duck, Duck, Goose; Salty Dawg; Raspberry Truffle; and Kokamocha among its everyday selections. Seasonal flavors include Havre de Nuts, Chocolate Explosion and Cinnamonkey. Look for the black-and-white cow outside.
Broom's Bloom Dairy, Bel Air (Harford County) – Featuring their own old-fashioned ice cream, Broom's Bloom Dairy has made more than 100 flavors, with a variety of 12-18 flavors offered daily.  They also serve homemade lunches, artisan cheese and pork sausage. Locally produced lamb, beef, free-range eggs, and seasonal vegetables are also available.
The Charmery, multiple locations – The Charmery is known for its uniquely inspired homemade flavors, bright and bold design aesthetic and a friendly customer service experience. The original Hampden-based ice cream shop opened in the summer of 2013 and has now opened outposts in Towson, Columbia, and another at their ice cream factory at the Union Collective in Baltimore.
Hoffman's Home Made Ice Cream, Westminster (Carroll County) – The Hoffman family has been making ice cream since 1947. Ravens Ripple – available in the fall – is one of the 50 flavors made during the year. Homemade ice cream sandwiches are a favorite among regular customers.
Keyes Creamery, Aberdeen (Harford County) – Only the best milk produced by the farm's grass-fed cows is used to make Keyes Creamery specialty cheeses and premium ice cream. The delicious results are now available at the creamery serving hand-dipped ice cream, which is made weekly on site. Quarts and pints of  favorite flavors are available to take home as well as delicious and beautifully decorated ice cream cakes and pies!
Prigel Family Creamery, Glen Arm (Baltimore County) – the Prigel family has been farming in the Long Green Valley for more than 100 years and five generations. Prigel Family Creamery processes milk from Bellevale Farm into fresh, nutrient-dense dairy foods from cows that graze on grass grown from organically balanced soils.
Taharka Brothers, multiple locations (Baltimore City) - Well known for serving up classic flavors along with a constantly evolving roster of delightful, small-batch offerings like Honey Graham, Mintflix & Chillz, Key Lime Pie, and Caramel Crunch, Taharka Brothers' mission to mentor and support young adults from Baltimore makes their delicious local treats all the sweeter!
Capital Maryland
The Dairy, University of Maryland, College Park (Prince George's County) – An ice cream institution, The Dairy has made ice cream since 1924 and offers 31 flavors. It continues to get top reviews from students, alumni and visitors.
Moorenko's Ice Cream, Silver Spring (Montgomery County)  – Since 2002, Moorenko's has crafted excellent small-batch, ultra-premium ice cream in the DC area. Their ice cream is made by hand, the old-school way. Ultra-premium ice cream is the best of the best, made with the highest percentage of milkfat, less sugar, and less air. The result is a rich, dense, creamy dessert that is wholly satisfying.
North Market Pop Shop, Frederick – Pop Shop boasts a selection of more than 400 constantly rotating sodas and they're scooping up fabulous all-natural Trickling Spring Ice Cream served in biodegradable bowls. Vegan and lactose-free folks can enjoy soy, rice, and coconut based scoops, gluten-free cones are available too.
Rocky Point Creamery, Tuscarora (Frederick County) – Take a drive through the back roads along the Potomac River and experience Maryland's beautiful farm country. Rocky Point is the home of "Mule Food"-flavor ice cream, in honor of the C&O Canal National Historical Park's 50th anniversary.
South Mountain Creamery, Middletown (Frederick County) – South Mountain Creamery is Maryland's first on-site dairy processing plant that delivers all-natural and farm fresh products to your doorstep. They also have a store on the farm that sells their products to those local customers that don't have their delivery service......yet!
Woodbourne Creamery at Rock Hill Orchard, Mt. Airy (Montgomery County) - Woodbourne offers cow to cone and the cows are friendly Golden Guernsey cows grass fed to provide double the Omega-3 fat, plus higher beta-carotene content to provide extra goodness.  Visit and see where these friendly, sweet cows live and even how the ice cream is made.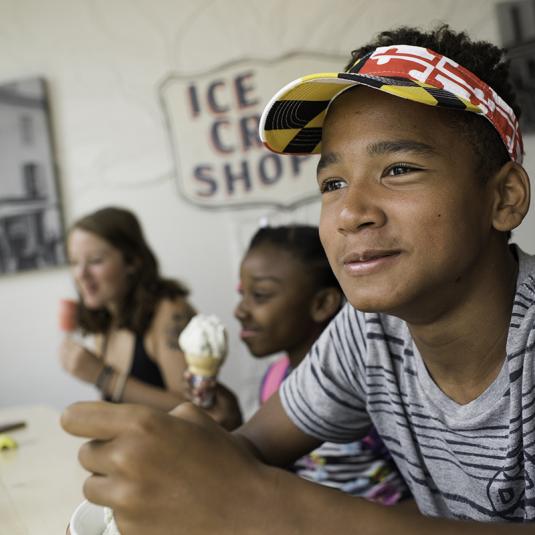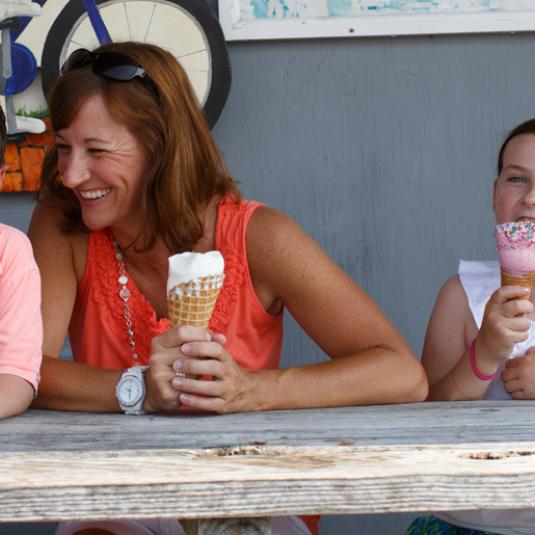 Southern Maryland
Heritage Chocolates, Leonardtown (St. Mary's County) - on the Square offers handmade gelato to go along with its many luscious chocolates.  Heritage offers classic chocolates and candies such as caramels, brittles and toffees but it has also added enrobed Oreos, graham crackers, caramel apples and cream-filled chocolates. All of their 75 extraordinary recipes pair wonderfully with their yummy gelato.
Landon's Ice Cream, La Plata (Charles County) - Landon's crafts high-quality ice creams at home with the same ingredients they serve to family and friends. After supplying ice cream to restaurants throughout the county, Landon's is now open to the public, creating the finest homemade ice cream, all made on premises.
Eastern Shore
Chesapeake Bay Farms, Inc., Berlin (Worcester County) – Meet the herd that produces the milk for all of the farms' fresh dairy products. Enjoy homemade ice cream cones while watching the cows in our unique country setting. Kids can safely milk a robotic re-circulating cow and visit with farm animals. Retail stores in Pocomoke and Berlin serve all Chesapeake Bay Farms' homemade products including hand-dipped ice cream by the cup, cone or packaged to take home, a wide variety of artisan cheeses and fresh hand-stretched mozzarella made on our dairy farm, fresh milk, butter, eggs and more.
Dumser's Dairyland, Ocean City (Worcester County) – Located on the Ocean City boardwalk since 1939, Dumser's makes its own ice cream daily – serving up its creations at an ice cream parlor reminiscent of the 1940s. Dumser's also has two restaurant locations along Coastal Highway.
Island Creamery, Berlin (Worcester County)  and Salisbury (Wicomico County) – Started in 1975 by Bob & Nancy Conklin, parents of the current owners, Kelly and his wife Robin, the Creamery serves delicious frozen treats using all-natural premium butterfat mix from Lancaster County cows ensuring a rich, creamy ice cream inspired by flavors from local fruit or from tasty concoctions made in their kitchen.
Justine's, Ocean City (Worcester County) – Offering a creative assortment of ice creams, gelatos, sorbets, and frozen desserts.  And, Justine's is famous for offering more than 77 classic and signature milkshakes!
Nice Farms Creamery, Federalsburg (Caroline County)– Come out to the farm for old fashion fresh ice cream made from scratch on the farm with milk from the herd.
Scottish Highland Creamery, Oxford (Talbot County) – Growing up in Edinburgh, Scotland, Victor Barlow lived above an Italian ice cream shop that opened in 1907. He worked at the shop as a teenager, became the manager and eventually learned the secret family recipes. Today, Barlow offers 600 flavors, including Double Belgian Chocolate, Dulce de Leche, Mascarpone and Tiramisu.
Be sure to check out our Maryland Snowballs and Lollipops: The East Coast's Coolest Tradition!