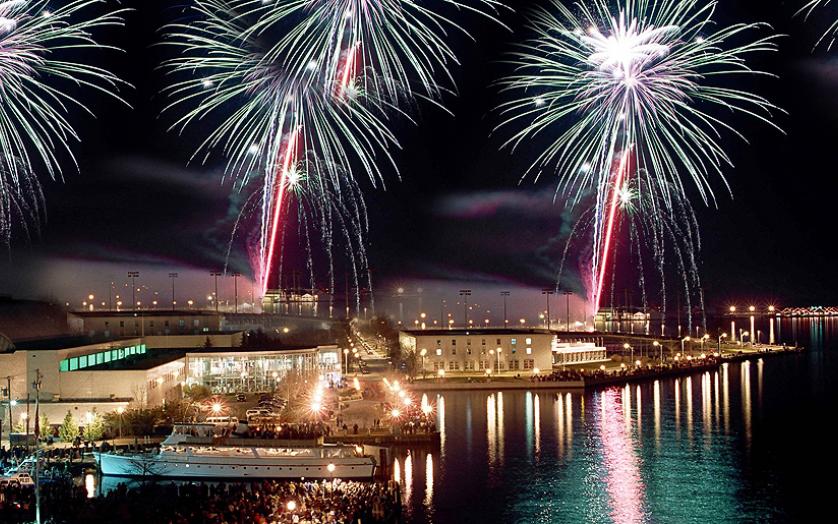 Baltimore Office of Promotion and Arts
4th of July Celebrations
Independence Day celebrations are scheduled throughout the state.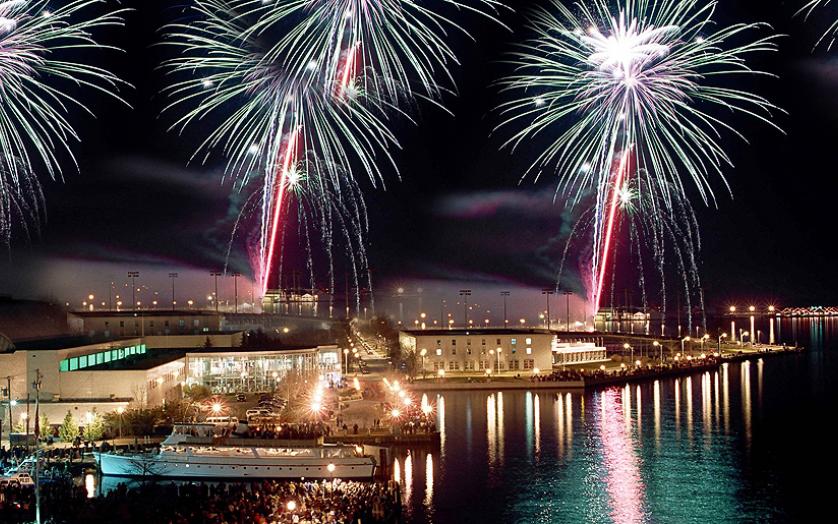 Baltimore Office of Promotion and Arts
It's time to sail on the Chesapeake Bay, build sandcastles in Ocean City, visit some of Maryland's many wonderful parks and outdoor spaces, and get into a mountain of steamed crabs—this is just the beginning of summer in Maryland! 

Check out this list of 4th of July weekend celebrations throughout the state.  This July 4 will be different from others, but it can be celebratory and meaningful with or without the traditional parade and fireworks.  Here are just a few ideas of activities happening that weekend across Maryland, on-line and in real life.  Reach out to the organizers for details and safety protocols.
Celebrate Virtually:
           July 3 - Have a drink with a brewer, virtually.  Join Fermented Friday for a Maryland beer virtual tasting! Grab a cold Maryland beer and tune in for a great talk.  Presented by the Brewers Association of Maryland.
           July 4 - Baltimore Welcomes a Military Fly-Over Salute to the American Revolution's Great American Cities - The Pentagon announced the fly-over that includes  Boston, New York City, Philadelphia and 

                          Baltimore.  Time is TBD, so please pay attention to local media for updates.                           
           July 4 - Annual Pet Parade goes virtual.  Join the pet friends of the American Visionary Art Museum this year by either watching or by participating in and also watching the 4th of July Pet Parade.

                          Submit images of your pet dressed for Independence Day by July 1.  The gathered images and clips will be published on AVAM's social media and YouTube on July 4 for the joy and delight of all.
           July 4 -  at 1pm - Virtual Independence Day Tour with the National Museum of Health and Medicine.  Take a virtual look into the galleries and see objects that focus on the history and innovations of military medicine.                                Brought to you live on Facebook.
           Go Camping - Make this the weekend you take an All-American Camping Trip in one of Maryland's many camping locations.
           Learn Maryland History - Get a feel for Maryland's history and unique qualities by playing some fun games!  Visit Maryland Fun For Everyone.
           Explore Maryland virtually all weekend long or anytime at all.  Virtual Experiences includes inspiration for scenic road trips, insider-views of museums and fun history presentations.                  
Please call organizers or visit websites for updates prior to leaving for an event.
WESTERN REGION
Boonsboro Independence Day Celebration -  Fireworks

Shafer Park

37 Park Drive

Boonsboro, MD 21713

July 3, 2020 

Fireworks display begins at dark. Feel free to bring lawn chairs or a blanket.  And, before dark, walk through this charming historic town using this self-guided walking tour. Call 301-432-5141 about fireworks and other events.  For updates...



Independence Day Celebration 

Byron Memorial Park

Williamsport, MD 21795

July 3, 2020 

Enjoy a patriotic concert by the Williamsport Community Band, followed by a grand fireworks display. Bring chairs and blankets to enjoy the event.  There will be ample space for physical distancing.  And, there are many places around town where you can hear the band and see the fireworks. Safety protocols will be in place.  Check here for important updates... 301-223-7711.
Fire on the Mountain Fireworks Display

Deep Creek Lake Area

McHenry, Maryland 21541

July 4, 2020 (raindate July 5)

Fireworks are typically launched from the top of Bear Claw Tubing Park at Wisp Resort out toward the waters of Deep Creek Lake. Viewing spots include the scenic overlook on Rt. 219, Wisp Resort, the lawn at Garrett College, McHenry Cove on Deep Creek Lake and in McHenry.  For updates....
Rocky Gap 4th of July Fireworks

Lakeside at Rocky Gap State Park

July 4, 2020

Fireworks will be launched from the dam, with great views from the park's day-use area, the Casino Resort, and you can even take your own canoe, kayak, or non-motorized boat on the water to view!  PFD's for each person aboard as well as a flashlight are required.  Social distancing is required.   For info...
Fireworks at Fairgrounds Park

Fairgrounds Park

351 N. Cleveland Ave

Hagerstown, Maryland 21740

July 4, 2020

The Fireworks Show is on, with a few tweaks.  This year, no vendors or additional entertainment are planned.  The action is all in the sky with a 30-minute light show to be had simply by looking up.  Visitors to the park are asked to adhere to prevailing CDC guidelines, which includes practicing social distancing and exercising personal responsibility.  The fireworks display is visible from many locations outside the park. The City encourages viewing from one of those alternate spots, if possible.  Please call 301-739-8577, ext 169 and check here for updates...
City of Cumberland 4th of July Fireworks

Constitution Park

Cumberland, Maryland

July 4, 2020

The City of Cumberland Independence Day Fireworks at Constitution Park will commence at approximately 9:30pm. The City recommends that social gatherings to watch the fireworks comply with current social distancing and group guidelines. In the unlikely event of rain, Sunday, July 5th is the rain date.  Questions? Contact the City's Parks and Recreation Department, 301-759-6636 or  [email protected] For more...
CAPITAL REGION
Frederick's July First Saturday - Shop Independent for Independence Day!

July 1-5, 2020

Downtown Frederick & Surrounding Areas

Show your independence and take part in Frederick's July First Saturday. Choose a virtual spree or come downtown. We are ready.  Shop Independent in Frederick starts July 1 and goes all weekend long.  Visit the website for ways to participate - windowshop virtually or in-person following the safety protocols.  



Explore Montgomery County Independently - Road Trip, Fly A (Paper) Plane,  Hike A Trail

July 2020

Show your independence this year and explore lesser known "high spots" of Montgomery County.  From rolling hills and open fields, rich history and outdoor adventures abound. Montgomery County offers the iconic family trip. Combine the classic Road Trip, make and fly a Paper Plane  (DIY with pattern) and fly it or hike along MoCo Trails.  
CENTRAL REGION
Baltimore's All American Fourth Weekend With The B&O and Babe Ruth!

B&O Railroad Museum and Babe Ruth Birthplace and Museum

Baltimore City

July 3-4-5, 2020

Baseball and Trains are about as American as apple pie! To celebrate the July Fourth Weekend, the B&O Railroad Museum and Babe Ruth Birthplace and Museum have partnered to offer an "All American Ticket" to both museums.  All American Weekend includes:  B&O Railroad Museum - Tour the Birthplace of American Railroading, ride inside the cab of the Sweet Toot locomotive, paint American Flag T-shirts and hear a Railroad Story Time, and take a self-guided Presidents Tour.  Babe Ruth Museum - Tour the Birthplace and home of iconic Babe Ruth, (just a long fly ball from Oriole Park at Camden Yards). See and take photos with the Baltimore Orioles 1983 World Series Trophy, on July 4, between 11am-2pm, or with the Baltimore Colts Super Bowl V Lombardi Trophy, on July 5, 11am-2pm.  Tickets may be purchased on-line or in person at either museum.
Aberdeen IronBirds Fireworks Drive-In

Live at Leidos Field at Ripken Stadium

Simulcast on WAMD

July 4, 2020

City of Aberdeen and Harford County residents may arrive after 7pm and park cars pointed toward Leidos Field at Ripken Stadium.  The show begins at approximately 8:30pm. Restrooms will not be available.   Pre-show tailgating is discouraged. Attendees are asked to please remain in vehicles for the duration of the time in the parking lot. If you must leave your car, please observe social distancing and when possible, face coverings or masks are encouraged. Upon arrival, tune it to 970 WAMD for instructions, special event music, and a countdown to the show. Fireworks are provided by the internationally celebrated company Fireworks Extravaganza, the pyrotechnics provider for IronBirds' games.  For details and updates...
Independence Day Celebration at Historic London Town

July 4, 2020

Independence Day Celebration at Historic London Town aka "Have a Drink with the Director."  Talk about a taste for history! Find out the role Taverns played in America's independence while overlooking the South River.  
Cruises in Annapolis & Baltimore

Watermark

Annapolis & Baltimore

Take to the water to celebrate the long holiday weekend. Watermark offers cruises in Annapolis and Baltimore. In Annapolis, take a 90-minute cruise or a Day on the Bay to St. Michaels. Baltimore trips open on July 2nd.  An extra exciting journey will be available for Independence Day Weekend!  410-268-7601x100.
Independence Day Cruises - Sightseeing, Lunch & Dinner Trips

Spirit of Baltimore (ship)

Inner Harbor

Baltimore, Maryland 

Enjoy Baltimore's July 4th with a sightseeing tour.  Or take a lunch or dinner cruise!  Enjoy a panoramic view of the skyline on a climate-controlled deck.  Celebrate America's birthday out on the water with Spirit!  410-727-3113; 800-695-BOAT. 



Firefly Fireworks - Oella

July 3, 2020 

Take the youngsters to Firefly Fireworks at Benjamin Banneker Museum & Park in Oella (spaces are limited).  It's all natural fun with fireflies lighting the skies at dark. Register by email: [email protected]  Modest Admission.
SOUTHERN REGION
Fireworks Over The Bay - Rescheduled to September 5, 2020

The Town of Chesapeake presents "Fireworks Over The Bay."  Take a walk on the Bay Front Boardwalk, search for sharks' teeth at Bay Front Park, and visit the nature-filled scenic "Railway Trail." The water park can offer a fun and unique way to enjoy the fireworks.  For updates...
EASTERN SHORE
Queen Anne's County - Kent Island Fireworks

July 1, 2020 (Raindate July 2)

Chesapeake Heritage & Visitors Center

425 Piney Narrows Road

Chester, MD 21619

Cars can park in the lot at the Visitors Center (although the Center is closed this year), or watch the fireworks from your boat or from home. Call 410-604-2100 for details.. For more info..
Fourth of July Fireworks - Avalon Foundation - Easton

July 4, 2020

Field at Marlboro and St. Michael Roads

The Avalon Foundation will offer fireworks this year, but in a new way that allows for social distancing.  Attendees are expected to have masks on their person to wear in the event they find themselves in a crowd or closer than 6 feet from anyone outside their household.  The best viewing is from the field at Marlboro and St. Michaels Roads.  Please arrive no earlier than 8:30pm.  Fireworks will launch at approximately 9:30pm and last 23 minutes. Please see the website for important details....
4th of July Car Parade - Dorchester County 

July 4, 2020

Join in the 4th of July Car Parade from 12:30 to 3pm.  Decorate your vehicle to show your pride or decorate your yard for folks in the parade to view. The parade will follow a 50-mile route starting at 12:30pm at Palm Beach Willies near Taylors Island and ending at Layton's Chance Vineyard & Winery in Vienna around 2:45pm. The parade will travel through several other towns and neighborhoods on the way. No charge to join the Parade, but we are counting cars so please register.
Fireworks From Your Boat or Car - Crisfield

Somers Cove Marina

July 5, 2020

Fireworks in Crisfield will be held July 5th at 9pm. Please view from your vessels or your vehicles. Social distancing is a must. Top off a safe and great Independence Day weekend with this annual display again presented by The American Legion Post #16 and hosted by Somers Cove Marina.  For more....
Celebrate America's History on the Historic Oxford-Bellevue Ferry

Celebrating the Ferry's  337th season.  Established in 1683, it is America's oldest privately-owned ferry.  Now open for the season, riding the Ferry is a memorable way to celebrate Independence Day.  Drive on, walk on, bring your bike and more.  For details...
4th of July Celebration - OC - Two Locations - Rescheduled Dates are TBA! Please Stay Tuned...

Ocean City, Maryland

When the dates for the fireworks displays are rescheduled, they will take place in two locations:  downtown on the beach at North Division Street and simultaneously, uptown at 125th Street at Northside Park. Call 1-800-626-2326 or the Ocean City Department of Recreation & Parks at 410-250-0125 for details. Please check before setting out for either location.  For updates.... 
Fourth of July Fireworks & Festivities, Chesapeake City - 2020 - Closed to the General Public - Reservations Required

237 Bohemia Manor Farm Lane

Chesapeake City, MD 21915

July 4, 2020

Spend the day at Chateau Bu-De Winery & Vineyard at Bohemia Manor Farm and celebrate Independence Day with live music and a fireworks show. Admission/Reservations Required.  See details....