Maryland's got mountains, the ocean, Baltimore and the Chesapeake Bay, quiet beauty, electric adventure, fantastic foods and amazing music, so where do you start? Where do you finish? Well, that's up to you, but here's our list of awesome adventures everyone should have in Maryland.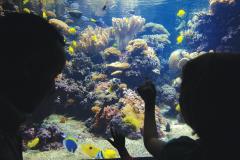 Image Credit: Visit Baltimore
Scuba Dive at the National Aquarium
Need your scuba fix, but can't make it to the Keys? No worries, take the plunge at Baltimore's world-famous National Aquarium. Feed sharks, rays, tangs and more as schools of tropical beauties circle and friends and family wave from the other side of the glass. With dive packages that can be combined with helicopter rides and whiskey tastings, scuba diving at the Aquarium may be Baltimore's best kept-secret.
---
More about National Aquarium in Baltimore
---
Type:
Attraction
---
Location:
501 E Pratt St
Baltimore, MD 21202
410-576-3800
---
Eat a Dozen Steamed Crabs
Everybody says "go to Maryland and try the crabs," which makes sense. Steamed Maryland style, they're the most delicious food on the planet. The thing is, you can't eat just one or two. You need to down a whole dozen jumbos over ice-cold beer, an Orioles game on the TV, and at least one friendly argument on the best way to get at the backfin meat. If you've never eaten a dozen crabs at a sitting, well brother, you haven't lived!
For more information, check out Maryland's Crab & Oyster Trail.
Paddle Blackwater, The Everglades of the North
Close your eyes and focus your mind's eye on the broad, crisp Chesapeake horizon. Can you hear the soft slip of paddle into water? The gentle pounding of ripples on hull? Imagine the largest flock of Canada geese the world has to offer, resting on the Blackwater before you. Witness the sun blink as an eagle's wing crosses the great orb's path. They call Blackwater the Everglades of the North. A remarkable compliment, for the Everglades. In this land lightly touched by the centuries, experience the convergence of all North America's nations of birds at the heart of the Great Atlantic Flyway. Glimpse transient pods of dolphin, drawn by the endless shoals of bass, tautog and trout. If you've not seen the Blackwater, truly, your list is not complete.
---
More about Blackwater National Wildlife Refuge
---
Type:
Attraction
---
Location:
2145 Key Wallace Dr
Cambridge, MD 21613
410-228-2677
---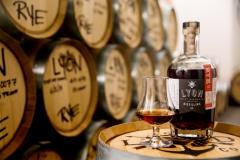 Try Maryland Rye Right at the Distillery
At the height of the Gilded Age, no jubilation was complete without three essential Maryland delights: fresh shucked Chesapeake oysters, decadent terrapin stew, and a libation of smooth as silk - Maryland Rye. Sadly, Prohibition ended Maryland's tradition of fine whiskey, but lately, a new wave of master distillers has emerged to resurrect Maryland's signature spirit. Unlike the over spiced ryes of other regions, Maryland ryes balance the signature grain's stinging flavor with sweet corn and subtle grains. The result is still bold and spicy, but with a subtle sweetness and overriding smooth finish. Nearly a score of distilleries have sprung up across the Free State in the last decade, most offering tours and tastings. You can't go wrong with any, but Sagamore Spirit, Old Line Distilling, and the Baltimore Spirits Company, all in Charm City, are notable pioneers, along with Kent Island's Blackwater Distilling, Lost Ark Distilling in Columbia, and Tobacco Barn Distillery in St. Mary's. 
For more information, check out our complete list and history of Maryland's distilleries.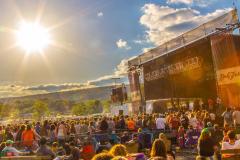 Get Down at DelFest
Do the sounds of the Appalachians rumble in your bones? Does the spirit of bluegrass get your feet moving? Well you'd better get yourself to DelFest. Part of Maryland's "Summer of Music", this three-day camping community in the Maryland mountains also happens to be home to the best darn bluegrass festival on the planet. So if you've been wondering, "should I go to DelFest?" The answer is definitely DelYEAH!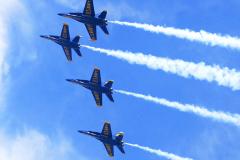 See The Blue Angels
The only thing that flies higher than the Navy midshipmen's caps on graduation day are the U.S. Navy Blue Angels roaring in the skies over Annapolis Memorial Day weekend. It's a tradition like none other, and the centerpiece of Maryland's amazing airshow lineup that also includes the annual Ocean City Air Show (Summer 2020), and bi-annual shows at Pax River, Joint Base Andrews, and Baltimore's first VIRTUAL Fleet Week & Air Show Baltimore (September  8-11 2020).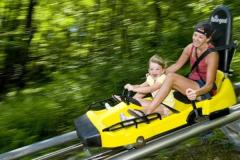 Ride the Mountain Coaster in Deep Creek
So you made it to Wisp, but it's August and there's no snow on the slope. No problem! Board this coaster and test your mettle against the mountain. This 3,500-foot thrill ride approaches 30 MPH as it wends and winds through the forested slopes of Wisp. While you're there, try the ropes course and learn to tackle the world's only manmade mountaintop white water course. 
---
More about Mountain Coaster at Wisp Resort
---
Type:
Attraction
---
Location:
296 Marsh Hill Rd
McHenry, MD 21541
800-462-9477
---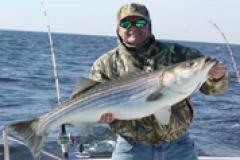 Image Credit: Bill Miles
Catch a Rockfish on the Bay
Hear that? It's the sound of gulls calling as they wheel in the morning sky and the drumming of wave on hull as your charter slips out into the broad expanse of Chesapeake Bay. When other people think about Maryland, they think about crabs. We Marylanders? We think about rockfish. Also known as striped bass, these delicious game fish grow to 40 hard-fightin' pounds. With seasons running April through December, there's no better way to experience the bay than a rockfish charter.
For more information, check out Fish & Hunt Maryland.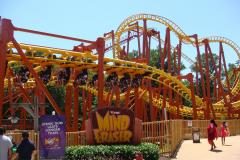 Ride All Nine Coasters at Six Flags America
Sure, sure, the Dare Devil Dive and WONDER WOMAN Lasso of Truth are utterly insane, and of course Hurricane Harbor is world-class fun, but the coasters! Oh the coasters! Put a notch in your belt for all eight jaw-dropping coasters. There's THE JOKER's Jinx that hurtles riders to 60mph in a mind-melting 3 seconds flat, the SUPERMAN Ride of Steel with its breathtaking 20-story drop, the Mind Eraser hanging coaster with a staggering five inversions, Roar and The Wild One for wooden coaster purists, the twisting, turning and 360 spinning Ragin Cajun, the blazing fast Bourbon Street Fireball, and the exotic BATWING that simulates flying through Gothem with its terrifying DNA-Helix twists, and then, to be a completist, squeeze on to the Great Chase kiddy coaster and call it an unforgettable day!
---
More about Six Flags America
---
Type:
Attraction
---
Location:
13710 Central Ave
Upper Marlboro, MD 20774
301-249-1500
---
Make the Baltimore Harbor Circuit by Water Taxi
Want to hit the National Aquarium and Maryland Science Center, the shops of Harbor East, the bars and restaurants of Fells Point, and the home of the National Anthem, Fort McHenry all in one day? The Water Taxi is your magic carpet. And if all of those amazing activities don't work for you, the view from the water of Baltimore Harbor at night is the kind they write songs about.
---
More about Baltimore Water Taxi
---
Type:
General Attractions
---
Location:
901 S. Broadway
Baltimore, MD 21231
410-563-3900
---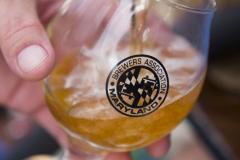 Image Credit: MarylandBeer.org
Find Your Favorite Maryland Microbrew
Way back in 1990, Aspen's Flying Dog Brewery was at the forefront of the budding microbrew revolution. But in 2006, looking to stay at the heart of America's modern brewing renaissance, Flying Dog packed up and moved to Frederick. When Guinness, the pride of Ireland, decided to open their first American brewery in 60 years, they opened it here. Why did Flying Dog cross half a continent and Guinness travel the Atlantic sea to the Old Line State? Because they wanted to be the best, and the best beers are brewed in Maryland. From farmhouse ales to Chesapeake lagers and oyster stouts to hard driving pales, Maryland makes 'em all. So get to the brew pub to find your favorite, your second favorite, your third and your fourth! Just remember, leave the car at home.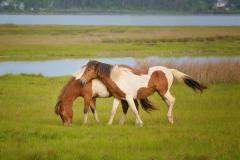 Watch the Sunrise Over the Ocean With the Wild Ponies of Assateague
White sand, salt spray, and the noble wild horses come together to make the dunes of Assateague a magical place. And when the sun rises over the Atlantic, it doesn't just feel like the beginning of the day, it's the beginning of the world. Camp, swim, fish and breathe on this American treasure of a beach. Plan your trip to catch a launch from NASA's nearby Wallop's Island space center, and balance your morning sunrise with an evening rocket launch sending a streaking fire trail ablaze through the heavens. 
---
More about Assateague Island National Seashore
---
Type:
Attraction
---
Location:
7206 National Seashore Ln
Berlin, MD 21811
410-641-1441
---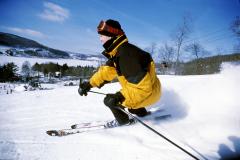 Hit the Slopes at Wisp
With more than 100 inches of natural snow a year, 34 trails twisting through 172 acres of gorgeous mountain real estate, a thrilling 700-foot vertical drop, and a terrain park, Wisp has got it all. Whether you're a snowplowing noob or a double-diamond daredevil, get out on that mountain!
---
More about Wisp Resort
---
Type:
Attraction
---
Location:
296 Marsh Hill Rd
McHenry, MD 21541
800-462-9477
---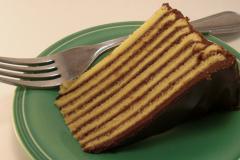 Image Credit: Somerset County Tourism
Eat a Smith Island Cake on Smith Island
Oh the layers! So many layers! Thin, sweet chocolate. Perfect, moist yellow cake. Layer upon alternating layer, it's so beautiful you almost don't want to eat it. Almost. There's nothing better than the sensory experience of biting into this decadent work of the baker's art. Well, except for doing it ON the island. Why settle for a cake a few hours old when you can have one right out of the oven and with a view of Smith Island harbor?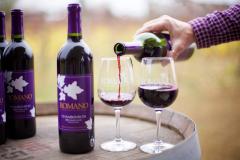 Image Credit: Romano Vineyard
Tour Each of Maryland's Eight Amazing Wine Trails
Welcome to the American Wine Revolution with fine wines no longer being limited to the vineyards of California, Oregon and Washington, but the seeds of this revolution were planted in Maryland more than 40 years ago.  As Maryland's wine growers approach a half century of tradition and innovation, wine lovers are reaping the rewards, and there's no better place to taste the fruits of the vintner's art than at the place of its birth. So get out and discover fantastic Maryland wines, and since finding the right place can be a challenge, we've already done the work. Maryland's 8 Wine Trails explore the state's unique and varied microclimates while crisscrossing beautiful Chesapeake Bay country, the rolling hills of the Piedmont, and our western mountains with rich soil and richer history. Take your time. Cross one off a year. In 10 years, maybe you'll have a favorite wine. Or, more likely, you'll want to refresh your memory and your palette and begin again.
For more information, check out our list of Maryland's Wine Trails.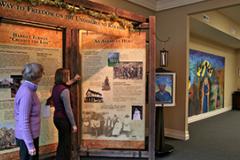 Image Credit: Dorchester County Office of Tourism
Walk in the Footsteps of Harriet Tubman on the Underground Railroad Byway
You know of her legend. Harriet Tubman, American hero, a conductor on the Underground Railroad, a valiant freedom fighter and scout for the U.S. Army, and a pioneer of the women's suffrage movement. You know it. But you haven't felt it. Visit the Harriet Tubman Underground Railroad Visitor Center, for a deep and moving window into her life and struggle. Journey the Harriet Tubman Underground Railroad Byway and see the land she toiled in slavery. Stand in the Bucktown Store, where a brave little girl made her first stand for freedom. Paddle the Blackwater and explore the small towns little-changed since Tubman made her daring and dangerous journeys, again and again risking all to lead her fellow men and women to freedom.
---
More about Harriet Tubman Underground Railroad Visitor Center and State Park
---
Type:
Attraction
---
Location:
4068 Golden Hill Rd
Church Creek, MD 21622
410-221-2290
---
Image Credit: http://www.paxmuseum.com/
Fly an Actual F-14 Flight Simulator at Patuxent River Naval Air Museum
Do you find yourself frequently plagued by the need? What need you ask? Why the need for speed, of course! Located on Patuxent River Naval Air Station, the Navy's premiere test facility for the fighter planes of the future, this museum has an unmatched collection of super-cool supersonic wonders. And the only actual F-14 Tomcat simulator open to the public. Climb aboard and head for Mig Alley in the coolest plane ever to scream through the skies.
---
More about Patuxent River Naval Air Museum and Visitor Center
---
Type:
Attraction
---
Location:
22156 Three Notch Rd
Lexington Park, MD 20653
301-863-1900
---
Catch a Game at All of Maryland's Seven Pro Ballparks
Oriole Park at Camden Yards. The best stadium in baseball. Sure, it's on everybody's bucket list. But real fans' buckets go a bit deeper. How about the Maryland Mountains to the Beach Baseball Road Bash? With six award-winning minor league parks, from the Hagerstown Suns' historic Municipal Stadium that once played host to Negro League games and future hall of famers, to trend-setting Ripken Stadium, home of the Aberdeen IronBirds, to fan favorite Perdue Stadium in Salisbury, home to both the Delmarva Shorebirds and the Eastern Shore Baseball Hall of Fame. Get some buddies together, and touch 'em all!
Image Credit: Clark Vandergrift
Take a Light House Tour of the Chesapeake
Start at the Concord Point Light at the top of the Chesapeake near Havre de Grace and head south on an unbelievable journey. Spend a romantic night in the keeper's quarters at Cove Point Lighthouse. Explore the Hooper Strait Lighthouse at the Chesapeake Bay Maritime Museum in St. Michaels, the Drum Point Lighthouse at the Calvert Marine Museum in Solomons, and the Seven Foot Knoll Lighthouse and Lightship Chesapeake, both part of Historic Ships in Baltimore. There are 30 beautiful, historic lighthouses in Maryland, how many can you fit in your bucket?  
For more information, check out our list of lighthouses across Maryland.
Image Credit: Gaylord National Resort
Rise to the Clouds on The Capital Wheel
Tall as a sky scraper rising along the Potomac River, the Capital Wheel has fast become an unmistakable symbol of the Washington region. With its kaleidoscopic colors creating a scintillating lightshow visible up and down the National Harbor boardwalk, the real show, however, is from the wheel's 42 space-age gondolas that carry riders to a staggering height 180 feet above the Potomac River. Scraping the clouds, riders are treated to views of surrounding National Harbor, the long expanse of the Potomac bordered by Maryland and Virginia, and the National Mall with the Washington Monument and Capital Dome the stars of the show. For a special treat, charter the luxury VIP gondola, perfect for an unforgettable wedding climax.
---
More about Capital Wheel at National Harbor
---
Type:
Attraction
---
Location:
141 American Way
National Harbor, MD 20745
301-842-8650
---
Count Eagles on the Susquehanna
From the overlook at Conowingo Dam on the mighty Susquehanna, there's a lot to take in. The sweeping river vista lined with lush green forest dotted with flashes of native redbud and the flocks of gannets and other seabirds that ply the waters below the dam. But the real stars are the majestic bald eagles that nest in vast numbers along the river. In just a few minutes, you can easily spot a half-dozen or more eagles wheeling in great circles only to hurdle towards the river in a daredevil dive for migrating fish. It's no wonder that the Conowingo has been a favorite for nature photographers and made its way onto so many bucket lists. 
---
More about Conowingo Visitor Center
---
Type:
Visitor Centers
---
Location:
4948 Conowingo Rd
Darlington, MD 21034
410 457-5011
---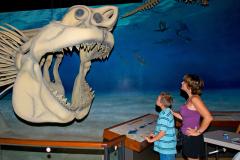 Image Credit: Calvert Marine Museum
Come Face to Face to Tooth With a Megaladon Shark at the Calvert Marine Museum
The Calvert Marine Museum on beautiful Solomons Island is an absolute must-see. Where else can you come face-to-face with adorable otters, sift for take-home fossils, climb into an historic Chesapeake lighthouse, and board working bay fishing boats? And did we mention the 35-foot prehistoric shark skeleton? Oh yeah, the Megaladon! Reconstructed based on fossil finds from the nearby Calvert Cliffs fossil beds, this school bus-sized terror of the deep is totally JAWSome!
---
More about Calvert Marine Museum
---
Type:
General Attractions
---
Location:
14200 Solomons Island Rd
Solomons, MD 20688
410-326-2042
---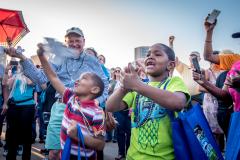 Image Credit: Courtesy of NCTA/Photo Credit: Edwin Remsberg
Getaway to Salisbury for the National Folk Festival
Since 1934, the National Folk Festival has been bringing together the music, dance, art, crafts and lifeways of America together for one of the biggest and best parties on the planet, it's here on Maryland's Eastern Shore as part of Maryland's "Summer of Music."  September 11-13, 2020  the core of downtown Salisbury lining the beautiful Wicomico River becomes the heart of the American Folk Nation. Don't miss it!
Walk Antietam's Hallowed "Bloody Lane"
The history books will tell you, the Battle of Antietam was the bloodiest single day in American history. Walk infamous "Bloody Lane," and that history becomes real. This beautifully preserved battlefield would be the perfect spot for an idyllic family hike, with its historic stone bridge, and sweeping mountain vistas. Its history as a turning point in our nation's struggle for freedom makes it a must-visit for every American.
---
More about Antietam National Cemetery
---
Type:
Attraction
---
Location:
302 E. Main St
Sharpsburg, MD 21782
301-432-5124
---
Image Credit: pandosando-instagram
Walk the OC Boardwalk End-to-End
The Ocean City Boardwalk may only be 2.5 miles end-to-end, but it would take 2,500 books to name all of the possible adventures. Find your perfect beach T-Shirt. Fill that hole in your heart only a pet hermit crab can fill. Dine on Thrasher's Fries, Dayton's famous fried chicken, and a chocolate malted from Dumser's Dairyland. But do that after you ride the terrifying Tidal Wave roller coaster at Trimper's, the oldest family owned amusement park in the world. Oh, and did we mention, you never have to lose sight of that beautiful Ocean view? Only on the OC Boardwallk, a bucket list must since 1902.
For more information, check out our list of 10 can't miss things to do in Ocean City.