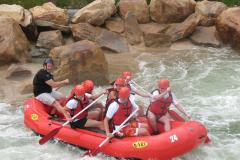 1

Adventure Sports Center International

Test your timing, reflexes and teamwork on the world's only adjustable whitewater sports venue that offers class I - IV whitewater in a "controlled" environment. The 1/3 mile artificial river features authentic whitewater rapids, and is the most natural looking and feeling course of its kind in the world.
---
More about Adventure Sports Center International
---
Type:
Attraction
---
Location:
250 Adventure Sports Way
McHenry, MD 21541
301-387-3250
---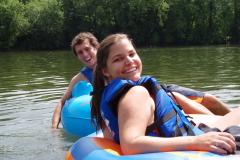 Image Credit: River & Trail Outfitters
2

River & Trail Outfitters

River & Trail Outfitters has been running Shenandoah and Potomac white water rafting trips around the DC Metro area for 45 years and is the longest established and most experienced outfitter.  Experienced guides lead your trip, showing you the best route through the rapids while entertaining you with tales from the river.
---
More about River & Trail Outfitters
---
Type:
Outdoor Recreation
---
Location:
604 Valley Rd
Knoxville, MD 21758
301-834-9950
---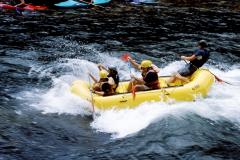 3

Precision Rafting

World Class whitewater rafting on the Upper Youghiogheny, Savage, Potomac, Cheat, and Big Sandy rivers is what Precision Rafting is all about. The Upper Yough is one of the Top Ten rivers in North America to whitewater raft and a lifelong memory along their skilled and expert guides.
---
More about Precision Rafting Expeditions
---
Type:
Boating & Sailing
---
Location:
Corner of Maple and Morris Sts
Friendsville, MD 21531
301-746-5290
---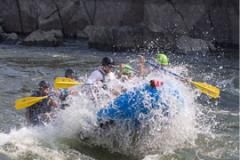 Image Credit: Potomac Paddlesports
4

Potomac Paddlesports

Potomac Paddlesports is offers professionally guided whitewater rafting trips through the breathtaking Mather Gorge section of the Potomac River. Just 20 minutes from downtown DC, Mather Gorge is one of the most historically significant and biologically diverse whitewater river sections in America. The towering rock cliffs and natural beauty of this unique and fragile ecosystem will transport you back to a place that time forgot.
---
More about Potomac Paddlesports
---
Type:
Outdoor Recreation
---
Location:
9812 Falls Rd
Potomac, MD 20854
301-881-2628
---
5

Gunpowder Falls State Park: Hereford Area

The Gunpowder River in this section offers opportunities for both novice and advanced paddlers. The range of difficulty ranges from Class I to Class III. The more difficult section of the river lies between Falls Road and York Road. The section downriver from York Road is considered easier.
---
More about Gunpowder Falls State Park: Hereford Area
---
Type:
Attraction
---
Location:
17700 Masemore Rd
Parkton, MD 21120
410-592-2897
---