Kevin Moore
Maryland Baseball History
Kevin Moore
From the Sandlots to the World Series, Explore Maryland's Baseball History
Home of The Babe and the Baltimore Chop and birthplace of "Hit 'em where they ain't," in Maryland, you're never further than a long fly ball from some baseball history. Trace the roots of the Negro Leagues and sandlots, follow your favorite players from the farm to the bigs, it's all here and so close together. So pack up and track down these hidden diamonds of baseball history. We guarantee your trip will be in the win column! 
1
Visit Babe Ruth's Birthplace in Baltimore
BabeRuthMuseum.org
New York's old Yankee Stadium may have been "The House that Ruth Built," but Baltimore's Camden Yards may be the house that Ruth haunts. The Babe's family owned a bar in what is now centerfield of Camden Yards, and Ruth was born just a long fly ball from the stadium. Now preserved the Babe Ruth Birthplace & Museum, the rowhouse at 216 Emory Street was the Sultan of Swat's childhood home. So after a game at "The Yard," make sure to stop at the Babe Ruth statue out front, then follow the trail of 60 painted baseballs to the home of the great Bambino.
2
Explore the Negro Leagues Baseball in Owings Mills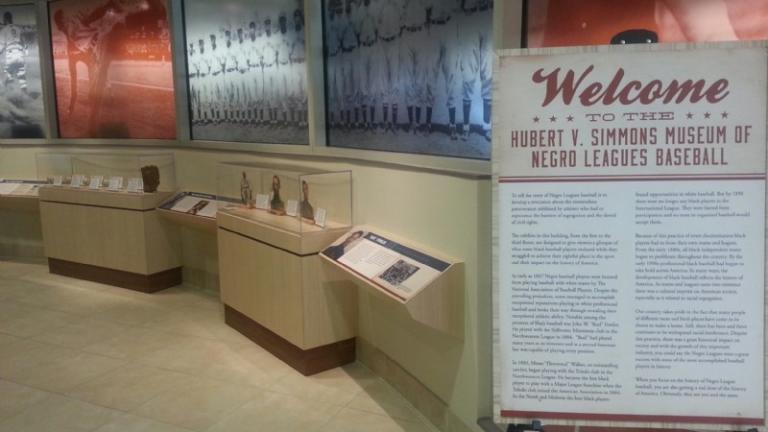 http://www.smnlbinc.org
Named for Baltimore Elite Giants legend Hubert "Bert" Simmons, the Hubert V. Simmons Museum of Negro Leagues Baseball opens a window onto a part of baseball history many have forgotten. Before Jackie Robinson broke the color barrier, there were two major leagues, one for white players, another for African-American. This free, three-story museum in the Owings Mills Branch of the Baltimore County Public Library is a must-stop for any baseball fan. Experience the amazing courage, remarkable skill, and downright incredible baseball of the Negro Leagues at this compelling museum. 
3
Grab a Beer at Old Oriole Park in Baltimore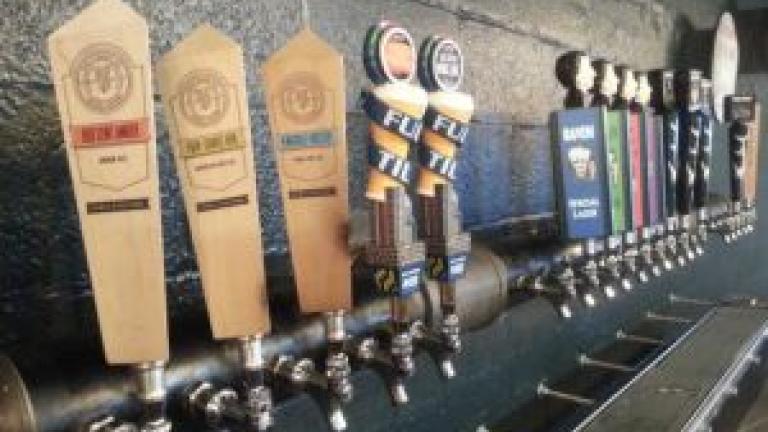 Peabody Heights Brewery
A stop at Peabody Heights Brewery is always a great idea, even if you're not a fan of America's pastime. But for beer AND baseball fans, Peabody Heights goes from a home run to a grand slam. Built on the site of the Old Oriole Park, Babe Ruth himself played as a member of the minor-league Orioles who called the stadium home from 1916-1944. Across the street was the site of an even older Oriole Park where Wee Willie Keeler perfected the Baltimore Chop and "hit 'em where they ain't" for the original National League Orioles who won three pennants before the turn of the last century. If that's not enough baseball history, the brewery is just a few blocks from the site of Memorial Stadium where the O's played from 1951-1991. If you listen carefully, you might still hear "The Roar from 34!"
4
Visit the Jimmie Foxx Museum in Sudlersville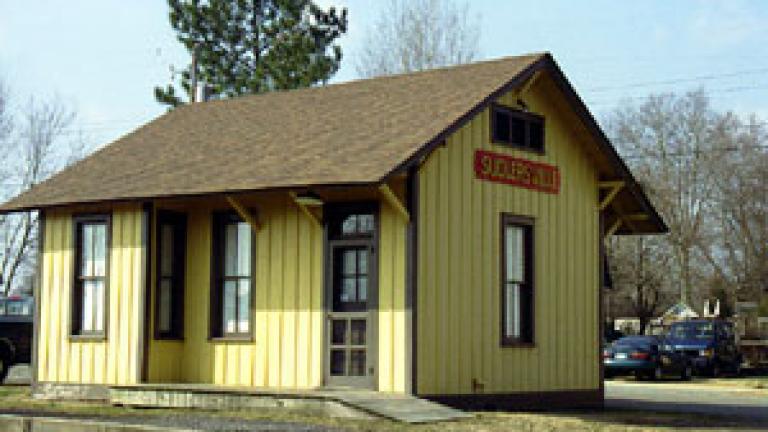 Sudlersville Museum
Known as "Double X" or simply "The Beast," Jimmie Foxx was most feared right-handed hitter of his time. Foxx won three MVP awards (1932, 1933, and 1938), picked up a triple crown (1933), won a pair of World Series Championships with the Philadelphia A's (1929 and 1930) on his way to 534 home runs, and immortalization in the Baseball Hall of Fame. But you don't have to go to Cooperstown to get to know this legend of the diamond. Jimmie's home town of Sudlersville remembers its favorite son with a life-sized statue of the slugger and a miniature Jimmie Foxx Museum inside the Sudlersville Train Station Museum. The museum also offers a great look back to the age of rail that carried the greats of baseballs golden age around the country. 
5
See the Bill "Swish" Nicholson Statue in Chestertown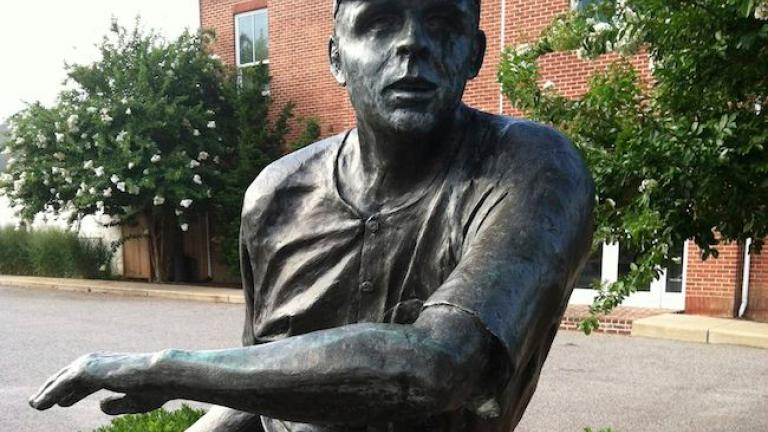 http://www.mccooltravel.com
Bill Nicholson may not be a household name anymore, but in Chestertown, he's still a beloved legend. "Swish" played 16 years in the majors for the Chicago Cubs and Philadelphia Phillies and was such a feared batsman he once drew an intentional walk with the bases loaded, a feat shared with only five other players in history. But what cemented his legacy as a Kent County hero was what he did after his time in the bigs. Swish bought a farm just outside town and moved back to Chestertown. So beloved was the old slugger that Kent County erected a statue of Swish in front of the Chestertown Visitors Center. It's a great stop on your baseball pilgrimage!
6
See the 1931 MVP Award of the Celebrated Southpaw, Lefty Grove
Robert Moses "Lefty" Grove was perhaps the most feared southpaw in MLB history stacking up 300 wins, 2,266 strikeouts, two World Series championships, a pair of Pitching Triple Crowns, and the 1931 MVP award over his 17 year, Hall of Fame career. But the Lefty from Lanaconing Maryland got his start on local sandlots and worked his way up to the minor league Baltimore Orioles. Now, the George's Creek Library in his home town of Lanaconing maintains a shrine to the Philadelphia Athletics and Boston Red Sox  star. Lefty's beautiful, silver MVP trophy is on display along with other memorabilia, and a life-sized statue is in the works. 
7
Find the Walter Johnson Memorial, the Last Piece of Griffith Stadium, in Bethesda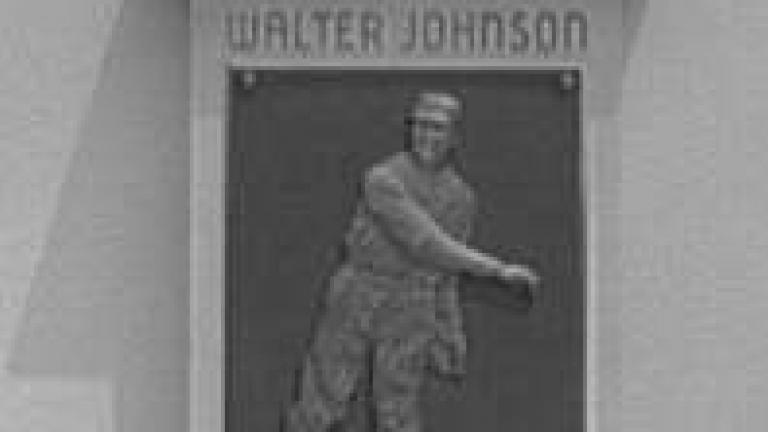 With apologies to Cy Young, Walter "Big Train" Johnson is the greatest pitcher of all time, posting up 10 straight 20 win seasons on his way to 417 wins, 110 of them by shutout -- a record that will stand forever -- and all that while pitching for the woeful Washington Senators. How good was Johnson? He won a World Series with THE SENATORS!!! When Walter Johnson passed away, he was immortalized with a memorial at D.C.'s old Griffith Stadium. Johnson was so beloved that, when the stadium was torn down, his monument was saved and moved to Bethesda and the high school that bears his name, Walter Johnson High School. The monument is now inside the school and only available to visitors on special occasions. 
8
Experience the Baseball-Crazy Shore at the Eastern Shore Baseball Hall of Fame in Salisbury
Arthur W. Purdue Stadium is not just home to the Delmarva Shorebirds, single-A affiliate of the Baltimore Orioles, it's also home of the Eastern Shore Baseball Hall of Fame. This fan-friendly museum offers a fascinating look into the baseball-crazy history of the shore featuring MLB Hall of Famers Jimmie Foxx, Frank "Homerun" Baker, and Harold Baines. 
9
Get Up Close to Gold Gloves, MVPs, and World Series Trophies at Camden Yards in Baltimore
Englishgroup2016
We don't have to tell baseball fans about Oriole Park at Camden Yards. Since its opening in 1992, "The Yard" has set the standard by which all parks since have been judged. But you may not know that the stadium's club level is home to a treasure trove of Baltimore baseball memorabilia. See gold gloves earned by players like Brooks Robinson, Cal Ripken Jr, and Manny Machado, MVP awards, and World Series Trophies between innings, then step out and watch baseball history in the making.
10
Celebrate the Sandlot Era with the Hot Sox in Galesville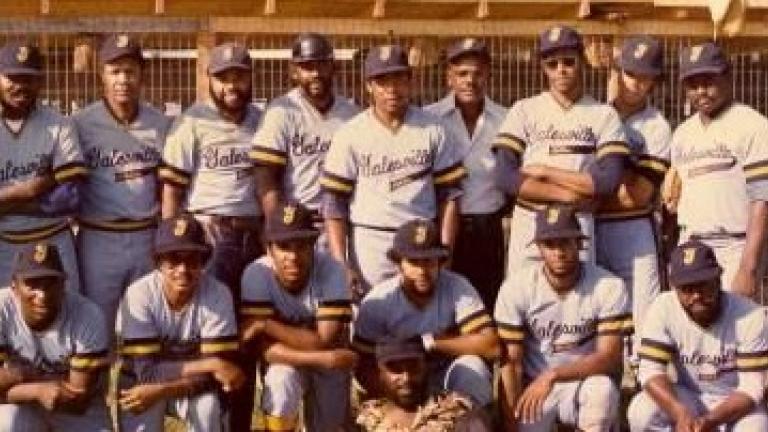 historicgalesville.org/
The African-American Hot Sox first took to the field all the way back in 1915. 100 years later, the Smithsonian celebrated the team and its history as part of an exhibit called "Home Town Teams: How Sports Shaped America." The Hot Sox played on Sundays after church and fans were treated to home-cooked, Maryland staples like crab cakes and fried chicken. The Hot Sox integrated in 1967 and continued to play until 1986 and Hot Sox Field at Wilson Park is one of the nation's few surviving sandlot fields. 
11
Be there as Baseball History is Written at an Orioles Game or with One of Maryland's Minor League Teams
Sure, Maryland is home to a ton of baseball history, but we're also home of the Baltimore Orioles and the games bright future with the Delmarva Shorebirds, Aberdeen Ironbirds, Bowie Baysox, Frederick Keys, and Southern Maryland Blue Crabs farm teams. Find out more about all the pro squads here.
Maryland's diamonds of baseball