Queen Annes County
Authentic Maryland Food Experiences
No visit to the Old Line State is complete without sampling some of our Maryland-style cuisine.
From freshly steamed crabs to crispy fried chicken to layers of scrumptious Smith Island Cake- Maryland offers unique foods to please every palate and many of our signature dishes you can make at home with these Taste of Maryland Recipes.
1
Explore the Crab & Oyster Trail
When people think Maryland food, they think crabs and oysters, and with good reason. You like pretzels? How about a crab pretzel. You like po-boys? How about an oyster po-boy. Honestly, there's nothing that Marylanders can't make better by adding a little crab and oyster (and some Old Bay seasoning), so check out our one-of-a-kind Crab & Oyster Trail and explore all the options for enjoying Maryland's trademark seafood feasts.
2
When it comes to official state deserts, Smith Island takes the cake
Somerset County Tourism
Imagine layer upon layer of light, delicate yellow cake, each separated by a generous schmear of decadent, handmade chocolate frosting? For the Smith Island Cake bakers, these confections aren't just a treat, they are a way of life. And with as many as 16 thin layers stacked high, Smith Island Cake is almost as gorgeous as it is delicious.
3
You can't have a real Manhattan without Maryland Rye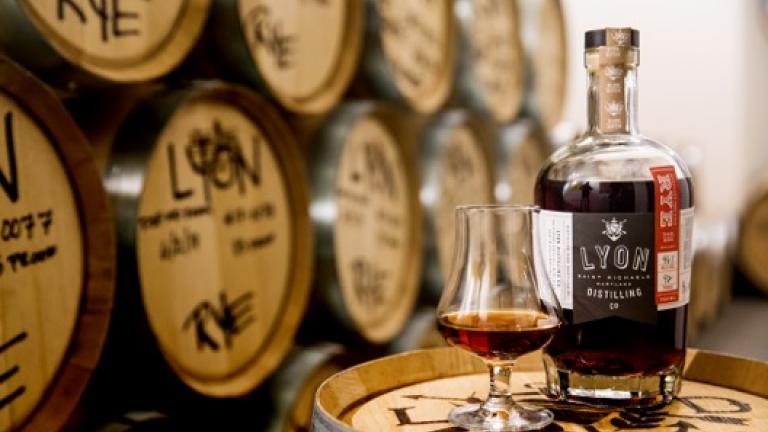 Maryland's thriving boutique distilling industry is hand-crafting world-class examples of just about every spirit, but there's one whiskey no one else on Earth can touch – Maryland Rye. Lost for decades after Prohibition, Maryland-style rye had been the toast of the country, considered the finest spirit made in the nation. Now, with the return to craft distilling, a new wave of dedicated Marylanders are recreating this unique and beloved whiskey. Rye is sweeter and has less spice than Western ryes, and a more refined finish than bourbon. Take a distillery tour, and make sure your next Manhattan includes real Maryland Rye.
4
Before there was Kentucky Fried Chicken, there was Maryland Fried Chicken
Maryland's Eastern Shore may well be the epicenter of the chicken world. We raise them, we love them, and we sure do know how to cook 'em! Of course, you don't have to go to the Shore to get a heaping helping of real, Maryland-style fried chicken. Mom & Pop spots across the Old Line State know how to fry up a yard bird just right. Served with a glass of fresh lemonade and the sweetest Maryland Silver Queen corn, and you are living your best life for sure!
5
Make a culinary journey back through time with genuine Southern Maryland stuffed ham
FairmontMoments.com
Start with a boneless, butterflied corned ham, with deep slices ready for stuffing. Mix up a stuffing of kale, cabbage, onions and secret spices handed down from Colonial times. Stuff, roll, and cook the ham to perfection for a unique, regional delicacy you won't find anywhere else. Popular at church dinners and family gatherings, you can find stuffed ham on the menu at traditional spots in St. Mary's county and throughout Southern Maryland.
6
Raise your glass to great Maryland beer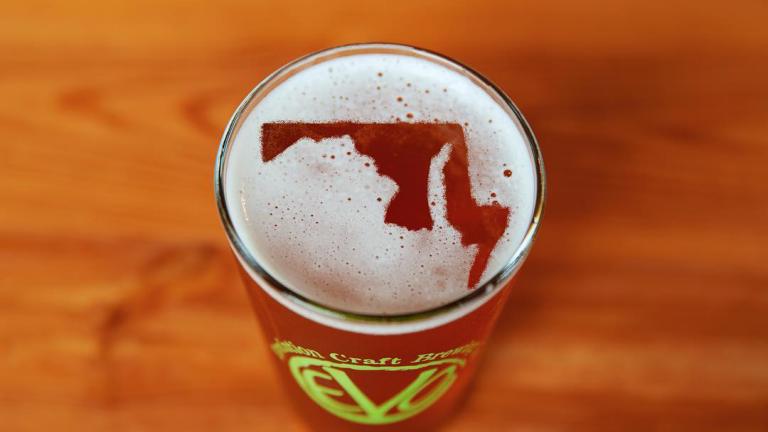 @evolutioncraftbrewing-Instagram
When the legendary brewers at Guinness were looking for a spot to build an American brewery, they knew just where to go. Same goes for Flying Dog, one of the originators of the American craft brewing movement, who left their home in Colorado to come to the Old Line State. There's a reason these greats made Maryland their new home. We've got some of the best brewers, unparalleled local ingredients, and a dedicated and discerning population of beer aficionados. What that means is, if a brewery can make it here, you know its world-class. So get out to a local brew pub and sample some of Maryland's best.
7
There's no ball like a Maryland snowball!
@BreatheDeeplyandSmile
Chopped ice, generous pumps of flavored syrup ranging from cherry to chocolate to literally dozens of others, then topped with gooey marshmallow topping if you're feeling Maryland authentic. Most places mark the start of spring when the daffodils bloom. In Maryland, it's when the snowball stands prop open their windows and start slinging this unique sweet. The snowball is a Maryland treat sure to beat the heat.
8
Are you ready for rockfish?
Bill Miles
The rest of the world calls them striped bass. Here in Maryland, we call them rockfish, and there's a reason they're the official state fish. One of the most popular gamefish on the Atlantic coast, they're great fighters, and the meat strikes an uncommon balance between steak-y and flaky. Served grilled, fried, blackened, and stuffed with real Maryland blue crab, you haven't been to Maryland until you've had this treasure of the Chesapeake.
9
Muskrat! Seriously, hear us out…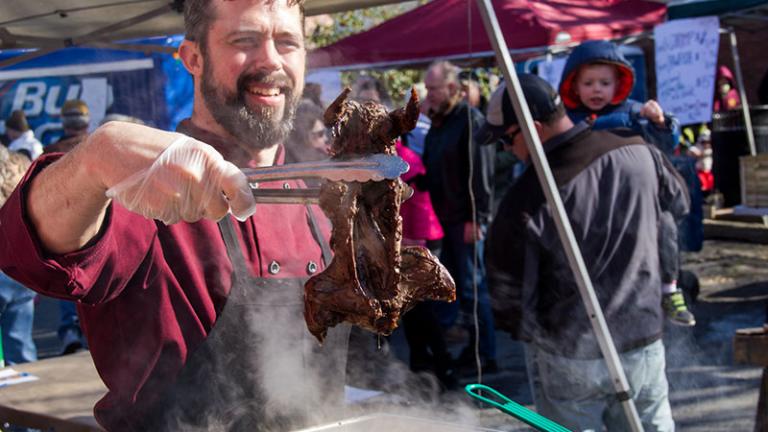 visitdorchester.org
A waterman's treat so delicious, we've even got an annual Muskrat Festival in Cambridge. Now this is the place where we're supposed to tell you it tastes just like chicken…. Spoiler alert, it doesn't. At home in the wetlands, muskrats have a deep, earthy flavor with a hint of the bay. Served broiled, flash-fried, and stewed, you can find them on the Eastern Shore and, in season mid-October through mid-March, even at Faidley's Seafood in Baltimore's famous Lexington Market. Try it and see if you fall deep in "muskrat love."
10
I scream, you scream, we all scream for the amazing 'Maryland's Best' Ice Cream Trail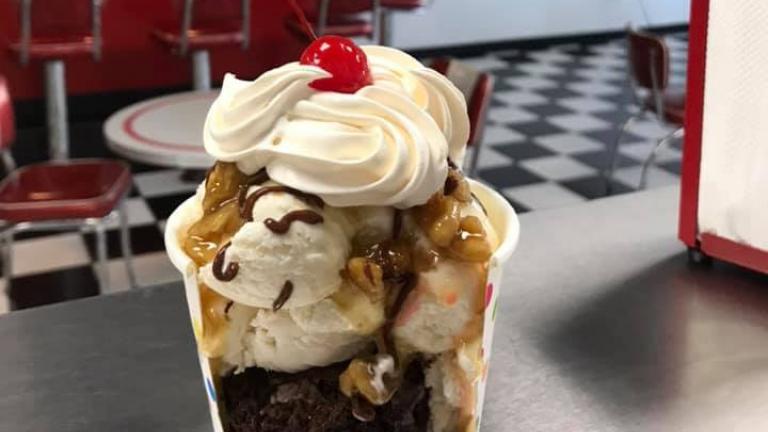 All this talk of muskrats may leave you wanting a bit of a palate cleanser, so why not hit the road on the 'Maryland's Best' Ice Cream Trail! Featuring cow-to-cone creameries that make everything from scratch, it is the best way to spend a summer day.
11
Enjoy the best of BBQ with a genuine pit beef sandwich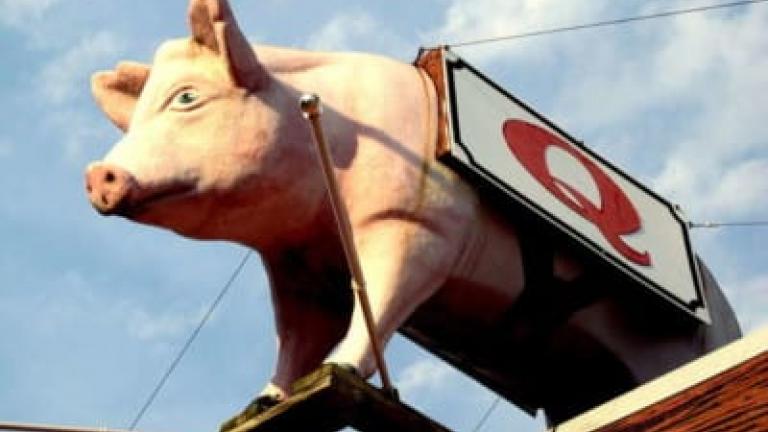 Andy Nelson's BBQ
The indigenous sandwich of Baltimore and Central Maryland, pit beef may very well be the most delicious thing ever placed between two pieces of bread. We say "maybe" because there's also pit ham, pit turkey, and combos to contend with. Cooked over a hot pit grill and sliced or even shaved thin and served in mile-high piles of flavor, you just can't beat 'em. (This writer is partial to a rare pit beef and pit ham sandwich on a Kaiser roll with thin-sliced onions, a dollop of sweet BBQ sauce, and a heaping helping of fresh horseradish juuuuust thick enough to make the eyes water.) Pit beef stands and even traveling trucks dot Central Maryland.
When people think of Maryland seafood, they tend to think of crab, rockfish, oysters, and other Chesapeake treasures, but here in the Free State, we've also got the Atlantic Ocean. Try fresh-caught monkfish prepared just a few hours from the dock. Enjoy inch-thick swordfish steaks, bright red sashimi-grade tuna, clams, shrimp and more caught right here and prepared as only Marylanders can. By which we mean "perfectly."
13
Pop a cork on the Maryland Wine Trails
DoveValleyWine.com
With more than 76 native wineries and nine fantastic wine trails, Maryland has become a true wine-lovers getaway. Travel through our unique growing regions like the coastal, piedmont plateau, Western Maryland highland, and rich river regions for unmistakably great vintages paired with local, farm-fresh foods, and beautiful locations.
14
You need to eat a Berger Cookie
bergercookies.com
If Charm City were a cookie, it would undoubtedly be this famous creation that George and Henry Berger first baked in Baltimore in 1835. Based on German traditions with some serious Maryland flair, the Berger Cookie is a shortbread cookie with chocolate frosting so thick, you'll think you've gone to heaven. When in Baltimore, ask anyone about Berger cookies. If they aren't actually eating one right at that moment, they'll point you to the nearest spot to try this unbelievable treat.
15
Ask your bartender for a real fruit crush
Harborside OC Instagram
Orange crushes are the OG, but enterprising bartenders from Western Maryland to the OC beaches have been branching out. Watermelon crushes, lemon, strawberry,  whatever! But do yourself a favor and start with the original. Crushed ice, a squeezed-at-the-bar juicy orange, orange vodka, triple sec, and a splash of sprite or club soda to make the whole thing bubble, and you've got yourself a genuine Maryland Orange Crush. There's no better, more refreshing summer cocktail.