Maryland Craft Beer
Raise a glass to the best batches of locally made beers.
Just one look at the Baltimore skyline and you'll know this is a beer town. Gazing out over the city from high atop the Natty Boh Tower is the glowing, mustachioed face of Mr. Boh, the iconic mascot of the old National Brewing Company, founded in the 1870s.
With that brewing tradition in place, you'd expect Maryland's craft beers to be plentiful and good, and they are. From heralded microbreweries to bigger brew houses, you'll find plenty of great places—well over 100 in the state—to hoist a glass filled with local flavors. On a tasting trip, meet other beer lovers following one of the many beer trails—join a tour and let someone else do the driving. 
Classic Craft Beer
In Baltimore, explore the Guinness Open Gate Brewery & Barrel House, the first Guinness brewery to open in the USA since 1954 and featuring unique Guinness creations only available on site. Right around the corner in Halethorpe and not far from the Baltimore/Washington International Thurgood Marshall Airport you'll find Heavy Seas Brewery with its nautically named beers.  Union Craft Brewing is another Baltimore favorite.
Some smaller spots not to be missed include Eastern Shore Brewing in St. Michaels and in Ocean City stop by Fin City Brewing. Evolution Craft Brewing is a short ride away in Salisbury. 
Sustainable Brew Houses
For a truly homegrown experience, a batch of sustainable brew houses supporting local craftsmen are not to be missed. Swing by Burley Oak Brewing Company in Berlin to be treated to craft beer made with locally-grown and harvested barley while listening to tunes by neighborhood bands. Try the ales at Ruhlman Brewing Co. in Hampstead; all are made with their own well water and many are brewed with hops grown on the 36-acre farm. Venture to Maryland's first licensed farm brewery, Mount Airy's  Milkhouse Brewery at Stillpoint Farm, to appreciate what beer made with local ingredients can do for your taste buds.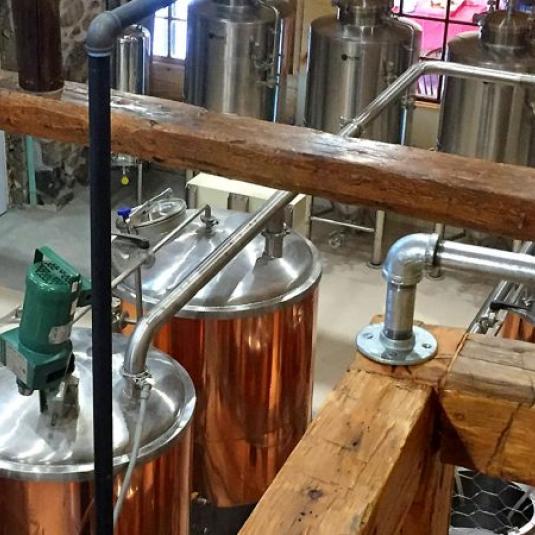 Trails and Tours
Follow the hops and uncover the malt! Seekers of suds should travel along the HowardOnTap Craft Brew Trail. You'll discover established brewpubs, up-and-coming farm breweries and exciting start-ups getting creative with their ingredients in Howard County. Just a short drive from Washington, D.C. and Baltimore, it's the perfect destination for your next craft beverage adventure. Visit HowardOnTap.com for itineraries, hotel suggestions and info on boozy events.
City Brew Tours serves Baltimore with group and private tours, generally offering a taste of up to 16 varieties of beer. Beer guides explain the brewing process, and a designated driver takes care of the transportation. A beer-inspired meal can be part of the experience.
And Vino 301 offers beer, wine and spirits tours, picking up adventurers from convenient locations in the Frederick area. Don't let the "vino" in the name confuse you; the tour includes breweries and hop yards.