Mountain Maryland Water Trails
For the hardy adventure-seeker who has skills to match the thrill, the mountains of Western Maryland have rushing whitewater waiting for you! Stretches of rapids intersperse with calm river segments that meander through pastoral farmland and wood lots, paralleled by country roads or railroads. Beautiful scenery surrounds wild rivers that plunge through heavily forested canyons on their way toward peaceful and thriving cities and towns, but you may not get a chance to take it all in as you focus on the extreme challenges ahead of you. The best way to experience these wild and free rivers is with an experienced guide service.
1
Youghiogheny Wild and Scenic River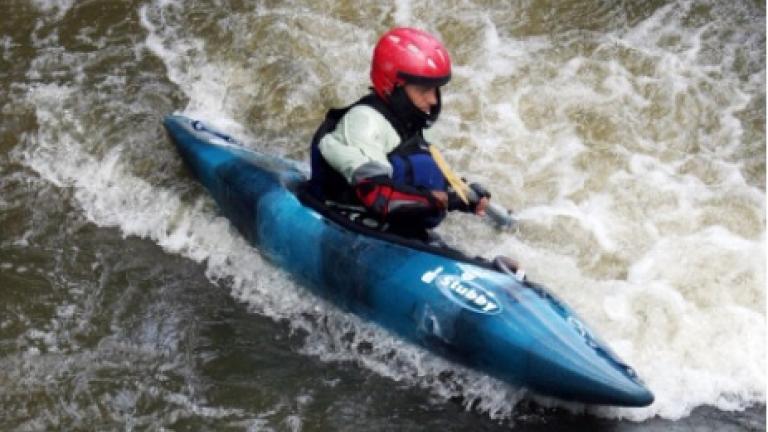 Garrett County Chamber of Commerce
Skilled paddlers can explore Maryland's only wild river, the Youghiogheny Scenic and Wild River, known for its Class IV and V whitewater adventures. The 21-mile-long section of the river, from Oakland to Friendsville, features a series of extreme whitewater rapids flowing through forests and wilderness areas. A rugged and inaccessible section of the river runs wild and free, dropping in elevation an average of 100 feet per mile. No official map is available, but public access points are located at Swallow Falls State Park in Friendsville, and off of Sang Run Road. 
2
Potomac River Water Trail: The North Branch
photo by Steve Dean, provided by Ashli Workman
For an exciting trip weaving with the waterway's course through mountainous landscapes, try the North Branch of the Potomac River. Beginning at Jennings Randolph Lake near Westernport, you can paddle downriver 32 miles to Cumberland and see the ways that previous residents used the river for their livelihoods, transportation and recreation. Restrooms, camping, fishing sites, picnic and parking areas, and multiple access sites are available along the way.
3
Potomac River Water Trail and the C & O Canal: Upper Potomac
Doug Riegner
Pick up where the North Branch of the Potomac River Water Trail leaves off, and canoe or kayak the Upper Potomac River corridor - approximately 115 miles. This segment from Cumberland to Sharpsburg Maryland/Shepherdstown, West Virginia parallels the C & O Canal National Historical Park, offering camping opportunities, fishing spots, visitor centers and historic sites, such as the famous Paw Paw Tunnel on the C & O Canal Towpath. 
You'll find unique canal structures, like Conococheague Aqueduct, Lockhouse 44, and the canal's only railroad lift bridge in Williamsport, home of the C & O Canal National Historical Park Williamsport Visitor Center. While the peaceful river scenery serves up rolling hills, farmland and the surrounding mountains that will urge you to paddle on, there are friendly towns ready to welcome you. Hancock, Big Pool, Williamsport, and Sharpsburg are great places to stop for a break and visit a restaurant, brewery or market.