Nicknamed "The Grand Old Ditch," the C&O Canal and its beautiful scenic byway is both a vacation destination and a journey all its own. A marvel of 19th-century engineering that captured the imagination of the nation, today it's a welcoming hub of outdoor activity with nearly 200 miles of hiking, biking (perfect for day trips or bike-packing adventures!), bird watching, history, and even good old fashioned mule-drawn barge rides!
At the heart of this remarkable byway is the C&O Canal National Historical Park with its 74 unique lift locks and the 184.5 mile-long C&O Canal Towpath. Along the way you'll find fascinating and informative visitor centers, convenient campsites, welcoming canal towns, and great recreational activities with guides offering everything from tire patches and picnics to whitewater adventures. So what are you waiting for? Start planning your C&O Canal Scenic Byway vacation today!
Connecting Washington, D.C. to Cumberland in Maryland's rolling mountain countryside, the Chesapeake & Ohio Canal parallels the wide, scenic waters of the mighty Potomac River. Explore the byway by car, by kayak, by bike, on horseback, or a hike. And here's a pro-tip: Our guide starts from the east and heads out west, but cyclists might want to start in Cumberland and reverse the trip. It's all downhill that way!
236 Miles
On a mix of country roads and state highways from Washington, D.C. to Cumberland
Amenities
Gas Stations
Food & Drinks
Camping
Accommodations
Hospitals
ATM
Restrooms
Washington, D.C. to Brunswick
Including MD 189, MD 190, MD 117, MD 109, MD 28, US 15, and MD 464
Begin your journey at the Chesapeake & Ohio Canal National Historical Park's Georgetown Visitor Center, located at the mouth of Rock Creek on the Potomac River where the canal starts. Just outside D.C., visit Glen Echo Park, site of a turn-of-the-last-century amusement park and the preserved home of Red Cross founder Clara Barton. Glen Echo Park is now an arts and cultural center featuring galleries, classes, concerts, and events. Slightly off the byway, visit the Downtown Bethesda Arts & Entertainment District to enjoy museums, gardens, galleries, performing arts, and upscale shopping. 
Head  to Carderock Recreation Area, where you can engage in amazing outdoor activities including top-notch rock climbing in this 100-acre parkland. At the Potomac-based C&O Canal's National Historical Park Great Falls Tavern Visitor Center, marvel at the stunning Great Falls of the Potomac, a spectacular series of waterfalls and rapids that made the Potomac River unnavigable by ships, prompting the need for a canal. Arrange for an hour-long mule-drawn barge ride through one of the lift locks. For an extreme adventure, join Potomac Paddlesports for a whitewater rafting trip through nearby Mather Gorge!
On your way to Brunswick, stop into the welcoming canal town of Poolesville and even take in 18 holes of championship golf. Then stop to view the historic postcard-perfect Point of Rocks Train Station. The station actively serves MARC and Amtrak trains today. In Brunswick, stop at the Heritage Museum, which displays artifacts and exhibits on railroad history and an amazing model train layout covering the entire third floor. The museum shares space with the C&O Canal's National Historical Park Brunswick Visitor Center, featuring exhibits that showcase the town's lively transportation past. Before continuing your drive, take a relaxing break and get out on the water. Paddle or tube the Potomac River with River and Trail Outfitters.
Take a Side Trip
Glenstone in Potomac is a museum that seamlessly integrates art, architecture, and nature into a serene and contemplative environment. In Gaithersburg, Seneca Creek State Park has a restored 19th-century one-room schoolhouse and a partially restored mill that visitors are welcome to explore. 
BRUNSWICK TO HANCOCK
Including MD 478, MD 34, MD 65, MD 63, MD 68, MD 56, US 40, I-70, and MD 144
From Brunswick heading west, more than 30 primitive hiker-biker campsites, available for single-night tent camping, are located every few miles along most of the towpath. Along the byway, meander through rolling farmland to Sharpsburg– this historic Canal Town is just a stone's throw from the famed Antietam National Battlefield. Explore the area's rich Civil War history, and even make a detour along the Antietam Campaign Civil War Trail. 
Wine aficionados will want to make a stop at Antietam Creek Vineyards. In Sharpsburg, Tolson's Chapel and School offers a view into a historic African-American church dating from 1866. Also in Sharpsburg, visit Ferry Hill Plantation, now a site on the National Underground Railroad Network to Freedom, and imagine the heroism of the enslaved people who once followed the canal North in search of freedom.
The friendly town of Williamsport, founded in 1740, makes a great destination all on its own. Get the lay of the land at the C&O Canal National Historical Park Williamsport Visitor Center situated at the only spot along the towpath where major canal structures like the amazing Conococheague Aqueduct, Lockhouse 44, and the canal's only railroad lift bridge can be seen in just a half-mile stretch. You can even ride a real canal launch boat! Try out these battery/steam powered boats and experience for yourself how different they are from the mule-drawn barge rides.
After a great day, hoist a pint at the critically acclaimed Cushwa Brewing Co. Those with a sweet tooth may want to stop by Desert Rose Cafe and Sweet Shoppe. Families will love staying at Yogi Bear's Jellystone Park, or enjoy a stay at the historic working  Elmwood Farm Bed & Breakfast.
Next up, from the town of Big Pool through to Hancock, the canal runs parallel to the Historic National Road, a gorgeous scenic byway worthy of its own adventures. Take in Fort Frederick State Park; this 250-year-old star-shaped frontier fort hosts reenactments and living history displays. Visit Dam 5/Guard Lock, which supplied hydro power for the millworks and let water flow into the canal, keeping boats moving along. Check out Lockhouse 49, once a lock tender's quarters, it sleeps seven and, if you plan ahead, you can reserve it for the night. 
After arriving in Hancock, visit the C&O Canal's National Historical Park Hancock Visitor Center. Be sure to stop into the Blue Goose Market & Bakery for some fresh baked treats.  You can rent bikes from C&O Bicycle and work off those calories by biking on both the C&O Canal towpath and the Western Maryland Rail Trail. The trail is a great place for mile-eaters to stretch their legs on a smooth, fast bike ride.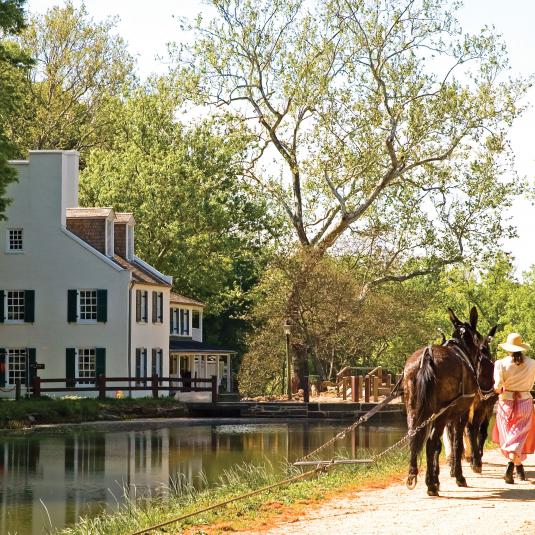 Great Falls Tavern is home to a visitor center, replica canal boat rides, an overlook of the Great Falls of the Potomac and the Billy Goat trail.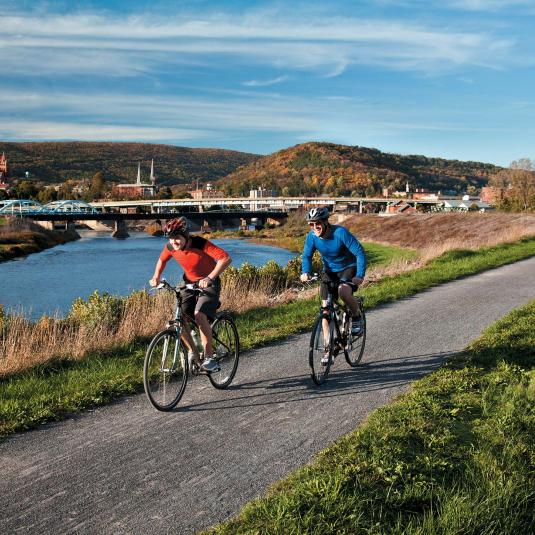 The C&O Canal Towpath follows the route of the canal from Cumberland to Washington D.C. providing recreational opportunities like hiking, biking and horseback riding.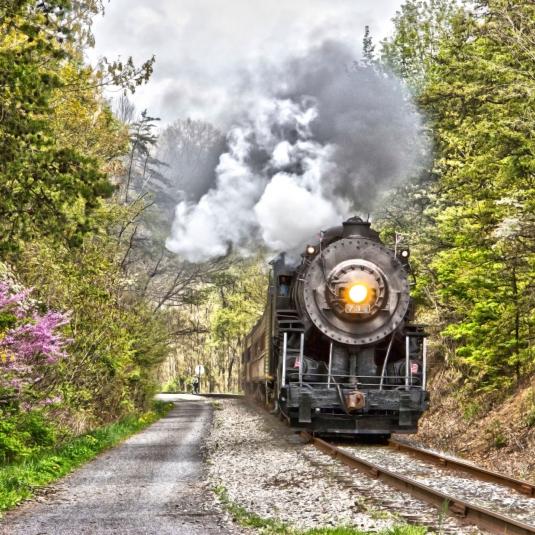 Trip Tips
Bring a bike along or walk/hike all or part of the C&O Canal Towpath Trail. The trail offers primitive campsites and even accommodations in historic lockhouses through the Canal Quarters Program. Or stay in bed-and-breakfasts in nearby friendly Canal Towns. (Pro tip: bike or hike the trail west to east-- it's a downhill trip in that direction.)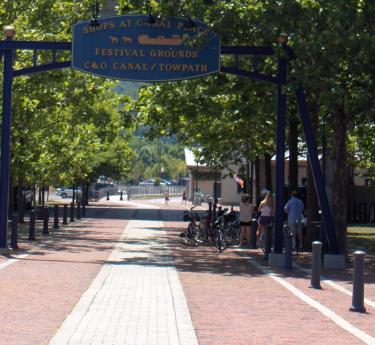 Hancock to Cumberland
Including MD 144 & MD 51
Upon leaving Hancock, the byway dips into West Virginia, following WV 9 and US 522 for about an hour before re-emerging in Maryland near the iconic Paw Paw Tunnel which cuts through more than 3,000 feet of solid rock. Adjacent to the tunnel is Green Ridge State Forest, famous for its wildlife watching and off-road biking. At the Spring Gap Recreation Area in Oldtown, a one-mile hike takes you to Lock 72 and a restored, two-story lock tender's house. 
The town of Cumberland is a great place to stop and sample some culinary delights at places such as the City Lights-An American Grill & Bar, 1812 Brewery, and Queen City Creamery & Deli. Weary bikers can take advantage of the bike racks at Cumberland's Fairfield Inn & Suites.
Originally, the canal was planned to stretch all the way to the Ohio Valley, but when railroading won the race to the west, work stalled in Cumberland. This cool, scenic mountain town is now home to the C&O Canal National Historical Park and Allegany County Visitor Center and the Canal Place Heritage Area. It's an absolute must-visit spot along the byway offering boat tours, fantastic dining and shopping, and unforgettable trips along the Western Maryland Scenic Railroad or the Great Allegheny Passage Trail. It's a journey sure to be the building block for a lifetime's worth of memories!
Maryland Lore
The name Paw Paw, shared by a canal tunnel and a West Virginia town at the Maryland border, refers to small, fruit-bearing trees found nearby.