Plein Air painting is a phrase borrowed from the French meaning "open (in full) air." It is used to describe the act of painting outdoors, where a painter reproduces the visual conditions experienced at the time of the painting. Stroll around and watch artists at work at these Plein Air festivals.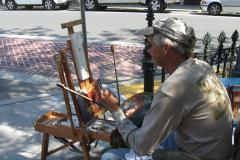 Image Credit: Worcester County Arts Council
1

Paint Berlin Plein Air

September 19-22, 2019
This annual Plein Air event takes place in charming Berlin. Artists grace the streets and sidewalks creating original paintings of Berlin's scenic views and historic locations.
---
More about Paint Berlin Plein Air
---
Type:
Events
---
Location:
101 William Street
Berlin, MD 21811
410-641-0809
---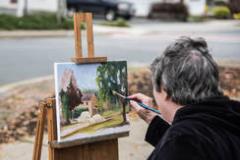 Image Credit: Harford Plein Air Festival
2

Harford Plein Air

October 6-12, 2019
Selected artists are invited to paint various outdoor locations in Harford County and submit their paintings to be judged for prestigious awards. The paintings are sold at a gallery sale  held at the Bel Air Armory October 11 and 12, 2019. A portion of the art sales benefit the Maryland Center for the Arts. Special paint outs are held at farms, waterfronts, parks and historic towns.  Art receptions and sales are also scheduled throughout the County.  The Saturday morning "Quick Draw Competition" in downtown Bel Air  which is open to community artists of all ages.
---
More about Harford Plein Air Festival - Quick Draw Competition
---
Type:
Events
---
Location:
Office Street
Bel Air, MD 21014
443-567-5216
---
3

Color Columbia Plein Air Paint Out

October 26, 2019
Bring your family and friends and enjoy viewing artists at work as they paint their visions of the colorful fall foliage and scenic architecture around Lake Kittamaqundi and Wilde Lake in Downtown Columbia.
---
More about Color Columbia Plein Air Paint Out
---
Type:
Events
---
Location:
Lake Kittamaqundi
Columbia, MD 21045
410-730-0075
---