Plein Air painting is a phrase borrowed from the French meaning "open (in full) air." It is used to describe the act of painting outdoors, where a painter reproduces the visual conditions experienced at the time of the painting. Stroll around and watch artists at work at these Plein Air festivals.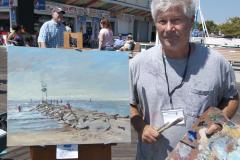 Photo By: Artist George Kalwa - photo courtesy of The Art League of OC
1

Artists Paint OC

August 8-12, 2018
Pull out your paint, pastels or pencils and set up an easel in the resort town of Ocean City.  Landscapes include the ocean, bay, marshes, harbor boats and the well-loved boardwalk. Not an artist? Watching the artists work is just as exciting.  In fact, a life was saved by one Plein Air artist's quick thinking. The resulting water rescue was  captured on canvas by artist George Kalwa.
 
---
More about Artists Paint OC - A Plein Air Event
---
Type:
Events
---
Location:
502 94th St
Ocean City, MD 21842
410-524-9433
---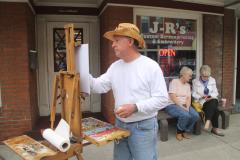 Photo By: Artist Ray Ewing; Photo by Chris Sloan
2

Mountain Maryland Plein Air - Allegany & Garrett Counties

September 24-29, 2018
A juried painting event that brings talented artists from across the country to Western Maryland to paint outdoors, on location rather than in a studio. Artists will create original works in Allegany or Garrett counties. Paintings created in Plein Air will be available for purchase.
---
More about Mountain Maryland Plein Air
---
Type:
Events
---
Location:
The Allegany Arts Council
Cumberland, MD 21502
301-777-2782
---
Photo By: Artist Nancy O'Brien
3

Recent - Paint Stevensville during the Plein Air Art Celebration

May 30 - June 2, 2018
Be a part of four days of drawing and painting in and around Kent Island and the historic Stevensville area with gorgeous views of gardens, streetscapes, water and marshes. On Saturday, artists of all ages can take the Chalk Walk from noon to 3 pm.  Then meet the artists at a "Off the Easel" sale until  6 pm.  Stop in KIFA (Kent Island Federation of Arts)  Galleries to see the "Artist's Garden."
---
More about Plein Air Art Celebration - Paint Stevensville
---
Type:
Events
---
Location:
405 Main St.
Stevensville, MD 21666
410-604-2100
---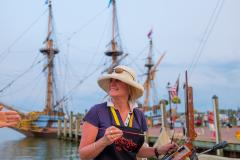 Photo By: Bob Peterson
4

Recent - Paint Annapolis

June 3-10, 2018

Paint Annapolis is a five-day juried plein air painting competition that brings to Annapolis plein air painters from around the world. For years it has been a premier event, bringing people together to share in the spirit and vibrancy of outdoor painting. The event is designed to explore in paint the colonial architecture, marine atmosphere, and overall energy of  Annapolis, Maryland's capital city – and the first capital of the United States – home to families, businesses, colleges, and maritime activities.This year, Paint Annapolis coincides with Annapolis Art Week June 1-10, 2018
---
More about Paint Annapolis
---
Type:
Events
---
Location:
18 State Circle
Annapolis, MD 21401
410-268-4566
---
Photo By: Barnstormer's Barn Tour & Plein Air
5

Recent - Barnstormers Tour and Plein Air Paint-Out - Frederick County

June 9, 2018
This popular self-guided Frederick County tour pays homage to beautiful old structures and agricultural heritage by offering a rare opportunity to tour some of the most scenic private farm properties. It is also a plein air paint-out.

This event has three components, a ticketed barn tour, an art show/sale, and various educational demos and displays. Using the map, tour-goers may drive their vehicles to each farm featured on the tour. The farms are only open to visitors on that day. Tour hours are from 10 a.m. to 4 p.m. Trained barn docents will greet visitors at each barn. Some of the barns may feature extra educational displays such as blacksmithing, antique farm tools, handmade products, and quilting.
---
More about Barnstormers Tour and Plein Air Paint Out
---
Type:
Events
---
Location:
1110 Rosemont Ave
Frederick, MD 21701
301-668-6088
---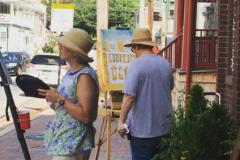 Photo By: Howard County Tourism
6

Recent - Paint It! Ellicott City

July 5-9, 2018
Paint It! Ellicott City welcomes artists from the region to the streets of historic and picturesque Ellicott City. "Paint It" takes place over three days.  Pull out your sketchbook or set up your easel alongside other artists or join the encouraging spectators attracted to this lively, "arty" town. 

*In light of the recent tragic flooding in Historic Ellicott City, the boundaries for Paint It! Ellicott City 2018 have been expanded to include all public locations within the Ellicott City zip codes, 21042 & 21043.
---
More about Paint It! Ellicott City 2018 Plein Air Paint-Out
---
Type:
Events
---
Location:
8510 High Ridge Road
Ellicott City, MD 21043
410-313-2787
---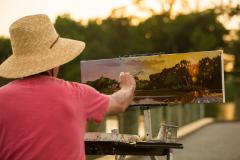 Photo By: Talbot County Ofice of Tourism
7

Recent - Plein Air Easton

July 15-22, 2018
 Many of the world's most accomplished artists have Plein Air Easton at the top of their wish list of competitions and  will continue to set the bar for excellence in the coming years.There will be 58 competing artists painting throughout Talbot County. Galleries and arts organizations program scores of demos, workshops, exhibits and lectures as part of the event including an Artisan's Market that will showcase Delmarva artists displaying many different types of arts from jewelry to pottery to metalworks and more.
---
More about Plein Air Easton
---
Type:
Events
---
Location:
Historic Downtown Easton
Easton, MD 21601
410-822-0345
---