Plein Air painting is a phrase borrowed from the French meaning "open (in full) air." It is used to describe the act of painting outdoors, where a painter reproduces the visual conditions experienced at the time of the painting. Stroll around and watch artists at work at these Plein Air festivals.
Image Credit: HenryCoePaintings.com
Plein Air Easton
July 12-19, 2020
Artists from all over the United States and beyond apply to this prestigious juried plein air painting competition. There will be dozens of artists painting throughout Talbot County. Collectors' Preview Party and Awards on July 17 and Public Art Exhibit and Sale, July 18-19.
---
More about Plein Air Easton
---
Type:
Events
---
Location:
Historic Downtown Easton
Easton, MD 21601
410-822-0345
---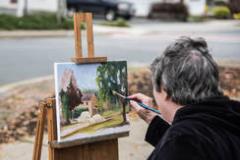 Image Credit: Harford Plein Air Festival
Harford Plein Air
September 14-19, 2020
Selected artists are invited to paint various outdoor locations in Harford County and submit their paintings to be judged for prestigious awards. The paintings are sold at a gallery sale  held at the Bel Air Armory September 19, 2020. A portion of the art sales benefit the Maryland Center for the Arts. Special paint outs are held at farms, waterfronts, parks and historic towns.  Art receptions and sales are also scheduled throughout the County.  The Saturday morning "Quick Draw Competition" in downtown Bel Air  which is open to community artists of all ages.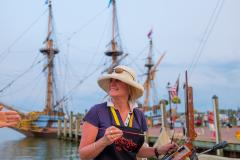 Image Credit: Bob Peterson
Paint Annapolis
September 20-27, 2020
Paint Annapolis is a week long juried plein air painting competition that brings plein air painters from around the world to our historic city. A premier event, bringing people together to share in the spirit and vibrancy of outdoor painting. The event is designed to explore in paint the colonial architecture, marine atmosphere, and overall energy of Maryland's capital city – and the first capital of the United States – home to families, businesses, colleges, and maritime activities.
---
More about Paint Annapolis
---
Type:
Events
---
Location:
18 State Circle
Annapolis, MD 21401
410-268-4566
---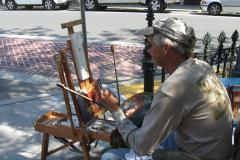 Image Credit: Worcester County Arts Council
Paint Berlin Plein Air
September 23-26, 2020
This annual Plein Air event takes place in charming Berlin. Artists grace the streets and sidewalks creating original paintings of Berlin's scenic views and historic locations.
---
More about Paint Berlin Plein Air
---
Type:
Events
---
Location:
101 William Street
Berlin, MD 21811
410-641-0809
---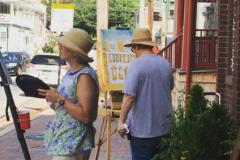 Image Credit: Howard County Tourism
Paint It! Ellicott City
October 15-19, 2020
Paint It! Ellicott City welcomes artists from the region to the streets of historic and picturesque Ellicott City. "Paint It" takes place over five days.  Spectators can follow the artists as they set up their easels around Ellicott City's historic district and paint the picturesque mill town and join us for the exciting "quick draw" event. The event culminates in an exhibit at the Howard County Center for the Arts.
---
More about Paint It! Ellicott City
---
Type:
Events
---
Location:
Main Street
Ellicott City, MD 21043
410-313-1900
---
Color Columbia Plein Air Paint Out
2020 dates TBD
Bring your family and friends and enjoy viewing artists at work as they paint their visions of the colorful fall foliage and scenic architecture around Lake Kittamaqundi and Wilde Lake in Downtown Columbia.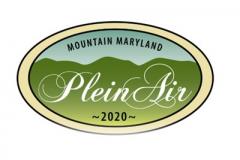 Image Credit: Allegany Arts Council
Mountain Maryland Plein Air - Cumberland
June 14-19, 2021
The Allegany Arts Council offers plein air art activities and events in Allegany & Garrett Counties. Activities include receptions, the Saville Gallery and special events such as Quickdraw.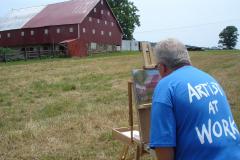 Image Credit: Barnstormers/Frederick County Landmarks with artist Steve Poole
Barnstormers Tour and Plein Air Paint-Out - Frederick County
TBD 2021
This popular self-guided Frederick County tour pays homage to beautiful old structures and agricultural heritage by offering a rare opportunity to tour some of the most scenic private farm properties. It is also a plein air paint-out.This event has three components, a ticketed barn tour, an art show/sale, and various educational demos and displays. Using the map, tour-goers may drive their vehicles to each farm featured on the tour. The farms are only open to visitors on that day. Trained barn docents will greet visitors at each barn. Some of the barns may feature extra educational displays such as blacksmithing, antique farm tools, handmade products, and quilting.