Plein Air painting is a phrase borrowed from the French meaning "open (in full) air." It is used to describe the act of painting outdoors, where a painter reproduces the visual conditions experienced at the time of the painting. Stroll around and watch artists at work at these Plein Air festivals.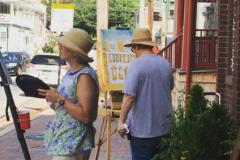 Photo By: Howard County Tourism
1

Paint It! Ellicott City

June 27-30, 2019
Paint It! Ellicott City welcomes artists from the region to the streets of historic and picturesque Ellicott City. "Paint It" takes place over three days.  Spectators can follow the artists as they set up their easels around Ellicott City's historic district and paint the picturesque mill town and join us for the exciting "quick draw" event. The event culminates in an exhibit at the Howard County Center for the Arts. More info...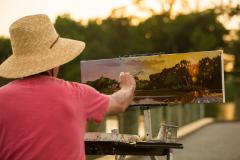 Photo By: Talbot County Ofice of Tourism
2

Plein Air Easton

July 14-21, 2019
Many of the world's most accomplished artists have Plein Air Easton at the top of their wish list of competitions and  will continue to set the bar for excellence in the coming years.  There will be dozens of competing artists painting throughout Talbot County. Galleries and arts organizations program scores of demos, workshops, exhibits and lectures as part of the event including an Artisan's Market that will showcase Delmarva artists displaying many different types of arts from jewelry to pottery to metalworks and more.
---
More about Plein Air Easton
---
Type:
Events
---
Location:
Historic Downtown Easton
Easton, MD 21601
410-822-0345
---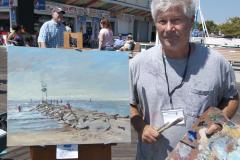 Photo By: Artist George Kalwa - photo courtesy of The Art League of OC
3

Artists Paint OC

August 7-11, 2019
Pull out your paint, pastels or pencils and set up an easel in the resort town of Ocean City.  Landscapes include the ocean, bay, marshes, harbor boats and the well-loved boardwalk. Not an artist? Watching the artists work is just as exciting.  In fact, a life was saved by one Plein Air artist's quick thinking. The resulting water rescue was  captured on canvas by artist George Kalwa.
 
---
More about Artists Paint OC - A Plein Air Event
---
Type:
Events
---
Location:
502 94th St
Ocean City, MD 21842
410-524-9433
---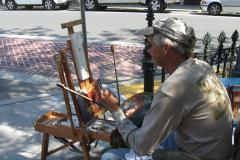 Photo By: Worcester County Arts Council
4

Paint Berlin Plein Air

September 19-22, 2019
This annual Plein Air event takes place in charming Berlin. Artists grace the streets and sidewalks creating original paintings of Berlin's scenic views and historic locations.
---
More about Paint Berlin Plein Air
---
Type:
Events
---
Location:
101 William Street
Berlin, MD 21811
410-641-0809
---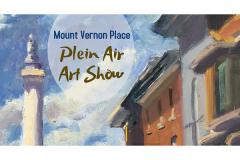 5

Mount Vernon Place Plein Air Art Show, Baltimore

September 29, 2019
The Garrett-Jacobs Mansion debuts the first ever "Mount Vernon Place Plein Air Show."  The Show demonstrates the beauty of Mount Vernon Place as seen through the eyes of 25 talented artists. Their work will be displayed within the 
magnificent 19th century Garrett-Jacobs Mansion, itself known for its Tiffany windows, carved spiral staircase, gilded ballroom and light-filled courtyard.  Throughout this Spring and Summer, members of the Mid-Atlantic Plein Air Painters Association will take up their brushes in Mount Vernon, one of America's most beautiful urban spaces.  The show features finished paintings available for purchase.  Tickets cover entrance fees and wine and cheese refreshments. More info...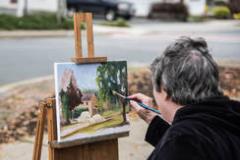 Photo By: Harford Plein Air Festival
6

Harford Plein Air

October 6-12, 2019
Selected artists are invited to paint various outdoor locations in Harford County and submit their paintings to be judged for prestigious awards. The paintings are sold at a gallery sale  held at the Bel Air Armory October 11 and 12, 2019. A portion of the art sales benefit the Maryland Center for the Arts. Special paint outs are held at farms, waterfronts, parks and historic towns.  Art receptions and sales are also scheduled throughout the County.  The Saturday morning "Quick Draw Competition" in downtown Bel Air  which is open to community artists of all ages.
---
More about Harford Plein Air Festival - Quick Draw Competition
---
Type:
Events
---
Location:
Office Street
Bel Air, MD 21014
443-567-5216
---
7

Color Columbia Plein Air Paint Out

October 26, 2019 
Bring your family and friends and enjoy viewing artists at work as they paint the scenery and diverse architecture around Lake Kittamaqundi and Wilde Lake in Downtown Columbia. Plans are still being made, so please check the website for updates.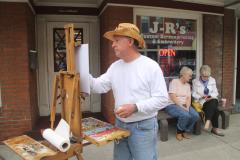 Photo By: Artist Ray Ewing; Photo by Chris Sloan
8

Mountain Maryland Plein Air - Allegany & Garrett Counties

June 15-20, 2020
A juried painting event that brings talented artists from across the country to Western Maryland to paint outdoors, on location rather than in a studio. Artists will create original works in Allegany or Garrett counties. Paintings created in Plein Air will be available for purchase.
Photo By: Artist Nancy O'Brien
9

Paint Stevensville at the Plein Air Art Celebration

2020 TBD
Be a part of four days of drawing and painting in and around Kent Island and the historic Stevensville area with gorgeous views of gardens, streetscapes, water and marshes. Meet the artists at a Show and Reception or enjoy the Quick Draw.  Stop in KIFA (Kent Island Federation of Arts).  Stay tuned for details.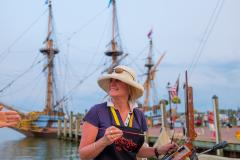 Photo By: Bob Peterson
10

Paint Annapolis

2020 TBD
Paint Annapolis is a five-day juried plein air painting competition that brings to Annapolis plein air painters from around the world. For years it has been a premier event, bringing people together to share in the spirit and vibrancy of outdoor painting. The event is designed to explore in paint the colonial architecture, marine atmosphere, and overall energy of  Annapolis, Maryland's capital city – and the first capital of the United States – home to families, businesses, colleges, and maritime activities.
Photo By: Barnstormer's Barn Tour & Plein Air
11

Barnstormers Tour and Plein Air Paint-Out - Frederick County

2020 TBD
This popular self-guided Frederick County tour pays homage to beautiful old structures and agricultural heritage by offering a rare opportunity to tour some of the most scenic private farm properties. It is also a plein air paint-out.This event features a ticketed barn tour, an art show/sale, and various educational demos and displays. Using the map, tour-goers may drive their vehicles to each farm featured on the tour. The farms are only open to visitors on that day. Trained barn docents will greet visitors at each barn. Some of the barns may feature extra educational displays such as blacksmithing, antique farm tools, handmade products, and quilting.