There's nothing better than spending the day outdoors, listening to live music and seeing just how creative the people of Maryland can be—not to mention picking up a hand-crafted souvenir of your trip. To see artist at work, check out the many Plein Air Festivals.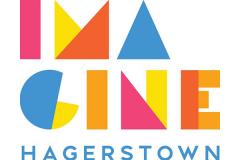 Imagine Hagerstown - Fourth Friday Music Series
June 26, July 24 & August 28 2020 
Saturday Street Festival - September 26, 2020

Enjoy four weekends of arts and culture in downtown Hagerstown! Bands, dance, spoken word, circus arts, storytelling, magic, and visual arts take over the Cultural Trail, University Plaza and the Maryland Theatre.  Please check website for updates.
---
More about Imagine Hagerstown
---
Type:
Events
---
Location:
21 S Potomac St
Hagerstown, MD 21740
301-791-3132
---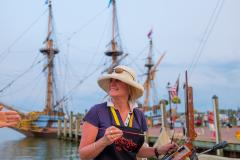 Image Credit: Bob Peterson
Annapolis Arts Week
Annapolis Arts Week Goes Online in June;
Returns as a Festival in September

Annapolis Arts Week is moving online until the Festival resumes in September.

Usually a week-long art festival that attracts art buyers and features painting competitions, block parties, gallery exhibits and live music festivals, the June event is postponed until September.  A blog "Annapolis Arts Weekly,"  highlights the artists on-line with showcases, resources and ways to stay engaged.
Stay tuned for updates...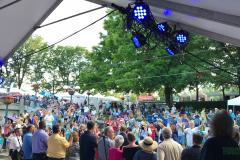 Image Credit: columbiafestival.org
Columbia Festival of the Arts Goes On-Line as the Columbia Film Festival
June 17 – 26, 2020
This year, the  Arts Festival is represented by a brand new Virtual Film Festival. Expect something that delights film lovers with more than 60 films, plus workshops and opportunities to interact with filmmakers. More information...
---
More about Columbia Festival of the Arts - Film Festival Goes VIRTUAL
---
Type:
Events
---
Location:
10221 Wincopin Circle
Columbia, MD 21044
410-715-3044
---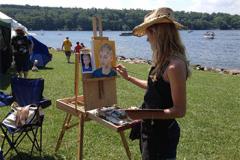 Image Credit: Deep Creek Lake State Park
Art in the Park, Deep Creek Lake
July 11-12, 2020
Art in the Park is a juried art event located in Deep Creek Lake State Park usually on the second weekend in July. Each year 50+ vendors display their original artwork and fine crafts over this two day festival. Food vendors are on site as well as kids interpretive events, tie dye, live animals and a kids art project sponsored by the Garrett Arts Council.
More info....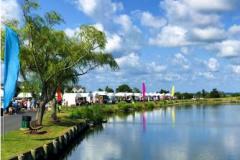 Image Credit: OCocean.com
Art X - Artistic Xpression Exposition, Ocean City
August 22-23, 2020
ART X is designed to be OC's biggest and best fine arts show. Hundreds of artists will display and sell their works around a beautiful lagoon in picturesque Northside Park. Enjoy lunch at the Artists' Cafe and live music all day, there will be plenty of children's activities.
---
More about ArtX: Artistic Xpression in Ocean City
---
Type:
Events
---
Location:
125th Street, Bayside
Ocean City, MD 21842
410-524-9433
---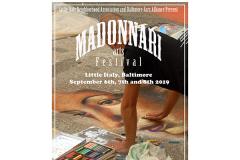 Image Credit: Madonnari Arts Festival/Michael Kirby
Madonnari Arts Festival in Little Italy, Baltimore
September 11-13 2020
This international arts festival brings together a band of traveling artists who create amazing works of arts on the street itself,  using chalk.  Historically, i madonnari were wandering artists who traveled village to village in Italy earning their livelihoods at festivals and on holy days. The artists often depicted religious images, thus earning their name.  This year, the three day cultural event includes an even greater serving of music, partnering with Baltimore Jazz, and other performers. People of all ages, (and a fair number of dogs), turn out for this happy festival as Little Italy's Madonnari provides al fresco and inside dining, presents an exciting new arts market and continues its traditional children's chalk center.  
---
More about Madonnari Arts Festival - Little Italy
---
Type:
Events
---
Location:
South High & Fawn Streets
Baltimore, MD 21202
(410)967-5441
---
Image Credit: dorchesterarts.org
Dorchester Showcase & Art Walk, Cambridge
September 12, 2020
An Art Walk and street festival, musical performances, vendor booths, family art activities and Eastern Shore cuisine along Historic High Street.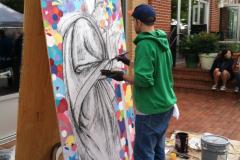 Image Credit: Hyattsville-CDC
The Annual Downtown Hyattsville Arts Festival - AKA " Arts & Ales"
September 19,  2020 
The festival will return to downtown Hyattsville. The celebration will include more than 100 artists and artisans, and will feature local food  vendors, Maryland craft brewers, and live performing arts at this free, all-ages event.  
More info...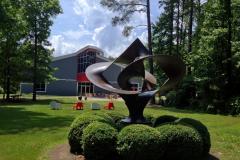 Artsfest - A Fine Arts Festival, Solomons
September 19-20, 2020
Spend a weekend at the Annmarie Sculpture Garden & Arts Center and enjoy the works of more than 165 artists at this juried arts festival. There isn't just art on display, though. From bands to stilt walkers to living statues, there's entertainment for the whole family, including activities in the Discovery Tent and Zany Zone. Artsfest features more than 25 bands and entertainment acts performing on two stages.  Enjoy microbrews, hard cider and a whole array of snacks, such as hush puppies, fried pickles and barbecue. This marks the 27th year for Artsfest at Annmarie Garden.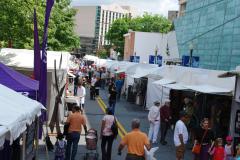 Image Credit: Bethesda Urban Partnership
Bethesda Row Arts Festival
October 10-11, 2020
Bethesda Row is a destination in its own right, with high-end shops and restaurants. But for a weekend in the fall, four blocks of the downtown area are turned into a remarkable display of carefully curated arts and crafts. After browsing and shopping, take in a little live music and an evening of fine dining along Bethesda Row.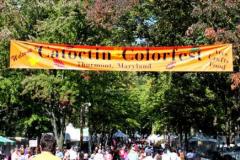 Catoctin Colorfest
October 10-11, 2020
Arts & Crafts show featuring 300 well known and respected artists from across the US. One of the largest outdoor craft shows on the East Coast is held as the area's vibrant leaves are changing.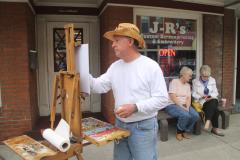 Image Credit: Artist Ray Ewing; Photo by Chris Sloan
Mountain Maryland Plein Air
Returns June 14-19, 2021
A juried painting event that brings talented artists from across the country to Western Maryland to paint outdoors, on location rather than in a studio. Artists will create original works in Allegany or Garrett counties. Paintings created in Plein Air will be available for purchase. More info...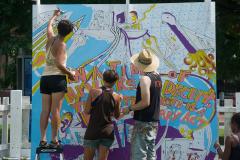 Artscape, Baltimore
Returns July 2021
As America's largest free arts festival, Artscape has become an integral part of the fabric of Baltimore. Walk streets alive with art, theater, food, and – of course – amazing music. Stay tuned for the lineup, previous years have included great performances from Wyclef Jean, Gogol Bordello, The Mighty Mighty Bosstones, Tito Puente, and George Clinton and Parliament Funkadelic.