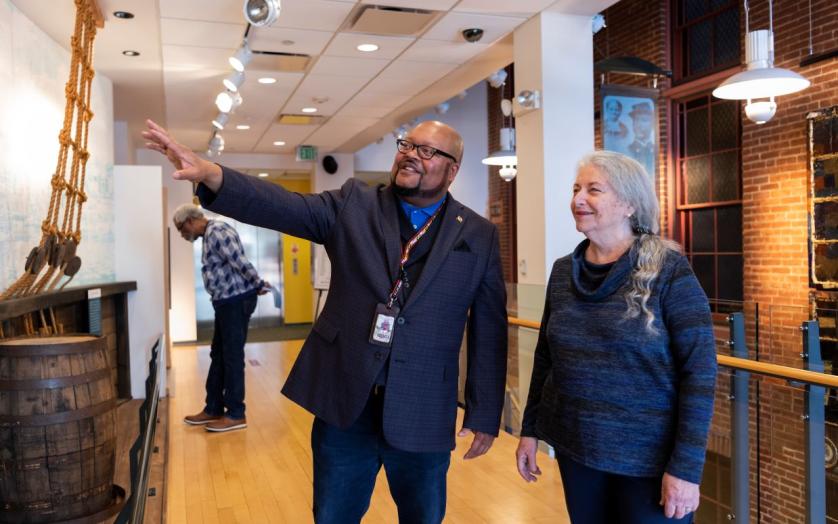 Museums in Maryland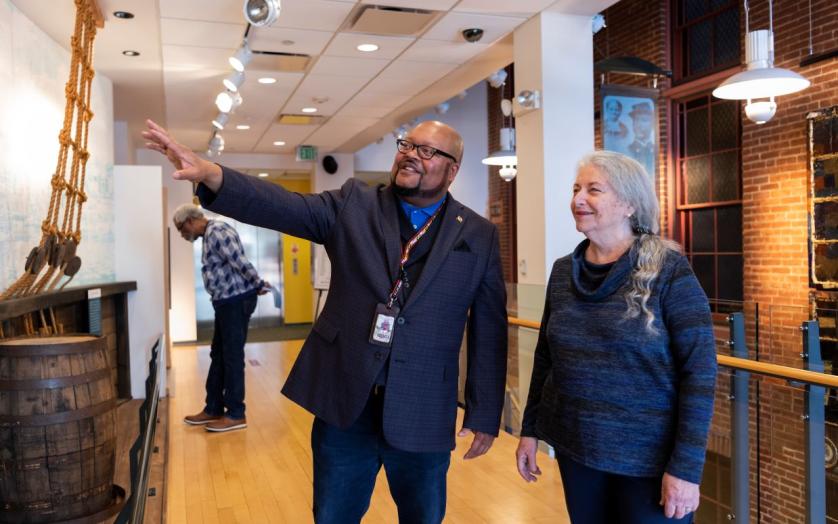 In Maryland's many museums, you'll find enlightening exhibits for all ages and interests, from fine art and science to history and maritime culture.
Family Fun at Inner Harbor Museums
At the family favorite National Aquarium in Baltimore, get up close and personal with sharks and 17,000 other fish, birds, amphibians, reptiles and mammals in habitats that include replicas of a coral reef and tropical rain forest.
Across the harbor, bring the kids (or the kids-at-heart) to the Maryland Science Center to see the stars in the planetarium or take in a super-sized IMAX movie. You can also see—and touch—exhibits that show Sir Isaac Newton's theories in practice, and experiment with chemistry and Earth science.
Nearby at Port Discovery Children's Museum, clamber through a three-story urban treehouse, then check out a pint-sized artist's studio, a '50s-style diner, a soccer stadium, a detective challenge and much more.
More Family-Friendly Museums around Maryland
There's hands-on learning for the little ones at Discovery Station in Hagerstown, where kids of all ages will marvel at a 15-foot, 500-pound, one-sixtieth scale model of The Titanic that took 10 years to build and is one of the largest models of the storied ship ever built.
Take in the ecosystems and wildlife of Western Maryland, including an aviary that is home to injured birds of prey, at Deep Creek Lake Discovery Center in Swanton, operated by the state's Department of Natural Resources.
At the Chesapeake Children's Museum in Annapolis, discover unique and varied displays including a marvelous seven-foot replica of the human body, a visual art workspace, and a "Bay" window with live animals. Let the kids get fresh air and blow off some energy at the outdoor exhibits which include gardens, classrooms and an Underground Railroad Trail.
Art Museums
Maryland's art museums are as varied as the geography of the state. More than 7,000 paintings, prints, drawings and sculptures are complemented by lectures, concerts and art classes at the Washington County Museum of Fine Arts in Hagerstown. For art that reflects the diverse cultures of the African continent, don't miss the sculpture, jewelry, textiles, musical instruments, masks and carvings at the African Art Museum of Maryland in Fulton.
A stop in a Baltimore art museum paints a whole new picture of the city. The Walters Art Museum is one of just a few places in the world to view art from the third millennium B.C. to the early 20th century. See the world's largest Matisse collection and works by van Gogh and Picasso at the Baltimore Museum of Art. Get a taste of art made by self-taught artists at the American Visionary Arts Museum, which counts a Wildflower Sculpture Garden and life-size metal angel chess set among its collection, and hosts an annual human-powered Kinetic Sculpture Race each May.
History Museums
Get a glimpse of what life was like in Civil War camps and hospitals at the National Museum of Civil War Medicine in downtown Frederick, with some 1,200 artifacts related to medical, nursing and surgical history.
In the state capital of Annapolis, explore the contributions of famous African-American Marylanders like Harriet Tubman, Kunta Kinte, and the museum's namesakes at the Banneker-Douglass Museum, or head to the U.S. Naval Academy Museum to see the largest collection of 17th- and 20th-century ship models on public display in North America.
Relive a watershed moment in our nation's history at the Fort McHenry National Monument and Historic Shrine in Baltimore, which inspired Francis Scott Key to pen "The Star-Spangled Banner." See a replica of the 1814 flag, then head to the nearby Star-Spangled Banner Flag House, home of Mary Pickersgill, the woman who actually sewed the famous flag.
Maryland's Maritime Museums
In a state steeped in maritime history, there are ample opportunities to explore the history of life on the waters in Maryland. At Maryland's maritime museums, you can also see, touch and experience the Chesapeake Bay's marine creatures up-close and discover how they live.
Make the Chesapeake Bay Maritime Museum— a veritable shrine to the history, culture, food, and vessels of the Bay—part of your St. Michaels expedition, then head south to delve deeper into history at the Tilghman Watermen's Museum, featuring boat models, art and artifacts on display.
For a real hands-on experience, try your hand at toy boat-building or fossil field exploration at the Calvert Marine Museum located along Solomons Back Creek, or work as Waterman for a Day at the museum's oyster house. Or climb aboard—and all over—a locally-built deadrise workboat at the free Annapolis Maritime Museum.
The kids will be thrilled with a visit to one of the most distinctive residents of Baltimore's Inner Harbor: climb aboard the U.S.S. Constellation, a historic sloop-of-war ship open for tours with crewmembers.
For an authentic Maryland experience, get out on the water with someone who lives the waterman life, rising before dawn and working the Bay to bring delicious Maryland seafood fresh to the docks. Try a Watermen Tour, which will immerse you in Chesapeake culture and offer an adventure full of surprises.
Technology and Transportation Museums
Tour a cannery, print shop, garment loft and machine shop house to see the restored artifacts from the region's industrial and technological history that gives the Baltimore Museum of Industry its "wow" factor.
Pull into the station at Baltimore's B&O Railroad Museum, where rail enthusiasts will find the nation's preeminent railroad collection, including a dozen locomotives in the roundhouse.
For aviation enthusiasts, the College Park Aviation Museum, an affiliate of the Smithsonian Institute, displays aircraft and artifacts depicting the history and science of flight. The Smithsonian Air & Space Museum is a great launchpad for your high-flying adventure, but you can blast off into Maryland for eight  truly out-of-this world experiences.
Finally, the National Cryptologic Museum, an affiliate and neighbor of the National Security Agency (NSA) at Fort Meade, documents the clandestine people, techniques and devices of code-making and code-breaking.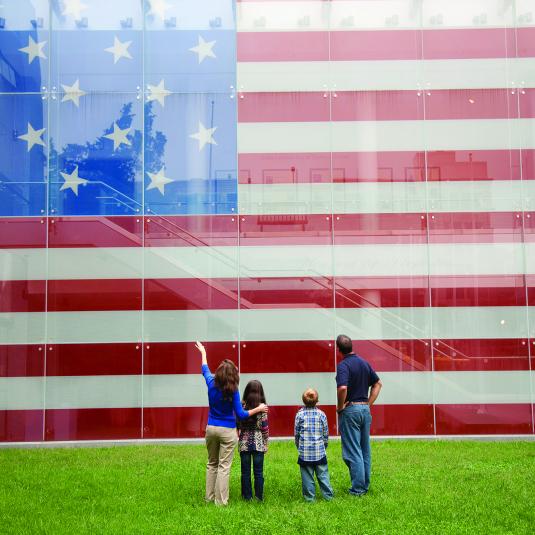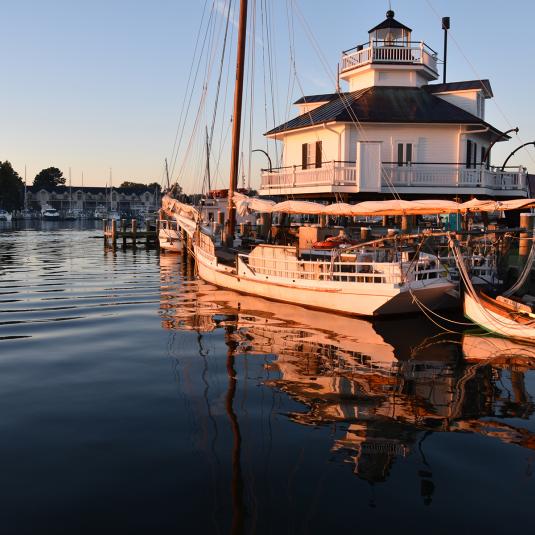 Discover what it was like to be a traditional waterman through hands-on exhibits at the Chesapeake Bay Maritime Museum in St. Michaels. Don't miss the annual OysterFest in October.