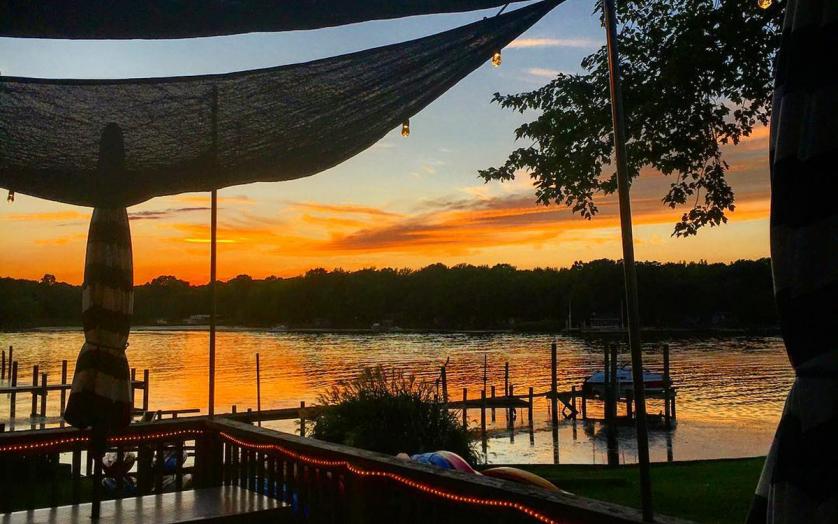 Island View Waterfront Cafe
Top 10 Beverages & Birding Experiences in Maryland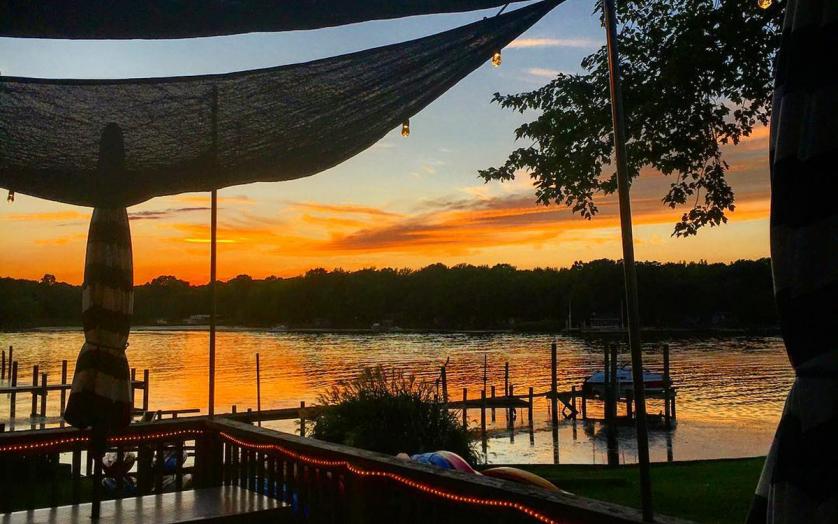 Island View Waterfront Cafe
With thousands of miles of shoreline along our Chesapeake Bay, Atlantic coastal bays, mighty rivers and western lakes, Maryland has hundreds of hotspots for watching birds on the water. Just like the birdbath in your backyard, Maryland waters are magnets for birds of all varieties.
During the fall and spring, millions of birds pass through Maryland during their epic migrations to rest and feed along our shorelines. Winter is a magical time on Maryland waters, when more than 35 species of waterfowl arrive to spend the colder months feeding on aquatic vegetation and invertebrates in our mostly ice-free estuaries. Summer sees a boom in baby birds, as small islands in the Chesapeake and Atlantic coastal bays become home for nesting colonies of herons, egrets, ibis, gulls, terns, Black Skimmers and Brown Pelicans.
For those of us who enjoy a craft beer, Maryland wine or tasty cocktail while watching our feathered friends, Maryland's shorelines are also dotted with dozens of crab houses, dock bars and resorts! Some of the best birding in the state can be found from the decks of these watering holes. We encourage you to pack your binoculars and spotting scope, grab a few birding buddies, and enjoy a drink while you watch our wildlife from these lake and bayside bars! Here are 10 of our Maryland favorites sorted by region: Western Maryland, Central Region, Southern Maryland and Eastern Shore.
Western Maryland
1.  Buddy Lou's Eats, Drinks & Antiques, Hancock
Situated perfectly, next to the Western Maryland Rail Trail and the C&O Canal overlooking the Potomac River, Buddy Lou's Eats, Drinks & Antiques in Hancock, Maryland has birds for all seasons.
In spring and early summer amidst the wooded setting on the outdoor deck, look for flycatchers, vireos, kinglets, gnatcatchers, and warblers. The sound of spring birdsong can be deafening along the river.
In winter, ducks are your target species and sometimes include wood ducks and hooded mergansers. While there, check out Buddy's charity of the month which often includes conservation organizations. Known locally for their generosity Buddy's gives 15% of sales to a different nonprofit each month.
If that's not sufficient motivation, the homemade, locally sourced American fare should be. Try the corn-husked salmon or chili-rubbed tuna and finish it off with their famous ice cream or snow cones.
Good food, feathers, and fantastic views are the rule at Buddy Lou's.
2. Honi-Honi Bar, Oakland
If ample outdoor space flanked by trees with a lake view are what you crave while having a cold one, then the Honi-Honi Bar on Deep Creek Lake is your spot.
The palatial destination is famous for its festive atmosphere with regular events and happy hour specials loved by the budget-minded bird watcher. Open year-round, the bar serves standard American grub and a full complement of wines, liquors, and domestic, imported, and craft beers.
On the water just off Garrett Highway, the avian party scene regularly includes scaup, grebes, Gadwall, Red-Breasted Mergansers and all manner of duck in the fall, early winter and spring when the lake remains unfrozen. Check out the list of the 170 species tallied at Deep Creek Lake for a sample of what you might see!
Flanked by trees, the cozy spot is also known for its woodland species and bald eagles, especially when the bar opens just before noon.
When participating in the ample activities at Deep Creek Lake, be sure to add bird watching to your outdoor fun list!
3. Signatures Bar & Grill , Flintstone
Rocky Gap State Park's Lake Habeeb is a winter haven for birds, and as luck would have it, a spacious bar with lake views sits right in the middle of the action.
Signatures Bar & Grill at the Rocky Gap Casino is the spot for your pub grub lunch or dinner during a day of traversing the 3,000-acre park. Fall, winter, and early spring are your best bets here for birds. Check out the impressive species tally for Rocky Gap State Park.
Pick a table with the best lake vista to enjoy the full array of beer, wine, and liquor while watching dabblers like Pintails, Canvasback, and Redheads in the shallows. Lakeside and in deeper water look for Tundra Swan, Brant, Long-tailed Ducks, and even the occasional Red-necked and Eared grebe. Shorebirds abound here too, and listen for screech and barred owls in the evenings.
The park and the bar are in the middle of some of the wildest lands Maryland has to offer. For nature lovers, this venue is hard to beat.
Central Region
4. Island View Waterfront Cafe, Essex
The Island View was built during prohibition as a waterfront dance hall and picnic grove for folks from Baltimore City to escape the summer heat. The restaurant has been owned and operated since 1968 by the Laing Family. It is a quiet, friendly, out-of-the-way place that offers great food at great prices year-round, and a spectacular view of Browns Creek and the Chesapeake Bay.
From the outside deck and indoor dining area, you may see wintering birds, such as Bufflehead, Lesser Scaup, and Bonaparte's Gull, or summer species like Osprey and Spotted Sandpiper. You can also rent a kayak to take your birding adventure to the water!
For a sample of the species you might encounter at the Island View Waterfront Cafe, check out the nearby hotspots at Rocky Point Park and nearby Hart-Miller Island.
5. Nick's Fish House, Baltimore
Nick's Fish House is located in the Port Covington Area of Baltimore, and offers some of the freshest seafood, regional specialities, and best steamed crabs in town. Their menu serves up something for everyone from deck fries to traditional crab cakes.
The waterfront deck is the perfect spot for enjoying a craft beer or orange crush while you scan the Middle Branch of the Patapsco River for winter waterfowl or summer Common Terns, which nest on an abandoned barge nearby. Open year-round for lunch and dinner.
Before or after your deck birding at Nick's Fish House, you can visit the Baltimore birding hotspots at nearby Ferry Bar Park, Harbor Hospital, Middle Branch Park and the fabulously birdy Masonville Cove.
Southern Maryland
6. Abner's Crab House, Chesapeake Beach
Abner's Crab House is a family-owned and operated restaurant and marina that offers a fun dining experience for Maryland birders. Enjoy the spiced and steamed blue crabs on long paper-covered tables, or try one of the "steampots" chock-full of crabs, mussels, clams and corn. This is the best locale in the Twin Beaches for birding, brews and seafood.
You can view the Chesapeake Beach Railway Trail across Fishing Creek from the deck at Abner's, where more than 140 species have been recorded. Visit nearby Fishing Creek Marsh to experience another Chesapeake Beach birding hotspot, or scope the waters from the nearby Chesapeake Beach Marina.
7. Fitzies Marina Restaurant and Pub, Leonardtown
Located on Breton Bay in the Lower Potomac in St. Mary's County, Fitzies Marina Restaurant and Pub is nestled in the perfect location for viewing some of Maryland's most sought-after summer and winter avian delights.
Open year-round, this traditional American seafood restaurant and bar sits on the water next to the 800-acre Newtowne Neck State Park, where 140 species have been recorded. The rural nature of the area makes for scenic vistas, and the birdlife if hard to top.
In summer, look for Brown Pelicans, Belted Kingfishers, Green and Great Blue herons, Great Egrets, and endangered Royal Terns. In winter, scan the water for Tundra Swan, Common Goldeneye, Long-tailed and Ruddy ducks, Hooded Mergansers, loons, and Bald Eagles.
At Fitzies, ample outdoor and indoor waterfront seating are sure to provide the bird smorgasbord that Maryland has to offer.
8. The Pier, Solomons
At Solomon's Island where the Patuxent meets the Chesapeake you'll find a gem on the water called the The Pier.
Here, at the aptly named bar and restaurant on a pier overlooking the Patuxent River, you'll find 360-degree views of waterbirds year-round. Winter, especially, is a birder's goldmine at The Pier with Buffleheads, Horned Grebes, Common Loons, scaup, scoters, Long-tailed Ducks and the full gamut of overwintering waterfowl. More than 160 species have been recorded at this birding hotspot!
Bring your binoculars and enjoy a casual atmosphere where you'll find seafood-oriented American fare, traditional domestic and imported beer, local craft brews, and the full stock of wine and liquor.
This historic landmark is open year-round for lunch and dinner and serves a well-known Sunday brunch. If winter waterfowl suit your fancy, The Pier is the place to be.
9. Captain Billy's Crab House, Popes Creek in Newburg
Captain Billy's Crab House is located in Popes Creek, Maryland on the Potomac River.  It has existed since the mail arrived by boat and prides its friendly reputation.
Eastern Shore
10. Macky's Bayside Bar and Grill, Ocean City
If you love the beach, a good meal, and a cocktail while lounging outside just feet from the only colonial nesting bird island in Maryland with endangered Royal and Common Terns and with squawking baby Laughing Gulls, then Macky's Bayside Bar & Grill on 54th Street is the place for you.
Nestled in the center of the summer Ocean City hoopla, Macky's upper deck and sandy beach give birders options for viewing these coastal feathered icons that no other restaurant can offer. For a sampling of the species you might encounter, check out the tallies from the nearby Ocean City Convention Center and the 23rd Street flats.
Best in April through September, the avian cacophony on the nearby Reedy Island reaches its apex in June and early July. In late May and June, ask for a beach table to get the closest looks at the island and view breeding horseshoe crabs right on the water's edge during full and new moons.
Macky's Bayside Bar & Grill opens in mid-May every year and serves lunch and dinner. Bring your binoculars to best savor the birds and beer at this bayside bar.
11. Palm Beach Willie's, Taylors Island
Cruise in to Palm Beach Willie's by car or boat! This Chesapeake favorite is a locally operated restaurant and bar, situated on the banks of Slaughter Creek off of the Little Choptank River. Come grab a bite to eat, a drink, or both as you enjoy the gorgeous scenery and birding from this beautiful location.​
The birding on Taylors Island is fantastic year-round -- 220 species have been recorded here, including wintering Green-winged Teal, Common Goldeneye, and Tundra Swans, and summertime Snowy Egrets, Osprey and Blue Grosbeaks. Add an adventure to Blackwater National Wildlife Refuge for a day (or more!) of birding that you won't forget!
12. Sneaky Pete's, Ocean City
This birders' secret hideaway, tucked between Hooper's Crab House and the US50 Bridge into Ocean City, is the place to get spectacular views of birds nesting on Skimmer Island, including Black Skimmers, Royal Terns, Black-Crowned Night-Herons, American Oystercatchers and Great Egrets. More than 180 species have been recorded at this hotspot!
Enjoy fresh seafood from the steamer or a full array of local brews or mixed drinks while sitting just yards away from one of Maryland's premier nesting colonies. The channel by the dock is also a favorite hunting spot for Least Terns whose acrobatic dives never cease to amaze onlookers.
Get Your Free Guide to Birding in Maryland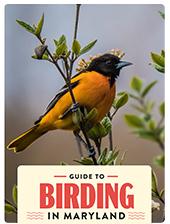 Make like Maryland's iconic brown pelicans and take a deeper dive into Maryland's birding scene with our free Guide to Birding in Maryland. With maps, seasonal info, and insights into how to spot some of the Old Line State's hardest-to-find feathery friends, it's a must for beginners and seasoned birders alike. And did we mention it's free?