Home to Maryland's biggest cities, small towns with wide-open green spaces, sailing routes that go straight into the harbor and uncompromising style amplified in memorable local cuisines and bay culture, the Central Region  is simply amazing—so make it your own unforgettable destination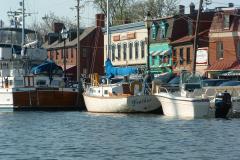 1

Sail into the Sunset in Annapolis

Take a public cruise or romantic sunset sail, join a thrilling schooner race or take a day's charter cruise on a classic sailing yacht like the Schooner Woodwind, departing daily  from the Annapolis docks.
---
More about Annapolis City Dock
---
Type:
Boating & Sailing
---
Location:
One Dock St
Annapolis, MD 21401
410-263-7973
---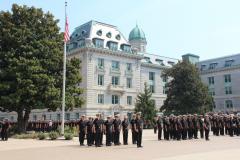 Image Credit: Visit Annapolis
2

Visit the U.S. Naval Academy

Take a walking tour on the historic grounds of the United States Naval Academy, where the next generation of Navy leaders are made. Visiting the beautiful crypt of John Paul Jones, father of the American Navy, is a transformative experience. Be sure to catch a Mids game at Navy-Marine Corps Stadium. 
---
More about U.S. Naval Academy-Armel-Leftwich Visitor Center
---
Type:
Tour Services
---
Location:
52 King George St
Annapolis, MD 21402
410-293-8687
---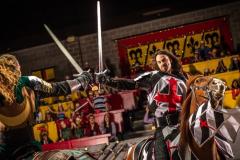 3

Toast to a Good Knight at Medieval Times and have (REALLY) Old School Fun at Renn Fest

Evenings are all about chivalry, rivalry and revelry at Medieval Times Dinner & Tournament. Cheer on daring knights, as they sword fight and joust on horseback, while feasting on scrumptious roast chicken and hearty Middle Age fixings. Lace up your bodice and jerkins, grab a turkey leg and prepare for some good "Olde"-fashioned fun at the Maryland Renaissance Festival, one of the biggest Renn fests in the country. 
---
More about Medieval Times Dinner and Tournament
---
Type:
Attraction
---
Location:
7000 Arundel Mills Cir
Hanover, MD 21076
443-755-0011
---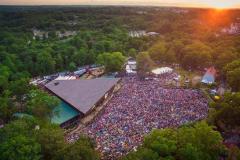 Image Credit: Merriweather Post Pavilion
4

Feel the Funk at Merriweather Post Pavilion

The lawn at Merriweather is where music memories are made. This legendary outdoor amphitheater, nestled into Symphony Woods in the heart of downtown Columbia, is the perfect place to catch the biggest bands around. The annual Capital Jazz Fest is a can't-miss event.
---
More about Merriweather Post Pavilion
---
Type:
Music Venues
---
Location:
10475 Little Patuxent Pkwy
Columbia, MD 21044
410-715-5550
---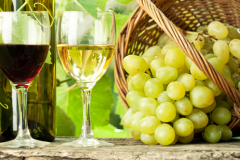 5

Wine Along the Trails and Vineyards

With a mild climate, rich piedmont soil and a varying topography that makes a rich diversity of styles possible, it's no wonder five Maryland Wine Trails cross this region. Take the Carroll Wine Trail through Carroll County or travel the Piedmont Trail with eight wineries in the region. Spring, summer and fall weekends mean concerts and gatherings at idyllic local vineyards and exceptional tastings year-round.
Image Credit: erocrunfaster-instagram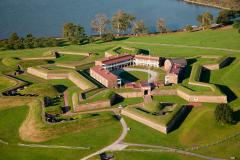 Image Credit: Ken Stanek Photography
7

Oh Say, Have You Seen the Ramparts at Fort McHenry?

Built on a beautiful peninsula at the head of Baltimore Harbor, Fort McHenry and its brave defenders saved the city during the War of 1812 and gave America its National Anthem. The fort's flag inspired Francis Scott Key to pen "The Star-Spangled Banner," and the 15 brilliant stars of its enormous flag continue to inspire to this day. 
---
More about Fort McHenry National Monument & Historic Shrine
---
Type:
Attraction
---
Location:
2400 E Fort Ave
Baltimore, MD 21230
410-962-4290
---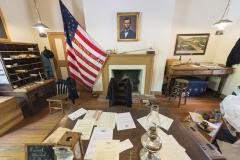 Image Credit: Clark Vandergrift
8

For Rail Riding Fun, Choo-Choo-Choose to Visit the B&O Railroad Museum

Train buffs can touch—and even ride—the amazing collection of historical iron at this one-of-a-kind museum. For kids, the rides, games and occasional visits from Thomas make this museum a must. Plus, how often do you get to visit a site from the Monopoly board? 
---
More about Baltimore and Ohio Railroad Museum
---
Type:
Attraction
---
Location:
901 W Pratt St
Baltimore, MD 21223
410-752-2490
---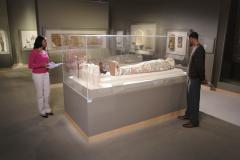 Image Credit: Visit Baltimore
9

Fully Experience Baltimore Arts

The Baltimore Museum of Art hosts a phenomenal display of 19th-century and contemporary art, including the world's largest collection of works by Matisse, while Walters Art Museum holds works from different ages and places across the globe. The American Visionary Art Museum only adds flavor to the mix with an unusual, imaginative and eclectic side to its galleries. 
---
More about American Visionary Art Museum
---
Type:
Visual Arts
---
Location:
800 Key Hwy
Baltimore, MD 21230
410-244-1900
---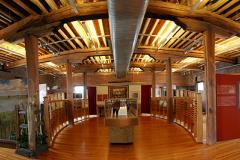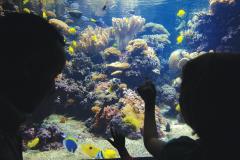 Image Credit: Visit Baltimore
11

Fly High & Dive Deep at the Aquarium

Everyone must see the National Aquarium, with its soaring glass pyramids rising above the harbor like shark fins. Try a "Fly & Dive Package" by Charm City Helicopters for an unforgettable journey that combines an aerial tour of Baltimore with a rare chance to scuba dive with sharks, rays and more in the aquarium's 335,000-gallon Atlantic Coral Reef tank. 
---
More about National Aquarium in Baltimore
---
Type:
Attraction
---
Location:
501 E Pratt St
Baltimore, MD 21202
410-576-3800
---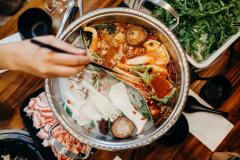 12

Explore Korean Way in Howard County

A five-mile stretch of highway in Ellicott City is the perfect place to familiarize yourself with Korean culture between 166 Korean specialty shops, eateries and recreational activities. Connect with the local population by making it a spa day, diving into Korean-style cuisine and sweet treats or singing along to karaoke in  the evenings.
Find out more....
Image Credit: Preakness Stakes
13

Saddle Up for the Triple Crown

Everyone knows about Baltimore's annual Preakness Stakes, the middle jewel of Thoroughbred Horse Racing's Triple Crown, with its legendary InfieldFest concert and beautiful Preakness Balloon Festival. But horse lovers will also tell you about Maryland's steeplechase races, bringing together the world's best crosscountry equine athletes for a thrilling series. 
---
More about Preakness Stakes
---
Type:
Events
---
Location:
Hayward & Winner Avenues
Baltimore, MD 21215
410-542-9400
---
Image Credit: http://www.bullerock.com/
14

Be "Fore" You Golf Bulle Rock

Bulle Rock is a Pete Dye designed course that once hosted the LPGA championship. This vast green in Havre de Grace is an ideal place to test your skills across 18 holes with challenging terrains and serene leisure scenes.
---
More about Bulle Rock
---
Type:
Sports
---
Location:
320 Blenheim Ln
Havre de Grace, MD 21078
410-939-8887
---
Image Credit: Courtesy of the Lacrosse Museum
15

America's Oldest Sport The U.S.

National Lacrosse Hall of Fame and Museum in Baltimore County tells the story of lacrosse, America's oldest  sport, and honors notable men and women for their contributions. Follow along with a field and exhibits that recollect the history of this popular pastime originating with the Native Americans.
---
More about Lacrosse Museum and National Hall of Fame
---
Type:
Attraction
---
Location:
2 Loveton Cir
Sparks, MD 21152
410-235-6882
---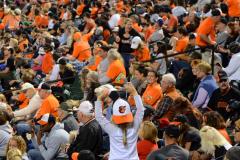 Image Credit: Mitch Lebovic
16

Make It a Home Run

Catch a Baltimore Orioles baseball game in Oriole Park at Camden Yards or watch budding Minor League teams like the Aberdeen IronBirds. Kids will cheer when they  hear fans of the Orioles under  9 years of age can attend  games for free. 
---
More about Oriole Park at Camden Yards
---
Type:
Attraction
---
Location:
333 W Camden St
Baltimore, MD 21201

---
Image Credit: Visit Baltimore
17

A Kid's Day at the Museum

Baltimore offers a world of scientific exploration for kids at Port Discovery Children's Museum with multiple floors of adventurous hands-on activities, while the Maryland Science Center hosts 10 full-sized dinosaurs for aspiring paleontologists. Kids also love the interactive exhibits and old antiques and relics of firefighting past at the Fire Museum in the Lutherville,  the third-largest of its kind in the world.
---
More about Port Discovery Children's Museum
---
Type:
Attraction
---
Location:
35 Market Pl
Baltimore, MD 21202
410-727-8120
---
Image Credit: Maryland Live! Casino
18

Hit the Jackpot at Maryland Casinos

When it comes to world-class nightlife, fantastic food and great gaming, three is the magic number in Maryland's Central Region. Maryland Live! brings 2,200 slots, high-rolling table games and an elegant 17-story hotel to Arundel Mills. Don't miss the baccarat table to live out your James Bond dreams. Baltimore's Horseshoe Casino ups the culinary ante with restaurants by celebrity chefs Gordon Ramsay, Guy Fieri and Giada De Laurentiis. And Hollywood Casino Perryville rolls out the red carpet with topflight entertainment featuring world-class comedy and music.