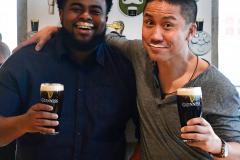 1

St. Patrick's Day at the Guinness Open Gate Brewery

Celebrate St. Patrick's Day at the Guinness Open Gate Brewery! We're excited to bring a bit of Ireland to Maryland with a St. Pat's celebration.  While they are celebrating all month, there are four ticketed sessions available the weekend of the holiday: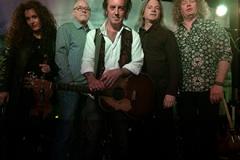 2

Barleyjuice - Celtic Music, Westminster

Guinness will flow and "Juicers" will flock to this annual appearance by favorite rebellious rockers. High energy Celtic Music for those that want to Sham Rock! Sure to be a blowout because of ST. PADDY's DAY!
3

Luck o'the Ridge, Cockeysville

Are you feeling lucky? Join the naturalist at Oregon Ridge Nature Center on a "green" scavenger hunt and find your pot of gold. For children 12 and under.
Image Credit: Seashore Striders
4

St. Paddy's Day 5K and 1-Mile Fun Run, Denton

Start your salute to the Irish and your spring fitness conditioning on this certified fast and scenic course through Denton. Team registration and special "No Shirt" discount options and available and plenty of lucky surprises on the course and at the finish. Finish line production by Seashore Striders.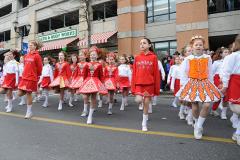 Image Credit: Photo courtesy City of Gaithersburg, Harp/Shamrock Society of Gaithersburg
5

St. Patrick's Day Parade, Gaithersburg

The City in partnership with The Peterson Companies & Rio Washingtonian Center, will host the 19th Annual St. Patrick's Day Parade at Rio Washingtonian Center, at Rio Boulevard & Grand Corner Avenue. This year's Grand Marshal is Garry Walker of the Gaithersburg-Washington Grove Volunteer Fire Department. The parade will be emceed by Albie Dee from 94.7 The Drive – DC's Greatest Hits and JP Flaim of The Sports Junkies from 106.7 The Fan – DC Sports Radio. Following the parade there will be live entertainment on the lakefront plaza until 2 p.m.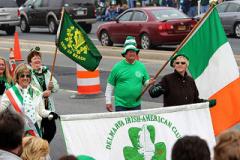 Image Credit: Town of Ocean City
6

St. Patrick's Day Parade and Festival, Ocean City

With a parade that includes more than 100 entries from three states - OC is where you want to be! The St. Patrick's Day Parade begins at noon at 60th Street and marches south to the 45th Street Judging Stand and into the parking lot where the Irish Festival takes place.The Irish Festival at the 45th St. Shopping Center will feature music, dance, food and drinks!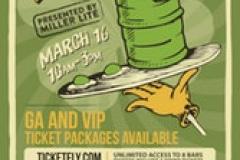 7

Kegs & Eggs Rally, Baltimore

Kegs & Eggs Rally is BACK at Power Plant Live! Come celebrate St. Patrick's Day early with us! Tickets get you access to Mosaic, Luckie's Tavern, Luckie's Liquors, PBR Baltimore, Angel's Rock Bar, Leinenkugel's Beer Garden, Howl at The Moon, and Tin Roof. The alley will be jamming with multiple DJs playing house, EDM, trap, and top 40! The day is filled with entertainment, confetti cannons, green beer, go go dancers, and more!

Must be 21+.
8

Irish Whiskey Tasting Pre-St Patrick's Day, St. Michaels

Don't be left on the Blarney Stone (rocks) this St Patrick's Day. Whether you are interested in mixing drinks or just want a better understanding of the differences to improve your understanding of the Irish Whisky options, come join us for this special event. We are sure that you will leave with an enhanced enjoyment of your favorite spirits and more confident in your mix choices.
9

St. Patrick's Day Parade - Chesapeake City

Best Float, Most Spirit, Best Dressed & Erin Go Braugh are just some of the prizes awarded to talented marchers at the Chesapeake City St. Patrick's Day Parade.  The parade kicks off at noon on March 16. The Mummer's Duffy String Jam Band entertains from Pell Gardens right after the parade.  Plus, local pubs are signed up for the Pub Crawl following the festivities.
Image Credit: Ranger Melissa Tillery
10

Saint Patrick's Snakes - Baltimore

Legend has it that Ireland has St. Patrick to thank for its lack of snakes, but we're thankful for the many snakes that call our park home! Come meet several friendly serpents and create a slithery craft. To register, please email [email protected].
11

St. Patrick's Day Kegs & Eggs, McHenry

Celebrate St. Patrick's Day! Doors will open at 9am for KEGS & EGGS! A full brunch spread will be out along with 4 different beers on tap, mimosas, sangria and wine!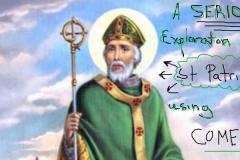 12

A Serious Exploration of St Patrick Using Comedy

The Baltimore Improv Group celebrates this St. Paddy's Day in unique fashion: a serious historical review of the day's namesake through the use of comedy. Expect lots of audience interaction. Tickets are absolutely free.
13

St. Patrick's Day Green Cocktail Tasting, Thurmont

Kick off St. Patrick's Day sampling some delicious mini green cocktails. Swing by to enjoy your four mini cocktail tasting made from Springfield Manor's award winning spirits anytime been Noon-5pm. Tasting will include a mini cucumber mint mojito, a Misty Mint, a Lucky Leprechaun Kiss and  a Shamrock Shake Shooter.