Whether you're looking to punch your shots over a marsh or rip drives through a dense woodland, Maryland has a golf course for you. Much of the golf world's attention has turned to Ocean City in recent years because so many strong courses are clustered there. With a surprisingly diverse array of options throughout the state, though, every golfer is sure to find a track to fit his or her game—here are 15 you really should play. 
Photo By: Clark Vandergrift
1

Bulle Rock, Havre de Grace

Named for the first Thoroughbred horse brought to America, this course designed by the legendary Pete Dye has become one of the most popular in the Mid-Atlantic. It hosted the LPGA Championship from 2005-2009 and has been lauded by Golf Digest and Golf, and with good reason. Challenging for the pros, but accommodating for even the greenest duffer, Bulle Rock is a true must-play. 
---
More about Bulle Rock
---
Type:
Sports
---
Location:
320 Blenheim Ln
Havre de Grace, MD 21078
410-939-8887
---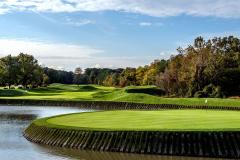 Photo By: Joann Dost
2

Links at Perry Cabin, St. Michaels

Another golf course designed by the legendary Pete Dye, the Links at Perry Cabin opened in Spring 2018 and plays through stunning terrain with iconic views of Maryland's Eastern Shore and the Chesapeake Bay.  Test your mettle with a "Stay and Swing" package and see if you can knock it on the 17th hole's island green.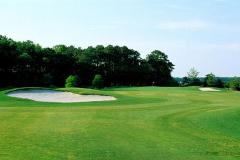 3

Eagle's Landing Golf Club, Berlin

This well-kept municipal course—it's owned by the town of Ocean City—challenges players with occasional ocean winds. But with prices set lower than many other top-tier courses in the area and beautiful marsh vistas, players have come to appreciate all of Eagle's Landing's features.
---
More about Eagle's Landing Golf Course
---
Type:
Sports
---
Location:
12367 Eagle's Nest Rd
Berlin, MD 21811
410-213-7277
---
4

Greystone, White Hall

Another municipal course—this one in northern Baltimore County—draws golfers because of its interesting layout, good conditions, strong service and reasonable prices.
---
More about Greystone Golf Course
---
Type:
Sports
---
Location:
2115 White Hall Rd
White Hall, MD 21161
410-887-1945
---
5

Lake Presidential, Upper Marlboro

Just 15 miles outside of Washington, D.C., this serene course is set around a lake. It opened in 2008 and immediately established a reputation for relaxed play suitable for all skill sets. 
6

Links at Lighthouse Sound, Bishopsville

Ocean City has developed a reputation for offering golfers challenging and diverse courses in one area. Lighthouse Sound takes the best of the region and condenses it into one course. Situated amid dense trees alongside the Assawoman Bay, it features peaceful wetlands full of birds and a stunning view of the O.C. skyline.
---
More about The Links at Lighthouse Sound
---
Type:
Sports
---
Location:
12723 St. Martin's Neck Rd
Ocean City, MD 21813
410-352-5767
---
7

Lodestone Golf Course at Wisp Resort, McHenry

Cut into the mountains surrounding Deep Creek Lake, this course combines scenery with challenging play. The fairways are narrow and lead up to well-protected and large, undulating greens. 
---
More about Lodestone Golf Course
---
Type:
Sports
---
Location:
Lodestone Clubhouse Dr
McHenry, MD 21541
855-238-0192
---
Photo By: Maryland National Golf Club
8

Maryland National Golf Club, Middletown

When asked how he carved his most famous statue, Michaelangelo allegedly replied, "I just chip away everything that doesn't look like David." Legendary architect Arthur Hills seems to take the same approach when designing his signature golf courses: he doesn't build a golf course so much as helps it appear, and that is certainly the case here, as with Hills' other course on this list, Links at Lighthouse Sound. Here he utilized natural changes in elevation and wetlands to create a Maryland take on the classic style.
---
More about Maryland National Golf Club
---
Type:
Sports
---
Location:
8836 Hollow Rd
Middletown, MD 21769
301-371-0000
---
9

Queenstown Harbor Golf Links, Queenstown

The Rivers course was renovated in 2011 to make better use of the Chester River for players looking for a challenge and water views just east of the Chesapeake Bay Bridge. The Lake Course is shorter and offers an alternative for beginners.
---
More about Queenstown Harbor Golf Links
---
Type:
Sports
---
Location:
310 Links Ln
Queenstown, MD 21658
410-827-6611
---
10

Renditions, Davidsonville

Each hole at Renditions is a replica of a famous hole from a championship course around the world. Hole 4 transports you to Royal Latham & St. Anne's, host of 10 British Open Championships. You'll also play holes 11, 12 and 13 from Augusta National. Yes, you can play "Amen Corner"—one of the toughest stretches in all of golf—and be back home for dinner that night!
---
More about Renditions Golf Course
---
Type:
Sports
---
Location:
1380 W. Central Ave
Davidsonville, MD 21035
410-798-9798
---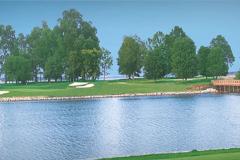 11

River Marsh Golf Club, Cambridge

Nestled alongside the Choptank River, this course winds its way toward a thrilling end. Hole 17 requires a long shot over Shoal Creek. The par-5, 18th hole has water and sand running the entire length of the left side and, of course, a green that is tucked to the left of the fairway at the end. Good luck!
---
More about River Marsh Golf Club
---
Type:
Sports
---
Location:
100 Heron Blvd
Cambridge, MD 21613
410-901-6397
---
12

Rum Pointe Seaside Golf Links, Berlin

The broad views of Assateague State Park from nearly every hole make this course—a collaboration between Pete Dye and his son P.B.—as breathtaking as it is intriguing for the player.
---
More about Rum Pointe Seaside Golf Links
---
Type:
18 Holes
---
Location:
7000 Rum Pointe Lane
Ocean City, MD 21811
410-629-1414
---
Photo By: Rocky Gap Casino Resort
13

Rocky Gap, Flintstone

Jack Nicklaus designed this lakeside course in the mountains of Western Maryland as part of the Rocky Gap luxury casino resort. As if that wasn't enough, the course manages to offer two playing experiences at once: the front nine was cut from rocky, up-and-down terrain while the back nine slopes over gentle hills.
---
More about Rocky Gap Casino Resort
---
Type:
Conference Centers
---
Location:
16701 Lakeview Dr NE
Flintstone, MD 21530
301-784-8400
---
14

Swan Point, Issue

Once a nondescript nine-hole course, it was re-imagined in the mold of the great waterfront tracks in the Carolinas. About 45 minutes south of the nation's capital and wedged along the Potomac River, the course promises interesting play and bird-watching opportunities.
---
More about Swan Point Yacht & Country Club
---
Type:
18 Holes
---
Location:
11550 Swan Point Blvd
Issue, MD 20645
301-259-0047
---
15

Whiskey Creek Golf Club, Ijamsville

Located about 45 miles from both Baltimore and Washington, D.C., this Frederick-area course was designed by PGA Tour pro Ernie Els. It runs over rolling hills and features old stone ruins—in play—on the 18th hole.
---
More about Whiskey Creek Golf Club
---
Type:
18 Holes
---
Location:
4804 Whiskey Ct
Ijamsville, MD 21754
301-694-2900
---