Great cycling adventures throughout Maryland
From two wheels you can experience Maryland's history, be it the broad canal running beside the Potomac River, or a fort built to protect a young nation's capital city. Cut through one of Baltimore's famous urban parks and right into its lively Inner Harbor. Visit a museum full of artifacts pulled from a dig. Go to the coast where horses roam the beaches. Make sure your helmet strap's on tight. There's a lot to see!
Image Credit: Allegany County
1

Great Allegheny Passage Bike Trail

Peddle the Great Allegheny Passage, named by National Geographic one of the "Top Ten  Fall Trips in the World". Stunningly beautiful and stretching 159 miles from Cumberland, through Frostburg and West on to Pittsburgh, the Allegheny Passage bike trail uses historic tunnels, viaducts and bridges for a smooth, mostly flat journey through the Appalachian Mountains and friendly small towns of Western Maryland. More info...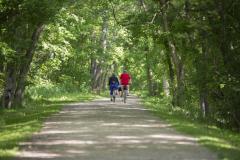 2

The Chesapeake and Ohio Canal

The "Grand Old Ditch" was built to connect the country; today, it's a biker's paradise with hundreds of miles of trail. The path begins in Cumberland, and includes several other notable stops, but it's easy to take a self-guided tour thanks to a mobile app that explains the historical significance of selected areas along the trail.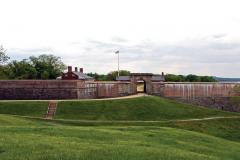 3

Fort Washington Park

Here's another chance to experience history, as the bike paths will take you through the 200-year-old stone fort built to protect Washington, D.C. Plan your trip around one of the artillery demonstrations and other reenactments at the site.
---
More about Fort Washington Park
---
Type:
Attraction
---
Location:
13551 Fort Washington Rd
Fort Washington, MD 20744
301-763-4600
---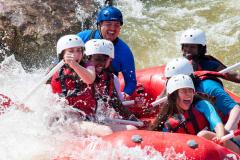 Image Credit: Adventure Sport Center International - ASCI
4

Adventure Sports Center International, McHenry

Set atop Wisp Mountain, this venue offers a bit of everything, from whitewater rafting to climbing to biking scenic trails around the 550-acre Fork Run Recreation area.
---
More about Adventure Sports Center International
---
Type:
Attraction
---
Location:
250 Adventure Sports Way
McHenry, MD 21541
301-387-3250
---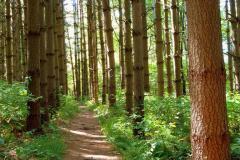 5

Seneca Creek State Park

This park features more than 50 miles of well-kept trails running along the scenic creek and around Clopper Lake. Stop off to see Black Rock Mill, partly restored with exhibits about the 1815 mill and how it worked, and the Seneca Schoolhouse, a one-room schoolhouse built at the end of the Civil War out of the same signature red Seneca Sandstone used to build the Smithsonian Institution's Castle. 
---
More about Seneca Creek State Park
---
Type:
Attraction
---
Location:
11950 Clopper Rd
Gaithersburg, MD 20878
301-924-2127
---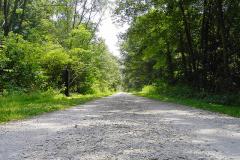 6

Gunpowder Falls State Park

One of Maryland's largest and most diverse recreation areas welcomes bikers for short or long trips. The Torrey C. Brown Rail Trail follows 21 miles of the old Northern Central Railway all the way to the Pennsylvania border. The refurbished train station in Monkton is a must-stop for visitors who want to learn the history of the trail, grab a quick bite or stop off at the nearby bike shop. 
---
More about Gunpowder Falls State Park
---
Type:
Attraction
---
Location:
7400 Graces Quarters Rd
Middle River, MD 21220
410-592-2897
---
Image Credit: Gwynns Falls Trail
7

The Gwynns Falls Trail

Want to really immerse yourself in the city of Baltimore? Take this ride. This quickly-changing trail covers 15 miles and connects to more than 30 neighborhoods in west and southwest Baltimore. Riders pass notable landmarks such as M&T Bank Stadium and the Inner Harbor. 
More Information...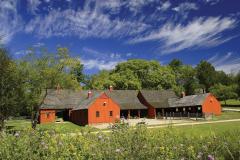 Image Credit: From book "In Full Glory Reflected"
8

Jefferson Patterson Park

A series of trails runs through and around this park that is home to the state's archaeology museum. Stop by the Maryland Archaeological Conservation Laboratory, which serves as the clearinghouse for artifacts dug up by state and local agencies throughout Maryland. 
---
More about Jefferson Patterson Park & Museum
---
Type:
Visual Arts
---
Location:
10515 Mackall Rd
St. Leonard, MD 20685
410-586-8501
---
Image Credit: DNR
9

St. Mary's River State Park

The 7.5-mile trail loops around the lake, home to freshwater fishing and some of the best bird-watching in the state. 
---
More about St. Mary's River State Park
---
Type:
Attraction
---
Location:
Camp Cosoma Rd
Callaway, MD 20620
301-872-5688
---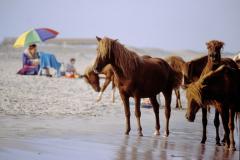 10

Assateague State Park

This place has it all: pristine beaches, wild horses, beautiful birds, and trails to challenge any cyclist. The island, a short ride from Ocean City, also has plenty of camping spots. 
---
More about Assateague State Park
---
Type:
Attraction
---
Location:
7307 Stephen Decatur Hwy
Berlin, MD 21811
410-641-2918
---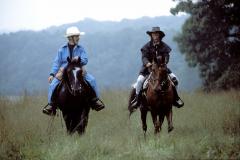 Image Credit: VisitMaryland.org
11

Fair Hill Natural Resources Management Area

Tucked in the northeast tip of Maryland, this area may be best known for its ties to horses and equestrian sports, but you can also find an approximately 80-mile trail system there that offers some of the best mountain biking in the state.
---
More about Fair Hill Natural Resource Management Area (NRMA)
---
Type:
Attraction
---
Location:
300 Tawes Dr
Elkton, MD 21921
410-398-1246
---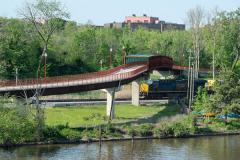 Image Credit: Tim Evanson, wikimedia
12

Anacostia Tributary Trail System, near DC

Take a trail adventure along the Anacostia Tributary Trail System, a more than 60 mile trail network connecting to the nation's capital. Riders may begin at Lake Artemesia in College Park, near to lots of great restaurants, and ride the 5.2 miles to Bladensburg Waterfront Park to rent a kayak or take a boat tour on the Anacostia River. Bike riders can continue another 7 miles to downtown Washington, D.C. on the Anacostia River Trail.