There's no place like Maryland for the holidays! Get into the spirit of the season at great holiday Train Events and spectacular New Year's Eve Celebrations.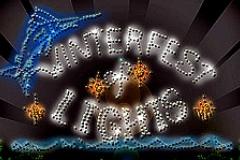 Photo By: http://www.visitworcester.org/
1

Winterfest of Lights, Ocean City

Through December 31, 2018
While at the Winterfest Village, enjoy hot chocolate, board the Winterfest Express and sing Christmas carols. Browse the Yukon Cornelius Gift Shop for that special gift and have your photo taken with Santa! Be sure to visit Ocean City to create lasting holiday memories.
Photo By: LightsontheBay.org
2

Lights on the Bay at Sandy Point State Park, Annapolis

Through January 1, 2019
Lights on the Bay at Sandy Point State Park has become a tradition for many families for the past decade. Enjoy a scenic drive along the shore of the Chesapeake Bay with more than 60 spectacular animated and stationary displays illuminating the roadway.
$15/car, $28/large van and mini-bus, $50/bus.
---
More about Lights on the Bay - Sandy Point State Park
---
Type:
Events
---
Location:
1100 E College Pkwy
Annapolis, MD 21409
410-268-4388
---
Photo By: Visit Frederick
3

Sailing Through Winter Solstice, Frederick

Through February 3, 2019
Lighting up the night is an age-old custom during the dark of winter.  Visit this exciting "take" on that theme.  Some seven sailing boats, festooned with unique designs, bring joy to Carroll Creek.  And the display helps raise funds for local charities too.
---
More about Sailing Through Winter Solstice
---
Type:
Events
---
Location:
Carroll Creek Park
Frederick, MD 21701
301-600-4023
---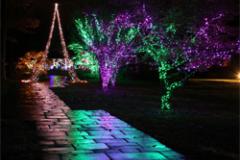 4

Brookside Garden of Lights, Wheaton

Through January 1, 2019
Brookside Gardens is hosting its annual Garden of Lights outdoor holiday lights exhibit. Experience magical winter lights in this wonderland illuminated with more than one million dazzling lights depicting flowers, animals and nature. Visit inside the Conservatory to enjoy seeing the G-Scale model trains wind through a festive landscape. Afterward, warm up with hot cocoa inside the Visitors Center as you listen to one of the nightly musical performances.
---
More about Garden of Lights at Brookside Gardens
---
Type:
Events
---
Location:
1800 Glenallan Ave
Wheaton, MD 20902
301-962-1453
---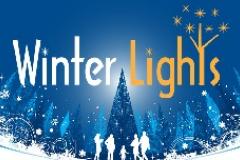 Photo By: GaithersburgMD.gov
5

Gaithersburg Winter Lights Festival

Through December 31, 2018 6-9pm
 Enjoy an enchanted woodland setting with 450 illuminated displays and lit park trees in a 3.5 mile drive through beautiful Seneca Creek State Park. Theme areas include Winter Woods, Teddy Bear Land, Victorian Village, North Pole, Toyland, and Penguin Cove.

Rates vary for cars, SUV's, Mini-vans, large vans, mini-buses, buses.
---
More about Winter Lights
---
Type:
Events
---
Location:
11950 Clopper Rd
Gaithersburg, MD 20878
301-258-6350
---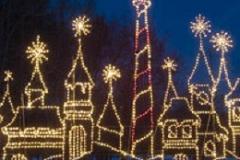 Photo By: PGparks.com
6

Winter Festival of Lights, Upper Marlboro

Through January 1, 2019
Don't miss this spectacular holiday drive-through event at Watkins Regional Park of more than one million twinkling lights! This year's festival features fun new displays.
---
More about Winter Festival of Lights - Watkins Regional Park
---
Type:
Events
---
Location:
301 Watkins Park Dr
Upper Marlboro, MD 20774
301-699-2456
---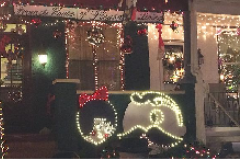 Photo By: ChristmasStreet.com
7

Miracle on 34th Street, Baltimore

Through January 1, 2019
One block in Hampden puts on a Christmas light display that is surely visible from space. Neighbors in this block of rowhouses string Christmas lights across 34th Street. Inflatable snowglobes, musical trains and blinking angels adorn homes. A few even allow visitors to peek inside. The lights are on every night from Thanksgiving weekend to January 1st, including staying on all night on Christmas Eve and New Years Eve. FREE.
---
More about Miracle on 34th Street
---
Type:
Events
---
Location:
720 West 34th Street
Baltimore, MD 21211
1-877-2258
---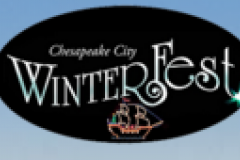 Photo By: ChesapeakeCity.com
8

Chesapeake City Winterfest

Through January 6, 2019
Chesapeake City's month-long Victorian Christmas celebration takes place on both sides of the C&D Canal with a blizzard of holiday lights and spectacular lighted displays along the waterfronts.
---
More about Chesapeake City's Winterfest of Lights
---
Type:
Events
---
Location:
108 Bohemia Ave.
Chesapeake City, MD 21915
410-885-5298
---
9

Church of Jesus Christ of Latter-Day Saints, Kensington

Through - December 31, 2018
One of the area's great community traditions is to drive through the famous Temple grounds glowing with over 650,000 lights. The Christmas trees are decorated in international themes, crèches are from around the world.

Nightly performances are also free and held in the state-of-the-art theater in the Visitors' Center. A different performing artist or group is showcased each night, including bell ensembles, choirs, orchestras, and more. Each performance is presented twice nightly.  Reserve your free ticket on-line; tickets become available one hour prior to the performance on a first-come, first-served basis.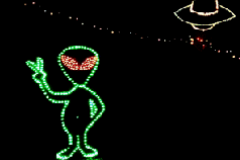 Photo By: AnnMarieGarden.org
10

Garden in Lights, Solomons

Through - January 1, 2019
A magical tour that takes visitors on a beautiful trip through the glittering woods and light sculptures at Annmarie Garden and Sculptural Arts Center. Enjoy the "Holiday I Spy Game," nightly entertainment, special discount nights, sweet treats, and other fun activities.
---
More about Annmarie Garden In Lights
---
Type:
Events
---
Location:
13470 Dowell Rd
Dowell, MD 20629
410-326-4640
---