13
Great Maryland Beaches
With more than 3,100 miles of shoreline, Maryland has plenty of great places to sink your toes into the sand. From the Atlantic Ocean beaches of Ocean City and Assateague, to the shores of the Chesapeake and her tributaries, to spring-fed swimming holes and mountain lakes, Maryland's got sun, surf and plenty of sand just waiting for you! Explore more top things to do in the summer in Maryland.
View Entire List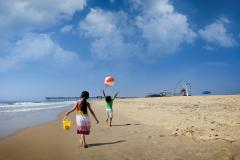 Image Credit: Maryland Office of Tourism
1

Ocean City

Lay of the land (or sand): A week in Ocean City is a longtime summer tradition. The first resort hotel opened here in 1875, and the beach-goers have been arriving ever since, by train, ferry, or just by driving across the Chesapeake Bay Bridge. For a lot of Marylanders, summer means going "downy ocean, hon." Highlights: Amusement park rides at Trimper's, spending a handful of quarters (or more) at Marty's Playland and a huge helping of Thrasher's fries are the essence of summer (oh, and a couple dozen steamed crabs for dinner). Things to do: The beauty of O.C. is doing whatever you want. Lie on the beach and read a book, go to a movie, hit the Ocean Bowl Skate Park or play a round of mini-golf.
Image Credit: Frank Forgione
2

Assateague Island National Seashore

Looking to leave civilization behind? An undeveloped strip of land crisscrossed by wildlife trails, Assateague makes a great getaway. Highlights: It's the ideal spot for beach camping, made extraordinary by the presence of the famous wild horses that roam the park. Home to bald eagles, island foxes, dolphins, whales, and of course the beautiful horses, it's no wonder National Geographic Traveler named it one of the 10 best U.S. state parks.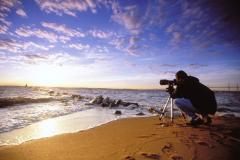 Image Credit: Maryland Office of Tourism
3

Sandy Point State Park, Annapolis

Highlights: This state park offers stunning bay views, as well as swimming, fishing and hiking. Things to do: Sandy Point is home to Chesapeake Region Accessible Boating (CRAB, naturally), an organization that works to make boating accessible to disabled people, and all the facilities in the park are accessible. It's also home to the Maryland Seafood Festival in September. Sandy Point's location on the Atlantic Flyway makes it an ideal spot for bird watchers and wildlife seekers, just minutes from downtown Annapolis.
Image Credit: Chris Williamson
4

North Beach and Chesapeake Beach, Calvert County, Southern Maryland

Highlights: These twin beaches are just an hour away from Washington, D.C., making them an easy weekend trip for city folk. There's plenty to do, and the Rod N' Reel Resort offers upscale digs if you're looking to get away from it all.