Just outside Washington, D.C., unforgettable adventures await. Delight your senses, satisfy your cultural and culinary cravings, and explore history throughout Frederick, Montgomery and Prince George's Counties.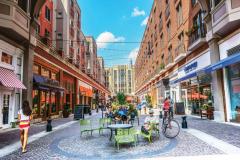 Image Credit: Eh Pien
1

Stroll along the streets of Bethesda

Bethesda, one of the most renowned communities in the Washington, D.C. metropolitan area, is known as the go-to place for ethnic restaurants, great shopping, trendy hot spots. Bethesda's Art and Entertainment District is brimming with inspiring artists and art venues, like the Strathmore, Bethesda Blues and Jazz Club; art events, unique galleries and public art fill the streets.
Find out more....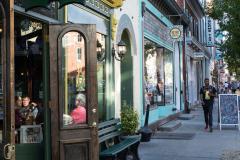 Image Credit: Visit Frederick
2

Discover the spirit and charm of Frederick

Hip and historic, the city of  Frederick charms visitors with award-winning restaurants, cool art galleries and cultural happenings, and craft beers loved by locals. No wonder the National Trust of Historic Preservation recognized Frederick as one of "America's Dozen Distinctive Destinations."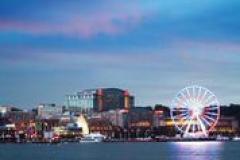 Image Credit: Courtesy of National Harbor
3

Savor Sunsets on National Harbor

Gaylord National Resort is a Marriott property that places you right on the water in the National Harbor, not far from the famed Capital Wheel and plenty of outlet shopping and nightlife options. It's a quick ride over to MGM Casino if a game of poker is more your speed.
---
More about Gaylord National Resort & Convention Center
---
Type:
Conference Centers
---
Location:
201 Waterfront St
National Harbor, MD 20745
301-965-4000
---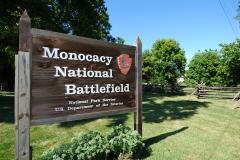 Image Credit: Frederick County Tourism
4

Commemorate the Civil War at the Monocacy National Battlefield

Immerse yourself in the story of this hallowed ground, site of the "Battle that Saved Washington."  Explore its picturesque landscape that has changed little since 1864. The Monocacy National Battlefield Visitor Center provides a hands-on history lesson perfect for all audiences from kids and casual travelers to the dedicated Civil War enthusiast.
---
More about Monocacy National Battlefield
---
Type:
Attraction
---
Location:
5201 Urbana Pike
Frederick, MD 21704
301-662-3515
---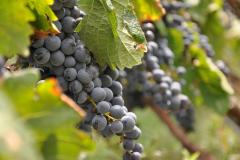 Image Credit: Black Ankle Vineyards
5

Toast to local wines at Black Ankle Vineyards

Visit on the weekend to tour and learn about this beautiful winery nestled into the rolling hills of Mount Airy. Stroll the grounds or pack a picnic and enjoy live music on Friday nights. In the cooler months, cozy up by the fire pits outside the tasting room.
---
More about Black Ankle Vineyards
---
Type:
Attraction
---
Location:
14463 Black Ankle Rd
Mount Airy, MD 21771
301-829-3338
---
6

Traverse Trails along the Towpath

Built to carry coal from the Allegheny Mountains to the nation's capital, the C&O Canal Towpath is now a popular walking and biking destination through some of the most scenic parts of the state. Locks, support buildings and aqueducts dot the route as do visitors centers offering information about the canal. You can even stay overnight in a lock house.

Learn more about the Chesapeake & Ohio Scenic Byway...
---
More about C&O Canal Towpath
---
Type:
Attraction
---
Location:
13 Canal St
Cumberland, MD 21502

---
Image Credit: Nasa.gov
7

Be a Rocket Scientist for the Day

Learn about the intricacies of space missions at NASA Goddard Space Flight Center. Visitors can see model exhibits of the Hubble Telescope and experience the thrill of space through interactive displays and events, such as live science experiments and model rocket launches for the kids.
---
More about NASA/Goddard Space Flight Center/Museum
---
Type:
Attraction
---
Location:
8800 Greenbelt Rd
Greenbelt, MD 20771
301-286-8981
---
8

Climb to the peak in Rockville

Scale to the dizzying heights of the forest canopy at the Go Ape adventure course in Rock Creek Regional Park. The course is bound to thrill with zip lines, rope ladders, and swings. If indoor adventures are more your style, Earth Treks' Climbing Center in Rockville is the largest indoor climbing wall in the nation. First-timers and veteran climbers will be at home on more than 38,500 square feet of climbing walls.
---
More about Go Ape Treetop Adventure
---
Type:
Attraction
---
Location:
6129 Needwood Lake Dr
Derwood, MD 20855

---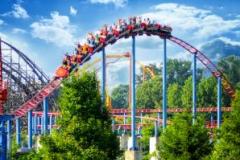 Image Credit: Six Flag America
9

Fly Like a Superhero at Six Flags America

At Six Flags America, waltz down Main Street 1776, a recreation of Colonial America, tangle with the Joker in Gotham City or relax with a float down Wahoo River. Hurricane Harbor hosts a bodacious wave pool that's the largest in the nation. You'll also find brainmelting thrill rides including Apocalypse: The Last Stand, BATWING Coaster, Wonder Woman's Lasso of Truth, Mind Eraser and  FIREBIRD which opened in spring 2019.
---
More about Six Flags America
---
Type:
Attraction
---
Location:
13710 Central Ave
Upper Marlboro, MD 20774
301-249-1500
---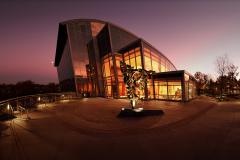 Image Credit: Jim Morris
10

Grab a Seat at Top Entertainment Venues

The Music Center at Strathmore in North Bethesda is one of the most striking venues you'll ever see and the perfect spot for a night at the symphony. The Fillmore, in the heart of downtown Silver Spring, offers big names (Bone Thugs-NHarmony and Incubus in 2018), while the nearby AFI Silver presents both modern independent films and classics
Image Credit: Stephen Wilkes
11

Dream Big at MGM National Harbor

This gleaming facility on the Potomac has it all—table games and slots, a 3,000-seat theater (Cher made it her East Coast stage in 2017 and 2018), restaurants from José Andrés and the Voltaggio brothers, Bryan and Michael, as well as a luxurious hotel to unwind in after all the fun.
---
More about MGM National Harbor
---
Type:
Attraction
---
Location:
7100 Oxon Hill Rd
Oxon Hill, MD 20745
844-346-4664
---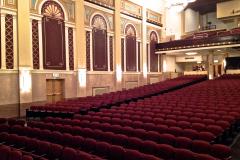 Image Credit: Weinberg Center
12

Watch Live Shows in a Historic Theater

Originally opened as the Tivoli in 1926, this glamorous theater in Frederick retains much of its original (and since refurbished) charm, including a Wurlitzer organ. Now, the Weinberg Center for the Arts schedule entails both live music and shows for all ages along with movies and speakers from Dr. Temple Grandin and Ted Koppel to Mitch Albom.
---
More about Weinberg Center for the Arts
---
Type:
Performing Arts
---
Location:
20 W Patrick St
Frederick, MD 21701
301-600-2828
---
13

Roam with Animals on a Safari

Featuring a safari ride through 25 acres filled with animals moseying up to be petted, Catoctin Wildlife Preserve and Zoo in Thurmont is an ideal day trip. Kids love feeding the animals, camel and safari rides when in season and other wildlife encounters.
---
More about Catoctin Wildlife Preserve & Zoo
---
Type:
Attraction
---
Location:
13019 Catoctin Furnace Rd
Thurmont, MD 21788
301-271-3180
---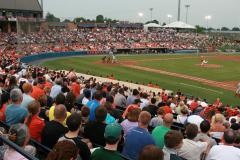 14

Catch a Keys Game Where Pros Played

Major League stars Manny Machado and Dylan Bundy once played for the Keys, a Class-A affiliate of the Baltimore Orioles in Frederick. This cozy, family-friendly stadium offers fans an affordable way to watch professional baseball.
More info...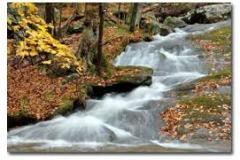 15

Sleep Under the Stars in Frederick

Cunningham Falls State Park's namesake falls, reaching 78 feet, are a wonder to behold. There's plenty of hiking, swimming and canoeing available to fill your time, so claim a camping spot or rent one of the cabins available from April to October.
---
More about Cunningham Falls State Park
---
Type:
Attraction
---
Location:
14039 Catoctin Hollow Rd
Thurmont, MD 21788
301-271-7574
---
16

A College Park Classic

Whether you're returning to campus as an alumnus or visiting for the first time, The Hotel at the University of Maryland is classy and contemporary with multiple restaurants and an Elizabeth Arden spa. Take a leisurely stroll or board the free shuttle to explore the surrounding area.
---
More about The Hotel at The University of Maryland
---
Type:
Hotels & Motels
---
Location:
7777 Baltimore Ave
College Park, MD 20740
301-277-7777
---
Image Credit: @evolutioncraftbrewing-Instagram
17

Local Brews All Around at the Beer Fest

Frederick has become the state's beer mecca, and each May it hosts Maryland Craft Beer Festival—a party in celebration of the explosive growth of locally brewed artisan ales. In 2018, more than 40 Maryland breweries poured over 180 different types of beer as live music played and revelers enjoyed the lively downtown scene.
Image Credit: Visit Frederick
18

Civil War Sites for History Buffs

Any trip to Maryland's Civil War battlefields should start at Monocacy, where Union troops thwarted the Confederacy's bold plan to seize D.C. and disrupt the election of 1864. Visitors interested in the history of the fight for South Mountain can start at Washington Monument State Park, where guides help you navigate the scattered battle sites. Located on the Gettysburg Campaign Trail, Frederick's National Museum of Civil War Medicine makes for a fascinating side trip, as immersive exhibits detail the valiant work done by caregivers tasked with healing.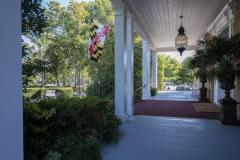 Image Credit: Clark Vandergrift, OTD