"Well-behaved women seldom make history," goes the saying. And never was this truer than in the fight for voting rights. As we celebrate the centennial of the passage of the 19th amendment, take time to honor the women in our contemporary lives and throughout history have stood up for what was right, made waves and secured freedoms for future generations. There are heroines in each of our lives who have worked for justice, shaped our communities or made impacts through technology and innovation – often behind the scenes, serving anonymously and without recognition or praise. Begin your journey at the National Museum of American History and travel throughout Maryland to visit the sites where "herstory" or history was made through the valiant actions of these brave women. Along the way, meet modern-day women who will share Maryland's "HERitage" with you.
                              Washington, D.C. 
1

National Museum of American History

Several exhibits in the museum reveal the impact of civic engagement and women's roles in the history of the nation. See a large photo mural of the women's suffrage picket in Washington, D.C. on February 14, 1917 in the exhibit "Unity Square." The exhibit "All Work, No Pay" highlights how women shared similar tasks across race and class despite the complicated dynamics and inequalities between them. Here you can examine the value and implications of unwaged labor in the home. At the "First Ladies" exhibit, see a collection of more than two dozen gowns worn by America's first ladies. A section titled "Changes Times, Changing First Ladies" highlights how first ladies' roles and contributions to their husbands' administrations have transformed over the past 230 years.
Southern Maryland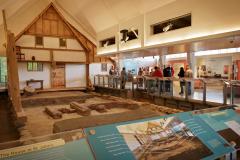 Image Credit: Courtesy of Historic St. Mary's City
2

Historic St. Mary's City and Margaret Brent Memorial

Margaret Brent, English immigrant to the Colony of Maryland, was the first woman to request a vote in America. Brent is hailed as a feminist for advancing the rights of women with her insistent advocacy for her legal prerogatives as an unmarried gentlewoman of property. The museum features exhibits that tell her story and role in St. Mary's City. The St. John's site archaeology museum, located above the exposed foundations of the house where Brent appealed to the Assembly, includes an exhibit devoted to her life. The Historic St. Mary's City grounds also include a garden and gazebo dedicated in memory of Brent.  For more information...
Image Credit: Wish You Were Here Photo Contest Patricia Samford
3

Built by Women Exhibit at Jefferson Patterson Park and Museum

Discover the ways women have shaped the building industry through the "Built by Women" exhibit, on display through June 24 at the Jefferson Patterson Park and Museum in the Patterson House. This juried exhibit documents and acknowledges women's contributions to the design and construction industries and was formerly presented at the National Building Museum. The exhibit is open on Wednesdays and Saturdays from 1 - 4 p.m.  This exhibit will be followed on July 1 by the "Early Women of Architecture in Maryland Exhibit" presented by the American Institute of Architects of Baltimore. This exhibit will run until August 29 and is open from 10 a.m to 5 p.m. daily.  For more information...
Image Credit: Edwin Remsberg
4

Solomons Island Heritage Tours

Experience the life and work of an authentic commercial waterwoman on the Chesapeake Bay. Capt. Rachel Dean is co-owner and operator of Solomons Island Heritage Tours, providing working watermen tours, lighthouse cruises, eco-tours and historical cruises, aboard the Roughwater. The tours explore the environment, culture and heritage of the Patuxent River and Chesapeake Bay. See firsthand how this family-run business depends on the skills of Capt. Rachel.  For more information...
Eastern Shore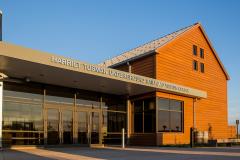 Image Credit: Maryland Department of Natural Resources/Stephen Badger
5

Harriet Tubman Underground Railroad Visitor Center and Byway

Get your bearings at The Harriet Tubman Underground Railroad Visitor Center, then drive the byway to see the sites where her early life unfolded. The visitor center includes exhibits and a theater that paint a picture of Tubman's life and work while enslaved, as a freedom seeker, conductor on the Underground Railroad, women's suffragist, Civil War spy, nurse and scout, and more.
---
More about Harriet Tubman Underground Railroad Visitor Center and State Park
---
Type:
Attraction
---
Location:
4068 Golden Hill Rd
Church Creek, MD 21622
410-221-2290
---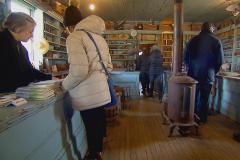 Image Credit: Maryland Office of Tourism
6

Bucktown Village Store

See the site where Harriet Tubman carried out her first daring public act of defiance. In this store, a teenaged Tubman refused to obey an overseer and stop a disobedient slave from leaving the store. The overseer grabbed a two-pound iron weight and hurled it toward him. The weight struck young Tubman in the head, almost killing her and causing a severe injury that troubled her for the rest of her life, giving her visions. 
---
More about Bucktown Village Store
---
Type:
Attraction
---
Location:
4303 Bucktown Rd
Cambridge, MD 21613
410-901-9255
---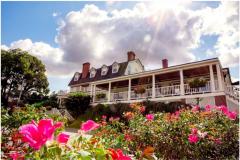 Image Credit: Kitty Knight, LLC
7

Kitty Knight House

Relax with a drink and a sunset view on the deck of the Kitty Knight House, while pondering how this petite and clever woman fended off invading British troops during the War of 1812 from burning her home. Now an inn and fine dining restaurant with an award-winning menu, the home features a painting showing the historic scene with this special American heroine.
---
More about Kitty Knight
---
Type:
Bed & Breakfasts and Inns
---
Location:
14028 Augustine Herman Hwy
Georgetown, MD 21930
410-648-5200
---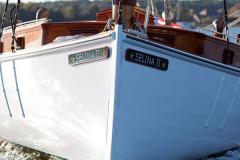 Image Credit: https://sailselina.com
8

Sail Selena II, Saint Michaels

Experience a sailing cruise aboard Sail Selena II, a historic wooden yacht captained by Iris Clarke in St. Michaels. Sailing charters include two-hour Chesapeake day sails, sunset and moonlight cruises on a luxury yacht that accommodates six passengers, for an intimate taste of the history of sailing.
Central Maryland 
Image Credit: Maryland Office of Tourism
9

Star-Spangled Banner Flag House and Fort McHenry National Monument & Historic Shrine

Mary Pickersgill sewed the Star-Spangled Banner that was hoisted over Fort McHenry during the Battle of Baltimore in the War of 1812. She was commissioned by Major George Armistead to make a flag for Baltimore's Fort McHenry that was so large that the British would have no difficulty seeing it from a great distance. The Star-Spangled Banner Flag House describes Pickersgill's flag-making business and War of 1812 history. Living historians depict women sewing the Star-Spangled Banner that flew over the fort. At Fort McHenry, exhibits describe the Battle of Baltimore and the flag Pickersgill created.
---
More about The Star-Spangled Banner Flag House
---
Type:
Attraction
---
Location:
844 E Pratt St
Baltimore, MD 21202
410-837-1793
---
Image Credit: Baltimore Heritage
10

St. Mary's Spiritual Center & Historic Site

Tour the St. Mary's Spiritual Center & Historic Site where Mary Lange, born Elizabeth Clarisse Lange, became an African-American religious sister and foundress of the Oblate Sisters of Providence. She established this congregation to allow African-American women to enter religious life in the Catholic Church. The historic site includes the Mother Seton House, the Historic Seminary Chapel and a visitor center. 
---
More about St. Mary's Spiritual Center & Historic Site
---
Type:
History & Heritage
---
Location:
600 North Paca St
Baltimore, MD 21201
410-728-6464
---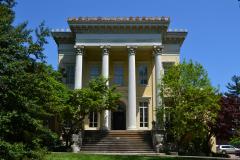 Image Credit: Baltimore Heritage
11

Evergreen House and Museum

Tour Evergreen Mansion where Mary Elizabeth Garrett, suffragist and philanthropist, lived with her family. Garrett was the youngest child and only daughter of John W. Garrett, president of the B & O Railroad. Mary Garrett donated money to start the Johns Hopkins University Medical School in 1893 on the condition that the school would accept female students "on the same terms as men." She founded the Bryn Mawr School, a private college-preparatory school for girls in Baltimore. In her later years, she collaborated with her longtime friends, Susan B. Anthony and Anna Howard Shaw, to try to secure the right for women to vote in the United States.

Evergreen was the Garrett's home for two generations (1878-1942) and is a superb example of Gilded Age architecture on 26 landscaped acres. Visitors can stroll the grounds, enjoy a concert, film or lecture or contemporary art exhibits in the gallery.
---
More about Evergreen Museum & Library
---
Type:
Arts & Culture
---
Location:
c/o The Johns Hopkins University
Baltimore, MD 21210
410-516-0341
---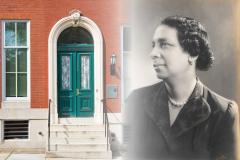 Image Credit: Lillie Carroll Jackson Civil Rights Museum
12

Lillie Carroll Jackson Civil Rights Museum

Discover the journey Lillie Carroll Jackson and others took to change the nation for all Americans by fighting for civil rights by visiting the museum that bears her name. One of the NAACP's most cherished goals was to end lynching in the United States. Galvanized by the last recorded lynching in Maryland, Lillie Carroll Jackson, Clarence M. Mitchell, Jr., Juanita Jackson Mitchell, Carl Murphy, Thurgood Marshall, Margaret Carey and their many allies worked tirelessly toward ending the practice of lynching and other racial injustices in our country. The museum operates in what was once Jackson's home in Baltimore.
---
More about Lillie Carroll Jackson Civil Rights Musuem
---
Type:
History & Heritage
---
Location:
1320 Eutaw Pl
Baltimore, MD 21217
443-885-3440
---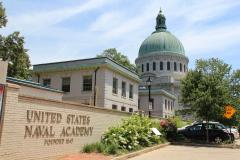 Image Credit: Visit Annapolis
13

U.S. Naval Academy Museum

Explore the challenges, trials and successes of being a female midshipman at the U.S. Naval Academy through the exhibit "Ability, Not Gender." When prospective members of the Class of 1980 arrived at the United States Naval Academy on July 6, 1976, it marked an important milestone in Naval Academy history. Among the 1,300 plebes were 81 women, the first women admitted to the Naval Academy. Starting with the legal proceedings to admit women to the service academies, "Ability, Not Gender" focuses on the social, academic, athletic, and military aspects of life at the Naval Academy for female midshipmen over the past 40 years.
---
More about U.S. Naval Academy
---
Type:
Attraction
---
Location:
Armel-Leftwich Visitor Center
Annapolis, MD 21402
410-293-8687
---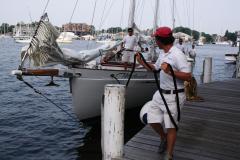 Image Credit: Visit Annapolis/CBMM
14

Schooner Woodwind Sailing Cruises

Meet Captain Jennifer Kaye aboard a Schooner Woodwind Sailing Cruise for a true sailing experience in Annapolis. Located in "America's Sailing Capital" you can help raise the sails, steer the boat, or simply sit back and relax as Woodwind sails from the historic Annapolis waterfront, past the Naval Academy and cruises into the Chesapeake Bay. Schooner Woodwind and Woodwind II are part of a family-operated business.
Capital Region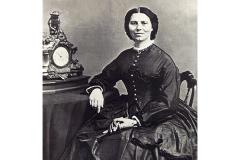 Image Credit: Clara Barton in 1865 by Mathew Brady/Courtesy of the National Park Service
15

Clara Barton National Historic Site

Walk through the home of Clara Barton, a pioneering Civil War nurse known as the "Angel of the Battlefield" who later founded the American Red Cross. The national historic site interprets the early history of the American Red Cross. The home also served as an early headquarters of the organization. Through a guided tour, gain a sense of how Barton lived, and worked in her unusual home, where she spent the last 15 years of her life. Tours are given on the hour on Fridays and Saturdays from 1 – 4 p.m.
---
More about Clara Barton National Historic Site
---
Type:
Attraction
---
Location:
5801 Oxford Rd
Glen Echo, MD 20812
301-320-1400
---
Image Credit: NASA/GSFC/Debbie Mccallum
16

NASA Visitor Center

Learn about female scientists and their contributions to National Aeronautics and Space Administration (NASA) research through exhibits at the museum. Katherine Johnson, the mathematician who calculated flight trajectories for Project Mercury and other missions, is one example. Johnson was featured in the 2016 film Hidden Figures about black female mathematicians who worked behind the scenes at NASA during the Space Race of the 1960s. Other "Hidden Figures" include NASA supervisor and mathematician Dorothy Vaughan and NASA engineer Mary Jackson.
---
More about NASA/Goddard Space Flight Center/Museum
---
Type:
Attraction
---
Location:
8800 Greenbelt Rd
Greenbelt, MD 20771
301-286-8981
---
17

Maryland Women's Heritage Center and Museum

Discover fascinating women of Maryland who have made incredible accomplishments in a variety of career areas. The Maryland Women's Heritage Center honors Maryland's historical and contemporary renowned women and girls who have been inducted into the Maryland Women's Hall of Fame, as well as the Unsung Heroines who have shaped their families and communities. Women leaders are celebrated in law, government and public service; arts and culture; health, sciences and technology; education and communication; civil rights and community service; and business and industry. The "Maryland Women's STEM Exhibit" commemorates the remarkable contributions of Maryland women in science, technology, engineering and math, and the exhibit "Images and Expressions: Maryland Women in the Arts" reflects creative women who have enhanced our engagement with the Arts.
Image Credit: Creative Commons Attribution 2.0 Generic/US FIsh and Wildlife Service
18

Rachel Carson Conservation Park

Explore more than six miles of trails through a premier conservation area in Olney named for Rachel Carson, the writer, environmental activist and Montgomery County resident who wrote the book "Silent Spring" about the decline of migratory bird populations following the use of the pesticide DDT.  The book gave voice to the environmental movement and mobilized banning the use of DDT. This 650-acre park provides opportunities for quiet enjoyment of the natural environment that Rachel loved.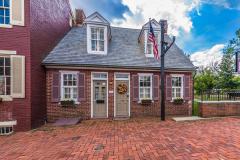 Image Credit: Visit Frederick
19

Barbara Fritchie House and Mount Olivet Cemetery

Stay in the former home of Barbara Fritchie, a Unionist during the Civil War who became famous as the heroine of the 1863 poem "Barbara Fritchie" by John Greenleaf Whittier. The poem describes her plea to an occupying Confederate general to "Shoot if you must this old gray head, but spare your country's flag." The home is now a peer-to-peer accommodation. Artifacts from the home are on display at the Heritage Frederick Museum. Fritchie died three months after the 1863 Confederate occupation of the City of Frederick. Her grave is at the Mount Olivet Cemetery along with a memorial. The cemetery has interpretive exhibits, a self-guided tour, occasional guided tours, special events and lecture programs.
---
More about Barbara Fritchie House Airbnb
---
Type:
Bed & Breakfasts and Inns
---
Location:
154 W Patrick St
Frederick, MD 21701

---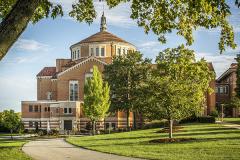 20

National Historic Shrine of St. Elizabeth Ann Seton

Tour two homes in which Elizabeth Ann Seton, the first American-born Roman Catholic Saint, lived. She established the first Catholic girls' school in the nation in Emmitsburg and founded the first American congregation of religious sisters, the Sisters of Charity. From that point on she became known as "Mother Seton." The Historic Homes Tour also includes the peaceful grounds, historic cemetery and the Basilica where Saint Elizabeth Ann Seton's remains are entombed. A museum at the shrine depicts Seton's life through exhibits and a film. For more information...
Western Maryland
Image Credit: Herald-Mail Hagerstown
21

Doleman Museum

Explore the African-American experience in Hagerstown and Washington County through exhibits and artifacts collected from prominent local families. The displays and exhibits demonstrate the roles women played as community and family leaders, the courageous risks they took to achieve their goals, and the legacy they left behind. The collection and museum were established by Mrs. Marguerite Doleman, whose vision is now carried by Alesia Parson McBean.
---
More about Doleman Black Heritage Museum
---
Type:
History & Heritage
---
Location:
33-35 W. Washington Street
Hagerstown, MD 21740
301-797-5019
---
Image Credit: Justin Tsucalas / VisitFrederick
22

Becoming an Outdoorswoman

Looking for a girls' getaway? Sharpen your outdoor skills at a weekend retreat for women and learn non-traditional recreational pursuits such as hunting and fishing, camping, hiking and more in a non-competitive atmosphere. The 2020 event takes place on August 7-9 in Garrett County. Participants attend workshops to learn a variety of outdoor skills, selecting from more than 30 program offerings. Evening activities include night hikes, game feasts, nature presentations and crafts.  Don't miss out on the fun!