Maryland offers must-see destinations for outdoor music and concerts. 
Share your music experiences with us on social media using #MarylandMusic, and make sure to check out Maryland's Summer of Music lineup. To scope out all the rockin' events across Maryland during the Summer of Music, see the Calendar of Events.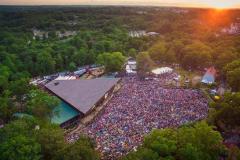 Image Credit: Merriweather Post Pavilion
1

Merriweather Post Pavilion, Columbia

For more than five decades Merriweather Post Pavilion, in Columbia, has built its legacy through concerts featuring the musical icons of their times: Janis Joplin, Jimi Hendrix, The Grateful Dead, Led Zeppelin, Stevie Wonder, Aretha Franklin, David Bowie, Whitney Houston, Metallica, Wu-Tang Clan, Pearl Jam, Radiohead, Kanye West and many more have all played this iconic Maryland venue located on 40 acres of forest, right  between Washington, D.C. and Baltimore. Open spring-summer-fall, you can find the complete show line-up on their website. 
---
More about Merriweather Post Pavilion
---
Type:
Music Venues
---
Location:
10475 Little Patuxent Pkwy
Columbia, MD 21044
410-715-5550
---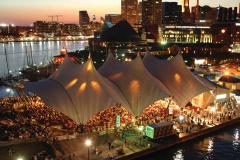 Image Credit: Visit Baltimore
2

MECU Pavilion, Baltimore

One of the most beautiful venues in the United States for outdoor live entertainment, MECU Pavilion (formerly Pier Six Pavilion) offers concerts all summer long through September, with both pavilion and lawn seating available. MECU Pavilion, located on the waterfront in Baltimore's Inner Harbor, remains one of the top spots in the country to catch a gig.
---
More about MECU Pavilion
---
Type:
Music Venues
---
Location:
731 Eastern Ave
Baltimore, MD 21202
410-547-7200
---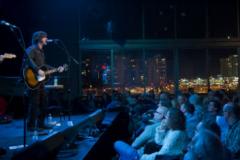 Image Credit: https://www.strathmore.org/
3

Strathmore, Bethesda

A Maryland staple for decades, Strathmore offers several superb concert venues, including the outdoor Gudelsky Gazebo, perfect for summer nights.
---
More about Strathmore
---
Type:
Performing Arts
---
Location:
5301 Tuckerman Ln
North Bethesda, MD 20852
301-581-5199
---
Image Credit: VisitHartford.com
4

Ladew Topiary Gardens, Monkton

Groovin' in the Grass is a series of eight magical musical Sunday evening concerts held at Ladew Topiary Gardens in Harford County. The outdoor concerts take place in the "Great Bowl," nestled among the stunning sculpted gardens.
---
More about Ladew Topiary Gardens
---
Type:
General Attractions
---
Location:
3535 Jarrettsville Pike
Monkton, MD 21111
410-557-9570
---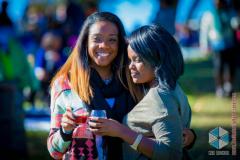 Image Credit: Ken Rochon - TheUmbrellaSyndicate.com
5

Maryland Vineyards, Various Locations

Wineries all across the state, such as Linganore and Boordy, offer scores of fantastic concert series every year.  With one almost assuredly a short drive from you, check out the upcoming concerts and events at all the various Maryland Wineries. 
More Information...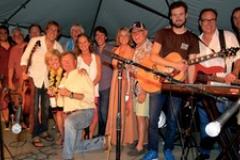 Image Credit: Annapolis Maritime Museum
6

Annapolis Maritime Museum, Annapolis

Live music by local bands, beer, wine and signature cocktails each week during the summer season. Guests should bring a blanket or lawn chairs for al fresco seating during the concert.
---
More about Annapolis Maritime Museum
---
Type:
Attraction
---
Location:
723 Second St
Annapolis, MD 21403
410-295-0104
---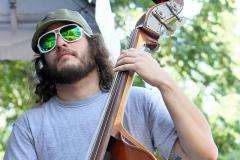 Image Credit: Hot August Music Festival
7

Oregon Ridge Park, Hunt Valley

With an outdoor amphitheater that hosts several shows each year, like the Baltimore Symphony Orchestra (along with fireworks!), and the Hot August Music Festival, this outdoor music destination is always a family crowd-pleaser.
---
More about Oregon Ridge Nature Center and Park
---
Type:
Attraction
---
Location:
13555 Beaver Dam Rd
Cockeysville, MD 21030
410-887-181
---
8

Sundaes in the Park, Ocean City

June 16 - September 1, 2019

Spend your Sunday evenings in picturesque Northside Park listening to your favorite live music. This is a family concert series with pizzazz! Enjoy free music ranging from country to rock, tribute bands to oldies. Each week children are offered various free activities and entertainment. The best thing about Sundaes in the Park is the ice cream sundaes! Create your own sundae for a nominal fee, sit back, listen to music and watch the sun set over the beautiful Assawoman Bay.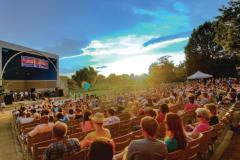 Image Credit: VisitFrederick
9

Baker Park, Frederick

Located in the heart of Historic Downtown Frederick, Baker Park is a beautiful 58 acre space with an amphitheater that is perfect for hosting weekly musical entertainment from a variety of artists.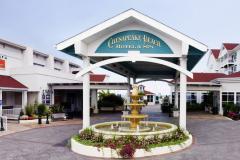 10

Chesapeake Beach Resort & Spa, Chesapeake Beach

Great live music, dancing and more. Tickets range from $5-$59. Times vary based on performances.
---
More about Rod N' Reel Resort
---
Type:
Hotels & Motels
---
Location:
4165 Mears Ave
Chesapeake Beach, MD 20732
410-257-5596
---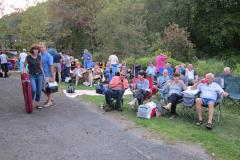 Image Credit: Little Yough Summer Music Series
11

Mountain Fresh Pavilion Summer Music Series, Oakland

For 20 years, the Little Yough Summer Music Festival has brought outdoor concerts to Western Maryland.  Concerts begin at 7:00pm and are held rain or shine.  
12

River Concert Series, St. Mary's County

The River Concert Series is presented by St. Mary's College of Maryland on the Townhouse Green at the College.  The series provides high-quality, professional performances on Fridays for about one month in June/July.  The Chesapeake Orchestra, the resident ensemble of the River Concert Series, offers programs designed to reach a broad range of audiences.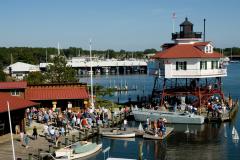 Image Credit: Calvert Marine Museum
13

Calvert Marine Museum, Solomons

Calvert Marine Museum hosts great concerts in their waterside pavilion located in Solomons, at the mouth of the Patuxent River, in Southern Maryland. 
---
More about Calvert Marine Museum
---
Type:
General Attractions
---
Location:
14200 Solomons Island Rd
Solomons, MD 20688
410-326-2042
---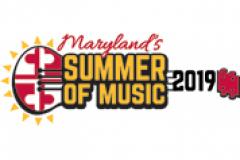 14

Find Out More About The Summer of Music