Baltimore is a city rich with history and culture, an array of world-class museums and attractions, a topnotch culinary scene and an impressive selection of hotels. Our many one-of-a-kind neighborhoods – which continue to expand with the opening of restaurants, shops, cafes and more – as well as an exciting calendar of annual events, bring enjoyment to those of all ages. In Baltimore, you can honor the past while enjoying endless opportunities to explore, learn and have fun. For Maryland Fleet Week,
Baltimore welcomes hundreds of sailors and air show crew who will descended to the area for the week and we look forward welcoming you.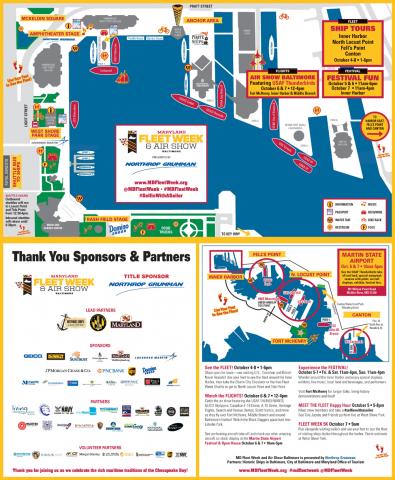 Take a special tour of the vessels (through Monday Oct. 8 from 1:00 – 6:00 PM) and experience the life of a modern sailor! U.S., Canadian, and British Navy vessels along with U.S. Coast Guard and others are docked around the Inner Harbor, Fells Point, Tide Point, and North Locust Point. View the locations of where each vessel is anchored throughout Baltimore.
More information...
Note: The Oak Hill at North Locust Point will be shutting down for tours at 4 pm on Monday in order to prepare for departure Tuesday.