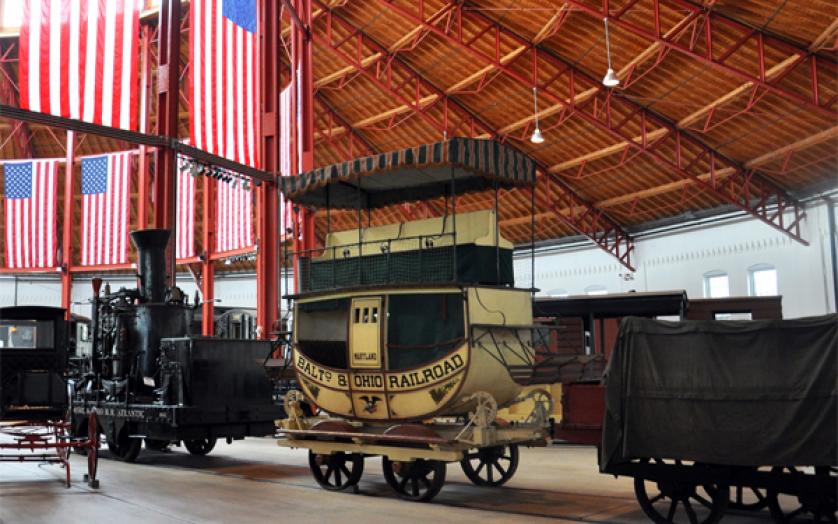 VisitBaltimore
Railroad Museums and Attractions
Baltimore is considered by many to be the "birthplace of American railroading," and many rail-related attractions remain to this day.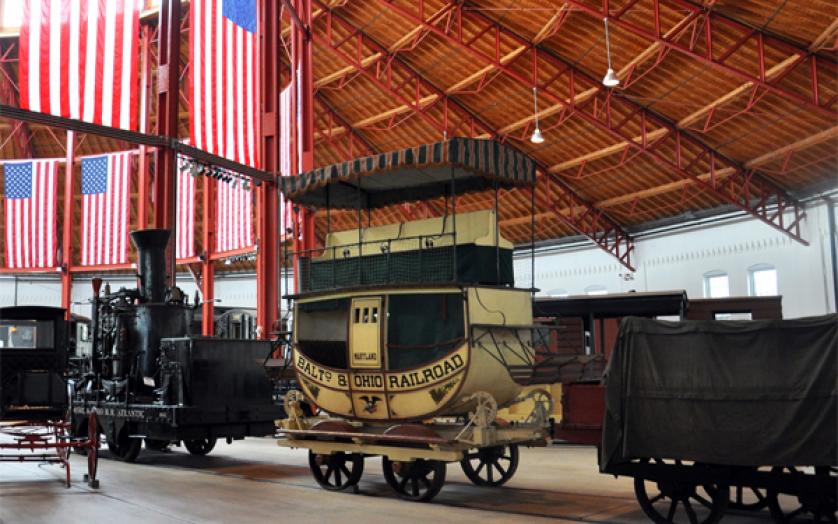 VisitBaltimore
Railroads transformed American life in the 1800s and 1900s, and Maryland played an integral part in the creation of the railroad industry—the Baltimore & Ohio, the first intercity railroad in the Western Hemisphere, was begun in Baltimore in 1827.  Visit these museums, attractions and sites of interest to learn more about the history of railroading in America.
Baltimore: Where Railroading Started
The first 12 miles of track laid in the U.S.—part of the first intercity railroad, the Baltimore & Ohio—ran from Baltimore to Ellicott City, and today the world-class B&O Railroad Museum offers displays of historic locomotives and rail cars on that very spot in Baltimore, designated a National Historic Landmark for its significance in American history. On the other side of Baltimore's Inner Harbor, the Baltimore Civil War Museum is housed in the oldest city rail station in the nation, President Street Station, built in 1850. Uptown, Amtrak still uses the historic Pennsylvania Station and the nearby Maryland Institute-College of Art occupies the former B&O Mount Royal Station, built in 1896.
Ride the Rails to History
Outside of Baltimore you'll find plenty more railroad-related sites to see. Take a trip back in time with the Western Maryland Scenic Railroad, which travels from Cumberland to Frostburg and back, or on a vintage 1920s passenger car on the Walkersville Southern Railroad north of Frederick—you can even enjoy dinner and special events aboard some of their runs.
Even a modern-day Amtrak or MARC commuter train will take you past notable railroad history, including the  Thomas Viaduct  in Elkridge (1835), the E. Francis Baldwin-designed station at Point of Rocks (1876) and the former Pennsylvania Railroad station at Perryville (1905). For a ride on vintage urban rail transit, visit the Baltimore Streetcar Museum, or Colesville's National Capital Trolley Museum, where in winter you can ride the street cars with Santa.
Railroad Museums around Maryland
While some railroad stations remain a local hub of commerce and travel, others have been converted into museums, including the oldest railroad station in the nation, the B&O Ellicott City Station (1831). Other former train stations today house the Chesapeake Beach Railway Museum in Calvert County, the Sudlersville Train Station Museum in Queen Anne's County and the Gaithersburg Community Museum, with its small collection of railroad rolling stock outside an 1884 depot.  The Western Maryland Railway station and office building at Union Bridge is now home to the Western Maryland Railway Historical Society Museum and its archives.