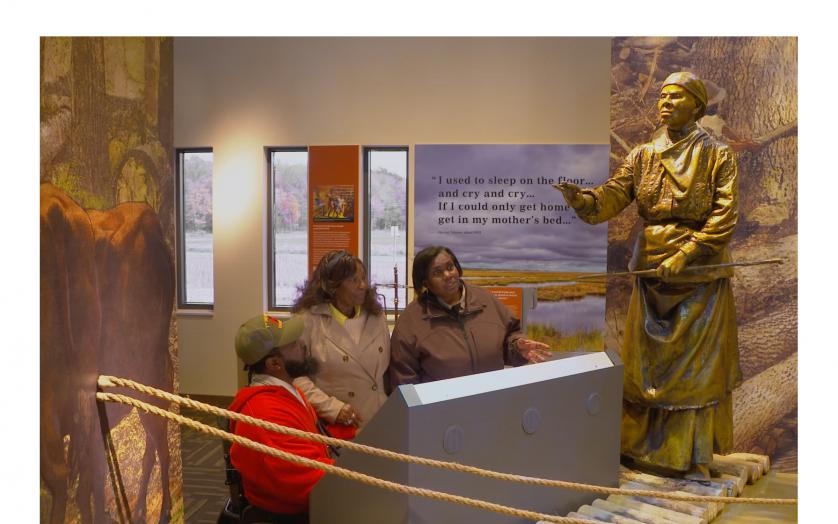 Harriet Tubman Underground Railroad Visitor Center
"I never ran my train off the track and I never lost a passenger."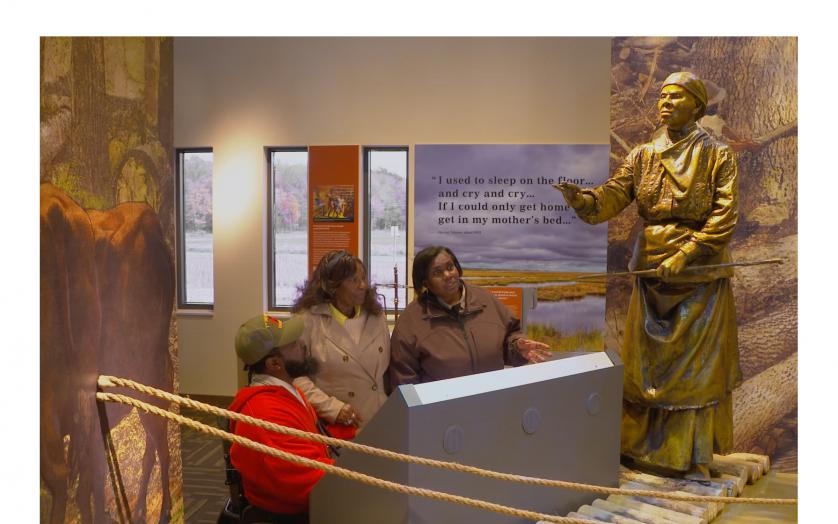 Before the Civil War, Harriet Tubman repeatedly risked her life to guide more than 70 enslaved people from Maryland's Eastern Shore into new lives of freedom. She was deeply rooted in values of family, faith and community and dedicated her life to humanitarian causes and continually fought for freedom.  
Discover Harriet Tubman in her homeland at the HARRIET TUBMAN UNDERGROUND RAILROAD VISITOR CENTER near Cambridge. The center is located within the Harriet Tubman Underground Railroad State Park and National Historical Park and immerses visitors in Tubman's world through informative, evocative and emotive exhibits. The state and national parks tell Tubman's story tell Tubman's story while working to preserve the same landscapes that were important in Tubman's life.  
The visitor center is the perfect place to become oriented to sites along the Harriet Tubman Underground Railroad Byway, which visits places where her life unfolded, places where she lived, worked, worshiped and later escaped. The byway travels through historic towns and untamed landscapes that look much the same as they did during her years living here.
Special events and programs are planned in September to celebrate Harriet Tubman's Emancipation Day.
Related Information:
Harriet Tubman Underground Railroad Byway
Explore the secret network of trails, waterways and safe houses used by enslaved people fleeing north to escape slavery. 
View video and Byway
Harriet Tubman Biography 
Learn about the life and legacy of of Harriet Tubman – freedom seeker, Underground Railroad conductor, abolitionist, suffragist, human rights activist.
Harriet Tubman Biography
Myths & Facts
Dr. Kate Clifford Larson, author of Bound for the Promised Land: Harriet Tubman: Portrait of an American Hero, points out myths and facts about Harriet Tubman's life.
Harriet Tubman: Myths & Facts
Audio Guide 
The audio guide brings to life stories of slavery and escape, cruelty and compassion. Soundtracks include dramatizations and commentary by experts, historians, and local community members. Harriet Tubman Underground Railroad Scenic Byway Audio Guide Options
Harriet Tubman Underground Railroad/African-American Heritage Travel Itinerary
Explore the rich history and contributions of Maryland's African Americans on this road trip from the Smithsonian National Museum of African-American History and Culture in Washington D.C. through Maryland's Eastern Shore.
More info...
Related links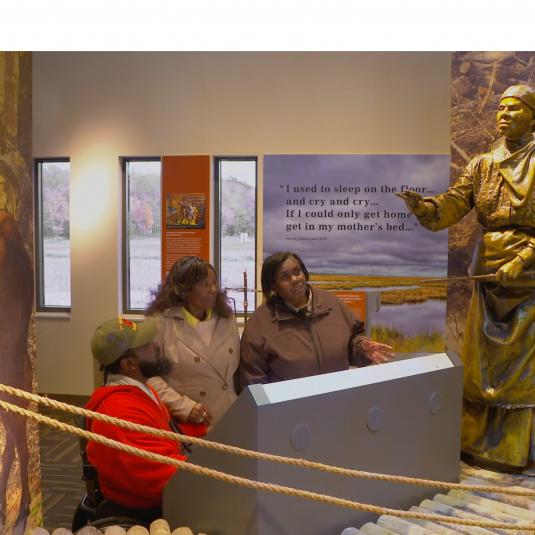 Visitors enjoy interactive and immersive exhibits at the Harriet Tubman Underground Railroad Visitor Center.