10
10 Can't-Miss Things to Do in Ocean City
Take a ride back to your childhood on the historic Trimper's carousel, while away a perfect sunny day on the white, sandy beach, or enjoy a perfect meal with that special someone in one of OC's sublime eateries. There's something for everyone in Maryland's Atlantic jewel, Ocean City.
View Entire List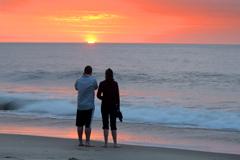 Image Credit: Mitch Lebovic
1

Take in the Sunrise on the Beach

A cool breeze holding off the summer heat; the morning calls of the gulls mingling with the roar of the surf; dolphins riding the waves, and that first orange blaze on the horizon—each day gets only one sunrise, and there's no better place to see it than from the beach in Ocean City.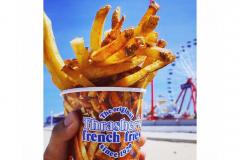 Image Credit: pandosando-Instagram
2

Meander the World-Famous Ocean City Boardwalk

Since 1902, Ocean City's three-mile Boardwalk has been a top seafront destination where millions have made lasting memories of summer, sun and family fun. Rent a bike to cruise the boards all morning then stay all day and explore. Grab a cup of legendary Thrasher's Fries (with extra vinegar!), wander the corridors of Ocean Gallery, and don't forget to beat your best Skee-Ball score at one of the arcades.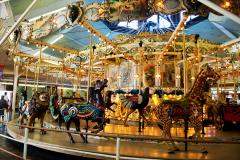 Image Credit: Rachel Smith Photography
3

Ride the Carousel at Trimpers

Once powered by a steam-engine, the brilliantly painted carousel at Trimper's Rides and Amusements has been delighting families for more than 100 years. Lions, giraffes, ostriches and even seahorses are just a few of the 45 magical creatures in the hand-carved menagerie of this old-world wonder.
Image Credit: Rachel Smith Photography
4

Enjoy a Fishing Adventure

Drop a line off the Ocean City Pier or the Route 50 Bridge, surf fish from the shore, take the family on a boat trip or board a charter and head for the canyons, which are home to tuna, mahi-mahi or huge billfish. Plus, you can catch a really big one here—Ocean City is the White Marlin Capital of the World.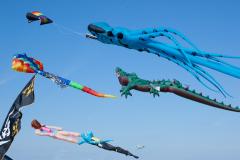 5

Go Fly a Kite

With your feet in the sand and your kite riding the wind, nothing sets off a day on the beach like flying a kite. Laze the day away under a giant diamond kite trailing streamers and spinners, or tear through the sky with a blazing fast stunt-kite riding the Atlantic winds.
Image Credit: OTD
6

Savor a Romantic Dinner

Sit down for white tablecloths and classic Italian cuisine or watch the sunset over the bay while dining on fish fresh from the Atlantic. Try traditional Maryland delicacies, or hand-rolled sushi from a raw bar overlooking the ocean. Ocean City provides the perfect tableau for your intimate evening.

From crabs to haute cuisine, find what you want to eat while in O.C.!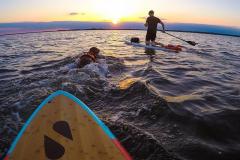 Image Credit: erik_dowell-Instagram
7

See O.C. by Paddleboard or Kayak

Ocean City's sheltered bay is home to osprey, egrets, horseshoe crabs and more. Get up close to nature with a guided kayak eco-tour. Or, prepare to get wet while learning to stand-up paddleboard. Once you get the hang of it, it's like walking on water.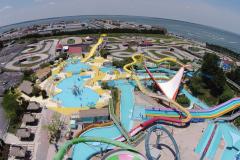 Image Credit: Ocean City Tourism
8

Cool Off at Jolly Roger's Splash Mountain Water Park

Ride the slides or challenge the Raging Rapids, take the family for a madcap water-fight on the Rainforest Walk, ride a wave of adrenaline on the Master Blaster watercoaster, or defy gravity in the thrilling AquaLoop. At Splash Mountain, the wet-n-wild fun never stops!
9

Golf at one of O.C.'s 17 Championship Courses

Hit the links at one of Ocean City's championship golf courses. Offering true seaside golfing, dedicated staff, seasoned pros and cutting-edge course design, O.C. is truly a duffer's paradise. Then, wind down with family over 18 holes of putt-putt at one of Ocean City's many miniature golf courses.
10

Catch the Sunset On the Bay

With sprays of gold and red shot through an azure sky slowly darkening to purple, Ocean City sunsets over the bay offer an unparalleled riot of color, and a perfect excuse to put the world on pause.  There's no finer way to end a day—or start an evening—of Ocean City Adventures.