Annapolis is Open for Foodies
Tantalizing tastes await in this waterfront culinary capital
Delectable dining opportunities and maritime history go hand-in-hand in Annapolis, the state capital and port city where the Severn River meets the Chesapeake Bay.
You'll want to eat your fill of fabulously famous Maryland blue crabs—perfect for a feast after steaming them fresh. Indulge in the flavors of other must-try treats, including local wines, spirits and cuisine prepared by inventive chefs.
Fine Dining
Downtown Annapolis is home to plenty of fine dining options. Opt for an elegant night out at Ruth's Chris Steak House or Lewnes' Steakhouse. Both are perfect options for a date night. Another favorite, with impeccable service and wine pairings, is Carrol's Creek Café. The best part? You can step outside any of these restaurants and stroll the streets of Downtown Annapolis. Harbor views included!
Traditional Seafood
For traditional seafood, follow the Maryland Crab & Oyster Trail  that passes through the state capital. Respected restaurants to try include Cantler's Riverside Inn, which offers waterfront views and crab served just about any way you want it prepared—in a soup, atop a salad, as a crab cake, soft-shell, stuffing for rockfish, steamed in a hard shell or the star ingredient in crab imperial. While you're exploring the historic downtown, stop in McGarvey's Saloon & Oyster Bar and wash down freshly shucked oysters with an ice-cold brew. 
Expect more fresh seafood in a friendly atmosphere at the sailors' favorite, Boatyard Bar & Grill. If you're an early riser and feeling patriotic, head to Main Street to eat breakfast at Chick & Ruth's Delly—and join in the daily reciting of the U.S. Pledge of Allegiance at 8:30 a.m. weekdays (9:30 a.m. weekends).
Toast to Drinking Local
To quench your thirst, put a couple of great stops on your itinerary. Wine Trails wind through Maryland, and the Annapolis area has a couple of places to sip local blends. Taste wine at its source at Cooper's Hawk Winery & Restaurant and Great Frogs Winery. Similarly, craft beer never tasted better than those brewed at Forward Brewing.
A Sweet Ending
Wherever you dine, save room for dessert. Just steps from the harbor, order a creamy scoop or cone at the Annapolis Ice Cream Company on Main Street. Savor the natural ingredients—including berries, mint, chocolate, cookie dough and more—used to create delicious homemade flavors right on site.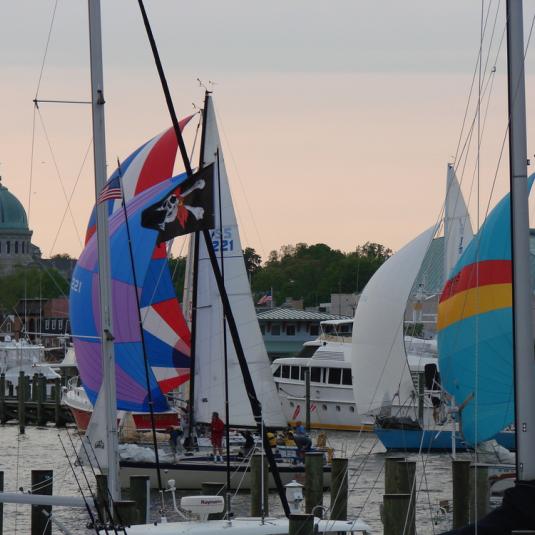 Maryland's Capital - Annapolis is also known as the Sailing Capital of the U.S.