Known as the "Sailing Capital of the U.S." and home to the U.S. Naval Academy
Annapolis's maritime heritage combined with its cosmopolitan flair create a destination unlike any other. Explore the sites via water or land with boat and walking tours. Don't miss the Annapolis Oyster Roast & Sock Burning. A tradition each March 21 since 1978, guests come out of hibernation to burn their old winter socks and ceremoniously welcome spring with live music, oysters, libations and a whole lot of barefoot fun!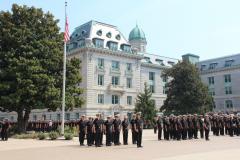 Image Credit: Visit Annapolis
1

Tour the U.S. Naval Academy

Since 1845, the Academy has been educating the officers of the United States Navy, and the Academy campus is steeped in that history and culture. Highlights include the United States Naval Academy Museum and the beautiful domed chapel that holds the ornate crypt of John Paul Jones, father of the U.S. Navy.
---
More about U.S. Naval Academy-Armel-Leftwich Visitor Center
---
Type:
Tour Services
---
Location:
52 King George St
Annapolis, MD 21402
410-293-8687
---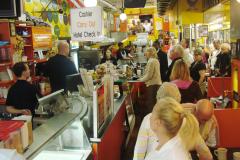 Image Credit: Visit Annapolis
2

Have a Nosh at Chick & Ruth's Delly

Since opening its doors on Main Street in 1965, Chick & Ruth's Delly has been a favorite for midshipmen, governors, locals and tourists alike—it's an Annapolis institution. Come early to enjoy a hearty breakfast and take part in the daily Pledge of Allegiance, recited every morning –it's a Chick & Ruth's tradition (8:30 AM on weekdays, 9:30 AM on weekends).
---
More about Chick & Ruth's Delly
---
Type:
American
---
Location:
165 Main St
Annapolis, MD 21401
410-269-6737
---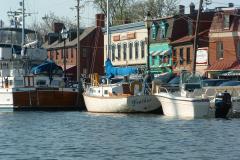 3

If You've Got It, Flaunt It on Ego Alley

If you've got a boat to show off, cruise to Ego Alley, a narrow waterway in the heart of historic downtown Annapolis. Once you arrive, or if you're just there to watch, stop in for a bite and a classic rum cocktail at Pusser's Caribbean Grill. With dockside seating right on Ego Alley, it's prime real estate for taking in the yachts. 
---
More about Pusser's Caribbean Grille
---
Type:
Contemporary
---
Location:
80 Compromise Street
Annapolis, MD 21401
443-837-1263
---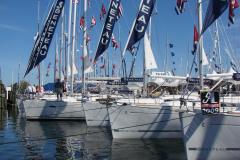 4

United States Sailboat Show

Sailors come from all over the world to experience the largest and oldest in-water sailboat show on Earth. The Annapolis Dock becomes a showplace for the most beautiful and exotic boats in the world, and they're worth seeing whether you're shopping or just dreaming.
Image Credit: Visit Annapolis
5

Tour the Maryland State House

Touring these halls is like taking a walk through history. Older than the country itself, the Maryland State House was built in 1772 and is the oldest state house still in use. Once the capital of the nation, it was here that the Treaty of Paris was signed to end the Revolutionary War, and General George Washington resigned from his post as commander of the Continental Army. 
---
More about Maryland State House
---
Type:
Attraction
---
Location:
100 State Cir
Annapolis, MD 21401
410-946-5000
---
6

Watch the Wednesday Night Sailboat Races

More than 100 yachts gather every Wednesday night from late April through August for the famous Wednesday Night Races. Spectators follow along in boats, gather on the downtown Spa Creek Drawbridge, or watch from waterfront restaurants and watering holes. Since this regular event happens in the "Sailing Capital of the World," the boats are fast and the competition is fierce.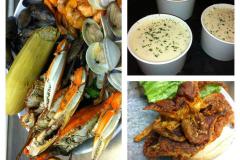 Image Credit: Cantlers Riverside Inn
7

Dine on Crabs at Cantlers Riverside Inn

Go a bit off the beaten path to enjoy some of the best crabs and Maryland seafood around. Built over the water with a gorgeous view of quiet Mill Creek, Cantlers is a can't-miss! Check out the live tubs out back—they're often full of crabs and fish fresh off the boats.  Or check out the entire area's selection at our Annapolis and surrounding area crab & oyster trail.
---
More about Cantler's Riverside Inn
---
Type:
Seafood
---
Location:
458 Forest Beach Rd
Annapolis, MD 21401
410-757-1311
---
8

See the Blue Angels

Graduation at the U.S. Naval Academy means white-suited midshipmen and the jubilant hat throw. While all schools like to show off for graduation, the U.S. Naval Academy takes it to another level (literally!) with the Blue Angels—the U.S. Navy's famous fighter jet demonstration team performs a fly-over and airshow at every graduation.
---
More about U.S. Naval Academy
---
Type:
Attraction
---
Location:
Armel-Leftwich Visitor Center
Annapolis, MD 21402
410-293-8687
---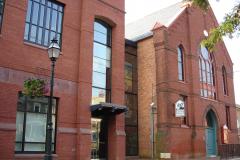 9

Explore African American History at the Banneker-Douglass Museum

The official African-American history museum of Maryland focuses on two celebrated figures in American history: Frederick Douglass, the great writer and abolitionist, and Benjamin Banneker, the 18th-century mathematician, astronomer and author whose work inspired many in the drive for freedom.
---
More about Banneker-Douglass Museum
---
Type:
Visual Arts
---
Location:
84 Franklin St
Annapolis, MD 21401
410-216-6180
---
10

Hear Live Music at Rams Head On Stage

Rams Head is one of the best venues in the country to see national touring musicians across all genres. The intimate space keeps the audience close to performers so you never have to miss a note. There's an extensive bar, and the in-show wait staff delivers the pub's fantastic food and beer right to your table.
---
More about Rams Head on Stage-Annapolis
---
Type:
Live Music
---
Location:
33 West St
Annapolis, MD 21401
410-268-4545
---