With its intermittent barrier islands, scenic cypress swamps and Eastern Shore bays, it makes perfect sense that Maryland is home to a diverse array of bird-watching sites and natural habitats. Birds pass through during their annual migrations and will leave you wide-eyed with wonder. Careful not to blink because you won't want to miss the Bachman's Sparrow, Pileated Woodpecker, or Roseate Tern.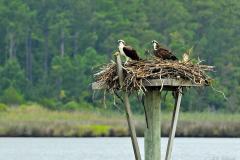 Image Credit: BC Petrie Photography
1

Open For Birding

Situated in the geographic middle of the Atlantic Flyway, Maryland is a bird-watchers paradise. Here are some ideas for making the most of your birding experience..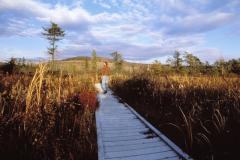 2

Cranesville Subarctic Swamp, Oakland

This area provides a boardwalk tour for visitors to cross the 850-acre marshy swamp, adding the option to cut course onto six meandering nature trails through this pristine habitat. 
---
More about Cranesville Subartic Swamp
---
Type:
Outdoor Recreation
---
Location:
Cranesville Rd and Lake Ford Rd
Oakland, MD 21550
301-387-4386
---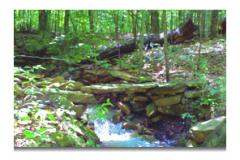 Image Credit: Maryland Department of Natural Resources
3

Dan's Rock

Located in Dan's Mountain State Park, this place is a gold mine when it comes to the Common Black and White Warbler, and the Common Raven. Even more amazing are the overlook views of the Potomac River Valley, from which you can spot beautiful birds in flight, day and night. On the downslope trek, the area's chunky geology and forested habitats serve as a natural trail guide. 
---
More about Dans Mountain State Park
---
Type:
Attraction
---
Location:
17410 Recreation Area Rd
Lonaconing, MD 21539
301-895-5453
---
4

Antietam National Battlefield, Hagerstown

This historic battlefield serves as a breeding ground for birds returning from Central and South America, with springtime surveys marking sightings of more than 77 bird species. So pack your field guide, notepad, pencil and binoculars—it's time to see a show! 
---
More about Antietam National Battlefield
---
Type:
Attraction
---
Location:
5831 Dunker Church Rd
Sharpsburg, MD 21782
301-432-5124
---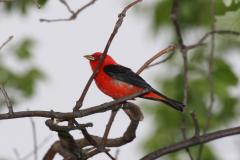 5

Patuxent Wildlife Refuge, Laurel

This site takes the thrill of nature and turns it into a learning experience. Established by Franklin D. Roosevelt in 1936, the research refuge has grown from its original 2,670 acres to its present size of 12,841 acres, and continues to attract its rare and beautiful native birds like the special Scarlet Tanager, a medium-sized song bird whose distinctive plumage is unforgettable. 
---
More about National Wildlife Visitor Center Patuxent Research Refuge
---
Type:
Attraction
---
Location:
10901 Scarlet Tanager Loop
Laurel, MD 20708
301-497-5763
---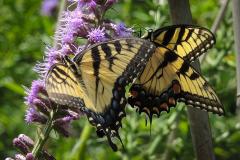 6

Audrey Carroll Audubon Sanctuary

In the summer, you'll see as many as 1,000 butterflies at this 129-acre sanctuary west of Mount Airy, including 38 unique species. They're backed by a supporting cast of characters that includes turtles, butterflies, dragonflies, damselflies and more than 170 species of birds.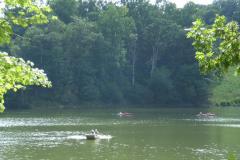 7

Meadowside Nature Center

Head to this nature center in Rock Creek Regional Park for hiking along eight miles of nature trails, fishing and bird-watching at Lake Frank, and don't forget to snap pictures of the migratory birds, colorful wildflowers and butterflies. For a special encounter with dozens of birds of prey, the Raptor Aviary, which rehabilitates injured animals, is a must-see.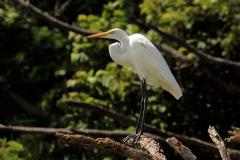 Image Credit: Waxwing EcoTourism
8

Papermill Flats, Loch Raven Reservoir

For an unforgettable encounter with great flocks of Maryland shorebirds, this Baltimore County site cannot be missed. Begin your travels with a short walking trail, and end with a lookout bridge that offers panoramic views from the water to land.
9

Jug Bay Wetlands Sanctuary, Lothian

This 1,700 acre sanctuary is home to varied habitats including open water, tidal marshes, forested wetlands, riparian and upland forests, creeks meadows and pine and sand barrens. Beginning in 1985, staff naturalists, volunteers, students and researchers confirmed high species diversity and abundance unlike any other. Paddle carefully, as the frogs and fauna here are meant to be photographed. 
10

Flag Ponds Nature Center, Lusby

Bring a picnic lunch to the beach at this Center and experience a day of bird-watching, fishing and fossil hunting. Flag Ponds' 500-acres of primeval beauty is home to varied wildlife and migratory birds. 
---
More about Flag Ponds Nature Park
---
Type:
Attraction
---
Location:
1525 Flag Ponds Pkwy
Lusby, MD 20657
410-586-1477
---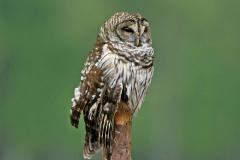 11

Bumpy Oak Swamp

Skip the hike and simply step out of your car to spot barred owls, resident amphibians, and reptiles at this large roadside swamp near La Plata. The Southern Maryland Audubon Society lists local bird watching locations, including Bumpy Oak Swamp.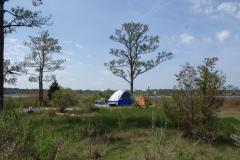 12

Point Lookout State Park

The tidal marshes and forests of St. Mary's County are home to more than 120 species of birds, so get your binoculars ready. With the Chesapeake Bay to its east and Potomac River to its south, Point Lookout State Park serves as a staging point for migrants, particularly in the autumn, although you can glimpse all types of birds year-round. 
---
More about Point Lookout State Park
---
Type:
Attraction
---
Location:
11175 Point Lookout Rd
Scotland, MD 20687
301-872-5688
---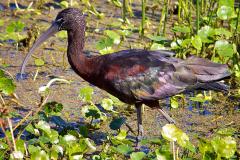 13

Pocomoke Sound Wildlife Area

Accessible only by boat, it's worth the effort to spend a day at this Somerset County haven. In between watching glossy ibis probe the shores for muddy worms, herons and egrets scan the shallow waters for a dive, while mucky marshes play host to small fish. Ducks do double-backs while paddling furiously for forage, and osprey nests hang high on Bay channel markers. Now, isn't this better than being at the office? 
---
More about Pocomoke River State Forest
---
Type:
Attraction
---
Location:
Shad Landing
Snow Hill , MD 21863
410-632-3732
---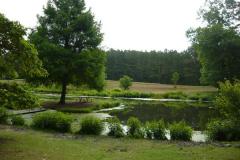 14

Wicomico River

Literally, the sky is the limit on the Wicomico River where birds are easy to spot and identify thanks to large areas of open space. Walk along the trails of Pemberton Park and set up watch over the open fields, or head to Twilleys Bridge Road to visit with songbirds and migratory species best seen foraging along tree-line edges. Wherever you land, keep an eye open for native mammals and reptiles, but watch out for venomous Copperheads. 
Image Credit: Adkins Arboretum
15

Adkins Arboretum

If you hear "Drink your teeeee…" while you're here, it doesn't mean Earl Grey—it's the sound of the Rufous-sided Towhee, one of the many species in residence at this birdwatcher's paradise tucked away near the small town of Ridgely. Birders flock to its 400 acres and five miles of woodland and meadow paths off of Tuckahoe Creek to see the towhee, along with the Baltimore Oriole, Northern Saw-whet Owl, Ruby-throated Hummingbird, Indigo Bunting, and the declining Northern Bobtail Quail, among others. 
---
More about Adkins Arboretum
---
Type:
Attraction
---
Location:
12610 Eveland Rd
Ridgely, MD 21660
410-634-2847
---