About two hours from Baltimore, Washington or Pittsburgh, trout streams and cool air beckon in the summer; ski resorts and cross-country paths are great winter destinations. At any time of year, this region is great for checking out fine art, stocking up on timeless antiques or trying your luck at the casino.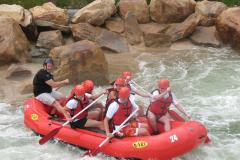 Amp up the action at Adventure Sports Center International (ASCI), McHenry
Want a boat? From kayaks to white-water rafts, Adventure Sports Center International has a rentable inventory and offers guided instruction at a man-made, mountaintop white-water park. If you prefer a land-based adventure, the activities include hiking, biking, geocaching and rock climbing.
---
More about Adventure Sports Center International
---
Type:
Attraction
---
Location:
250 Adventure Sports Way
McHenry, MD 21541
301-387-3250
---
Image Credit: Karlo Gesner Photography
Coast Downhill for Mountain Scenes, McHenry
The Resort at Wisp offers the downhill Mountain Coaster, and skiing. In the summer, golf is the name of the game. Take the kids on a chairlift ride to have a look at the mountain scenery. Try your hand at disc golf or soar high above it all on a zip-line.
---
More about Wisp Resort
---
Type:
Attraction
---
Location:
296 Marsh Hill Rd
McHenry, MD 21541
800-462-9477
---
Take a Road Trip on a Scenic Byway
America's first federally funded highway once carried Conestoga wagons into the Western frontier. Now the 170 Maryland miles along the National Road are a destination all their own. Leaving Baltimore, passing through small towns long-abandoned by the interstates, and meandering along mountain passes and winding riverbanks, the National Road is an is an artery to the heart of America. The National Road Museum in Boonsboro honors the nation's first federal highway, built to take settlers west in pursuit of the frontiers.
Or check out Mountain Maryland, Stretching 193 miles from the heights of Keyser's Ridge to historic Cumberland, the Mountain Maryland byway tours the glorious geography of Western Maryland. Skirting the raging Youghiogheny River and plunging into the heart of the Alleghenys, traveling the byway becomes a transcendental experience when the fall colors turn.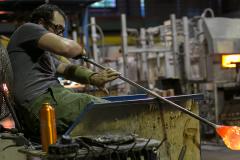 Craft Your Own Glassworks, Deep Creek Lake
A visit to the Simon Pearce Factory Outlet and Glassblowing Workshop in the Deep Creek Lake area lets you bring home a one-of-a-kind piece of art—something no one else will have. The workshop sometimes offers classes, so you can create
---
More about Simon Pearce Glassblowing
---
Type:
Visual Arts
---
Location:
265 Glass Dr
Mountain Lake Park, MD 21550
301-334-5277
---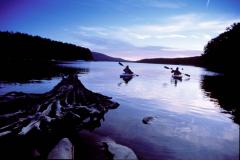 Take the plunge on a visit to Deep Creek Lake, McHenry
Most Marylanders know the state's largest freshwater lake as a great summer getaway. But Deep Creek Lake, built a century ago, is a year-round destination. Gorgeous in the fall, the area hosts 65 miles of shoreline for viewing the ambers and yellows reflected in the waters. Winter welcomes skiing at nearby resorts and roaring fires in one of the many vacation rentals. Summer is the season for free outdoor concerts in addition to swimming and boating. And in spring, the golf courses beckon guests to tee off at Thousand Acres and Wisp Resort.
More info...
---
More about Deep Creek Lake State Park
---
Type:
Attraction
---
Location:
898 State Park Rd
Swanton, MD 21561
301-387-5563
---
Image Credit: Sarah Duck, Garrett County Chamber of Commerce
Get Creative with Local Artists, Grantsville
Bring home one-of-a-kind gifts from the Spruce Forest Artisan Village, a collective in Grantsville that offers handmade metal sculptures, wood furniture and accessories, and soaps. Or make something yourself—the village also hosts workshops in photography, weaving, bird carving and drawing.
---
More about Spruce Forest Artisan Village
---
Type:
Visual Arts
---
Location:
177 Casselman Rd
Grantsville, MD 21536
301-895-3332
---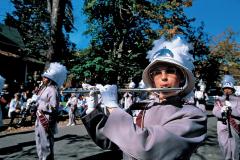 View Autumn in All Its Glory, Oakland
MSN rated Autumn Glory the "#1 Fall Festival in the World." It's easy to see why, with spectacular colors, a pumpkin festival and the state fiddlers competition.
---
More about Autumn Glory Festival
---
Type:
Events
---
Location:
Garrett County
Deep Creek Lake, MD 21541
888-387-5237
---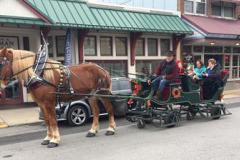 Rewind to an Earlier Time, Oakland
Step back in time at Englander's Antique Mall in Oakland in the heart of the Deep Creek Lake area. Past the antiques in the back is an old-fashioned soda fountain restaurant serving up home cooking, including biscuits, fried chicken and savory vegetable soup.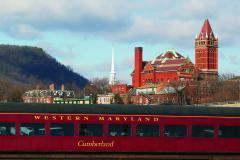 Peruse the Saville and Schwab Mountain Maryland Galleries, Cumberland
The Allegany Arts Council's Saville and Schwab Mountain Maryland galleries are located in historic downtown Cumberland at 9 N. Centre Street. The galleries feature year-round exhibitions of national and local talent. You are sure to see something different and interesting each time you stop by.
---
More about Allegany Arts Council
---
Type:
Performing Arts
---
Location:
9 N. Centre St
Cumberland, MD 21502
301-777-2787
---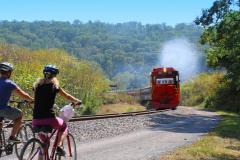 Bike the C&O Canal and Great Allegheny Passage, Cumberland
The flat path along this scenic canal is ideal for two-wheeled trips, so pack your bike and head out to the Cumberland Visitor's Center to spend the day riding along this historic canal. The Great Allegheny Passage (GAP) rail-trail offers 150 miles of hiking and biking between Cumberland, MD, and Pittsburgh, PA. In Cumberland, the GAP joins the C&O Canal Towpath, creating a continuous 335 mile long trail experience to Washington, DC. So, for the adventure of a lifetime, make Cumberland your bike destination.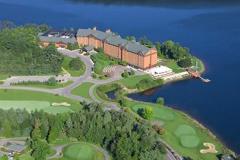 Make It Your Lucky Day, Flintstone
Rocky Gap Casino Resort offers up year-round activities, including hiking along its shady trails for an invigorating experience before trying your luck at the tables. The resort also features a spa, so make it a day.
---
More about Rocky Gap Casino Resort
---
Type:
Attraction
---
Location:
16701 Lakeview Rd
Flintstone, MD 21530
301-784-8400
---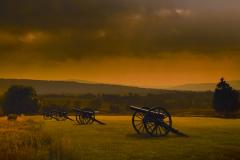 Image Credit: VisitMaryland.org
Experience Antietam, Sharpsburg
Students of history won't want to miss the Antietam National Battlefield, which ended the Confederate Army's first attempt at taking the North. About 23,000 soldiers died or were wounded within 12 hours, marking one of the bloodiest days of the war. Today, the battlefield is beautiful and serene to contrast its past, making the magnitude of what happened an awakening experience
---
More about Antietam National Battlefield
---
Type:
Attraction
---
Location:
5831 Dunker Church Rd
Sharpsburg, MD 21782
301-432-5124
---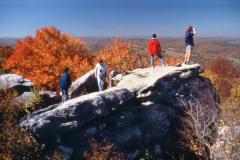 Hike the Eastern Continental Divide, Grantsville
This rugged seam formed where North America's continental plates are pulling apart makes for some of the most intriguing geology and challenging hiking on the East Coast. With beautiful views of the Savage River Forest, Big Savage Mountain, Meadow Mountain, and idyllic New Germany Lake in New Germany State Park, hiking the Eastern Continental Divide in Garrett County is a must for every outdoorsman or woman's bucket list. 
Relax with Warm Coffee in Hand, Frostburg
 In Frostburg, order an oversized latte and a vegetarian sandwich, and pull up a chair next to a study group at the quaint Mountain City Coffee. If it's warm, grab a table outside, back to the stone walls, and watch the scenes on Main Street.
---
More about Mountain City Coffeehouse & Creamery
---
Type:
Café
---
Location:
60 E. Main St
Frostburg, MD 21532
301-687-0808
---
Image Credit: wscmd.com
Refresh with Fresh, Local Eats, Friendsville
Local eggs, hearty wraps and fresh baked goods—what more could you need for a day of wine tasting, hiking and biking? Check out the Water Street Café. This casual Friendsville spot will keep you going to the next attraction.
Image Credit: Savage River Lodge
Seclusion at Savage River, Frostburg
World-class fishing guide Mike Evans at Savage River Outfitters in Swanton will take you fishing. But he also will happily leave you to sweet solitude if you're renting one of his three cottages, each with ample room for families. Sit by the forested banks and enjoy the cool breeze with a good book or rent some gear and give the old casting hand a try. Each place has a grill, too.
---
More about Savage River Lodge
---
Type:
Bed & Breakfasts and Inns
---
Location:
1600 Mt. Aetna Rd
Frostburg, MD 21532
301-689-3200
---
Image Credit: G. Snelson
Stay College Cool in Frostburg
Stroll the scenes of University of Maryland's westernmost campus, and enjoy dining, arts walks, festivals and a farmers' market along Frostburg's wide main street.
Camaraderie in Frostburg
The Allegheny Trail House is a bicycle-friendly bed and breakfast that makes an excellent option for connecting with others. It offers large common rooms, reliable wifi and a hearty breakfast. Friends of the owners or other guests stop by on occasion; even if the house is empty, there's always people-watching on busy Main Street.
---
More about Allegheny Trail House Historic Bed & Breakfast
---
Type:
Bed & Breakfasts and Inns
---
Location:
156 East Main St
Frostburg, MD 21532
240-580-9795
---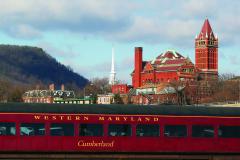 Mountain Moods in Cumberland
It's hard to find another city with a view quite like this one. The Potomac River runs through this town, so take in the scenes and savor Appalachian Mountain and river valley views. Don't miss ice cream at the Queen City Creamery & Café, so named for the days when Cumberland was Maryland's second-largest city.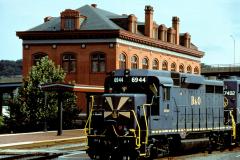 Train's a Coming— So Hop On! Cumberland - Frostburg
The Western Maryland Scenic Railroad is a delight for adults and children alike, as the oldfashioned locomotive winds its way through the mountains near Frostburg. And if you want to watch, and not just ride, the sight of the locomotive against the backdrop of fall colors or a leafy mountainside is Instagramable.
---
More about Western Maryland Scenic Railroad
---
Type:
Attraction
---
Location:
13 Canal St
Cumberland, MD 21502
301-759-4400
---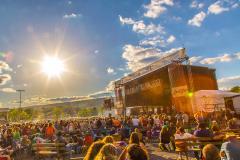 Image Credit: Brad Kuntz
Del Does It Again, Cumberland
Bluegrass virtuoso Del McCoury, family members and a world-class list of longtime musicians gather with their banjos, steel guitars and fiddles and play their hearts out for three days at DelFest in the Allegany County Fairgrounds. Some say it's the best bluegrass festival in the world, and who are we to argue? If you want to try some picking yourself, The Travelin' McCourys offer a three-day music academy before the festival.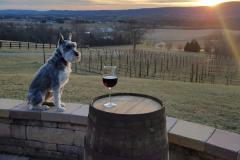 Image Credit: MazzarothVineyard.com
Tour the Antietam Highlands Wine Trail
Meandering through the rolling hills and mountains of Western Maryland, crisscrossing five National Parks, 10 state parks, and one of the most important fronts of the Civil War, the Antietam Highlands Wine Trail is home to nine of Maryland's premiere wineries. This trail is a must for wine lovers and history buffs alike. 
More info...
Gaze at Dazzling Cave Features, Boonsboro
Nearly 100 years ago during the building of the state road, workers discovered Crystal Grottoes Caverns. Now, visitors can marvel at the stalactites and stalagmites while enjoying a year-round temperature of 54 degrees.
---
More about Crystal Grottoes Caverns
---
Type:
Attraction
---
Location:
19821 Shepherdstown Pike
Boonsboro, MD 21713
240-217-7623
---
Float Down the Canals, Williamsport
Visitors who only know the C&O Canal in Georgetown will be surprised at how much it widens out in the mountains. Memorial Day through Labor Day, the Williamsport Visitors Center offers boat rides along the canal. In Cumberland, the C&O Canal National Historical Park explores the history of what was once thought to be the future of transportation
---
More about C&O Canal National Historical Park-Cushwa Basin Visitor Center
---
Type:
Attraction
---
Location:
205 W. Potomac St
Williamsport, MD 21795
301-714-2233
---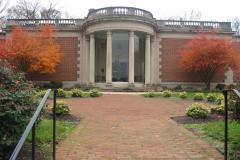 See Brushstrokes Up Close, Hagerstown
The Washington County Museum of Fine Arts frequently showcases a gallery of local artists. Spend the afternoon strolling among Old Masters, traveling exhibitions and new modern works.
---
More about Washington County Museum of Fine Arts
---
Type:
Visual Arts
---
Location:
401 Museum Dr
Hagerstown, MD 21740
301-739-5727
---
Image Credit: Simon Premium Outlets
Bring Home Some Bargains, Hagerstown
Just off Interstate 70, Hagerstown Premium Outlets offers great prices and a fun day of shopping name brands, like Banana Republic, Under Armour, Coach and Guess.
---
More about Hagerstown Premium Outlets
---
Type:
Malls & Shopping Centers
---
Location:
495 Premium Outlets Blvd
Hagerstown, MD 21740
301-790-0300
---
Image Credit: Washington CVB
Root for the Home Team, Hagerstown
If they're playing, take in a Hagerstown Suns game. This farm team for the Washington Nationals turns out avid fans and offers fun giveaways on many summer nights. Games take place at a historic ballpark and one of the three oldest facilities in Minor League Baseball.
---
More about Hagerstown Municipal Stadium
---
Type:
Attraction
---
Location:
274 E Memorial Blvd
Hagerstown, MD 21740
301-791-6266
---
Image Credit: Yogi Bear's Jellystone Park
Family Fun at Jellystone, Hagerstown
Go rugged in a campsite or keep the comforts of home in a cabin. Either way, the family will love walking out and finding pools, playgrounds, water parks, miniature golf and laser tag just steps from your home away from home in Hagerstown.
---
More about Yogi Bear's Jellystone Park
---
Type:
Cabins & Lodges
---
Location:
9550 Jellystone Park Way
Williamsport, MD 21795
301-223-7117
---