These Maryland mainstays serve up award-winning cuisine with a side of soul, rock, jazz or opera, pleasing the palette as well as the ears.
Photo By: Germano's Piattini
1

Germano's PIATTINI, Baltimore

The upstairs dining room of this classic Italian eatery in Baltimore is set up cabaret-style. Enjoy a delicious pasta dish while relaxing to live jazz or an opera showcase.
---
More about Germano's Piattini
---
Type:
Contemporary
---
Location:
300 South High St
Baltimore, MD 21202
410-752-4515
---
Photo By: AMP, Powered by Strathmore
2

AMP by Strathmore - Bethesda

AMP is live music with a gourmet edge. It's your place to come together for great music and delicious food at Pike & Rose, an urban-minded, Metro-accessible neighborhood on Rockville Pike. Powered by Strathmore, with innovative drinks and cuisine by Ridgewells, AMP puts a premium on authentic live music experiences, bringing new energy beyond the DC Beltway. 
---
More about AMP by Strathmore
---
Type:
Arts & Culture
---
Location:
11810 Grand Park Avenue
North Bethesda, MD 20852
301-581-5100
---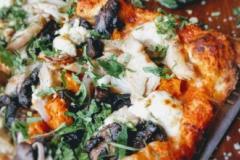 Photo By: http://joesquared.com
3

Joe Squared, Baltimore

This hipster pizza joint in Baltimore has been getting a lot of press, showing up on Diners, Drive-ins and Dives, and even earning a spot in Zagat's Best 50 Pizzas in the U.S. And its music scene is just as tasty, often offering acoustic music during the dinner hour and live local bands later on.
---
More about Joe Squared-Baltimore
---
Type:
American
---
Location:
33 W. North Ave
Baltimore, MD 21201
410-545-0444
---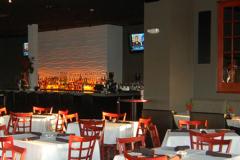 4

Half Note Restaurant & Lounge, Bowie

Jazz, rhythm and blues and soul food, too: this Bowie establishment is a destination for music lovers and foodies alike, boasting a line-up of the region's best jazz and old school R&B performers, coupled with a versatile menu that includes savory southern-inspired dishes.
---
More about Half Note Restaurant and Lounge
---
Type:
American
---
Location:
4881 Glenn Dale Rd
Bowie, MD 20720
301-809-6683
---
Photo By: Bertha's Restaurant & Bar
5

Bertha's Restaurant & Bar, Baltimore

You've probably seen Bertha's iconic green "Eat Bertha's Mussels" bumper stickers somewhere, whether it's on a telephone pole in Alaska or over a bar in Barbados. In Baltimore they're ubiquitous, and with good reason. This Fells Point restaurant is understandably famous for their perfectly prepared mussels—but Bertha's is also a great place for jazz. While you're there, enjoy a live trio or the Songwriters' Showcase each Wednesday night.
---
More about Bertha's
---
Type:
Seafood
---
Location:
734 S. Broadway
Baltimore, MD 21231
410-327-5795
---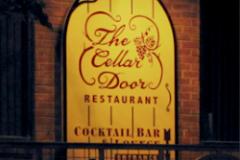 6

The Cellar Door Restaurant, Frederick

Located in the heart of Frederick's bustling downtown, this bistro-lounge is just steps below the city's happening Market Street. You can dine in the stylish downstairs cellar and enjoy live comedy, open mic performances, karaoke and headlining artists of all musical backgrounds.
---
More about The Cellar Door Restaurant
---
Type:
American
---
Location:
5 E Church St
Frederick, MD 21701
301-695-8460
---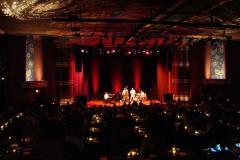 Photo By: Bethesda Blues & Jazz Supper Club
7

Bethesda Blues & Jazz Supper Club

The Bethesda Theater was built in 1938 and operated as one of the Art Deco era's lavish cinema palaces. Fast-forward to today and the theater has been infused with a multi-million dollar renovation to become the region's top live music supper club with an award-winning menu.
---
More about Bethesda Blues and Jazz Supper Club
---
Type:
Music Venues
---
Location:
7719 Wisconsin Ave
Bethesda, MD 20814
240-330-4500
---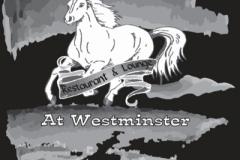 Photo By: The Stables at Westminster
8

The Stables at Westminster

Get here early for the famous crab cakes, then stick around to listen and dance to some of the most popular bands in the region.
---
More about The Stables at Westminster
---
Type:
Seafood
---
Location:
452 East Main St
Westminster, MD 21157
410-840-8181
---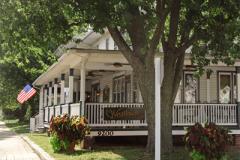 Photo By: The Westlawn Inn
9

Westlawn Inn, North Beach

The Westlawn Inn is a restaurant, bar and live music venue located just one block from the Chesapeake Bay in the charming resort town of North Beach, in Southern Maryland. Every Saturday night, and one or two Fridays a month, the Westlawn hosts regionally acclaimed bands in genres that span the history of modern music — from instrumental jazz and R&B to Dixieland jazz and soft rock. More info...
Photo By: Visit Annapolis
10

Rams Head, Annapolis

Rams Head is a favorite among the locals, serving-up creative pub fare and extraordinary live local and national music 7-nights a week. Whether in one of the cozy dining rooms, the historic pub or on the Wisteria-covered patio, you'll understand why so many Annapolitans consider Rams Head to be their second home.
---
More about Rams Head Tavern-Annapolis
---
Type:
American
---
Location:
33 West St
Annapolis, MD 21401
410-268-4545
---