Get in touch with the lives of great Americans like Harriet Tubman, Clara Barton and Thomas Stone. See historic places like Antietam and Fort McHenry where the very course of history was changed. Lose yourself in one of a kind landscapes like Assateague, Sandy Point and Blackwater. History, culture, and the remarkable beauty of nature are at your fingertips in Maryland's State and National Parks. 

If you're up for a twist on the traditional family vacation and looking for an opportunity to explore Maryland's great outdoors, consider the Maryland State Park Service's Park Quest adventure.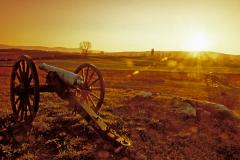 Antietam National Battlefield, Sharpsburg
23,000 soldiers were killed, wounded or missing after 12 hours of savage combat on September 17, 1862. The Battle of Antietam ended the Confederate Army of Northern Virginia's first invasion into the North and led to Abraham Lincoln's issuance of the preliminary Emancipation Proclamation.
---
More about Antietam National Battlefield
---
Type:
Attraction
---
Location:
5831 Dunker Church Rd
Sharpsburg, MD 21782
301-432-5124
---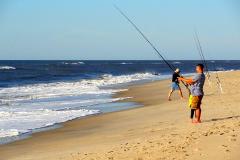 Assateague Island State Park and National Seashore, Berlin
Want to live on the edge? Visit a place re-created each day by ocean wind and waves. Life on Assateague Island has adapted to an existence on the move. Explore sandy beaches, salt marshes, maritime forests and coastal bays. Rest, relax, recreate and enjoy some time on the edge of the continent.
---
More about Assateague Island National Seashore
---
Type:
Attraction
---
Location:
7206 National Seashore Ln
Berlin, MD 21811
410-641-1441
---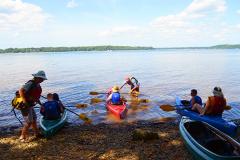 Image Credit: Accokeek Foundation
Captain John Smith Chesapeake National Historic Trail
Four hundred years ago Englishman John Smith and a small crew of adventurers set out in an open boat to explore the Chesapeake Bay. Between 1607 and 1609 Smith and his crew mapped nearly 3,000 miles of the Bay and rivers and documented American Indian communities. Smith's trail travels the remarkable route of the 17th-century Chesapeake journey. Come join the adventure on the Chesapeake Bay!
Learn more about the Chesapeake Country Scenic Byway here...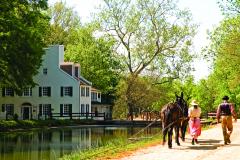 Chesapeake & Ohio Canal National Historical Park
Preserving America's early transportation history, the C&O Canal began as a dream of passage to Western wealth. Operating for nearly 100 years, the canal was a lifeline for communities along the Potomac River as coal, lumber and agricultural products floated down the waterway to market. Today it endures as a pathway for discovering historical, natural and recreational treasures.
---
More about C&O Canal National Historical Park Headquarters
---
Type:
Attraction
---
Location:
1850 Dual Hwy, Suite 100
Hagerstown, MD 21740
301-739-4200
---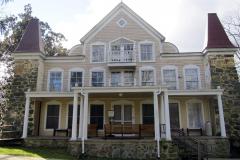 Image Credit: Clara Barton House
Clara Barton National Historic Site, Glen Echo
Clara Barton dedicated her life and energies to help others in times of need—both at home and abroad, in peacetime as well as during military emergencies. Glen Echo was her home for the last 15 years of her life and the structure illustrates her dedication and concern for those less fortunate than herself.
---
More about Clara Barton National Historic Site
---
Type:
Attraction
---
Location:
5801 Oxford Rd
Glen Echo, MD 20812
301-320-1400
---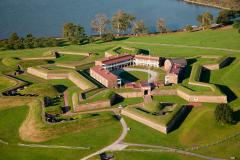 Image Credit: Ken Stanek Photography
Fort McHenry National Monument and Historic Shrine, Baltimore
By the dawn's early light, a large red, white and blue banner. Whose broad stripes and bright stars . . . were so gallantly streaming over the star-shaped Fort McHenry during the Battle of Baltimore, September 13-14, 1814. The valiant defense of the fort inspired Francis Scott Key to write "The Star-Spangled Banner."
---
More about Fort McHenry National Monument & Historic Shrine
---
Type:
Attraction
---
Location:
2400 E Fort Ave
Baltimore, MD 21230
410-962-4290
---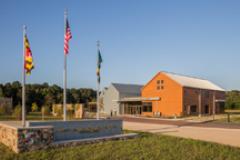 Harriet Tubman Underground Railroad National Monument and Scenic Byway, Cambridge
Harriet Tubman was a deeply spiritual woman who lived her ideals and dedicated her life to freedom. She is the Underground Railroad's best known conductor and in the decades before the Civil War repeatedly risked her life to guide nearly 70 enslaved people to new lives of freedom in the North. Tubman would recognize the landscapes protected in this new national monument on Maryland's Eastern Shore.
See the  Harriet Tubman Underground Railroad Visitor Center and travel the Harriet Tubman Underground Railroad Scenic Byway
---
More about Harriet Tubman Underground Railroad Visitor Center and State Park
---
Type:
Attraction
---
Location:
4068 Golden Hill Rd
Church Creek, MD 21622
410-221-2290
---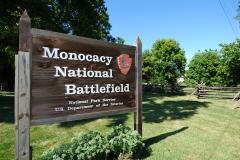 Image Credit: Frederick County Tourism
Monocacy National Battlefield, Monocacy
In the summer of 1864, General Jubal Early led Confederate forces towards Washington, D.C. and threatened to capture the capital city. On July 9, Union troops under General Lew Wallace met Early's forces on the banks of the Monocacy. At Monocacy National Battlefield, visitors can experience this and other stories of the past in a landscape that has changed little since the 19th century.
---
More about Monocacy National Battlefield
---
Type:
Attraction
---
Location:
5201 Urbana Pike
Frederick, MD 21704
301-662-3515
---
Image Credit: Maryland Office of Tourism
Thomas Stone National Historic Site, Port Tobacco
Prior to the Revolutionary War, Thomas Stone led a very comfortable life as a planter and lawyer. After realizing war with Great Britain was inevitable, he risked everything he held dear—life, fortune, and sacred honor—to safeguard American rights. To that end, Thomas Stone became one of 56 men to sign one of the most important documents in world history: the Declaration of Independence.
---
More about Thomas Stone National Historic Site
---
Type:
Attraction
---
Location:
6655 Rose Hill between Rts 225 and 6
Port Tobacco, MD 20677
301-392-1776
---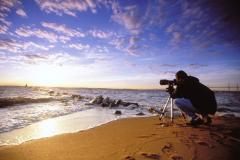 Image Credit: Maryland Office of Tourism
Sandy Point State Park, Annapolis
Known for the famous Polar Bear Plunge to benefit Special Olympics, Sandy Point is 786 gorgeous acres of woodland and sandy beach at the western foot of the Bay Bridge. Swim, fish or just relax and wait out the holiday traffic at this Maryland favorite!
---
More about Sandy Point State Park
---
Type:
Attraction
---
Location:
1100 E College Pkwy
Annapolis, MD 21409
410-974-2149
---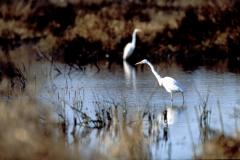 Blackwater National Wildlife Refuge
Sprawling across more than 40 square miles on the lower Chesapeake Bay, with open vistas, lush coastal ecosystems, and pristine waters, Blackwater is a true world treasure. Rent a kayak and explore the water trails on this hub of the Atlantic Flyway where bald eagles dot the sky and tens of thousands of ducks and geese cross the sun like great living clouds. 
---
More about Blackwater National Wildlife Refuge
---
Type:
Attraction
---
Location:
2145 Key Wallace Dr
Cambridge, MD 21613
410-228-2677
---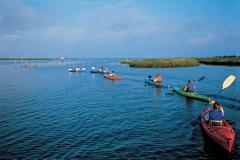 Image Credit: VisitMaryland.org
AccessDNR
AccessDNR is the official app from the Maryland Department of Natural Resources for the State's outdoor enthusiasts. Whether you want to visit a State Park, hunt or fish, explore waterways by boat or kayak, or simply watch wildlife, the AccessDNR app provides all the information and services you need on the go.
Download the free mobile app now!