From grand theaters that seat thousands to a local vineyard or church, there's no shortage of great musical venues in Maryland. 
Share your music experiences with us on social media using #MarylandMusic, and make sure to check out Maryland's Summer of Music lineup. To scope out all the rockin' events across Maryland during the Summer of Music, see the Calendar of Events.
Photo By: Visit Annapolis
1

Rams Head


Rams Head on Stage, In the heart of downtown Annapolis, this lively spot is part music venue, part restaurant, part brewery. See well-known acts in an intimate setting while sampling the tavern's wide-ranging menu, house-brewed beers and specialty cocktails.
Rams Head Live, in Baltimore's Inner Harbor brings Baltimore country, punk, rock, blues, DJ and acoustic artists.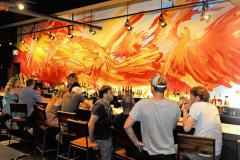 Photo By: Creative Alliance
2

Creative Alliance, Baltimore

For a musical experience that pushes the limits of art, visit this multi-purpose art center in the heart of Baltimore's Highlandtown neighborhood. The Creative Alliance welcomes a wide range of performers from Irish acoustic and reggae to Klezmer music and Zydeco. They've even put on a War of 1812 rock opera, so you're bound to find something you'll love!
---
More about Creative Alliance
---
Type:
Music Venues
---
Location:
3134 Eastern Ave
Baltimore, MD 21224
410-276-1651
---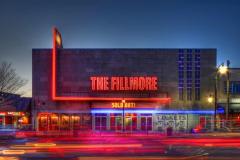 Photo By: The Fillmore, Silver Spring
3

The Fillmore, Silver Spring

This gorgeous, 2,000-seat theater still maintains an intimate feel that keeps the audience close to the music. With a lush bar and lounge area, the Fillmore hosts big name acts in a cool, funky space in the heart of Silver Spring's bustling entertainment district.
---
More about The Fillmore Silver Spring
---
Type:
Music Venues
---
Location:
8656 Colesville Rd
Silver Spring, MD 20910
301-960-9999
---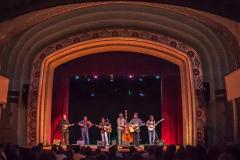 Photo By: Avalon Foundation
4

Avalon Foundation, Easton

The Avalon Foundation, the largest arts organization on the Eastern Shore, includes the wonderfully restored Art Deco Avalon Theatre. This 400-seat venue hosts a variety of events including live transmissions of the Metropolitan Opera from New York City's Lincoln Center. The Foundation also features the Stoltz Listening Room, a 60-seat venue for cabaret-style performances.
---
More about Avalon Theatre
---
Type:
Music Venues
---
Location:
40 E Dover St
Easton, MD 21601
410-822-7299
---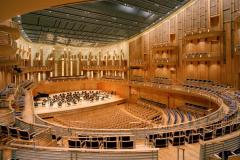 5

The Strathmore, North Bethesda

Located in the Mansion at Strathmore, this arts center is the area's cultural epicenter featuring art exhibitions, performing arts and literary lectures, as well as musical performances in its impressive concert hall. Enjoy notable performances from the Baltimore Symphony Orchestra and touring acts as well. Another fabulous venue close by is AMP the nexus of live entertainment in the North Bethesda District.
---
More about Strathmore
---
Type:
Performing Arts
---
Location:
5301 Tuckerman Ln
North Bethesda, MD 20852
301-581-5100
---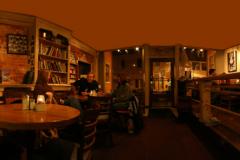 6

49 West, Annapolis

This mod coffeehouse and art gallery, with its stone walls and full bar, serves delicious coffee cocktails in a cozy atmosphere. Tucked away in the back, you'll find local live music, spanning genres from jazz and Americana to Bossa Nova and bluegrass.

 
---
More about 49 West Coffeehouse
---
Type:
American
---
Location:
49 West St
Annapolis, MD 21401
410-626-9796
---
7

Windup Space, Baltimore

If you like to dance to a different beat (think funk and electronic), the hip and artsy Windup Space in the Station North Arts District is the perfect place to go.
---
More about Windup Space
---
Type:
Music Venues
---
Location:
12 W North Ave.
Baltimore, MD 21201
410-244-8855
---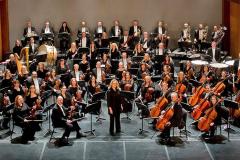 Photo By: Maryland Symphony Orchestra
8

Maryland Symphony Orchestra, Hagerstown

Based out of the historic Maryland Theatre, the Maryland Symphony Orchestra has been entertaining audiences since 1982 with performances than run the gamut from classical to Motown. Kids will particularly enjoy shows like "The Magical Music of Disney."
---
More about Maryland Symphony Orchestra
---
Type:
Performing Arts
---
Location:
30 W. Washington St
Hagerstown, MD 21740
301-797-4000
---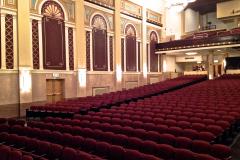 Photo By: Weinberg Center
9

Weinberg Center for the Arts, Frederick

This historic theatre started as the Tivoli when it opened in 1926, playing movies and hosting live performances with an orchestra. Now an arts center, today it presents nearly 150 events a year, including musicals, symphony concerts, and silent films accompanied by the only remaining theatre installation in Maryland of a Wurlitzer organ.

 
---
More about Weinberg Center for the Arts
---
Type:
Performing Arts
---
Location:
20 W Patrick St
Frederick, MD 21701
301-600-2828
---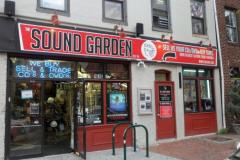 Photo By: The Sound Garden
10

The Sound Garden, Baltimore

For new or used vinyl records, CDs, DVDs or even cassette tapes, this music oasis in Baltimore's waterfront Fells Point neighborhood is a must-visit for any true audiophile. It's not just locals who appreciate its selections—photos of the rock stars and celebrities that have popped in to shop at this iconic institution line the walls.
 
---
More about The Sound Garden
---
Type:
Music Venues
---
Location:
1616 Thames St
Baltimore, MD 21231
410-563-9011
---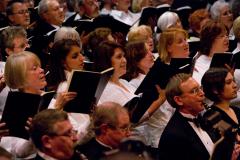 Photo By: Live Arts Maryland
11

Live Arts Maryland, Annapolis

This nonprofit performing arts group features both the Annapolis Chorale and the Annapolis Chamber Orchestra. While great concerts are held year-round, the holidays take performances to another level. The free shows presented at the iconic St. Anne's Church make for an ideal night of culture downtown.
 
---
More about Live Arts Maryland
---
Type:
Performing Arts
---
Location:
801 Chase St., Room 202
Annapolis, MD 21401
410-263-1906
---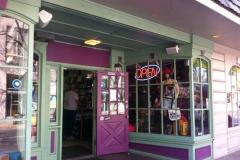 Photo By: Record Exchange
12

The Record Exchange, Frederick & Silver Spring

With two locations, these family-owned stores buy and sell used records, CDs, video games, movies and more. And for gifts for that music lover who seems to have everything, there are also bowls for sale made from old vinyl records and coasters cut from 33 LP album covers.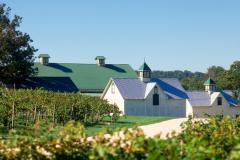 Photo By: Boordy Vineyards
13

Boordy Vineyards, Hydes

More than a typical winery, Boordy features live music year round, you'll enjoy seasonal holiday music and intimate acoustic performances in the winter. When the weather is warm, bring a picnic and enjoy Boordy's wines for a relaxing outdoor summer concert experience, or stop by when food trucks pair up with guitarists and other performers, turning a low-key dining experience into a memorable event.
---
More about Boordy Vineyards
---
Type:
Attraction
---
Location:
12820 Long Green Pike
Hydes, MD 21082
410-592-5015
---
Photo By: Judges Bench
14

Judge's Bench, Ellicott City

Housed in an old 19th-century mom-and-pop grocery store (and the original Howard County courthouse), this pub may be small, but the sounds are big! Stop by on a Tuesday for Open Mic Night, or come in almost any night of the week for other live musical performances and choose from over 100 beers—and possibly the largest collection of single malt whiskeys in the state.
 
---
More about Judge's Bench Pub
---
Type:
American
---
Location:
8385 Main St
Ellicott City, MD 21043
410-465-3497
---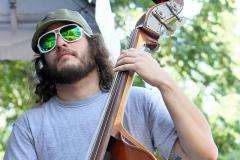 Photo By: Hot August Music Festival
15

Hot August Music Festival

Always a great festival with an incredible mix of talent on three stages. 2018 lineup includes The Revivalists, Psycho Killers, Nikki Hill.
---
More about Hot August Music Festival
---
Type:
Events
---
Location:
13555 Beaver Dam Rd
Cockeysville, MD 21030
877-321-3378
---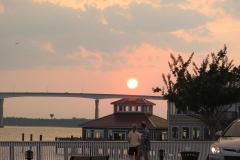 Photo By: Stoney's Kingfishers Seafood House
16

Stoney's Kingfishers Seafood House, Solomons Island

 

Located at the Calvert Marina, Kingfishers serves up live entertainment that's as delicious as its seafood. On Wednesdays, catch live jazz while sipping on half-priced wine, or take in an eclectic range of rootsy acoustic acts on the weekend.
 
---
More about Stoney's Kingfishers
---
Type:
American
---
Location:
14442 Solomons Island Road South
Solomons, MD 20688
410-394-0236
---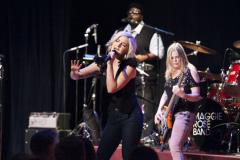 Photo By: Bethesda Blues & Jazz Supper Club
17

Bethesda Blues and Jazz Supper Club


For a classy night out, this club just outside of Washington, D.C. will not disappoint. Built in 1938 and listed on the National Historic Registry, the art deco theatre that houses the Supper Club provides an intimate setting for blues and jazz, acoustic rock and soul.
 
---
More about Bethesda Blues and Jazz Supper Club
---
Type:
Music Venues
---
Location:
7719 Wisconsin Ave
Bethesda, MD 20814
240-330-4500
---
Photo By: Maryland Tourism Office
18

Power Plant Live, Baltimore


Across from the Inner Harbor, this entertainment destination is home to many restaurants, nightclubs and great music venues, including Rams Head Live and Angels Rock Bar. From the stage in the middle of the square, you're likely to hear live music played by national acts. Stay a while and enjoy the music while having a drink from one of the outdoor bars.
 
---
More about Power Plant Live
---
Type:
Live Music
---
Location:
34 Market Pl.
Baltimore, MD 21202
410-727-5483
---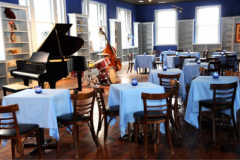 Photo By: Eubie Blake National Jazz Institute
19

Eubie Blake National Jazz Institute and Cultural Center, Baltimore


The Eubie Blake Center offers music workshops and clinics for jazz musicians of all skill levels, as well as camps for kids, dance programs, musical theater and Open Mic Poetry. It's also the place to go to hear live jazz performed by national acts or local artists, all while supporting cultural arts for the children of Baltimore.
 
Photo By: Peabody Institute
20

Peabody Institute, Baltimore


Johns Hopkins' Peabody Institute in Baltimore is one of the premiere music schools in the world and presents nearly 100 performances each year, in addition to hundreds of student recitals. There are a range of concerts, music lectures and even master classes open to the public.
 
---
More about Peabody Institute of The Johns Hopkins University
---
Type:
Performing Arts
---
Location:
1 E Mount Vernon Pl
Baltimore, MD 21202
667-208-6500
---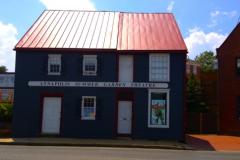 Photo By: http://annapolis.com/
21

Annapolis Summer Garden Theatre


For a truly unforgettable summer night, take in a show under the stars. Each summer, an all-volunteer group stages and performs musicals outdoors at this historic waterfront building. Previous shows have included 42nd Street, Into the Woods and Avenue Q.
 
---
More about Annapolis Summer Garden Theatre Inc.
---
Type:
Performing Arts
---
Location:
143 Compromise St
Annapolis, MD 21401
410-268-9212
---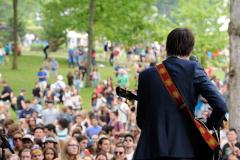 Photo By: 24nickyblitz
22

Sweetlife Music Festival, Columbia (Summer)

This celebration of music and conscious living takes place each spring at the Merriweather Post Pavilion, with food from local farmers, emphasizing sustainability. But don't forget the music: this event features 900 minutes of alternative, rap and electronic music on three stages.
---
More about Merriweather Post Pavilion
---
Type:
Music Venues
---
Location:
10475 Little Patuxent Pkwy
Columbia, MD 21044
410-715-5550
---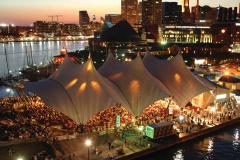 Photo By: Visit Baltimore
23

MECU Pavilion, Baltimore (Summer)

This music venue smack dab in the middle of the Inner Harbor is truly unique. Notable for its tensile roof, MECU Pavillion (formerly Pier Six Pavillion) has hosted some of entertainment's biggest acts, from Iggy Azalea to B.B. King. Those lucky enough to have a boat can pull right up for a great view.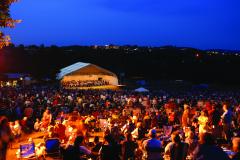 Photo By: Richard Lippenholz
24

Oregon Ridge Park, Cockeysville (Summer)

Nestled in northern Baltimore County, this 1,043-acre park hosts a number of events, from music festivals complete with three stages and food vendors to the more intimate Music in the Woods featuring traditional bluegrass, folk, and Irish songs and dance. If you wander off during a concert, you might even find the park's secret beach.
 
---
More about Oregon Ridge Nature Center and Park
---
Type:
Attraction
---
Location:
13555 Beaver Dam Rd
Cockeysville, MD 21030
410-887-181
---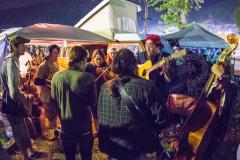 Photo By: Brad Kuntz
25

DelFest - Cumberland

There's always an amazing line-up of musicians at this annual Memorial Day Weekend celebration at Allegany County Fairgrounds centered around one of America's most iconic musical genres — bluegrass. In addition to incredible music on the Grandstand Stage you will find intimate Artist Playshops, Late Night Shows, a Kids Area, Art & Craft Fair and great food and drinks plus — plentiful camping space and RV hookups, 
---
More about DelFest
---
Type:
Events
---
Location:
Allegany County Fairgrounds
Cumberland, MD 21502
301-777-5138
---