Many tourism destinations, museums, historic sites and other attractions are offering virtual options for visitors to explore and learn at home. And, to keep all that Maryland offers top of mind, visit Maryland Fun For Everyone for Puzzles, Bingo, Scavenger Hunt and much more.
You don't need a big budget to experience big fun in Maryland. Here are 25 top free (or nearly free) things to do—sure to keep you coming back again and again!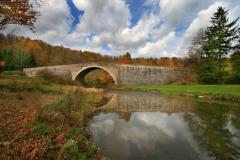 Image Credit: Kevin Moore
Maryland Scenic Byways
Escape the highway, enjoy any one of Maryland's 18 Scenic Byways – for a relaxing road trip to explore charming towns, the splendor of nature and hidden gems.  More info...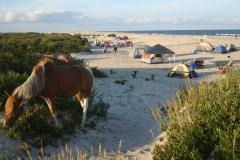 Image Credit: Laura Palescandolo
Assateague Island National Seashore
Less than 10 miles from the boardwalk in Ocean City are the serene shores of Assateague Island, beckoning you to romp on the beach alongside the wild horses that inhabit the island. The horses are smaller than normal horses, but a bit more aggressive, so watch your hands (and food)—but they're definitely a sight not to be missed.
---
More about Assateague Island National Seashore
---
Type:
Attraction
---
Location:
7206 National Seashore Ln
Berlin, MD 21811
410-641-1441
---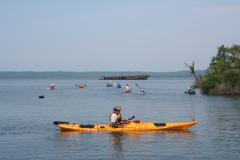 Image Credit: Ralph Eshelman
Mallows Bay
Search for shipwrecks in the "Ghost Fleet of Mallows Bay" at the largest ship graveyard on the East Coast, just off the Potomac River in Charles County. Take out a kayak for a hauntingly-beautiful afternoon spent drifting among the wrecked, World War I era ships that were supposed to be scrapped, but were abandoned instead.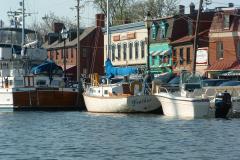 Ego Alley
Stroll historic downtown Annapolis' brick-paved streets and make sure to visit the city dock along "Ego Alley," so nicknamed because the marina is home to some massive yachts. During the holidays, the yachts are decked out in sparkling Christmas lights and decorations.
---
More about Annapolis City Dock
---
Type:
Boating & Sailing
---
Location:
One Dock St
Annapolis, MD 21401
410-263-7973
---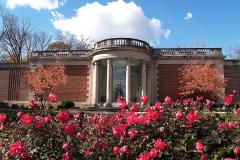 Image Credit: VisitHagerstown.com
Washington County Museum of Fine Arts
Marvel at this museum's more than 7,000 works, including paintings, sculptures and objets d'art. Considered one of the finest small museums in the United States, the museum was established in 1931 in Hagerstown's historic City Park, and with its stunning neo-Georgian architecture, the museum itself is a work of art. 
---
More about Washington County Museum of Fine Arts
---
Type:
Visual Arts
---
Location:
401 Museum Dr
Hagerstown, MD 21740
301-739-5727
---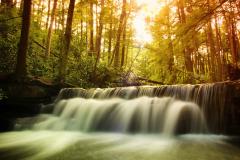 Image Credit: ​Natural Artistry
Swallow Falls State Park
Commune with nature and take a walk through the woods of Western Maryland, known for its gorgeous mountain views. Just a few miles north of Oakland, Swallow Falls State Park  borders the Youghiogheny River and is nestled in the picturesque Allegheny Mountains. Let your spirit run wild at Swallow Falls with its rocky gorges, roaring rapids, centuries-old hemlock trees, and Muddy Creek Falls, with a cascading 53-foot waterfall that is the tallest in Maryland!
---
More about Swallow Falls State Park
---
Type:
Attraction
---
Location:
222 Herrington Ln
Oakland, MD 21550
301-387-6938
---
Canal Place
June through August, jam to live music at the Canal Place Ampitheater as part of downtown Cumberland's concert series featuring top talent from visiting touring bands. Year-round, bike along the canal or hike one of two trails in Maryland's first Certified Heritage Areas. Canal Place is home to many festivals and the beloved Western Maryland Scenic Railroad.
---
More about Canal Place Heritage Area
---
Type:
Music Venues
---
Location:
13 Canal St
Cumberland, MD 21502
301-724-3655
---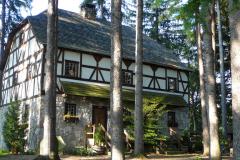 House of Yoder
History and architecture lovers will particularly enjoy this house neighboring Grantsville's Spruce Forest Artisan Village. The House of Yoder was modeled after early-18th-century Swiss homes. Tour four stories displaying a massive fireplace, drawstring latch, stone-arched root cellar, smoke house, and more, all while learning about the Yoder family's European heritage.
---
More about Spruce Forest Artisan Village
---
Type:
Visual Arts
---
Location:
177 Casselman Rd
Grantsville, MD 21536
301-895-3332
---
Image Credit: Maryland Office of Tourism
Baltimore's Free Art Museums
What's better than one world class museum at the low, low price of free? How about two? And that's just what you'll find in Baltimore with both the Walters Art Museum and the Baltimore Museum of Art (BMA) offering free admission. The BMA features the famous Cone Collection with works by Matisse, Picasso, Degas and more. The Walters' internationally-renowned collection of art spans the globe and the ages including one of the largest collections of ancient Egyptian art and artifacts in the world. Located in Baltimore's Mount Vernon neighborhood, after visiting the museum,  visit the Washington Monument (for a reasonable fee) right outside the Walters' door. Or relax on a park bench just outside the Walters (Museums do collect fees for special exhibitions)
---
More about The Walters Art Museum
---
Type:
Visual Arts
---
Location:
600 N Charles St
Baltimore, MD 21201
410-547-9000
---
Chesapeake and Ohio Canal National Historical Park
For nearly a century, this famous waterway carried lumber, coal and crops to market; now the park is perfect for biking, hiking or exploring on a boat ride. See the lockhouses and other historic structures, and catch a breathtaking view of Mather Gorge, the narrowest section on the lower Potomac River. (reasonable fee for a 3-day car pass)
---
More about C&O Canal National Historical Park Headquarters
---
Type:
Attraction
---
Location:
1850 Dual Hwy, Suite 100
Hagerstown, MD 21740
301-739-4200
---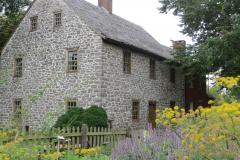 Schifferstadt Architectural Museum
One of the oldest buildings in Frederick (circa 1758), this stone farmhouse preserves the best example of early colonial German architecture in the country. Tour the museum on Saturdays from April to October, and if you can, plan your trip around the annual Oktoberfest celebration complete with a beer tent, German food, music and cultural activities. Oompah! (there is a suggested donation)
---
More about Schifferstadt Architectural Museum
---
Type:
History & Heritage
---
Location:
1110 Rosemont Ave
Frederick, MD 21701
301-663-3885
---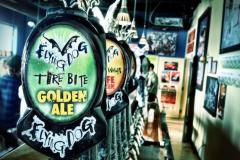 Flying Dog Brewery
Get a peek behind the scenes of the brewing process, along with the chance to do a little beer tasting, when you head to Frederick to visit a favorite among craft breweries. An important thing to know before you go, though: being a working brewery, you should come wearing closed-toe shoes, and children aren't allowed. Tours run Wednesday through Sunday. ($ admission)
---
More about Flying Dog Brewery
---
Type:
Attraction
---
Location:
4607 Wedgewood Blvd
Frederick, MD 21703
301-694-7899
---
Image Credit: the_ly_edition-Instagram
The Awakening at National Harbor
There's no chance of waking this sleeping giant—but there's a high probability of getting an amazing photo. "The Awakening" is a 15-foot-high, multi-piece sculpture of a bearded giant bursting from the ground.  For 30 years, the National Park Service had displayed the giant in Washington D.C.; now he makes his home on the beach at National Harbor. 
Brookside Gardens
Admire the beautiful blossoms at these public gardens in Wheaton. Originally planned by landscape architect Hans Hanses based on European designs and utilizing plants that thrive in Maryland's temperate climate, the gardens have grown to include the evocative Fragrance Garden, the Gude Garden with its Japanese tea-house, the glorious Rose Garden, and the fanciful Aquatic Garden. Brookside Gardens hosts several exhibitions throughout the year, including a live butterfly and caterpillar event.
---
More about Brookside Gardens
---
Type:
Arts & Culture
---
Location:
1800 Glenallan Ave
Wheaton, MD 20902
301-962-1400
---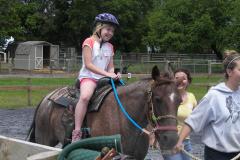 Days End Farm Horse Rescue
This national rescue and rehab facility in Woodbine gives horses a second chance. Home to up to 80 horses rescued by Maryland's animal control and humane agencies, Days End Farm offers daily tours. Come and learn about the rescue cause, hear the success stories, and, best of all, meet the horses!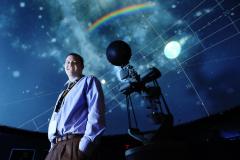 Image Credit: AP
William Brish Planetarium
Take a spin around the solar system, bust astronomy myths and learn how to keep our skies free of pollution at one of the planetarium's programs offered on the first and fourth Tuesdays of the month. ($3 adults/$2 kids; cash or personal checks only)
---
More about William Brish Planetarium
---
Type:
Attraction
---
Location:
820 Commonwealth Ave
Hagerstown, MD 21740
301-766-2898
---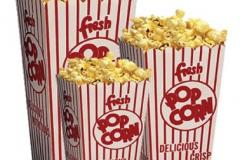 Movies on North Beach
The line-up of free movies runs through the fall at this Chesapeake Bay Beach in Calvert County. Plop a beach chair in the sand, snuggle under a blanket, and catch a film projected on a large inflatable screen. In September and October, the beach's visitor parking transforms into a drive-in where you can drive up and catch the latest flicks from the comfort (and warmth) of your car. See all outdoor movie locations.
---
More about Town of North Beach
---
Type:
Scenic Points & Landmarks
---
Location:
8916 Chesapeake Ave
North Beach, MD 20714
301-855-6681
---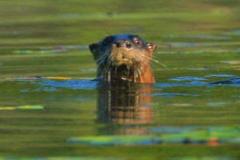 Image Credit: Frank Marsden
The Anita C. Leight Estuary Center
At this family-friendly wildlife reserve in Abingdon, get a hefty dose of the great outdoors while learning how - and why - you should help preserve the health and beauty of the Chesapeake Bay. Explore the Bay's ecosystem through interactive exhibits, a 300-gallon turtle pond and two miles of hiking trails.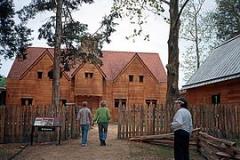 St. John's Site Museum
In the heart of historic St. Mary's City, this museum preserves the foundation of one of the largest enclosed spaces built in this colonial Maryland city back in 1638. Study archeological artifacts and learn about the history of the site where colonial legislators met to discuss policies 150 years before the existence of the U.S. Constitution. ($ suggested donation for museum; additional fees for admission to all site exhibits.)
---
More about Historic St. Mary's City
---
Type:
Attraction
---
Location:
Rt 5 and Rosecroft Rd
St. Mary's City, MD 20686
240-895-4990
---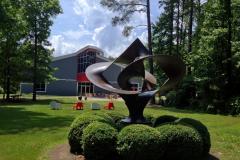 Annmarie Sculpture Garden & Arts Center
A colorful, six-ton ceramic gate stands sentry at the entrance to this whimsical 30-acre sculpture garden. More magic awaits inside: walk or bike the quarter-mile paved walking path to see unforgettable 3D art including a circle of granite standing stones and an interactive boardwalk inscribed with interviews of area residents. Check the calendar of events for rotating exhibits, public programs, and annual festivals. (reasonable admission fees)
---
More about Annmarie Sculpture Garden & Arts Center
---
Type:
Performing Arts
---
Location:
13470 Dowell Rd
Solomons, MD 20688
410-326-4640
---
Calvert Cliffs State Park
You'll find a fishing hole, playground, beach, and - best of all - fossils at Calvert Cliffs State Park in Lusby. Hike the 13 miles of trails and search the beach where more than 600 species of fossils have been discovered through the years including the giant megaladon shark! Chances are pretty high you'll collect a few fossilized shark's teeth.
---
More about Calvert Cliffs State Park
---
Type:
Attraction
---
Location:
10540 H.G. Trueman Rd
Lusby, MD 20657
443-975-4360
---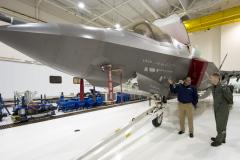 Image Credit: U.S. Navy
Patuxent River Naval Air Museum
Visit this museum to see an impressive display of aircraft, engines, radar and more. See how U.S. Naval aviation has progressed over the years, and take to the skies, virtually speaking, with a ride in a flight simulator. Open Tuesday through Sunday. (modest admission fees)
---
More about Patuxent River Naval Air Museum and Visitor Center
---
Type:
Attraction
---
Location:
22156 Three Notch Rd
Lexington Park, MD 20653
301-863-1900
---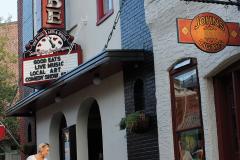 Image Credit: Worcester County Tourism
Globe Theatre in Berlin
Surround yourself with history at the Berlin Theater, Restaurant & Bar.  The property is undergoing a transformation but regardless, The Globe is a definite landmark in this uniquely quaint and arty small town with its very special Main Street.  There is never a bad time to enjoy charming Berlin but tacking a visit onto your beach vacation is popular for that very first trip.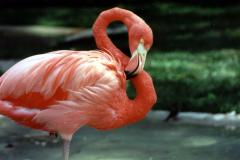 Image Credit: Salisbury Zoo
Salisbury Zoo
This 13-acre Zoo is home to critters including a jaguar, Andean bear and alligator. It is a great size for a family visit (and offers free parking) and provides group tours and even group overnighters.  The Salisbury Zoo's paved pathways and ramped board walks make the Zoo very accessible. Restrooms are equipped with changing tables and are ADA compliant. The Zoo encourages appreciation of wildlife and inspires conservation of our natural world.
Image Credit: ocbeachpro
Furnace Town Living Heritage Museum
This outdoor, living history museum in Snow Hill recreates life in a 19th-century village. The showpiece Nassawango Iron Furnace kept the town thriving between 1830 and 1850, and was the pinnacle of technology at the time. Visit the blacksmith, weaver, printer, and others. Families can also participate in archeological digs. (reasonable admission; there is an additional dig fee)
---
More about Furnace Town Living Heritage Village
---
Type:
Visual Arts
---
Location:
3816 Old Furnace Rd
Snow Hill , MD 21863
410-632-2032
---