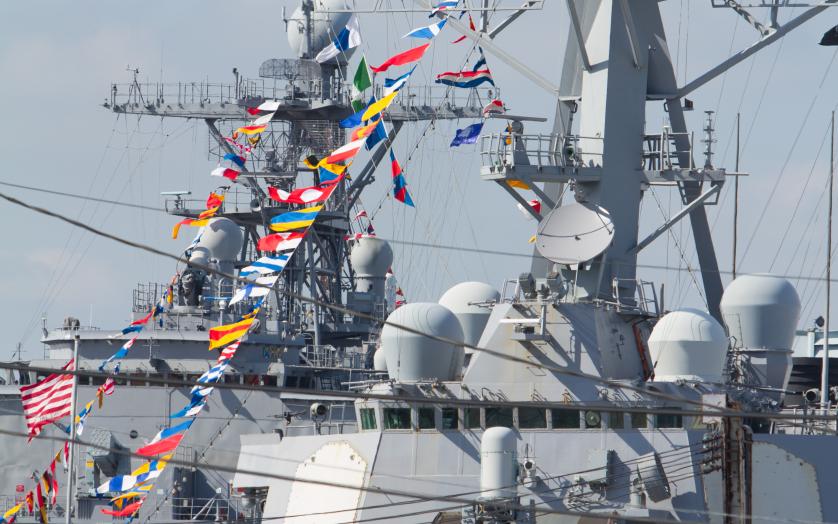 Visit Baltimore/OTD
Media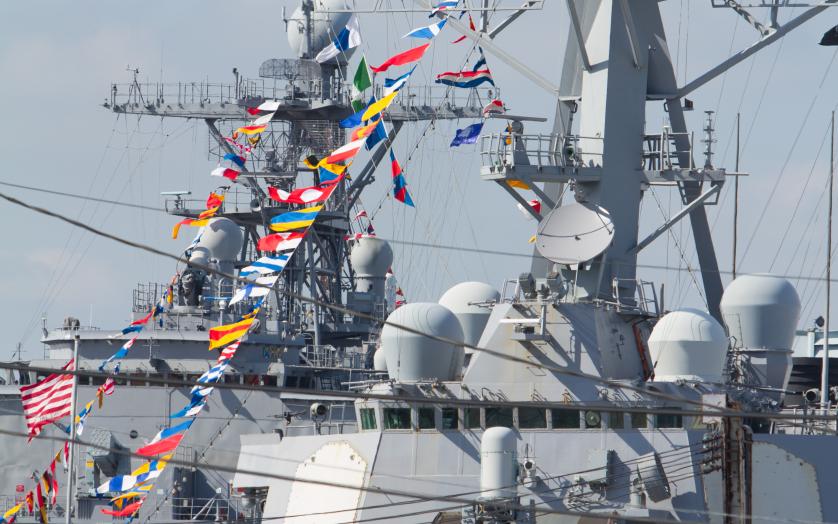 Visit Baltimore/OTD
FOR IMMEDIATE RELEASE
June 7, 2022
Media Inquiries: Dorothy Fuchs, Purple Dot Public Relations
Phone: 410-637-8337/410-598-1719 cell
[email protected]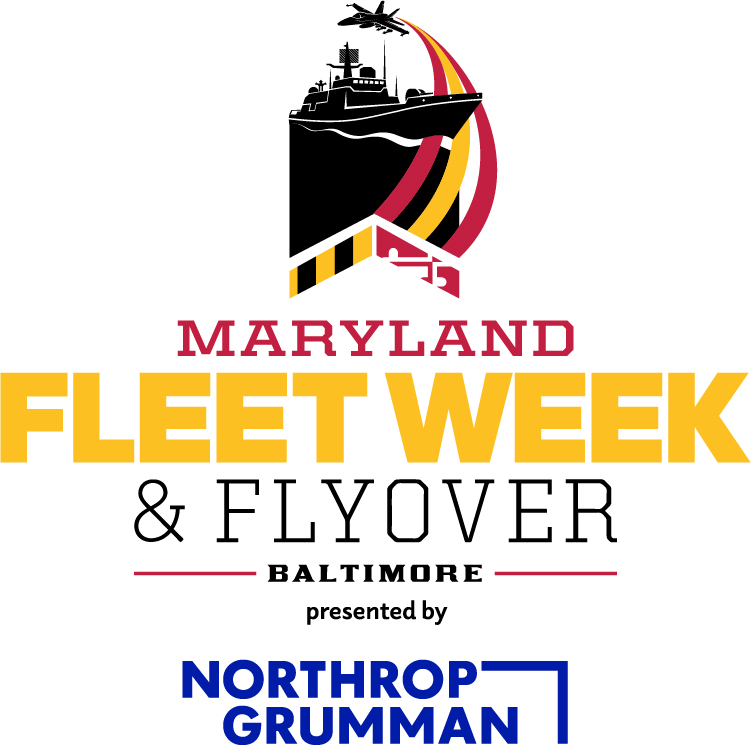 MARYLAND FLEET WEEK & FLYOVER BALTIMORE RETURNS IN-PERSON
SEPTEMBER 7-13, 2022
The Fleets, Flights, and Festivals Coming to Baltimore City and County
(Baltimore, MD)- June 7, 2022- It's official!  Maryland Fleet Week & Flyover Baltimore presented by Northrop Grumman returns to Baltimore City and Baltimore County this fall with an exciting line-up of ship tours, festivals, flyovers and educational activities, taking place IN-PERSON September 7-13, 2022 at the Inner Harbor, Upper Locust Point, Fells Point and Martin State Airport.  This week-long, family-friendly, free event celebrates the rich maritime traditions of the Chesapeake Bay and the contributions of Marylanders to the defense of the nation and is presented by title sponsor Northrop Grumman along with Historic Ships in Baltimore, a program of Living Classrooms Foundation. The event is held in partnership with the United States Navy, Maryland Department of Commerce, Sail Baltimore, City of Baltimore and Baltimore County as well as participating organizations Visit Baltimore, Waterfront Partnership, and Downtown Partnership. While Maryland Fleet Week & Flyover Baltimore will be held in-person, there will be virtual components such as live performances and behind-the-scenes tours. For more information, log onto www.mdfleetweek.com, connect on social media channels through @mdfleetweek on Facebook, Twitter or Instagram or call 866-639-3526.
"As the lead organization in coordinating this event, we are thrilled to welcome back Maryland Fleet Week & Flyover Baltimore and know that residents and visitors alike will delight in experiencing all that this event has to offer. It's an opportunity to come together and share our common love of history while also learning something new," said Chris Rowsom, Executive Director, Historic Ships in Baltimore. He added, " This event takes places every two years, and although virtual in 2020, we are happy to say that we will be in-person and are excited to be one of the first big events taking place in the city since the pandemic."
To kick off the celebration, the Maryland Fleet Week Welcome Ceremony, open to the public, takes place on Wednesday, September 7 at 4 p.m. at the Inner Harbor Amphitheater and will include the "official" welcoming of U.S. and international navies to the city, performances by U.S. Navy bands and special presentations and speeches.
"We are excited to support the 2022 Maryland Fleet Week & Flyover," said Todd Leavitt, Northrop Grumman vice president, Naval & Oceanic Systems. "Our more than 12,000 Maryland-based employees, including more than 1,600 veterans, are pioneering technologies to connect, advance and protect our U.S. and allied forces. Fleet Week provides an opportunity to honor those service members and to celebrate the state's rich maritime history alongside our families and community."
FLEETS: Ships begin arriving in Baltimore on Wednesday, September 7 and will include United States, British and Canadian naval ships, U.S. Coast Guard vessels, NOAA and Army Corps of Engineers working vessels, the USS John Brown and the Savannah as well as traditional sailing ships including the Danish sail-training tall ship Danmark. They will be docked at various locations around Baltimore, including the Inner Harbor, Fells Point and North Locust Point, and tours will be available from September 8-11 from 10 a.m.- 5 p.m. - (Official list of vessels will be available 30 days prior to event.)
FLIGHTS: NEW this year, there will be an exciting series of hourly flyovers of military aircraft, September 9-11 from 10 a.m.- 6 p.m., centered at Baltimore's iconic Inner Harbor. Event-goers will enjoy seeing and hearing the roar of jets overhead while strolling the festival or taking tours, providing access to more people than in previous years. Military aircraft will include F-18s, A-10s and other military assets. (Flight schedules are subject to change.)
FESTIVALS: The Fleet Week Festival, located around the Inner Harbor, includes lots of local flare with vendors, food, drinks, hands-on activities, a children's area, Ferris Wheel, and live music in addition to vendors from maritime, military, cultural and historical organizations. Highlights for the weekend include the "Selfie with a Sailor" Happy Hour, a Crab Soup Cook-off with military and local chefs, a Kids on the Bay Parade, Sunday Funday specials and more! The festival will take place September 9-11 from 11 a.m.- 7 p.m.
In addition, an Open House takes place at Martin State Airport on 701 Wilson Point Rd, in Middle River, Baltimore County on September 10-11 from 9 a.m.- 4 p.m. complete with static displays, food, drinks, and tours.
Maryland Fleet Week & Flyover Baltimore is currently seeking vendors, artists, food concessionaires and exhibitors for the festival as well as volunteers to support this large-scale event. For more information, visit [email protected] or https://www.visitmaryland.org/article/volunteer.
For more information on Maryland Fleet Week & Flyover presented by Northrop Grumman, log onto www.mdfleetweek.com, connect on social media channels through @mdfleetweek on Facebook, Twitter or Instagram or call 866-639-3526.
ABOUT HISTORIC SHIPS IN BALTIMORE  
Located in the heart of Baltimore's Inner Harbor, Historic Ships in Baltimore is the steward of two historic U.S. Navy vessels: the US Sloop-of-War CONSTELLATION and the US submarine TORSK.  CONSTELLATION is the last all-sail warship built by the U.S. Navy and has an historic provenance dating back to the 1797 frigate CONSTELLATION built in Baltimore.  USS TORSK, a WWII era Tench class "fleet boat" submarine, sank the last two Japanese enemy combatants and holds the record for the most dives of any US submarine.  Also under the care of Historic Ships are the US Coast Guard Cutter WHEC-37, the last ship still afloat to witness the Japanese attack on Pearl Harbor, Lightship 116 Chesapeake, which marked the entrance to the Chesapeake and Delaware Bays, and the Seven Foot Knoll Lighthouse, built in 1856 to mark the entrance to the Patapsco River and Baltimore Harbor.  As significant symbols of our nation's maritime heritage, the non-profit organization plays a key role in the heritage and cultural landscape within the City of Baltimore and strives to raise awareness throughout Maryland and the United States of these important elements of our nation's history. For more information, visit www.historicships.org.
Historic Ships in Baltimore is a program of the Living Classrooms Foundation, which has its roots in the maritime heritage of the Chesapeake Bay.  For more than 30 years, Living Classrooms has been providing hands-on maritime and environmental education programming for Baltimore area youth and adults. For more information, visit www.livingclassrooms.org.
ABOUT THE UNITED STATES NAVY AND MARINE CORPS TEAM
The Department of the Navy recruits, trains, equips, and organizes to deliver combat ready Naval forces to win conflicts and wars while maintaining national security and deterrence through sustained forward presence. The U.S. Navy and Marine Corps Team are deployed around the world during peacetime and during conflicts.  The Navy and Marine Corps team also supports humanitarian assistance and disaster relief efforts. Forward presence allows the U.S. Navy and Marine Corps team to do what needs to be done, when called upon to do it. The service members participating in the Maryland Fleet week are warfighters first who train to be ready to operate forward to preserve peace, protect commerce, and deter aggression.
ABOUT MARYLAND TOURISM
The Maryland Office of Tourism is an agency within the Maryland Department of Commerce. Visitors to the state spent $11.6 billion on travel-related expenses in 2020. The Maryland tourism industry also generated $1.7 billion in state and local taxes, essentially saving each Maryland household $775 in annual taxes, and directly supported Marylanders with 104,328 jobs. For more information, go to www.visitmaryland.org or connect with us on our social media channels | Facebook | Twitter | Instagram | YouTube
ABOUT SAIL BALTIMORE
Sail Baltimore, founded in 1975 as Baltimore Operation Sail, LTD, is a unique non-profit that brings magnificent tall ships, historic and high-tech military vessels, and other ships of historic, educational and environmental interest from around the world, on behalf of the city and state.  We have hosted more than 800 ships offering millions of visitors a FREE exciting opportunity to visit some of the world's greatest seagoing vessels. 
ABOUT VISIT BALTIMORE
Visit Baltimore is the official sales and marketing organization for Baltimore that generates economic benefits for stakeholders through the attraction of convention, group and leisure visitors. For more information, please visit www.baltimore.org.
ABOUT NORTHROP GRUMMAN
Northrop Grumman is a technology company, focused on global security and human discovery. Our pioneering solutions equip our customers with capabilities they need to connect, advance and protect the U.S. and its allies. Driven by a shared purpose to solve our customers' toughest problems, our 90,000 employees define possible every day. For more information, please visit northropgrumman.com or follow us on LinkedIn and Twitter.
Join Northrop Grumman and you won't just dream of the art of the possible – you'll define it.www.ngc.com/careers
Learn More About Maryland Fleet Week & Flyover Baltimore