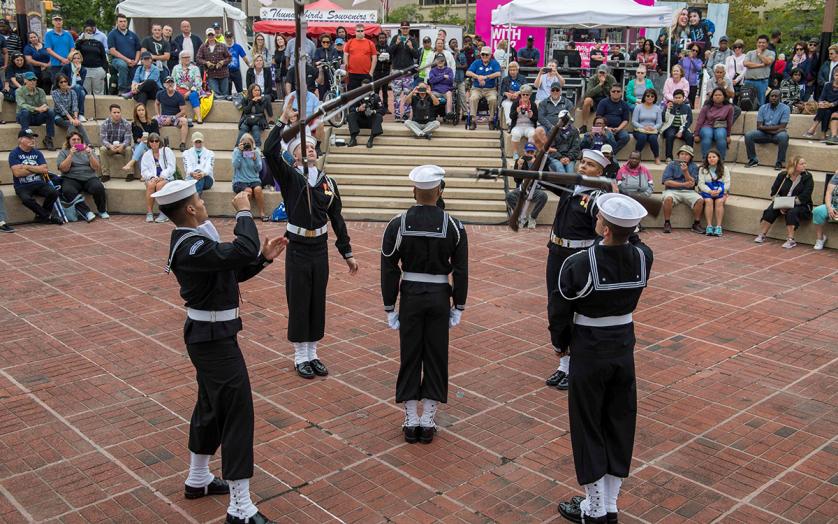 Fleet Week FAQ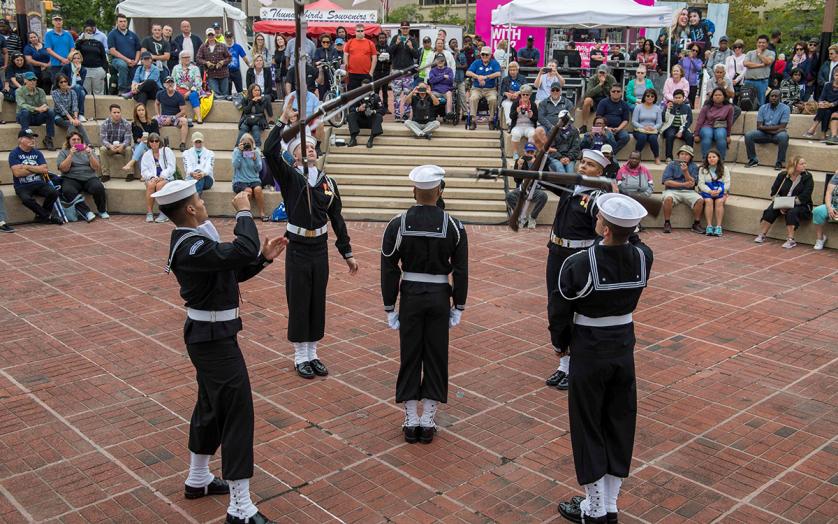 Maryland Fleet Week & Flyover Baltimore
Frequently Asked Questions 2024
Fleet Week social media handles for more & most up-to-date information:
Website: www.mdfleetweek.org
Twitter: @MDfleetweek
Facebook: facebook.com/mdfleetweek
Instagram: @mdfleetweek
YouTube: #mdfleetweek
Phone number: 866-639-3526
WHAT IS MARYLAND FLEET WEEK & FLYOVER BALTIMORE?
Maryland Fleet Week & Flyover Baltimore will take place June 12-18, 2024, and celebrates the rich naval traditions of the Chesapeake Bay and the contributions of Marylanders to the defense of the nation. United States and foreign Navy vessels will be in port and open for public tours Thursday, June 13 through Monday, June 18 at the Baltimore Inner Harbor, Fells Point, Baltimore Peninsula, and North Locust Point.  There will be a series of military and civilian aircraft flyovers taking place above the Inner Harbor on Saturday, June 15 and Sunday, June 16, from approximately 10 am- 6pm.  Festivals with food and beverage and family activities will be at the Inner Harbor West Shore Park, Fells Point, Martin State Airport, and Baltimore Peninsula.
IS THERE A WELCOME CEREMONY?
Yes. Ships begin arriving in Baltimore on Wednesday, June 12 with an official welcome ceremony scheduled to take place at 4PM at the Inner Harbor Amphitheater located at the intersection of Pratt and Light streets. This event is open to the public.
WHAT NAVY VESSELS AND SHIPS WILL BE DOCKED IN BALTIMORE AND WHERE?
The ships will include United States and Canadian naval ships, U.S. Coast Guard vessels, NOAA (National Oceanic and Atmospheric Administration) and Army Corps of Engineers vessels, the USS John Brown, the NS Savannah, as well as local and visiting traditional sailing ships. They will be docked at various locations around Baltimore, including the Inner Harbor West Wall and Inner Harbor Piers 1 - 5, North Locust Point Pier 4, Canton Pier 13, the Under Armour Pier in Locust Point, Baltimore Peninsula, and the Broadway Pier, Fells Point. Ships will be open for public tours from June 13 through June 17 from 10 am-5PM.  Ship names and locations will be posted 30 days prior to the event. NOTE: INDIVIDUAL SHIPS MAY ADJUST HOURS FOR SPECIAL EVENTS.  PLEASE DOWNLOAD THE FLEET WEEK APP TO CONFIRM OPEN TIMES AND SPECIFIC LOCATIONS FOR THE SHIP(S) THAT YOU WISH TO VISIT.
WHAT SHIPS ARE VISITING?
The list of ship types and names will be announced and available here and on the Fleet Week APP approximately 30 days prior to the event.  Please check back!
WHERE ARE THE BEST PLACES TO SEE FLYOVER BALTIMORE?
Military and civilian aircraft will conduct flyovers centered over the Inner Harbor on Saturday, June 15 and Sunday, June 16 from approximately 10AM-6PM. Stop by Flyover Control located at Inner Harbor Pier 1, USS Constellation Center, and hear up-to-the-minute announcements about the flyovers and aircraft from National Aviation Expert Matt Jolley.  Also, download the Fleet Week APP for the most up to date flyover schedules and aircraft list.
IS EAR PROTECTION NECESSARY FOR FLYOVERS?
Ear protection is recommended for children and anyone with sensitivity to loud noise while planes and jets are flying over.  The schedule for flyover activity will be posted on the Fleet Week APP.
WHERE ARE THE FESTIVAL SITES LOCATED?
INNER HARBOR: From Friday, June 14 to Sunday, June 16, 11AM-7PM, the free, family-friendly Inner Harbor Fleet Week Festival takes place at West Shore Park which is located near the Baltimore Visitor Center at 401 Light Street, Baltimore Maryland 21202. Festival goers can enjoy hands-on activities, vendors from maritime, military, cultural, and historical organizations, local food and drinks, music performances from Navy and local bands, a kid's zone, and other entertainment! SPECIAL EVENTS include Crab Soup Cook-off, a Kids on the Bay Mermaid themed parade on the Promenade, Family Fun Zone activities, and Sunday Funday. Children are invited to don costumes and take part in the Bay Mermaid parade around the Promenade on Saturday, June 15 starting at 11AM.
FELLS POINT: Details to be announced.  Festival activities will take place at or near 1701 Thames St., Baltimore MD 21231.
BALTIMORE PENINSULA: Details to be announced.  Festival activities will take place at 301 E. Cromwell St., Baltimore, MD 21230.
MARTIN STATE AIRPORT: Martin State Airport and the Glenn L. Martin Maryland Aviation Museum will host a two-day community open house and festival on Saturday, June 15 and Sunday, June 16 from 9AM- 4PM each day. The event will feature aircraft on display, musical entertainment, souvenirs, and local Maryland food vendors. The weekend activities offer fun for families and exhibits that highlight Maryland's rich aviation history.
The Martin State Airport open house and festival will also provide special opportunities for the public to see the flyover aircraft and aviators. The flyover participants will depart and arrive at Martin State Airport throughout the weekend. The best place to see the aircraft will be at the airport.
The gates to Martin State Airport at 701 Wilson Point Road, Middle River, MD 21220 open to the public at 9AM on both Saturday and Sunday, with aircraft displays starting at 10AM.  Free off-airport parking and shuttle bus service will be provided to and from the open house and festival. The public should look for parking information along Eastern Blvd as well as MD-43, near the airport.
Airport visitors will be required to pass through security screening to access the aircraft displays on the airport tarmac. The airport gates will close each day at 4PM.
IS THERE A COST FOR EVENT ADMISSION?
Maryland Fleet Week and Flyover Baltimore events are free and open to the public and include tours of naval vessels, family-friendly festivals and series of military and civilian aircraft flyovers.
WILL I BE ABLE TO BOARD AND TOUR NAVY SHIPS AND WHAT SHOULD I EXPECT?
Yes!  Be prepared to pass minor security clearance to do so and note that during Fleet Week all bags will be searched. There is no age requirement to access naval vessels during Maryland Fleet Week; however, there may be steep ladders and/or stairways to climb and uneven surfaces to traverse during a ship tour, and thus, tours may not be appropriate for small children and may be difficult for parents carrying young children. Guests should wear comfortable clothing and shoes.
Also, ship tours may not be appropriate for individuals with heart conditions, breathing difficulties, or other medical conditions or mobility challenges impacting their ability to navigate active-duty ships. Strollers or baby carriages are permitted on the pier but are not allowed on ships.
PLEASE NOTE: The following items are not permitted on board ships: electronic smoking devices, bottles, water bottles, cans or glass containers of any type; banners, posters or signs of any type; mace, pepper spray, or other defensive sprays or chemicals; knives, firearms, fireworks or any explosive; illegal drugs or paraphernalia; flammable liquids or aerosol spray cans; club weapons; and animals. All electronic devices are subject to examination for functionality. The military services reserve the right to prohibit other items not listed above.
Photography is permitted aboard the ships; however, photos of security personnel or procedures are prohibited.
CDC guidelines will be followed at the time of the event.
ARE NAVY SHIPS ACCESSIBLE?
Unfortunately, Navy ships, due to the nature of their mission, are not handicap accessible.
MAY I BRING MY PETS?
We love our pets, too, but due to the large crowds and potential for changing weather conditions, we ask that for their safety that pets remain at home. Pets are not allowed aboard the visiting ships. Service animals are welcome at the festivals.
WHERE ARE PUBLIC RESTROOMS LOCATED AT THE INNER HARBOR?
Portable restrooms will be located on the north end and south end of West Shore Park at 401 Light Street, on USS Constellation Dock, and on Pier 5.
WHERE SHOULD I PARK AT THE INNER HARBOR?
There are several parking garages located in downtown Baltimore and around the Inner Harbor. Please be prepared to pay for parking. Metered street parking is available but very limited.  Consider using the Light Rail, Charm City Circulator, and other public transportation options.
WHERE SHOULD I PARK AT BALTIMORE PENINSULA? To be announced
WHERE SHOULD I PARK AT FELLS POINT? To be announced
ARE THERE SHUTTLE BUSES TO SHIP LOCATIONS?
Two free FLEET WEEK shuttle bus routes are available:
Inner Harbor to Baltimore Peninsula and Locust Point Shuttle Buses: Bus stop at Maryland Science Center at Key Highway entrance to City Garage Parking Lot stop at 101 Dickman Street, Baltimore, MD 21202 to Port Covington stop at 321 E. Cromwell Street, Baltimore, MD 21230. Friday, June 14 through Sunday, June 16 from 11AM to 8PM.
Martin State Airport Shuttle Buses: Stop at Lockheed Martin parking lot on Eastern Boulevard in Middle River, MD 21220 to Martin State Airport at 701 Wilson Point Road, Middle River, MD 21220. Additional stop at satellite parking lot at 11572 Crossroads Circle, Middle River, MD 21220 if needed. Saturday, June 15 and Sunday, June 16 from 9AM to 5PM.
WILL FLEET WEEK EVENTS TAKE PLACE RAIN OR SHINE?
Festival events and ship visitation will take place rain or shine except in severe conditions. The safety of attendees and participants is paramount. To ensure the safety of pilots and crews, inclement weather may delay or cancel flyover activities.  Get up-to-date information by downloading the Maryland Fleet Week APP.
IS PUBLIC TRANSPORTATION AVAILABLE AROUND BALTIMORE?
Yes, MTA buses, Light Rail Link, and Metro Subway Link are available. For schedules, visit the website WWW.MTA.MARYLAND.GOV.
The Charm City Circulator buses operate in Baltimore as well. For schedules, visit HTTPS://TRANSPORTATION.BALTIMORECITY.GOV/CHARM-CITY-CIRCULATOR.
The MARC Train Station is just steps away at 301 W. Camden Street near Oriole Park at Camden Yards. For info, visit HTTPS://WWW.MTA.MARYLAND.GOV/SCHEDULE/MARC-CAMDEN.
To enjoy travel around the Inner Harbor by water, the Baltimore Water Taxi operates a regular schedule from the Inner Harbor, Fells Point, Canton Waterfront Park, and other stops. For info, visit WWW.BALTIMOREWATERTAXI.COM.
WHAT OTHER SIGHTS AND ATTRACTIONS CAN I EXPERIENCE WHILE I'M IN BALTIMORE?
Baltimore is a city rich with history and culture, an array of world-class museums and attractions, a topnotch culinary scene, and an impressive selection of hotels. Our many one-of-a-kind neighborhoods – which continue to expand with the opening of restaurants, shops, cafes, and more – as well as an exciting calendar of annual events, bring enjoyment to people of all ages. In Baltimore, you can honor the past while enjoying endless opportunities to explore, learn and have fun. For centuries, Baltimore has played a significant role in our nation's history. Many of our museums and attractions paint a spectacular picture of how Baltimore has helped shape America through exhibits, special programs and events, interactive activities and "hands-on" history. HISTORIC SHIPS IN BALTIMORE,  located at the Inner Harbor, features the Sloop-of-War USS CONSTELLATION, the last all-sail warship built by the US Navy, the US Submarine TORSK, which sank the last two enemy combatants in the Pacific at the end of WWII, and the US Coast Guard Cutter WHEC-37, the last surviving warship to witness the 1945 attack on Pearl Harbor.  FORT MCHENRY NATIONAL MONUMENT AND HISTORIC SHRINE is the "birthplace of our national anthem". Other sites you will only find in Baltimore include the B&O RAILROAD MUSEUM, which contains the country's oldest and most comprehensive collection of American railroad artifacts and the MARYLAND CENTER FOR HISTORY AND CULTURE, which houses the original manuscript of "The Star-Spangled Banner." Adventure seekers can climb the WASHINGTON MONUMENT located in the Mount Vernon neighborhood, the nation's very first monument dedicated to our first President, or take a walking tour along the STAR-SPANGLED BANNER NATIONAL HISTORIC TRAIL or The Baltimore CIVIL WAR TRAIL. Baltimore has a celebrated African American history as well, which can be explored at the REGINALD F. LEWIS MUSEUM OF MARYLAND AFRICAN HISTORY & CULTURE, the largest African American museum on the East Coast, the NATIONAL GREAT BLACKS IN WAX MUSEUM, the only wax museum of its kind in the country, and the FREDERICK DOUGLASS-ISAAC MYERS MARITIME PARK MUSEUM, which recounts the history of these two influential men and the nation's first black-owned shipyard; and more. In addition to our rich historical attractions and museums, the whole family can enjoy other spectacular Baltimore institutions including the NATIONAL AQUARIUM, the MARYLAND SCIENCE CENTER, the free BALTIMORE MUSEUM OF ART and THE WALTERS ART MUSEUM, the MARYLAND ZOO IN BALTIMORE, PORT DISCOVERY CHILDREN'S MUSEUM and many more. Afterwards, stop at one of our renowned restaurants for a great meal or stroll and shop in any of our charming neighborhoods. A visit to Baltimore is sure to be full of fun and excitement and an experience that is not only one-of-a-kind, but memorable, too.
LEARN MORE ABOUT MARYLAND FLEET WEEK & FLYOVER BALTIMORE