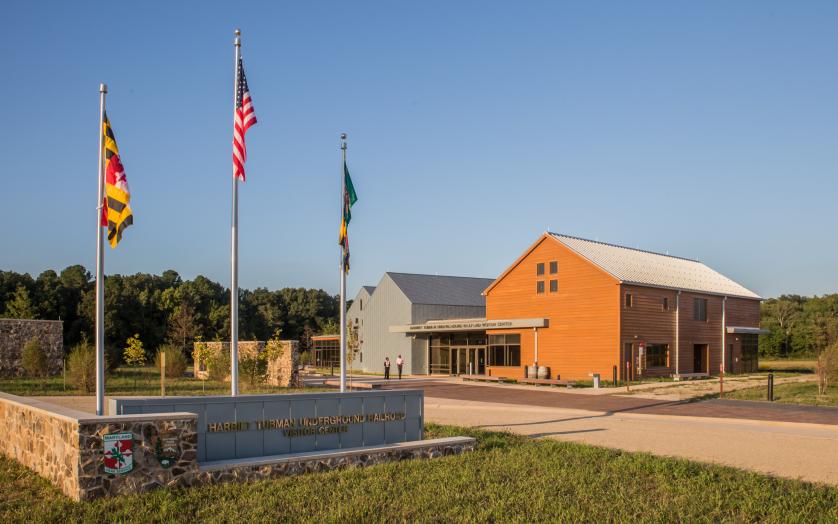 VisitDorchester.org
What's New in Maryland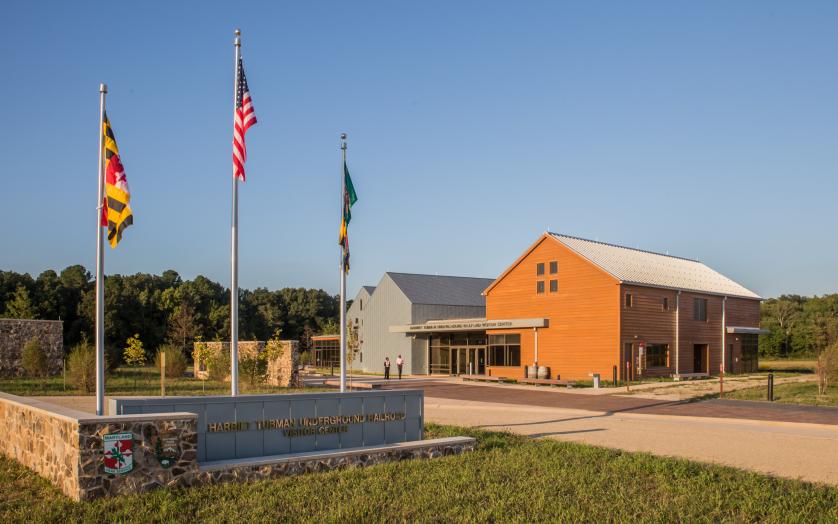 VisitDorchester.org
SIGNIFICANT ANNIVERSARIES/Events
Burning of the Peggy Stewart 250th Anniversary – October 2024 will be the sesquicentennial of the "Annapolis Tea Party."  The Maryland Society of the Sons of the American Revolution a number of celebratory events from April 2024 to April 2025.
Maryland Transportation Authority's Toll Facilities – Cashless toll collection at all toll facilities is now in place – Francis Scott Key Bridge (I-695), Fort McHenry Tunnel (I-95) and Harbor Tunnel Thruway (I-895) in Baltimore; the Thomas J. Hatem Memorial Bridge (US 40) and John F. Kennedy Highway (I-95) in Perryville; the William Preston Lane Bridge/Chesapeake Bay Bridge (US 50 & 301); and the Potomac River Bridge (US 301).  Tolls are collected by EZ-Pass or video tolling.  
On the Horizon
Baltimore & Ohio Railroad Museum – The 200th anniversary of American Railroading festivities will begin in 2027.
Preakness Stakes – The 2nd Jewel of the Triple Crown Horse Race will be celebrating its 150th anniversary in 2025, May 17, 2025.
United States 250th Anniversary – Celebrating the sesquicentennial of the founding of the U.S., which will occur July 4, 2026.
---
CENTRAL MARYLAND
Annapolis City Dock – A $40 million overhaul of the City Dock is progressing this year and will transform the popular waterfront area into a new park.  The park is expected to be completed in 2024.
Annapolis Maritime Museum – Offers new exhibits that provide a state-of-the-art, high tech, high touch gallery divided into three thematic sections: Bay Health, Oyster Economy, and Annapolis Waters.  Skipjack Wilma Lee – back in operation for public sails with a heritage focus and as part of its educational program for children. Capable of 42 people.
Baltimore Visitor Center – The Inner Harbor Visitor Center is open, with reduced hours. Located at 401 Light Street, the center is open Wednesday-Saturday, 10 AM to 3 PM. 
CFG Bank Arena – The $200 million redevelopment of the downtown arena is in its final stages.  The arena has a new sponsor name, new interior seating, a new performance stage and upgraded and reimagined food and beverage areas.
Carnival Cruise's Legend – Carnival Cruises replaced the Pride with the Carnival Legend.
Norwegian Cruise Lines – NCL will start cruising from Baltimore in the Fall of 2023, with destinations to the Bahamas, Bermuda, Dominican Republic & Canada/New England on two ships Norwegian Sky and Norwegian Sun.
Royal Caribbean International's Enchantment of the Seas – The Enchantment of the Seas vessel will be replaced by Vision of the Seas, starting in May 2023.
Discovery Center at Water's Edge – Plans for a 10,000-square-foot facility, targeted to open in 2024, would include 12-15 interactive hands-on exhibits, IMAX auditorium and flex space.  The full 35,000 square-foot facility would open in 2026. 
Harborplace – A local developer, P. David Bramble of MCB Real Estate, takes control with plans for an extensive renovation, bringing a modern gathering location that is authentically Baltimore, like new eateries, java hotspots, breweries and retailers.  Harborplace remains open, however there are a limited number of dining options.
Hippodrome Theatre at the France-Merrick Performing Arts Center – In Spring 2023, the M&T Bank Pavilion will reopen, currently undergoing a $20 million renovation. The flexible event space will offer seating for between 550 and 1,500 people, with a focus on local and live music and other performances.
Lexington Market – The city's flagship public market, the oldest in America at 240 years old, has reopened with a few stalls, after a $45 million revitalization. The new Lexington Market will include a 61,000-square-foot shed for vendors and a large plaza on Lexington Street, public art and more. The grand opening will be Spring 2023. 
Maryland Zoo in Baltimore – They have developed a 10-year Master Plan, likely to include a new build near the front gate, to feature indoor and outdoor habitats for amphibians and reptiles; a new exhibit for gibbons in 2025; and a new Grizzly bear exhibit in 2026. 
National Aquarium in Baltimore – Installation of glass pyramid roof is completed and the Upland Tropical Rain Forest has reopened.  Prices are likely to increase in 2023.  They have also created a "Group Tours and Experience," offering an upscale, early entry, private experience with a guide on the crest and educators throughout the first several floors. 
National Cryptologic Museum – After being closed for two-and-a-half years for total interior remake, the museum has reopened. Visitors can glimpse some of the most dramatic moments in the history of American Cryptology, the people who devoted their lives to cryptology and national defense, the machines and devices they developed, the technology they used, and the places where they worked. 
Sandy Point Nature Center – An interactive and inspiring Nature Center has opened, where you can learn about the plants and animals that make the Chesapeake Bay their home.  The center displays collections of local wildlife including a snake, turtles and frogs. Visitors can enjoy hands-on displays and an area where they can dress up like a ranger.  They offer interpretive programs and environmental education programs for grades 3-8. 
Toby's Dinner Theatre – A new 350-seat dinner theater will be built at Symphony Woods as part of a larger arts district, the New Cultural Center.  Once they break ground, they hope to finish in 12-16 months.   They will only close for about 2 week as the move into the new theatre.  They hope to open in 2024. 
Upcoming: Grease (Mar.24-Jun.11, 2023); Escape to Margaritaville (Jun.16-Aug.20, 2023); Sister Act (Aug.25-Nov.5, 2023); Miracle on 34th Street (Nov.10-Jan.7, 2024); A Chorus Line (Jan.12-Mar.10, 2024)
U.S.S. Constellation Museum/Water Taxi Terminal – The U.S.S. Constellation Museum has been replaced with a new ADA compliant structure.  It will operate in partnership with the Water Taxi and Living Classrooms and opened in Fall 2022.  
The Walk at Warner Street  – South Baltimore's Entertainment District, located by the stadiums and Horseshoe Casino
Paramount Baltimore – Horseshoe Casino has plans for a new 4,000 seat concert venue in the new entertainment district. In addition, a hotel is also planned. 
Top Golf Baltimore – Golfing entertainment has opened with 90 high-tech climate-controlled hitting bays, full-service bar & restaurant, yard games sprawling video wall.  
---
GREATER WASHINGTON
The Crossvines – Crossvines will be a multi-purpose facility in Poolesville that will feature a custom grape-crushing facility, a casual bistro, a special events venue and a winery.  There will be a spectacular outdoor wedding venue and a 250-seat banquet hall. They will also offer educational opportunities for both visitors and students alike to connect to and learn about the local winemaking and agri-tourism industries.
National Harbor – Fogo de Chao, Silver Diner and It's Sugar will soon open storefronts at National Harbor, joining about 60 other restaurants currently there.  Fogo de Chao will open a 12,000-square-foot restaurant at 141 National Plaza, while Silver Diner will open a 7,100-square foot restaurant on Waterfront Street in 2023.  Spirit Park at National Harbor will brim with patriotism, with the largest American flag (50 x 80 feet) in the region, and it will be surrounded by 13 smaller flags.  The park will include an amphitheater for concerts and other events as well. 
Tanger Outlets National Harbor – The outlets will be expanding and hope to offer a food court in the future. In the time being, a Food Truck Court is available for dining. 
---
 EASTERN SHORE
Phillips Wharf Environmental Center – The center will open a facility at the future Easton Point Park in Easton.  The 11-acre park is part of a mixed-use waterfront development plan that will also include a promenade, boatel, seafood market, restaurants, and housing.  There are plans to expand with educational programs for adults on ecology.
Roland E. Powell Convention Center – A convention center expansion was completed in 2022. The design has expanded the exhibit hall space by 30,000 square feet, and has increased the parking needs of the facility. 
Suicide Bridge Restaurant/Choptank Riverboat Company – Suicide Bridge has scheduled a monthly murder mystery dinner cruise and have added a Golden Girls parody show cruise for 2023. 
Ward Museum of Wildfowl Art – Due to an HVAC failure, the museum galleries are closed until further notice. 
---
SOUTHERN MARYLAND
Historic St. Mary's City – The museum will begin construction on a new Visitor Center, tentatively named the Maryland Heritage Interpretive Center (MHIC).  The new indoor museum will feature interactive exhibits that will help further tell the complex story of the area.
Mallows Bay Park – Mallows Bay has been designated a national marine sanctuary to protect the remains of more than 100 abandoned steamships and vessels built as part of America's engagement in World War I.  Located along an 18-square mile stretch of Potomac River, the sanctuary boasts a collection of historic shipwrecks dating back to the Civil War, as well as archaeological artifacts nearly 12,000 years old. 
Maryland Dove - A newly built replica of the Maryland Dove is on display at Historic St. Mary's City. 
Potomac River Bridge (Nice/Middleton Bridge) – The MDTA has built a new 1.9 mile bridge across the Potomac River.  The project replaces the existing two-lane bridge with a new, four-lane span that is aligned with the existing roadway approaches in Maryland and Virginia.
St. Clement's Island Museum – They are currently undergoing architectural/engineering review and plan to completely renovate the entire museum along with a complete redesign of new exhibits, etc. 
---
WESTERN MARYLAND
Fort Ritchie Museum – They preserve the legacy of over seventy years of military history from 1926 through 1998 including the now globally known Ritchie Boys of WWII, featured in a recent 60 Minutes story.  A new full-scale museum and educational museum will open in Spring 2023. 
Garrett College Community Education and Performing Arts Center – A new state-of-the-art theater with 400-500 seats has opened on campus.   
Hagerstown Aviation Museum – Home to the largest collection of Fairchild aircraft and memorabilia in the world; the museum has grown from a concept to a collection of 23 historic aircraft and over 10,000 photos and artifacts spanning over a century of aviation.  A large hangar is being renovated to include exhibits, the airplane collection and event space.
Hagerstown Stadium & Sports Events Facility – Funding has been approved and a new stadium will be built for a new professional baseball team of the Atlantic League. 
National Road Museum – Visitors to the 1,900 square-foot building will learn the history of the Historic National Road, the first major east-west route that carried early settlers from the historic seaport in Baltimore to Illinois, and its impact on the development of transportation technology.  They expect to open soon. 
Western Maryland Scenic Railroad – The newest steam locomotive at WMSR is the #1309, it is the largest compound-articulated steam locomotive in service in the world and available for rail excursions in 2022. The General Manager comes from the Maine Narrow Gauge Railroad and welcomes groups.  The Steam train will operate mostly on weekends (Fri-Sun) and during October (Wed-Sun). 
The railroad ties surrounding this island green define the legenday course designer Pete Dye
Hotels – New, Changes & Updates
CENTRAL MARYLAND
Roost Apartment Hotel – A new hotel will open this summer at Baltimore Peninsula, billing itself as an extended-stay property that blends the attributes of a boutique hotel and upscale apartments.  With 81 extended-stay units and 40 apartments, it will be located at 2400 Terrapin Way in Port Covington.
Ulysses Hotel – A 116-room newly opened hotel, housed in the Latrobe Building, is giving a second life to one of the city's historic, Italian Renaissance–inspired buildings.  The boutique hotel offers a total of 120 upmarket guest rooms and suites.
Hotels in the Works
Hampton Inn / Home2 Suites-Towson – A new 220-room combined property will be constructed as part of the new Towson Row development project.  The hotels will have a shared lobby area on Chesapeake Avenue. 20-21 W. Susquehanna Avenue.
Hilton Garden Inn-Downtown – A new construction will bring a 14-story, 87,000-square-foot space to 25 S. Calvert Street with 151-rooms. The hotel will also have meeting space, a pool and a lounge.  Anticipated opening is May 2024.
Hunt Valley Town Center hotel – The Hunt Valley Towne Centre has announced a $150 million plan for its expansion.  The plan includes a hotel in the northwest corner of the property, behind the former Sears building.
Residence Inn by Marriott at Harbor Point – In the works for Harbor Point, the 27-acre development sandwiched between Fells Point and HarborEast, is a 152-room extended-stay hotel.
The Study at Johns Hopkins – JHU is planning to open a university-branded hotel and conference center across from its Homewood campus.  Plans call to convert an 11-story apartment building at the corner of North Charles and East 33rd streets into a 115-room hotel, complete with a restaurant, and meeting and conference spaces. Study Hotels will lead the renovation and operate the hotel on the property that is owned by Hopkins, with an expected opening in 2024.
Unnamed Hotel Columbia – Developer Howard Hughes has approval for a new 15-story, 208 room upscale hotel in Columbia's Merriweather District.  Designs for the project show a modern metal, dark-colored brick and glass building that incorporates a tall hotel tower, as well as a 4,000 sq. ft. ballroom, pool deck and restaurants overlooking what will eventually become a walkable, urban district in the heart of Columbia.
---
GREATER WASHINGTON
AC Hotel by Marriott Bethesda – A downtown Bethesda new build opened with 220 contemporary guest rooms, a 4,000 SF state of the art fitness center, as well as 3,100 SF of meeting space on the 18th floor, including an outdoor terrace with views of downtown DC.  The restaurant, Corella Cafe & Lounge, is located on the ground floor with expansive outdoor seating.  Hotel will be operated by OTO Development.
Marriott Bethesda Downtown at Marriott HQ – Marriott opened a 245-room hotel, with a sit-down restaurant, multiple bars, a concierge lounge, 8,000 sq. ft. of indoor/outdoor function space, and adjacent to the new Marriott World Headquarters complex in downtown Bethesda.   7707 Woodmont Avenue, Bethesda.
Hotels in the Works
Marriott Downtown Frederick – Plamondon Hospitality Partners has proposed a general layout of the four-story, 230-room hotel, 20,000-square-foot conference center, neighboring retail building and courtyard planned for 200-212 E. Patrick St., along Carroll Creek.
Residence Inn by Marriott-Silver Spring/Downtown – A proposed 173-room hotel, by Starr Capital, would be located at 8600 Georgia Avenue, the site of a current gas station.
Visitation Frederick Hotel – A developer purchased a girl's school in downtown Frederick.  The historic school building is undergoing a total renovation and will be transformed into a boutique hotel with 57 standard hotel rooms and 10 extended stay rooms. The hotel will be affiliated with Marriott.  The hotel will feature a full-service spa and fitness center, a performance/events venue, and a white-tablecloth restaurant & bar. Valet services will provide easy parking solutions to patrons.
Wingate by Wyndham Beltsville – Plans are in the works to bring a third hotel to the Beltsville area. Proposed is a 90-room, 60,500 sq. ft. property, built on a 1.45 acre parcel at 10700 Rhode Island Avenue.
---
EASTERN SHORE
Dunes Court & Dunes Suites – Harrison Group Resort Hotels & Restaurants has added these 27th Street properties in Ocean City, to their growing oceanfront hotel portfolio.
Great Wolf Lodge – A $200 million, 44-acre lodge and waterpark is being built, next to the Hollywood Casino Perryville will open July 15, 2023.  The new property, will be the largest property to date, with 700 suites and a 126,000 square-foot indoor water park.
Hilton Garden Inn Ocean City Beachfront – OTO Development is renovating and rebranding the Dunes Manor Hotel in Ocean City.  The project completion will be in late Spring of 2023, the hotel will reopen as a Hilton Garden Inn.
Hyatt Place Kent Island – A new build on Kent Island opened at the end of 2022.  The 120-room hotel will include 5,000 sq. ft. of meeting space/conference center, and a 44-slip marina.  Located next to the Fishermen's Inn complex, hotel is located at 3028 Kent Narrows Way S., Grasonville, MD 21638.
Ocean City Fontainebleau Resort – The Clarion Resort Fontainebleau Hotel was sold to MPV OCMD Operator LLC, which will soon give the Clarion a new name.  www.ocbeachresort.com
Hotels in the Works
Margaritaville Resort Hotel – Developers have presented conceptual plans for developing the former Phillips Beach Plaza property in Ocean City.  The proposed project includes 265 hotel rooms, conference space, restaurants, bars, indoor and outdoor pools, and upscale retail along the Boardwalk between 13th & 14th Streets.
---
SOUTHERN MARYLAND
Rod N Reel Resort – The Chesapeake Beach Resort & Spa launched an expansion project that included tearing down the older part of the property, and building a new structure that's compliant with current flood regulations. A sky-lit glass atrium will connect the existing hotel with the new structure. The new hotel will include a two-story Rod 'N' Reel restaurant, three levels of hotel suites, retail units, an arcade, boardwalk promenade, restaurants, gaming and bingo areas, a rooftop pool and bar and a parking facility. It has been rebranded as the Rod N Reel Resort.  In 2022, they have opened a new barbecue restaurant - CBQ, two floors of gaming areas, and a new bingo hall. www.rnrresortmd.com, 410-257-5596.
---
WESTERN MARYLAND
Fairfield Inn & Suites Hagerstown – A new 96-room property at 89 All Star Court opened April 2022.  (Off Dual Highway, Hagerstown, near I-70 exit 32)