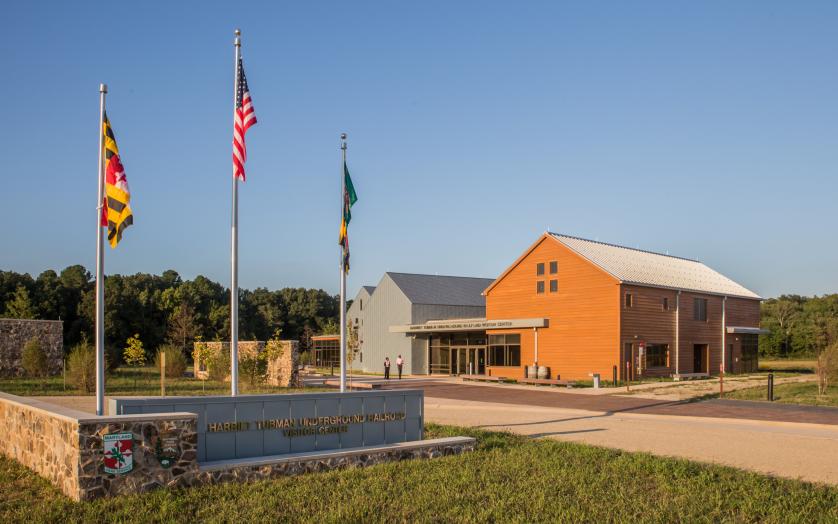 VisitDorchester.org
What's New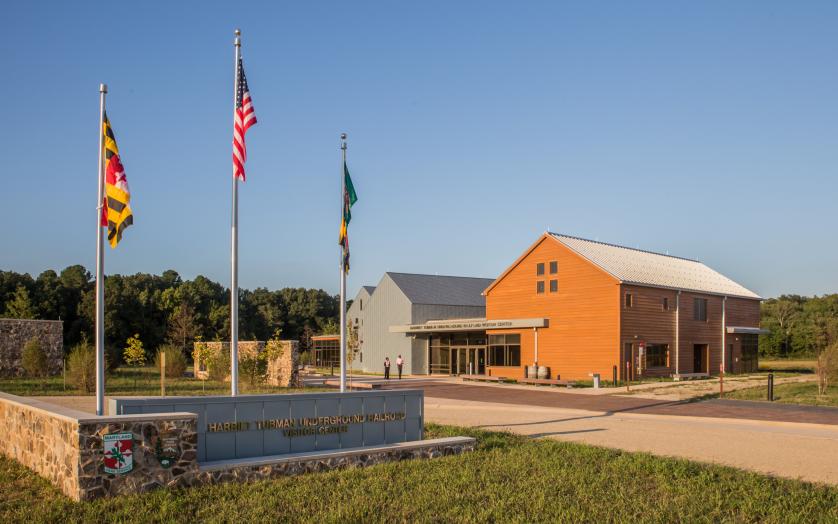 VisitDorchester.org
SIGNIFICANT ANNIVERSARIES
Chesapeake & Ohio Canal National Historic Park – The C & O Canal will celebrates its 50th anniversary of being designated a national park in 2021.
Maryland Transportation Authority's Toll Facilities – MDTA has begun cashless toll collection at all of their toll facilities – Francis Scott Key Bridge (I-695), Fort McHenry Tunnel (I-95) and Harbor Tunnel Thruway (I-895) in Baltimore; the Thomas J. Hatem Memorial Bridge (US 40) and John F. Kennedy Highway (I-95) in Perryville; the William Preston Lane Bridge/Chesapeake Bay Bridge (US 50 & 301); and the Potomac River Bridge (US 301).  Tolls are collected by EZ-Pass or video tolling.
United States Naval Academy – This is the 175th Anniversary of USNA, and it will host a wide variety of special events and programs throughout the year to commemorate this special occasion.
On the Horizon 
Baltimore & Ohio Railroad Museum – The 200th anniversary of American Railroading festivities will begin in 2027
---
CENTRAL MARYLAND
Annapolis Maritime Museum – expected to reopen soon with new exhibits that will provide a state-of-the-art, high tech, high touch gallery divided into three thematic sections: Bay Health, Oyster Economy, and Annapolis Waters.  Skipjack Wilma Lee – Acquired by the Annapolis Maritime Museum, she will be returning to the Chesapeake Bay and sailing out of Eastport. The museum expects to have her back in operation in 2020 for public sails with a heritage focus and as part of its educational program for children. Capable of 42 people.  
Baltimore Motorcoach Parking – A surface lot, located behind the 414 Light Street building, is now available for 10-12 buses, daily or overnight.  Overnight parking is available at Lot O, near Ravens Stadium. 
First Mile Stable at the B&O Railroad Museum – The stables will house the Baltimore Police Department's mounted unit, which make up the oldest continuously operating mounted police unit in the country.  The B&O gets a new attraction on its 40-acre property once the stables open to the public next summer. 
Live Casino & Hotel – In the event that voters approve sports betting, the casino has started construction of their $10 million Sports & Social venue, in the former space of the Center Stage.  Construction is expected to be complete in March 2021.
PGA Tour FedEx Cup Playoffs– The 2021 BMW Championship tournament is scheduled for August 17-22, 2021 at Caves Valley Golf Club in Owings Mills.
Royal Caribbean International's Enchantment of the Seas – The Grandeur of the Seas cruise ship that sails out of Baltimore will be leaving RCL's fleet. In a news release, the cruise company wrote that the cruise ship will join Pullmantur Cruises in spring 2021 and be replaced in Baltimore by Enchantment of the Seas.
Spirit of Baltimore – Spirit Cruises is in the process of renovating a 192-foot ship and it will replace the current 145-foot Spirit of Baltimore.  The new vessel will have three indoor levels and an "open atrium" between the second and third decks allowing passengers to peer down to the second-level dance floor.  The new ship will be unveiled in Spring 2021.
Toby's Dinner Theatre – A new dinner theater will be built at Symphony Woods as part of a larger arts district.  Once they break ground, they hope to finish in 12-16 months.   They will only close for about 2 week as the move into the new theatre.  They hope to open in 2021.  
Elf The Musical (Nov.6, 2020-Jan.10, 2021); and
Something Rotten (Jan.15-Mar.21, 2021)
U.S.S. Constellation Museum/Water Taxi Terminal – The U.S.S. Constellation Museum has been torn down and replaced with a new ADA-compliant structure.  The Water Taxi terminal will still offer service and access to the historic ship.  The current exhibits in the museum will be displayed in the new terminal.  It will operate in partnership with the Water Taxi and Living Classrooms and is set to be complete by late 2020.  
U.S. Naval Academy – They are replacing the chapel dome with a new reddish copper color dome – in contrast to the current green patina. Once completed, it could take Mother Nature more than 20 years to weather the new copper and change it to the green patina color now adorning the Annapolis skyline.  They have also launched a U.S. Naval Academy Virtual Walking Tour of the Yard – Groups with limited mobility will enjoy this tour of the Academy all while seated in our climate controlled theater. 
Watermark has a few new tour offerings:
Scandalous Side of Annapolis Tour – This lighthearted, tongue-in-cheek tour is presented by a guide in the character of a colonial indentured servant who works odd jobs day and night to make ends meet – colonial style.
USNA Tours - 90-minute and 2 hour and 15 minute VIP Tours.  Watermark USNA Tours are the same as the USNA tours with the same certified guides and can go in all the same buildings.  The groups are smaller and guides meet the groups outside the gate and walk the groups through security.  
Women of Achievement – 90-minute tour; visit sites that are connected with women who demanded the right to vote, first appointed Maryland official printer, women who helped runaway slaves, the woman who was the "invisible member of Lincoln's cabinet, etc.  (Can be done as a walking tour or step-on-guide tour)
Warner Street Entertainment District:
Paramount Baltimore – Horseshoe Casino has plans for a new 4,000 seat concert venue in the new entertainment district. 
Top Golf – Golfing entertainment with high-tech climate-controlled hitting bays, where the balls are micro-chipped to show accuracy and distance on TV monitors and allow for competition among players. Expected opening in 2021. 
---
GREATER WASHINGTON
Monumental Boat Tours & Float Boat 360 – This allows visitors to cruise the Potomac River in their own two-person CraigCat with a knowledgeable guide (in a separate boat). Boaters will explore from National Harbor to Mount Vernon on a two-hour tour. They will see the Jones Point Lighthouse, Fort Washington, lots of Potomac wildlife and more.  Float Boat 360 at National Harbor is designed for groups and typically holds nine (plus a guide.)
Six Flags America – Six Flags has announced its newest attraction — Harley Quinn Spinsanity, making its debut in 2020. The oversized giant pendulum ride named after the iconic DC Super Villain Harley Quinn, promises to deliver epic high-flying excitement as it spins and swings to breathtaking heights.  The towering, impressive giant disc will reach speeds up to 70 miles per hour as it whips back and forth going higher and higher while constantly spinning, giving riders an exhilarating riding experience. 
Tanger Outlets National Harbor – The outlets will be expanding and adding a food court. Completion is to be determined.  
Top Golf – Hitting bays, full-service restaurant & bars, private event space and rooftop terrace with fire pits.  New locations opening in Germantown and National Harbor. 
Washington D.C. Temple of The Church of Jesus Christ of Latter-day Saints – The temple has closed for renovations.  The Visitor Center will stay open during the closure.  The Temple is expected to reopen in 2020 with a public open house held before it is rededicated
---
EASTERN SHORE
Chesapeake Bay Maritime Museum – There are some new tour offerings:
A Day in St. Michaels – One call package with a highlighted tour of the Chesapeake Bay Maritime Museum, lunch at the Crab Claw, and a scenic river cruise aboard the Patriot.
Oystering on the Chesapeake Tour – Participants explore the history of the Chesapeake Bay and how the oyster shaped the culture, industry, and environment. 
The Maryland Dove – A new version of the late 17th-century trading ship that accompanied the first European settlers to what is now Maryland, will be built.  Ship design work will commence in January 2019, and construction is anticipated to begin by mid-year. The launch of the new Maryland Dove is targeted for 2021. All work will be done in full public view, allowing the public to experience every stage of the project.
Circuit 199 – A proposed racetrack and entertainment facility, located on a 124-acre parcel of land in Sudlersville, would feature a rally-cross course, an action sports progression park and year-round bicycle, skateboard, and scooter track.
Classic Motor Museum – A new museum is open in St. Michaels, 7 days a week.  The living history showcases motoring classics of all kinds, from antique farm tractors to fine examples of the cars that have fueled American's love affair with the automobile.  They are dedicated to educating the next generation of technicians trained in the art of classic vehicle restoration and maintenance. 
Madhouse Oyster Farm – Oyster farming demonstration and programs on Hooper's Island. 
Midway Sky Eye – The newest addition to Trimper's Amusements in Ocean City, is a ferris wheel that reaches nearly 150 feet in height. It consists of 36 enclosed gondolas that spin for 10 minutes, giving the guests an incredible view of Assateague Island through to Fenwick Island; a ten-mile gaze. Boasting 528,000 LED lights, 'The Biggest Wheel' will mesmerize audiences both riding and admiring from afar.
Ripley's Believe It or Not (Ocean City) – Newly renovated. Discover the strange, the shocking, and beautiful at Ripley's Believe It or Not! on The Boardwalk. Enjoy incredible eye-popping exhibits where you can pose with the world's tallest man, lose yourself in some mind-boggling visual illusions, and even see a shrunken head. 
Roland E. Powell Convention Center – A convention center expansion has been funded.  The conceptual design documents suggest that the existing site is capable of accommodating an expansion of the exhibit hall space by 30,000 square feet, and will address the resulting parking needs of the facility. 
---
SOUTHERN MARYLAND
Mallows Bay Park – Mallows Bay has been designated a new national marine sanctuary to protect the remains of more than 100 abandoned steamships and vessels built as part of America's engagement in World War I.  Located along an 18-square mile stretch of Potomac River, the new sanctuary boasts a collection of historic shipwrecks dating back to the Civil War, as well as archaeological artifacts nearly 12,000 years old.  
Potomac Jazz & Seafood Festival – Special group packages available to relax waterside on the museum lawn and enjoy live national jazz artists, lots of delicious seafood and gorgeous views of the Potomac and St. Clement's Island at this popular signature event.  July 9-11, 2021. 
Potomac River Bridge (Nice/Middleton Bridge) – The MDTA has approved a contract for design and build of a new 1.9 mile bridge across the Potomac River.  The project will replace the existing two-lane bridge with a new, four-lane span that will be aligned with the existing roadway approaches in Maryland and Virginia. The four, 12-foot-wide lanes with 2-foot shoulders will double capacity and improve safety, enhancing emergency response and maintenance/inspection activities.  The new bridge is expected to open in 2023. 
St. Clement's Island Museum – Currently undergoing architectural/engineering review and plan to completely renovate the entire museum along with a complete redesign of new exhibits, etc. 
---
WESTERN MARYLAND
C&O Canal Headquarters & Visitor Center – A new $17 million headquarters and visitors center for the C&O Canal is expected to open in Fall 2020 in Williamsport.  A restoration at the Cushwa Basin has already opened.  The C&O will offer boat rides of a re-watered section of canal that leads through the turning basin, under the only Railroad Lift Bridge as well as the only Bollman Iron and the Conococheague Aqueduct.   
Garrett College Community Education and Performing Arts Center – A new theatre is being built. It will feature a state-of-the-art theater with 400-500 seats.  Expected opening is 2021.
Maryland Theatre – The expansion and restoration of this historic theatre in Hagerstown, home to the Maryland Symphony Orchestra is completed.  Even more show options coming to the stage; banquet room for private dining or meet in greets before shows; seating for 1,300; and offering 4 free performances to student groups annually.  Grand Opening was October 2019. 
National Road Museum – Visitors to the 1,900 square-foot building will learn the history of the Historic National Road, the first major east-west route that carried early settlers from the historic seaport in Baltimore to Illinois, and its impact on the development of transportation technology.  They expect to open soon. 
Western Maryland Scenic Railroad – The newest steam locomotive at WMSR will be the #1309, it will be the largest compound-articulated steam locomotive in service in the world.  It is scheduled to start operating in 2020. 
---
NEARBY
Delaware Botanic Gardens - The soon-to-open Gardens near Dagsboro, is Sussex County's first botanic garden, boasting 70,000 plants, including perennials and grasses, a saltwater front, freshwater ponds, a learning center and woodlands. The Meadow Garden was designed by world-renowned plantsman Piet Oudolf. 
National Museum of the United States Army — A new project from the U.S. Army and the nonprofit Army Historical Foundation, will be open to the public on June 4, 2020, at Fort Belvoir, VA. The museum will be the first of its kind and aims to document the 244-year history of the Army, and will be free. It's currently under construction.  
U.S. Route 301-Delaware Mainline – The toll road which runs for 15 miles from Del. 1 to the Delaware/Maryland border is now open.  This provides an express route from I-95 in Delaware to the Chesapeake Bay Bridge. Electronic tolling only.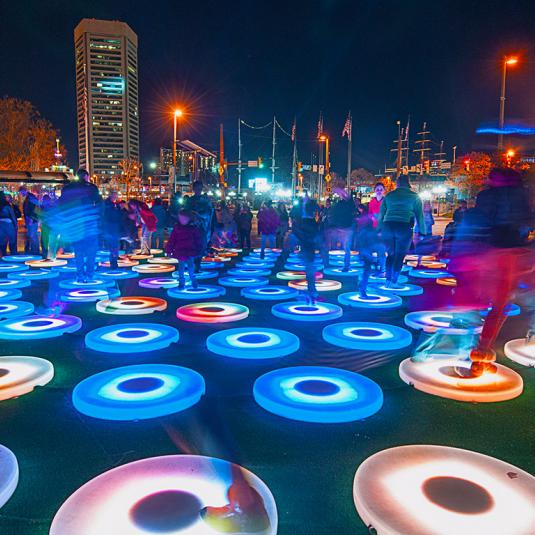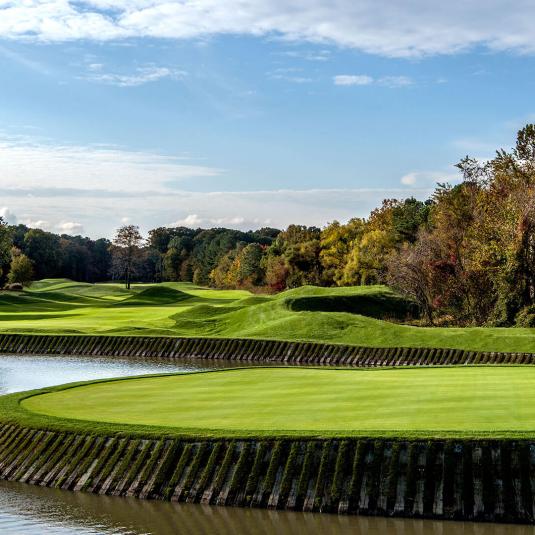 The railroad ties surrounding this island green define the legenday course designer Pete Dye
Hotels – New, Changes & Updates
CENTRAL MARYLAND
Courtyard by Marriott-McHenry Row – A 126-room hotel has opened in McHenry Row/Locust Point area, very close to the Cruise Ship Terminal.
Delta Hotel Baltimore North (Cross Keys) – The Radisson Cross Keys has re-branded as the Delta Hotel Baltimore North.
Hilton Garden Inn/Homewood Suites-Arundel Mills – The Live Lofts hotel was sold to Tharaldson Hospitality and the property will return to being the Hilton Garden Inn/Homewood Suites after renovations and opens in October 2020.
Home2 Suites-Owings Mills – A new 101-room property opened at 4514 Painters Mill Road, Owings Mills, MD 21117, 410-363-0272.
TRU by Hilton-Baltimore/Harbor East – The 140-room hotel is planning to have a soft-opening on September 9th, however they are not accepting online reservations until October 26th; amenities include free WiFi, Top It breakfast, fitness center & business center. They are part of the Aimbridge/Interstate family.  411 S. Central Avenue, Baltimore, MD 21202.
Hotels in the Works
Cambria Hotel-Baltimore – A 144-room hotel planned for the American Building at 231 E. Baltimore Street. It would open in 2020 if all goes as planned.
Canopy by Hilton-Baltimore - The new boutique lodging brand by Hilton will develop a four-story hotel at Harbor Point in Baltimore in 2020. The hotel will be located atop a 12-story office building called Wills Street Wharf at Harbor Point, where Exelon is currently building a 20-story headquarters. Scheduled to open in May, the 156-room hotel's grand opening has been delayed due to Covid-19.
Columbia Town Center Hotel – Autograph Collection by Marriott – The Sheraton Columbia Town Center Hotel will soon undergo $20 million in renovations to bring the property up to par with the four-star standards of its new Marriott Autograph flag.  The new room count will have 230 rooms. 
Comfort Inn Baltimore – An 80-room hotel is planned for 17 S. Gay Street for a hopeful August 2021 opening.
Element Hotel by Westin-BioPark – A proposed new extended-stay hotel property is planned for the University of Maryland Bio Park.  The new hotel is expected to be built in the 800 block of West Baltimore Street and have a conference center.
Fairfield Inn & Suites Aberdeen – A new build property is planned in Aberdeen.
Hilton Garden Inn-Bel Air - A new property will be built at 4170 Philadelphia Road, Bel Air (Riverside).  The groundbreaking is next week and this will be adjacent to the Homewood Suites and the Cracker Barrel at I-95, Exit 80.  Expected opening in late 2020.
Hilton Garden Inn-Downtown – A new construction will bring a 14-story, 87,000-square-foot space to 25 S. Calvert Street with 151-rooms. The hotel will also have meeting space, a pool and a lounge.  Anticipated opening is May 2024.
Hampton Inn / Home2 Suites-Towson – Two new Hilton properties are expected to open in Spring 2021 as part of the new Towson Row development project.  The hotels will have a total 220 rooms with a shared lobby area on Chesapeake Avenue.
Marriott Hotel at Metro Centre – Marriott has broken ground on new property with 224 rooms, as well as a 10,000 sq. ft. ballroom and function space. There will be multiple meeting rooms, a conference center, coffee shop, full-service restaurant, and fitness center.  Metro Centre is a transit-oriented development, next to the Metro subway station in Owings Mills and includes apartments and restaurants. A July 2021 opening is expected.
Springhill Suites Baltimore/Downtown – A 157-room hotel is in construction at W. Fayette & N. Eutaw, with an anticipated opening of October 2021.
The Study at Johns Hopkins – JHU is planning to open a university-branded hotel and conference center across from its Homewood campus by November2021.  Plans call to convert an 11-story apartment building at the corner of North Charles and East 33rd streets into a 115-room hotel, complete with a restaurant, and meeting and conference spaces. Study Hotels will lead the renovation and operate the hotel on the property that is owned by Hopkins.
Unnamed Hotel – A 155-room hotel has been added to the plans for the University Lofts project, an entire city block near the Hippodrome Theatre and Lexington Market. The development is aimed at graduate students from the University of Maryland-Baltimore.
Unnamed Hotel Columbia – Developer Howard Hughes has approval for a new 15-story, 208 room upscale hotel in Columbia's Merriweather District.  Designs for the project show a modern metal, dark-colored brick and glass building that incorporates a tall hotel tower, as well as a 4,000 sq. ft. ballroom, pool deck and restaurants overlooking what will eventually become a walkable, urban district in the heart of Columbia.
---
GREATER WASHINGTON
Bethesdan Hotel, Tapestry Collection by Hilton – The former DoubleTree by Hilton as re-opened under the Tapestry Collection by Hilton.  The 270-room property is located at 8120 Wisconsin Avenue, Bethesda.
Holiday Inn Express Brunswick/Harpers Ferry – The new 93-room property is located near Harper's Ferry and opened late June.  The property has an indoor pool.  1501 Village Green Way, Knoxville, MD 21716, Tel:  301-969-8020.  Tamara Watson is the DoS ([email protected])
Homewood Suites by Hilton-Largo – A new built property has opened at 9103 Basil Court. The 116-suite property includes 2,700 sq. ft. of flex meeting space.
Hyatt Place National Harbor – Opened August 25th, the brand-new 156-room Hyatt Place offers the comforts of home, the luxury of retreat and an unbeatable location on the Potomac River. The onsite restaurant, Bar Harbor, includes ground floor restaurant/bar with outdoor seating and 1.7K SF of flex meeting space.  Breakfast is included with your stay.
Residence Inn Upper Marlboro Joint Base Andrews – A new build property has opened, located, immediately off the Beltway, at Ritchie Station Marketplace in Capitol Heights.  The property is operated by an arm of Tharaldson Hospitality Management,   
Hotels in the Works
AC Hotel by Marriott Bethesda - A downtown Bethesda developer has announced plans to build a 219-room AC Hotel as part of a mixed-use project at the corner of Montgomery and Wisconsin avenues.  Construction on the $300 million redevelopment project is scheduled to begin early in 2019 and wrap up in the spring of 2021.  OTO Development would operate the hotel.
Cambria Hotel Capital Heights – A new hotel opening soon.
Courtyard by Marriott-College Park - A 157-room property is planned at College Park Station, 8315 Baltimore Avenue.
Fairfield Inn-Westphalia Town Center – A new limited service property is expected at Woodyard Road in the new development called Westphalia, adjacent to Pennsylvania Avenue.
Hyatt House–College Park – Immediately adjacent to College Park at the under-construction at Riverdale Park Station, are plans for a 120-room hotel.
Marriott Headquarters in Bethesda – A 244 room hotel, with 8,000 sq. ft. of meeting space, is part of the construction plan, when Marriott builds a new World Headquarters complex in downtown Bethesda at Wisconsin & Norfolk Avenues.  Proposed opening is mid-2022. The Bernstein Companies and Boston Properties joint venture as owners and developers.
Marriott Downtown Frederick – Plamondon Hospitality Partners has proposed a general layout of the four-story, 230-room hotel, 20,000-square-foot conference center, neighboring retail building and courtyard planned for 200-212 E. Patrick St., along Carroll Creek.
Residence Inn Bowie & Springhill Suites Bowie – Hospitality Development Company III, LLC has plans to build two additional Marriott properties at Melford, a 125-suite Residence Inn and a 100-suite Spring Hill Suites. The timeline for the construction of these related properties has yet to be confirmed.
Residence Inn College Park – Republic Properties Corp. has proposed a new build for the intersection of Campus Drive and Corporal Frank Scott Drive, near the College Park Metro station. The DC developer has proposed a 160-room hotel with approximately 8,000 square feet of retail for this location within College Park's Discovery District.
Staybridge Suites Washington DC East – Largo – The Staybridge is scheduled to open in March 2020.
---
EASTERN SHORE
Cambria Suites Ocean City – The new 137-room hotel property, located Bayside, just off the Route 50 Bridge opened August 14th.  The hotel features a full-service restaurant, rooftop bar, fitness center with waterfront views, outdoor patio with fire pits, and an indoor heated pool, and seasonal outdoor pool with a poolside tiki bar and cabanas. They have more than 2,400 square feet of modern, flexible meeting space (2 Rooms).
TRU by Hilton Ocean City – The new five-story, 105-room hotel is now open at 3401 Coastal Highway.   The new Tru by Hilton features efficiently designed rooms with a mobile desk, large bathrooms with premium bath amenities, top-rate in-room entertainment, a complimentary build-your-own "Top It" breakfast bar with hot items, a 2,888 - square-foot lobby with areas for guests to work, play games, eat, and lounge, and a 24/7 "Eat. & Sip." The tech-savvy hotel features contactless mobile check-in, Digital Key, free wi-fi, remote printing, a social media wall, lobby tablets, and accessibility to outlets everywhere. Guests will enjoy incredible 180-degree views of the sun rising over the Atlantic Ocean and setting into Assawoman Bay from our elevated indoor pool located on the upper floor of the hotel. Additionally, the property offers a fitness center.
Hotels in the Works
Crystal Beach Hotel will be doing an expansion onto the Riviera Motel property at 26th Street, with 63 units in Ocean City.
Great Wolf Lodge – A $200 million, 44-acre lodge and waterpark will be built, next to the Hollywood Casino Perryville to open by summer 2022.  The new property will have 500 hotel rooms with a 1,000-person conference center, restaurants and entertainment venues amid the waterparks and play areas.
Harbor Mist Hotel – A new hotel build with 129 units at 25th Street and Philadelphia.
Hyatt Place Kent Island – A new build is proposed for Kent Island.
---
SOUTHERN MARYLAND
Hotels in the Works
Rod N Reel Resort – The Chesapeake Beach Resort & Spa has launched a two-year expansion project that includes tearing down the lowest and oldest part of the property, the current Rod 'N' Reel, and building a new structure that's compliant with current flood regulations. A sky-lit glass atrium will connect the existing hotel with the new structure. The new hotel will include a two-story Rod 'N' Reel restaurant, three levels of hotel suites, retail units, an arcade, boardwalk promenade, restaurants, gaming and bingo areas, a rooftop pool and bar and a parking facility. It will be rebranded as the Rod N Reel Resort. 410-257-5596.
---
WESTERN MARYLAND
Hotel in the Works
Best Western Hotel Hagerstown – A new build is proposed near Valley Mall.
LaQuinta Hotel-Hagerstown – Two local hotel owners are proposing an 80-room hotel off Citicorp Drive in northern Washington County. Discussions are currently on-going with La Quinta for a La Quinta Inns & Suites franchise and would take 18 months to open.